There's no such thing as too much dessert on a wedding day. Why choose one dessert or cake when you can have a whole wedding dessert table? Today, it's a trend, but they're not exactly new and are hardly disappear soon—probably due to their universal function and photogenic nature. Having a dessert table in the wedding room makes a gorgeous wedding cake display and a great opportunity to add several more dessert options in addition to (or other than) cake. A luxury dessert table at your wedding reception can be a show-stopping and delicious point. When it comes to creating the perfect luxury wedding dessert table, there are some rules and here are things to think about when designing your dessert centerpiece.
You can create a unique dessert table that complements your wedding theme and colors. Check out our wedding dessert table ideas and some rules to make your big day that much sweeter.
Tips for Creating a Wedding Dessert Table
Have a vision
As we all know, every good project starts with good old-fashioned research. You may find thousands of mouth-watering pictures, but your local dessert shops don't have the sweets you want. Therefore it's recommendable to create a list of shops and take a look at their menu in advance.
Then scroll through our blog, Pinterest and Instagram, or try examples of a few dessert table ideas in the comfort of your own home. Try to create some sketches, draw a picture or a scheme, make a list of guests' favorite sweets (at least those people whose preferences you know).
Placement in the Room
This seemingly small detail will actually have a lot of impact on how you design your wedding dessert table. Above all, the placement of the table has to be suitable and practical. It has to be reachable for your wedding guests, but not so disturbing as to be in the way of people traffic through the reception.
It should also be comfortable for your photographer to take photos of your guests and be lit to capture their beauty. Avoid putting it directly in front of a window if your reception is during daylight hours, as this will make it harder for your photographer to make good shots of the table. Your wedding venue's staff will be able to help you find the perfect spot to place your masterwork.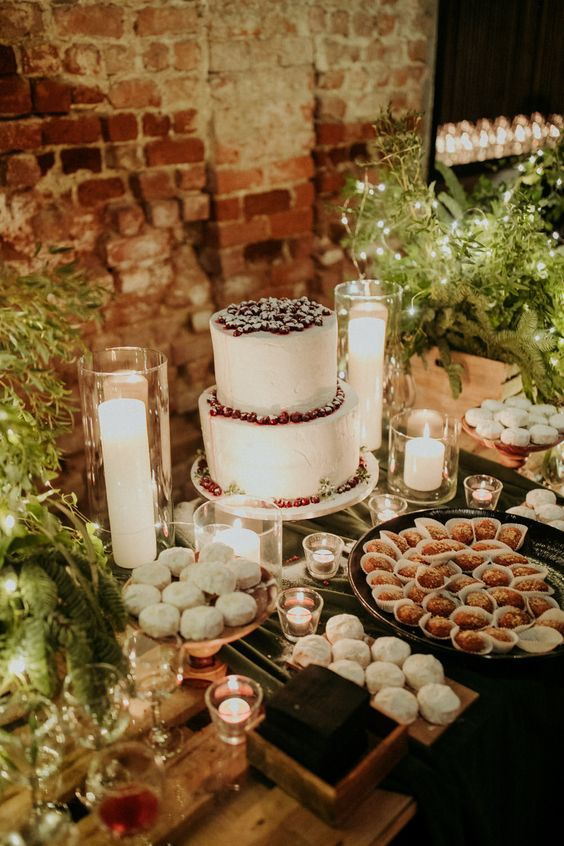 The shape and size of the table are also important. A round dessert table should have a completely different design and layout to a long table. Consider the tasteful and practicality of all your delicious sweets remaining within reach of your guests.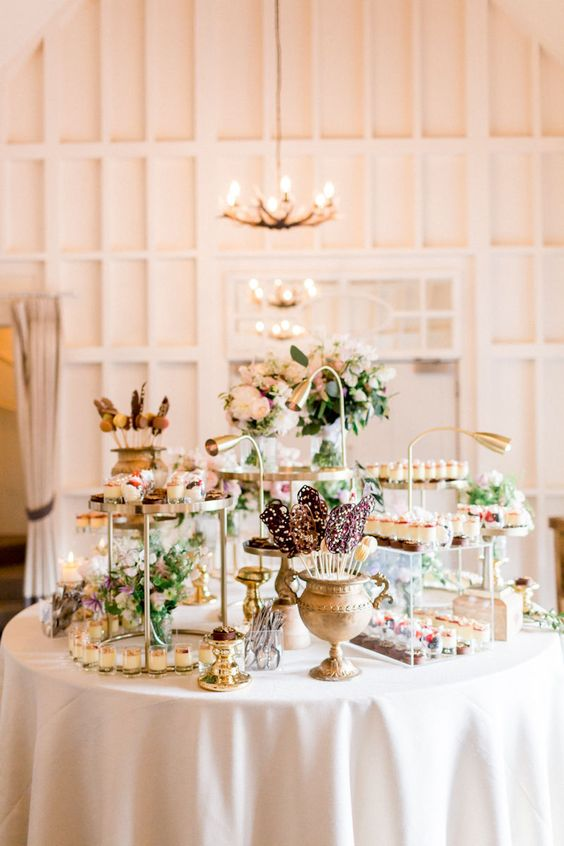 Decide on Your Basic Theme
Keep the dessert spot in the theme of the wedding. If your wedding has a rustic style, consider using wooden decorations for the table. If it's glamorous, include pastel desserts. There are no strict rules when it comes to this. You can have a rainbow theme, pink and gold, black and white… anything you like, as long as everything goes together harmoniously for the best visual impact.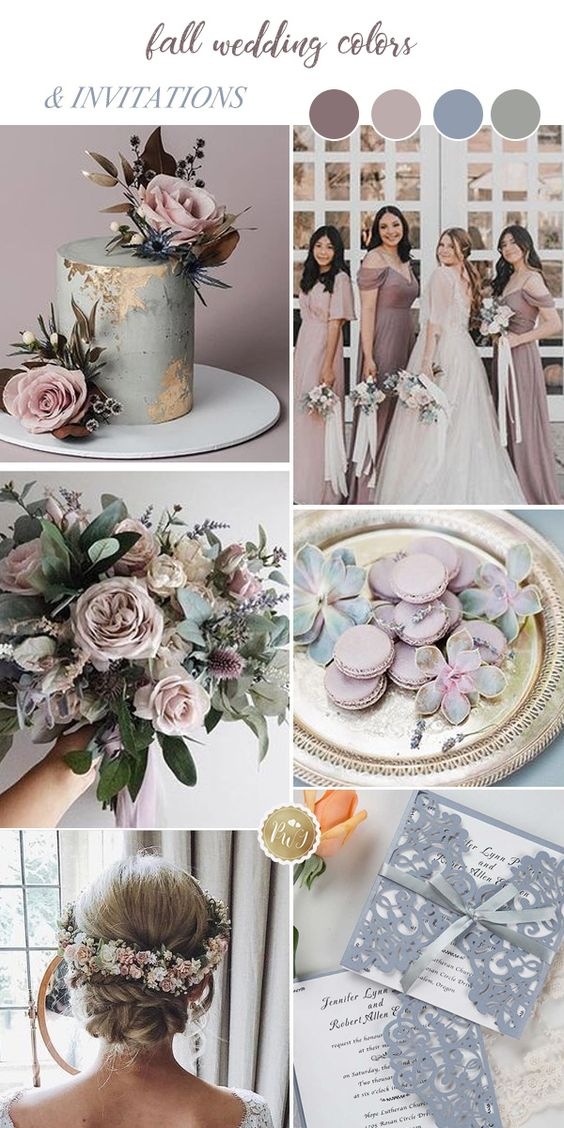 Also consider your theme when choosing your serving decorations, cake stands, tablecloth, as well as any cupcake holders and accent colors on your cake. If you want to add something that can't provide your cake supplier, make sure you're working from the same color palette and style.
Use Height to Your Advantage
Speaking of design, playing around with height on your wedding dessert table is a great idea. Instead of displaying all your cupcakes, pies, and biscuits on flat trays, why not mix things up a bit? Using high and low trays will make your sweet buffet really pop. You don't have to use typical tableware. Flowers, candy jars, and jewelry boxes are a great choice to decorate your wedding tables.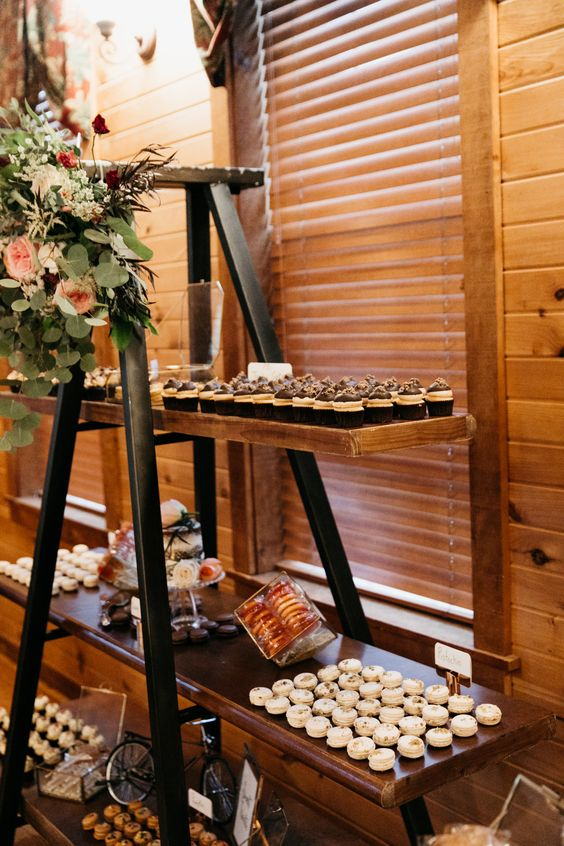 Think also about children and make a special shelf (the lowest one) for them.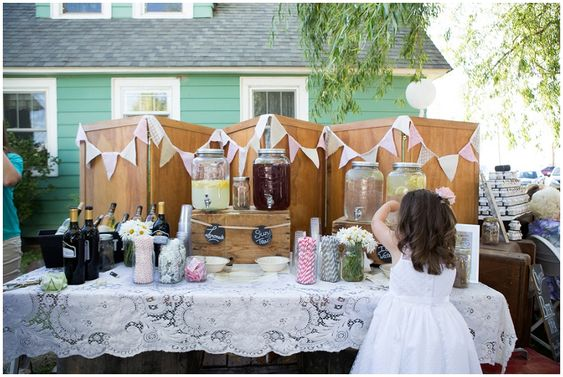 Choose the Right Desserts
Take the season into account when choosing desserts and decor. Celebrating in the fall? Think over adding pumpkin pie and apple cobbler to the menu. Meanwhile, for spring, why not include pastel-hued macarons and decorate with fresh blooms?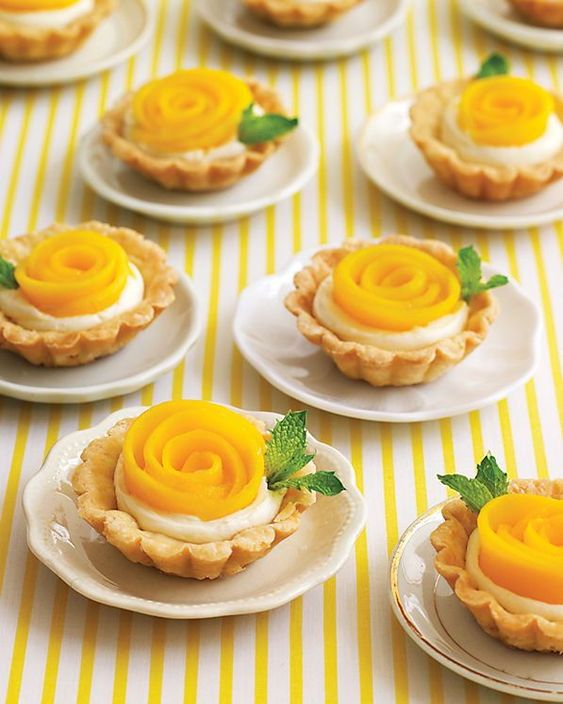 The big question when thinking about the desserts at the wedding is this: to cake or not to cake? Again, there's no right answer and it can depend entirely on your preferences and budget. Some couples choose to forget tradition entirely and replace the cake in favor of towers with donuts or macarons. Others love the idea of a towering, dividing wedding cake as the astonishing center of their dessert table.
Once you have made this choice, think about what you would like to see on the table. There are so many options, including cake pops, lollipops, sweet jars, donuts, macarons, cupcakes, mousse cakes, and much, much more.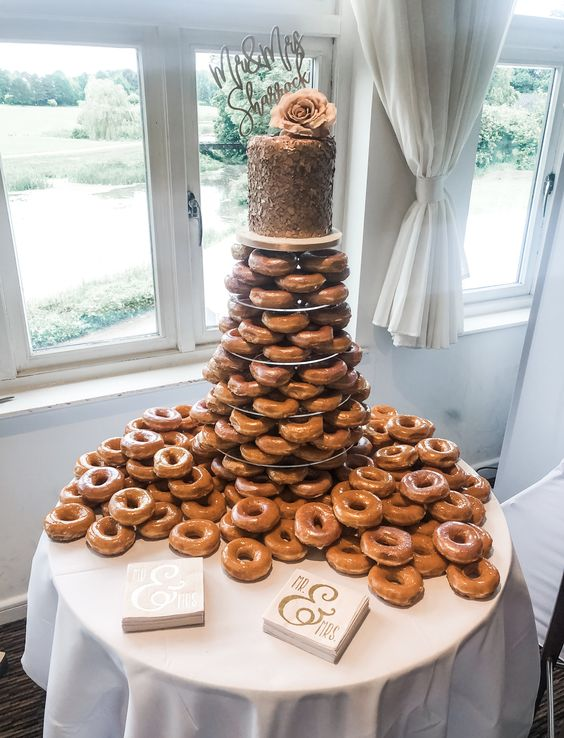 You may want your desserts to complement your theme and surprise your guests. Discuss all your variants with your cake designer and agree about the meeting to taste them.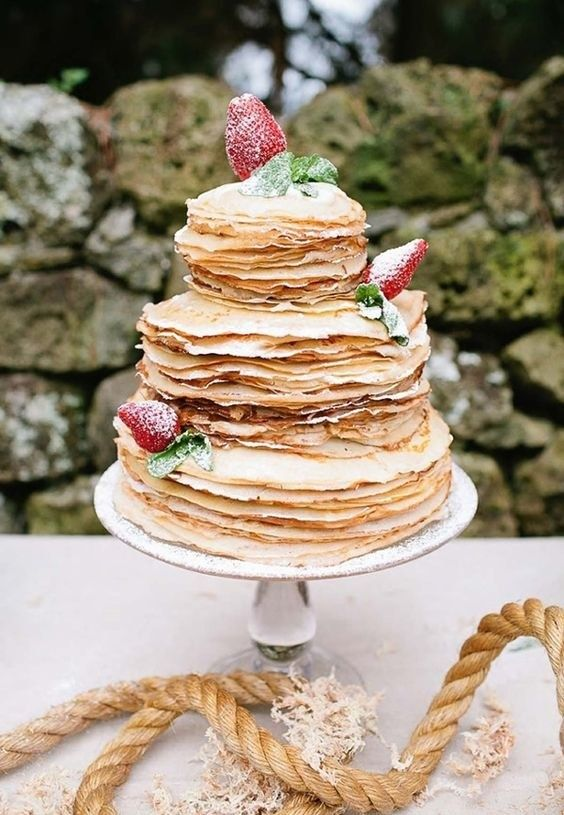 Ideas for Your Inspiration
Be inspired and add tasty flair to an elegant, rustic, or country-style wedding reception with a dessert table that attracts guests while reflecting your unique personality.
A Donut Wall
A popular new wedding trend is a donut wall – imagine a board with donuts hanging from each stick. This is easy to create or to find donut wall rentals online. A donut wall acts as a great background to the rest of your dessert table, so you have space to add more or keep it simple.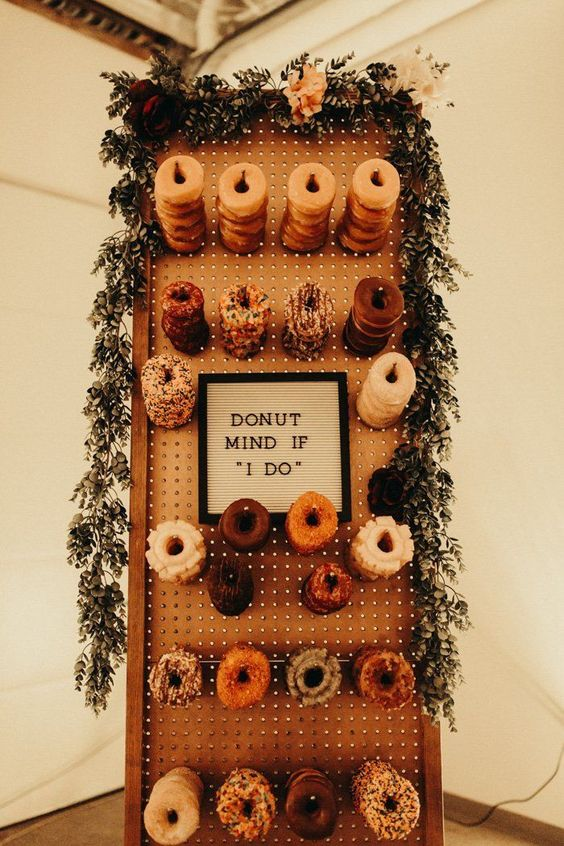 Dessert Table With Donuts
No longer tied to the idea of a traditional cake, many couples choose something new and original, like donuts. Build your cake with donuts, too, and make your wedding dessert table fun and original.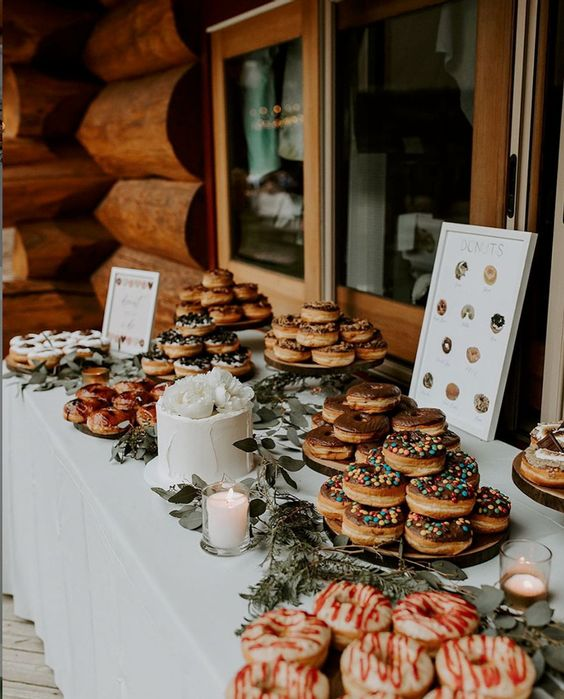 Table With Floral Arrangements
Contact your decorator to surround a variety of cupcakes, pies, and your wedding cake with flowers to create a garden-wedding dessert theme.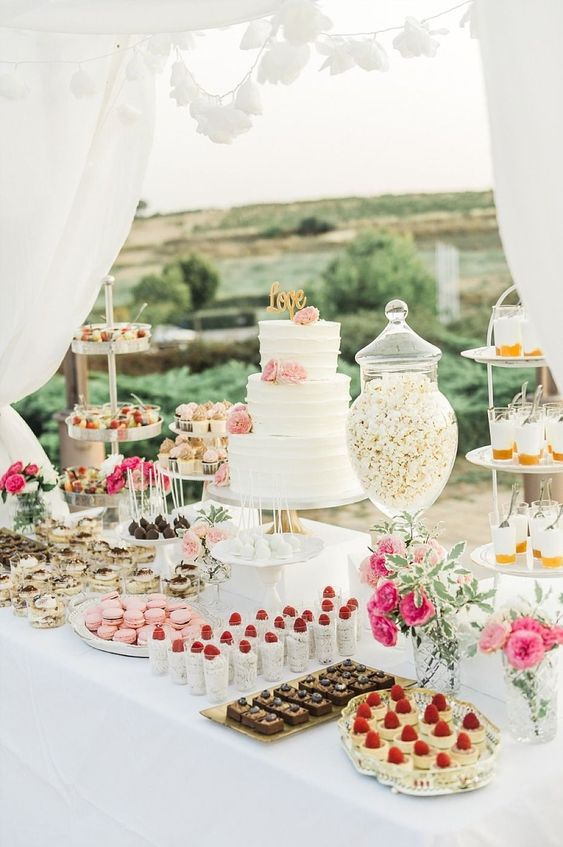 Or to surprise your guests with sweet flowers: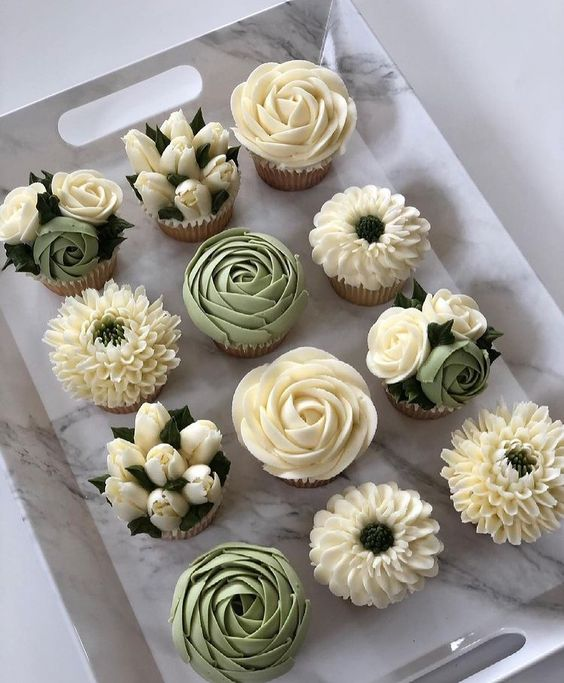 Change Flowers to Cactus
While flowers might be the most popular decoration wedding choice, cactus became trendy and popular recently.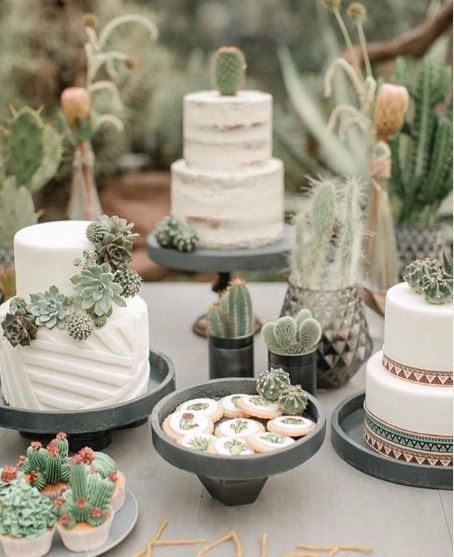 Vintage Rustic Wedding Dessert Table
Add to your wedding the vibe of a woodland cottage with the dessert spot in rustic style. Lots of wood, green-colored floral accents, and the homey nature of mini pies lend your dessert table a natural, timeless charm. You can change overly polished and perfected bakes and instead fulfill your table with brownies, flapjacks, and naked cakes to keep that homemade vibe.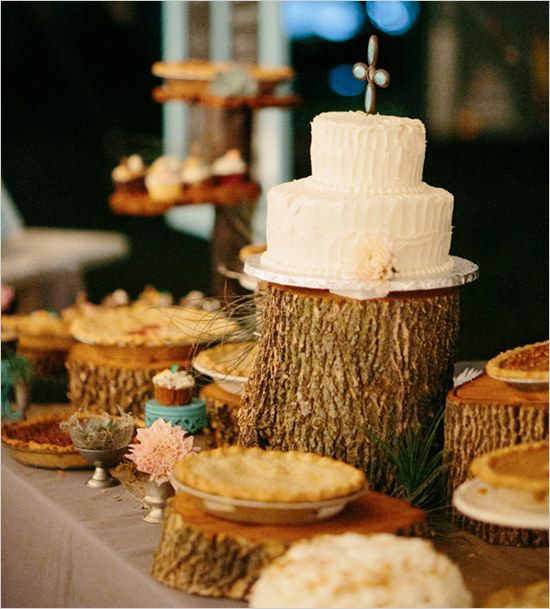 Country Style
Use wooden boxes and trays to display pies and other sweets made for your wedding day to add just the right flair for your country celebration style. There are lots of handmade wooden decorations on the market to make a beautiful wedding dessert table in a country style.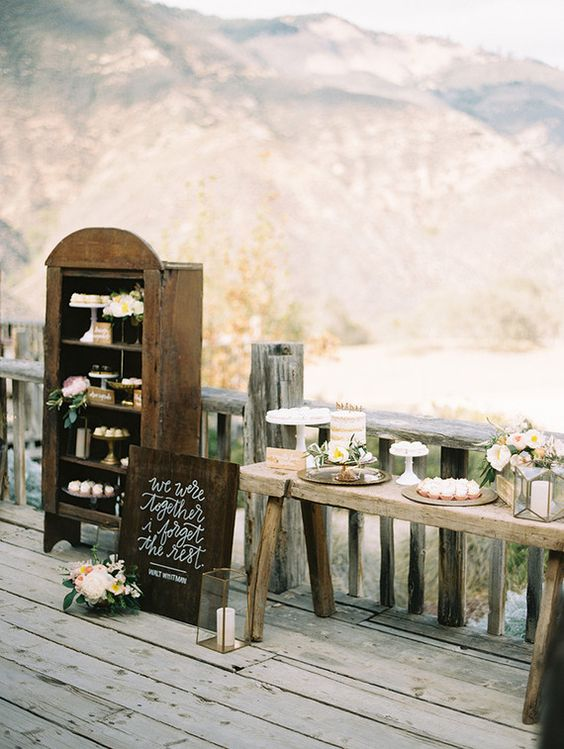 Metallic Accents
If natural wood doesn't fit with your wedding's style, consider using metallic decorations instead for your dessert bar. Whether you prefer gold, silver, brass, or copper metals, there are lots of beautiful details when it comes to metallic decor.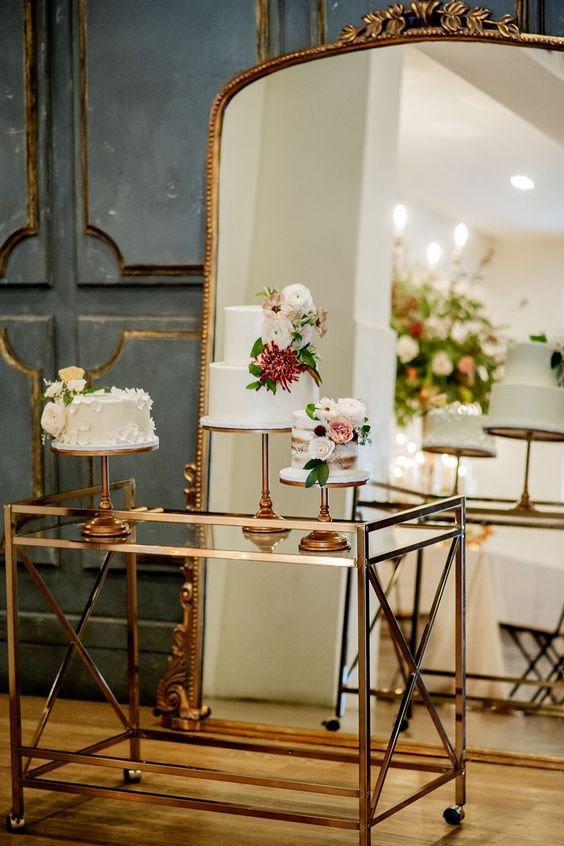 In Love with Chocolate
What could be more romantic and classic than a dessert table of chocolates? Different types of chocolate is always a good idea and it looks amazing. It may be risky if some of your guests love something more fruity, but you may bypass it by providing fruits in chocolate.
Dreaming in Pastels
No matter what the season, romance will be in full blossom with a pastel-colored sweet table. Add flowers for the more gentle look of the sweets and this sweet centerpiece.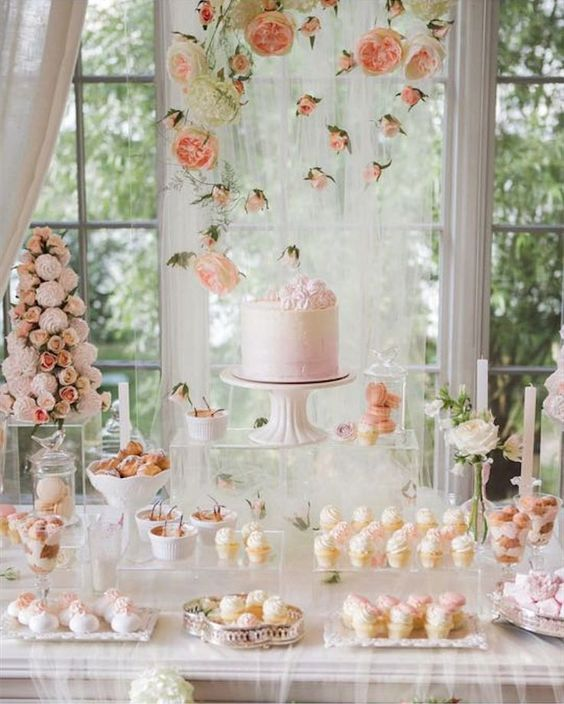 Churros Bar
It's totally cool if you're just not into traditional cake and cookies. If you'll have a wedding in Spanish style, consider seriously this typical Spanish dessert – churros with chocolate.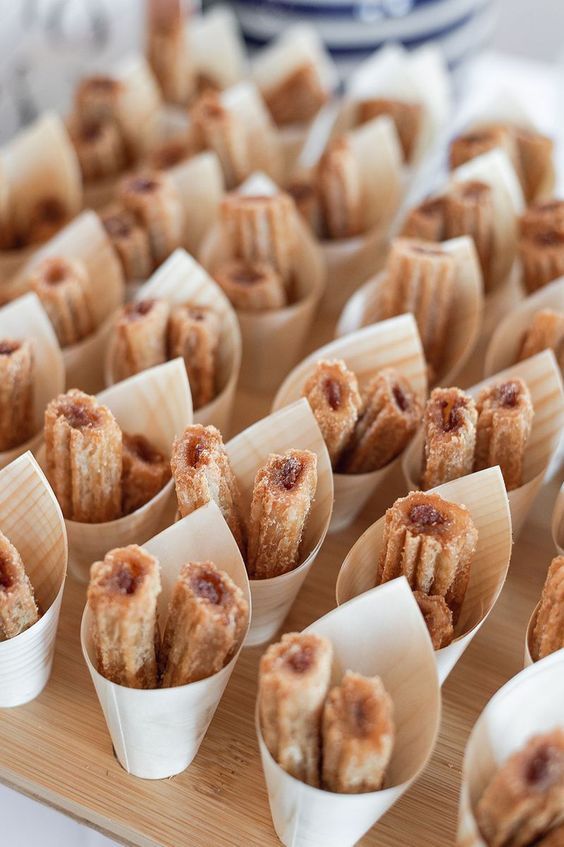 Dessert Towers
Another way to add some volume and height to your wedding dessert table is by creating towers of sweets. These towers look awesome, and they're actually not too hard to make it yourself. No worries about its collapse. You have plenty of options on how to present sweets.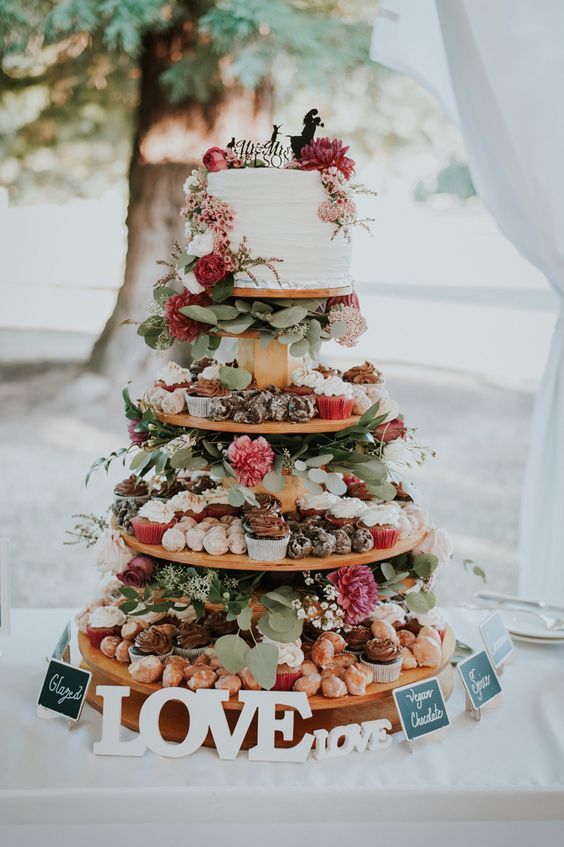 Desserts on a Statement Table
For a unique wedding dessert display, use a statement table to offer the desserts. You can find them in the thrift or antique stores for vintage tables, desks, hutches, or other old furniture to add a special touch to your dessert table.
Don't Forget That It's a Wedding
A cute idea for your sweet desserts is to feature the bride's and the groom's decorated sweets. You may also label each couple's favorite dessert as such, especially if it's an old family recipe or you have a funny story about it.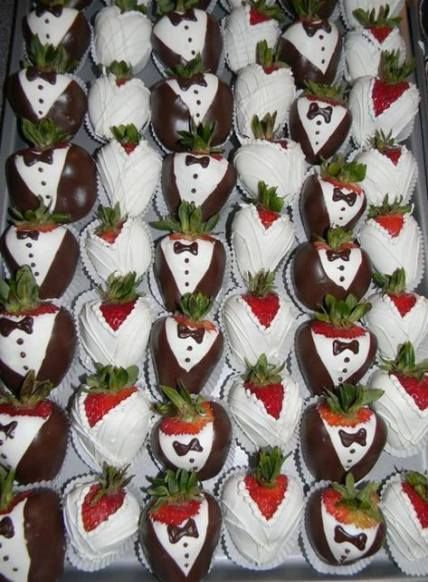 Set Up a Candy Shop
Change the dessert table at your wedding into an old-school candy bar for guests to enjoy and take beautiful photos. There are lots of ways to make an amazing candy bar at your wedding, from old-fashioned signs and candies to creative jars and containers for all of your favorite sweets. You can even use a bar cart on wheels or a small trailer to organize the candy bar.
Dessert Cart on Wheels
A new awesome trend includes not just a dessert table, but a dessert cart on wheels. How fun would it be to offer sweets or ice cream from a mobile cart in the middle of a wedding reception?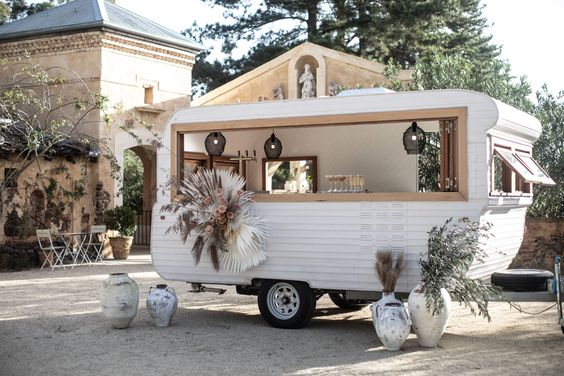 Put Nice Smelling Ingredients
While the happy couple may love all things chocolate or fruits, not every guest at your wedding will have the same taste in desserts. When designing your dessert table, consider adding a different set of flavors and ingredients so that there's something for everyone.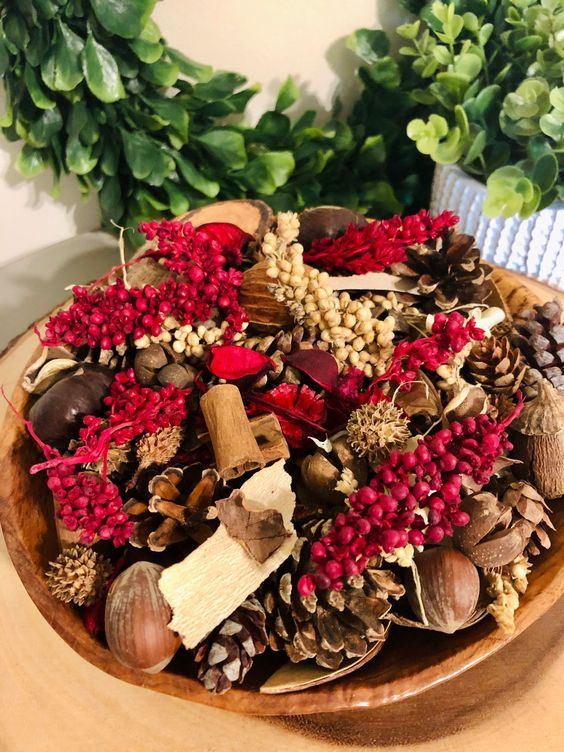 Decorate a Table with Signs
Stores have lots of funny accessories that can turn a standard dessert table from drab to fab. You can also get crafty and make anything from greenery garlands, balloon walls, paper chains yourself, and carve something personal on a wooden board yourselves. It'd serve as a good memory in addition to the photos you'll have.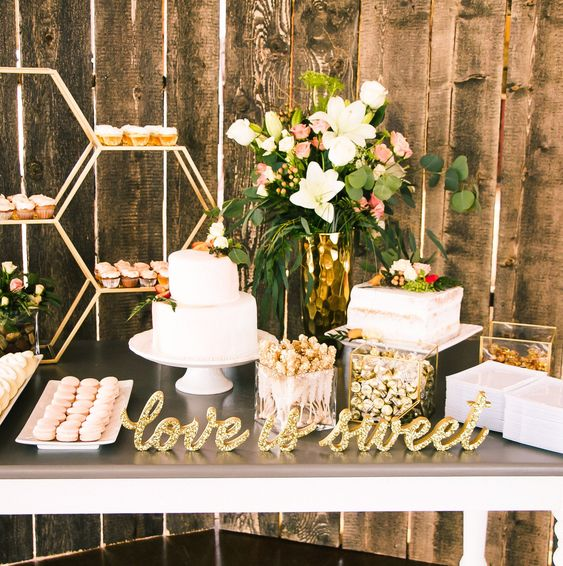 Think Over the Background
Play with a background of the dessert table. It may be a macrame, a green vertical wall of plants, a wall of lights, and more.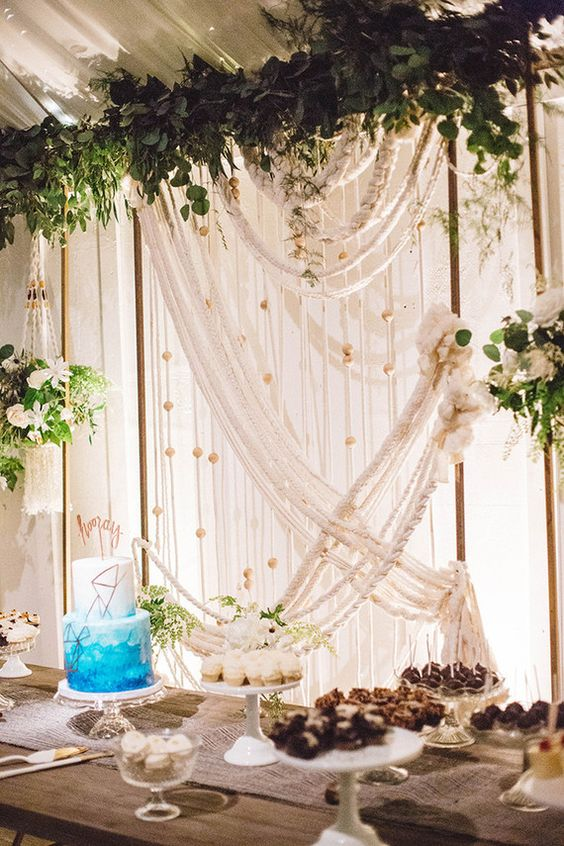 Final Thoughts
Sweeten up your wedding and compliment your theme with these dessert table ideas. Whether you have a candy bar, a dessert table with a few extras on the side, or an entire dessert wall, your guests are sure to appreciate whatever creative ideas you add. Get inspiration from real weddings or use our ideas above. And feel free and creative, this is your wedding👇