A dessert table is a great solution for a wedding of any format. It can be a wedding cake ordered from a professional confectioner or even a do-it-yourself candy bar. A dessert table can become not only a station for sweets but also a part of the decor, a wonderful photo zone, and decoration of your site. In this article, let's discuss how you can impress your guests with a dessert table and organize it properly using our dessert table ideas.
Do you need a dessert table?
If you have planned a wedding party, you need a dessert table. You can place sweets and desserts there. If you decorate it beautifully, it will attract guests and become one of the points of attraction on your site.
If you plan a banquet, a dessert table is not such a necessity. Nevertheless, it won't be superfluous. Firstly, it can also become a design element and play an important role in space zoning. Secondly, after dinner and the main program, or between the performances of artists, you and your guests will definitely want to get up from the festive tables and take a walk. And if there is an opportunity to go to a dessert table, why not do it? And finally, the dessert table can unite people. Guests gathered at a table with sweets can get acquainted and communicate, which means that the atmosphere at your celebration will be more relaxed.
In addition, a dessert table will come in handy at a welcome buffet or cocktail, when guests gather before the ceremony, as well as after the solemn registration when the first glasses of sparkling wine clink.
How to arrange a wedding dessert table?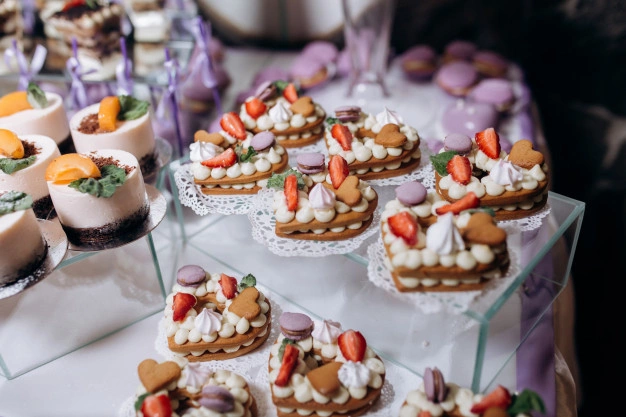 One of the most traditional dessert table ideas is to decorate it in the same style and the same color scheme as your party. The table looks especially stylish and impressive, where sweets and treats are also selected according to the color scheme and blend harmoniously with the design. To decorate a wedding dessert table, you can use:
flower arrangements (for example, mini-copies of bouquets standing on the guests' tables);
cards with signatures (handmade cards and watercolor cards with calligraphy look especially beautiful) where you can write the names of desserts and their ingredients;
slates, inscription plates, carved words and phrases (you can decorate the dessert table with your couple's monogram or your hashtag);
colored flags;
textiles (napkins, draperies);
photographs and small paintings;
figurines, figurines, art objects and accessories;
beautiful dishes.
What should you put on the dessert table?
The more varied is the dessert menu, the more catching and appealing the dessert table will be. Ensure that you include gluten-free, dairy-free, low-calorie, and vegan desserts on your list.
​​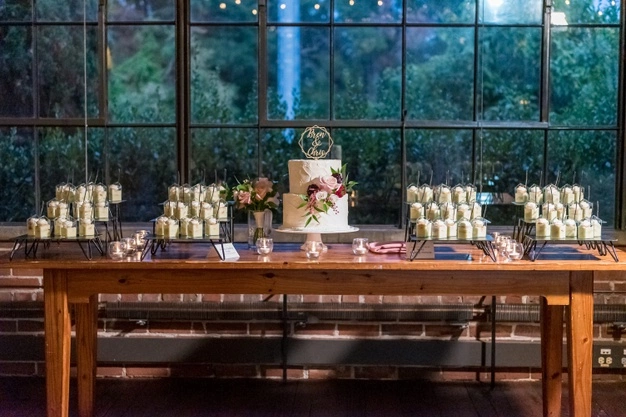 It makes sense to put on a classic dessert table, featuring:
a wedding cake;
cupcakes;
cake pops;
cakes;
donations;
chocolate candies;
lollipops;
pasta;
sweet cotton.
If you want to organize a dessert table in a cozy domestic style, the following treats will do:
sweet pies and pies;
gingerbread;
cookies;
meringue;
marshmallow;
paste;
marmalade;
mini croissants;
jars with jam, jam, and honey.
The healthy nutrition dessert table may include:
sliced ​​or whole fruit;
berries;
dried fruits;
nuts;
natural fruit chips;
natural marshmallows, marmalade, and marshmallow.
You can also put drinks suitable for your desserts on the sweet table: juices, soft drinks, tea and coffee, champagne.
Creative dessert table ideas
Want to really wow your guests? Then you will love these dessert table ideas for decorating a wedding dessert table.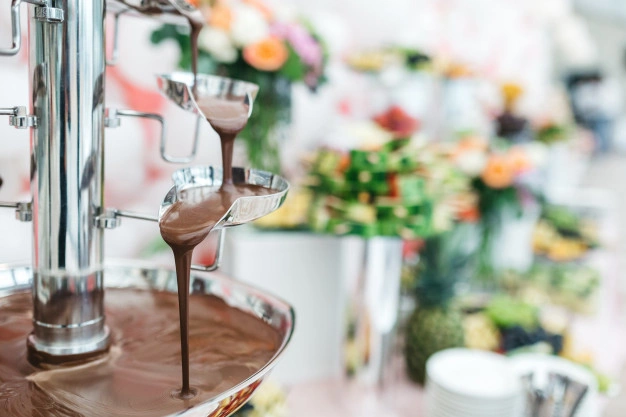 The chocolate fountain is a spectacular and unusual solution. Put fruits, berries, nuts, and marshmallows next to the fountain, as well as forks or skewers on which you can string treats and dip them into liquid chocolate.
Ice hill. If you are planning to put ice cream on a dessert table, an ice slide will be an excellent table decoration and will not let desserts get warm. In addition to ice cream, you can place soft drinks, champagne, berries, and fruits on the ice.
Tips on how to organize a dessert table
One of the key dessert table ideas is that your guests can eat treats without getting their hands dirty. To do this, place napkins and forks on the table with desserts, and choose and pack sweets so that they are easy to take (lollipops and cake pops on sticks, cakes and cupcakes in paper baskets, pastille and marmalade on skewers, sweet chips and nuts in paper baskets). bags, ice cream in cups, and so on).
Do not place a dessert table near a window on the sunny side, near a radiator or a heater – so sweets will quickly deteriorate and lose their appearance.
Treats should be stored in the refrigerator, they should be put on the table immediately before the guests arrive.
Many venues are strict and do not allow you to bring desserts ordered from outside or allow you to bring desserts ordered only from specific vendors. Before planning a wedding party that would feature a dessert table, make sure your venue allows outside catering so that you can bring your own desserts.
To make your wedding cake look spectacular in photos, there is one trick you can also try at your wedding party. Use styrofoam cakes! By putting styrofoam cakes on the bottom, you can add height and a little something unique to the cake with asymmetrical tiers. Thus, the cake will be real and there will be something for cake cutting and pictures. Keep it simple and smooth. Apply white buttercream. You may also request your florist to decorate it with flowers on site.
The pro tip for a professional dessert table planning is to order 2-3 pieces of dessert for each guest (even if you do end up the celebration serving wedding cake, people will still have an opportunity to grab more than 1 piece of dessert from your candy bar).
Don't bake cakes by yourself. Delegate as much as possible. It may seem that you have enough time for planning and doing everything by yourself. However, there will definitely pop up many last-minute tasks that only you can take care of.
When choosing desserts for your wedding celebration, play wise and be especially prudent. Choose desserts that will keep well for a couple of days. Also, make sure they will look well when kept at room temperature for several hours. The pro advice would be to bake cakes a couple of weeks in advance and freeze them until the wedding day. If you decide to move this way, choose desserts that perform well when frozen. For example, you may choose coconut macaroons, peppermint bark, and Russian tea cakes because they are kept well in the freezer. You may also order mini cheesecakes, any type of cookie, mini pies, cake pops, and truffles.
When choosing desserts for your wedding, keep in mind not only the theme of your party but also the weather of those days to ensure that you don't have to worry about any of those pieces melting.
Put cards for each dessert so that your guests know what you serve. It's especially important to add descriptions next to those desserts that contain nuts and other ingredients that people may be allergic to.
One more crucial step is learning how to display and arrange your desserts. In a perfect scenario, desserts should be arranged on long rectangular tables that have enough space to put all desserts. You may also save space by using several tiered platters along with cake stands and other serving plates will help save space, and create a visually dynamic look as well. Other decor elements of the dessert table can be kept simple because the main focus should be on the desserts you serve.
If you do not have a wedding coordinator, ensure that you plan everything in advance. If you are lucky to have assistants helping you with the wedding preparation, ensure that you have a shared document with the dessert table ideas and your plan so that everyone who has access to it can share their suggestions and leave comments. List the exact amount of desserts that should be served at the wedding. Put notes as to where desserts will be served and who will bring them to the venue. The last thing you want is people asking you what is going on the day of your wedding.
The last but not least important recommendation is to keep your dessert table simple. People will be happy with any dessert served.
We hope these dessert table ideas will come in handy for you when planning your special day. If you have any questions or comments, feel free to post a few lines in the comments below this post.