Upgrades to higher room categories including standard suites are a large part of any Hotel Loyalty Program and many times hotels are playing games with availability, denying upgrades to even the top tier elites.
One contentious issue is how to deal with these situations and we've often advocated here on LoyaltyLobby to just cancel the reservation and book elsewhere if a property isn't honoring the program benefits.
I had another such case which was rather interesting this week as I used a Hyatt Milestone Cat 1-4 certificate to make a reservation at the Grand Hyatt Seoul and on the day of arrival, there was still no upgrade visible in the app.
Rather than wasting time and money on the cab by going there and seeing how it turns out, I decided to email the hotel and inquire about the room assignment and the time when the room would be available.
This was the reply of the Grand Hyatt Seoul Grand Club management:
Warm greetings from Grand Hyatt Seoul.

This is Judy, Grand Club Assistant Manager.

First of all, thank you for your reservation today at our hotel.

Regarding your room, we regret to inform that room upgrade for Globalist will not be available since we are expecting full house today.

However, we will do our utmost to arrange standard king room with beautiful view and room will be ready around 2pm.

Once again, thank you for your reservation and we are looking forward to welcoming you soon.

Should you need any further assistance, please feel free to contact us.

Thank you very much.

Best regards,

Grand Club Assistant Manager 그랜드클럽 과장

GRAND HYATT SEOUL 그랜드 하얏트 서울

322 Sowol-ro, Yongsan-gu, Seoul, 04347, Korea
This is really ridiculous. Aside from still selling a decent amount of various room types they advise that Globalist members can't expect ANY type of upgrade. Not a suite, not a club room, not some kind of premium room – NOTHING!
I replied to the email that under these conditions they should please cancel the reservation and return the free night certificate to my account. They did so promptly without any further questioning:
Thank you for your prompt reply.

Room reservation for today has been cancelled accordingly as you requested.

And, we have checked that the award already has been returned to your account.

Thank you very much and have a pleasant weekend.

Best regards,

JUDY

Grand Club Assistant Manager 그랜드클럽 과장
They don't seem to be the slightest bit bothered by a customer just canceling and walking away. IF they are really at capacity this would have been a rather high reimbursement from World of Hyatt, close to the rather high rack rate for today. Hotel revenue seems to be doing well!
Here are the higher room categories that showed available on the website at the time I received that mail: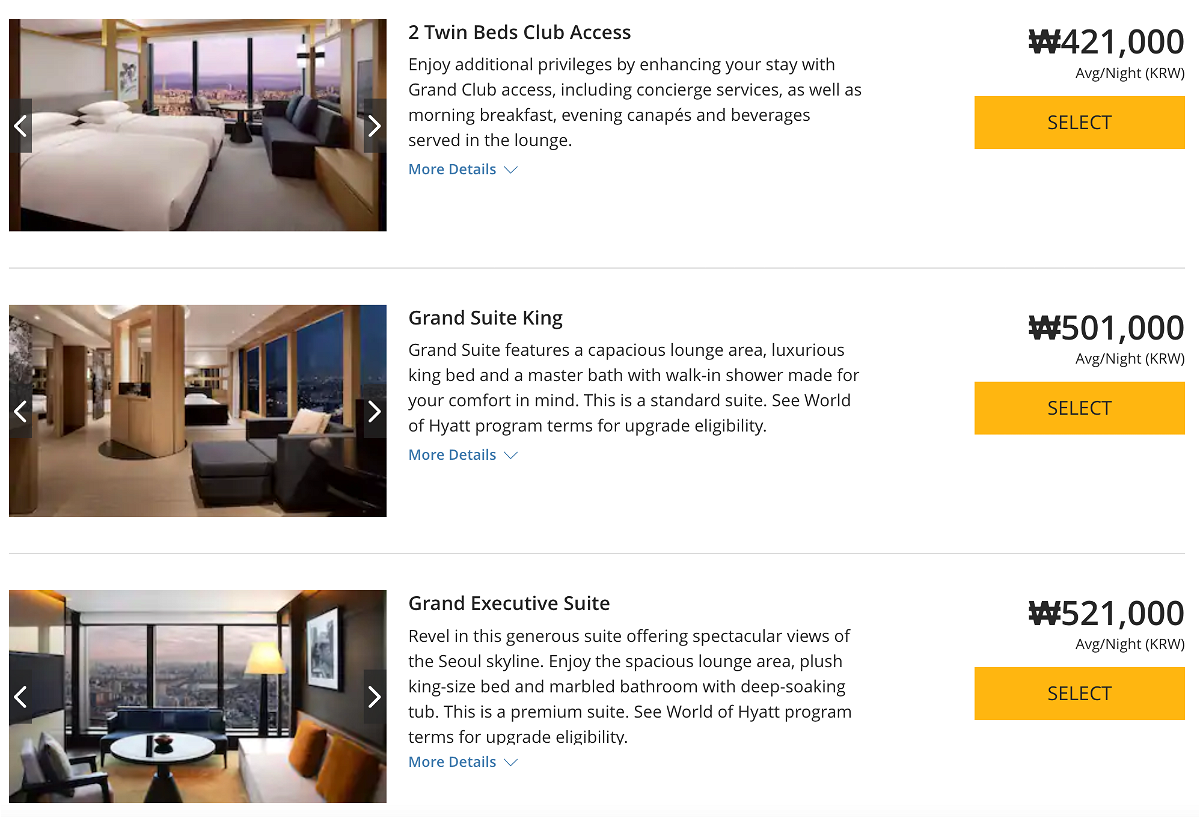 Not sure what's going on at this hotel but there is no point in even engaging in an argument. Just canceling and booking a new room elsewhere is the best course of action when it comes to hotels that cheat and don't want to honor the rules.
I replied with a few lines and copied the GM (who is also the Area VP for South Korea). Of course, this entire policy is his doing, there is no way random hotel staff does this without the clear direction of the hotel management no matter where in the world.
It simply wasn't worth it to hang onto this reservation at the Grand Hyatt Seoul so I decided to cancel. The hotel didn't seem to mind. Carry on. Now, I'm flexible and travel on leisure without pressing appointments or family in tow which leaves me greater freedom to decide these things on short notice. That being said would I travel with family and need space that'd be an even more pressing reason to forego this reservation and stay elsewhere where I can get a suite.
I should have looked at Tripadvisor before because you instantly know something is wrong then a hotel has that many negative reviews from people who write like they know what they're talking about: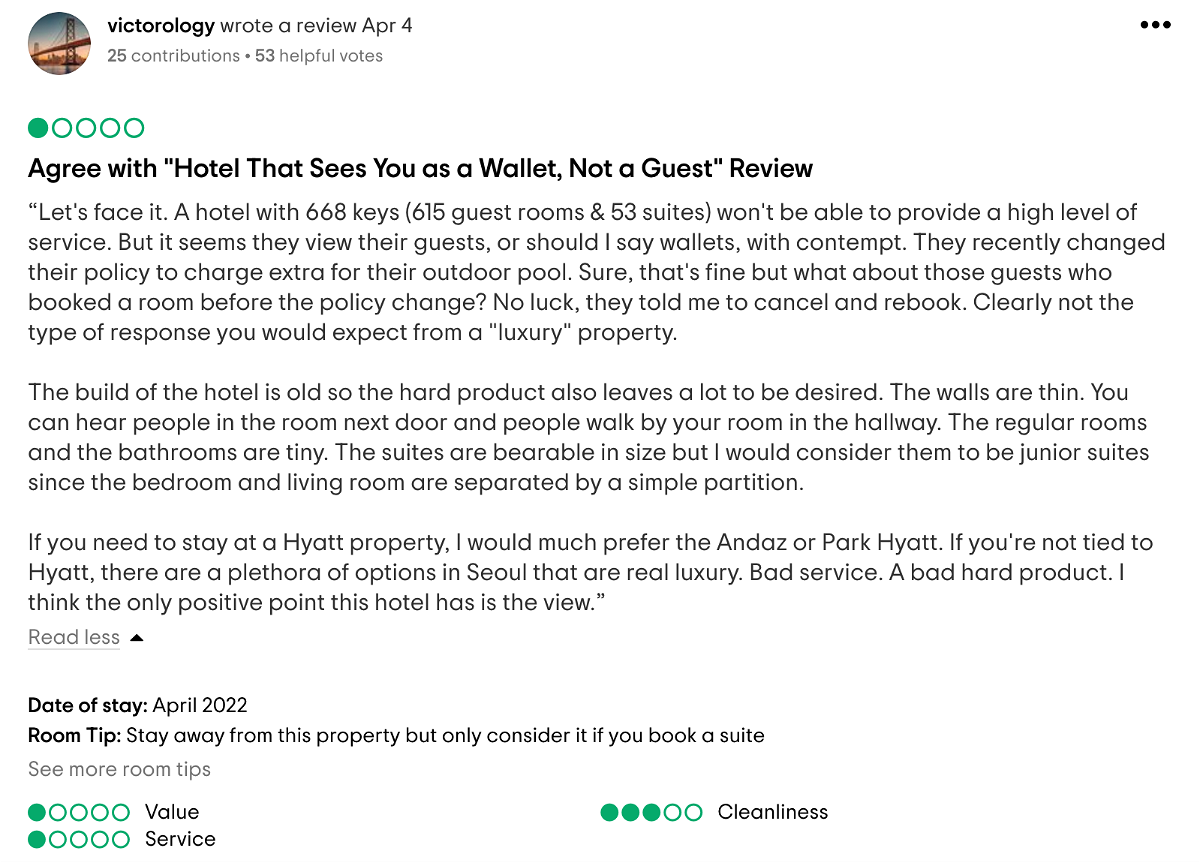 This is a pretty bad review distribution profile. 217 Reviews think this hotel is bad compared to 706 who think it's good. I tend to look at the profiles of those who submit the bad reviews and see how they are written. In the case of the Grand Hyatt Seoul most bad reviews seem to come from seasoned travelers so those weigh even heavier.
What's more, this property doesn't respond in any way to Tripadvisor reviews, either positive or negative. That's extremely rare these days and indicative that management decided it's impossible to defend or put a spin on their bad performance. Seems like I dodged a bullet here.
If you ever face such a situation where cancellation is necessary for the reasons described here, sometimes you have to call the hotel company (program hotline) to have your award or points returned. In this case, it was done automatically.
I ultimately decided to stay at the Andaz Seoul which was excellent.
Conclusion
This is a difficult and contentious topic and I had this discussion with people many times. My position is that these programs have rules and just like I have to abide by these rules I expect the hotels to do so fully as well. If elementary parts of the reservation and on-property benefits are no longer available then I have no problem just walking away. I have elite status with all major hotel chains so there will almost always be another option available locally.
Especially at hotels where it makes a big difference in value and comfort, I insist on receiving my benefits as described under the tier schedule. This Hyatt Cat 4 Award can be used at a range of destinations I have coming up and even under the worst of circumstances, it will be worth ~ $200 (more so when the rates boil over).
Have you ever gotten into arguments with hotels that refused upgrades / other benefits and have you canceled your reservation?