This article contains affiliate links to products selected by our editors. Mental Floss may receive a commission for purchases made through these links.
We don't know who needs to hear this, but there's no need to shell out a small fortune to quickly (and easily!) elevate your bath or shower experience. In fact, some of the best—and most useful—tub-friendly products can be found right on Amazon for less than $25. From a pillowy-soft bath mat that feels like you're walking on a cloud to a handy wine glass holder, these budget-friendly bath and shower accessories will make fun, practical additions to your home.
SinkShroom / Juka Innovations Corporation/Amazon
Make clogged drains a thing of the past with the SinkShroom. This innovative drain protector—which boasts over 14,000 Amazon reviews and a 4.1-star rating on the site—is designed to catch each and every strand of hair. Simply pop it inside the shower or sink drain, clean it off once a week, and you'll be good to go. 
Buy it: Amazon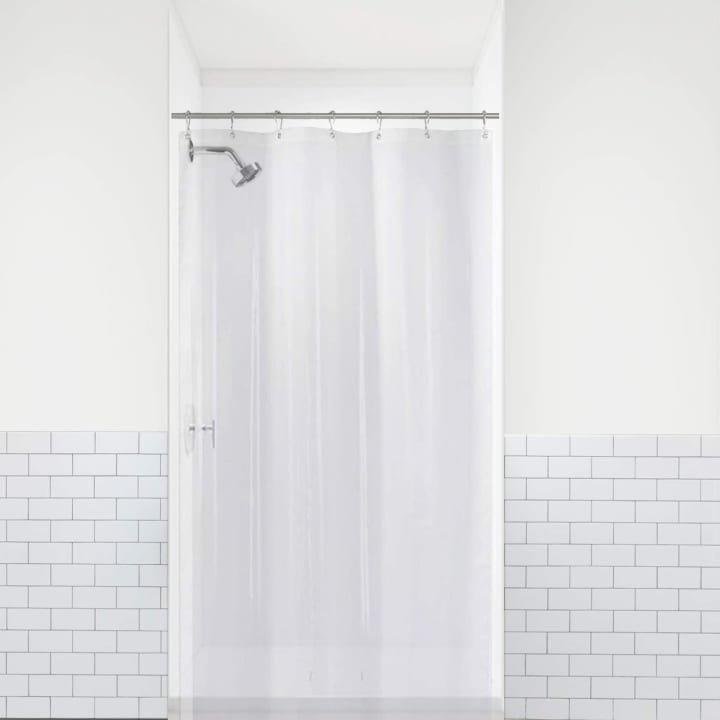 LiBa Shower Curtain Liner / LiBa/Amazon
This water-resistant shower curtain liner will keep your bathroom floors dry and clean. (Don't believe us? Take it from one of the 134,000-plus five-star reviews.) The bottom is equipped with durable magnets to keep the liners in place, while the rust-proof grommets protect against tearing. Thanks to a special, proprietary additive, LiBa liners are also resistant to soap-scum buildup. Grab it one of the available four sizes. 
Buy it: Amazon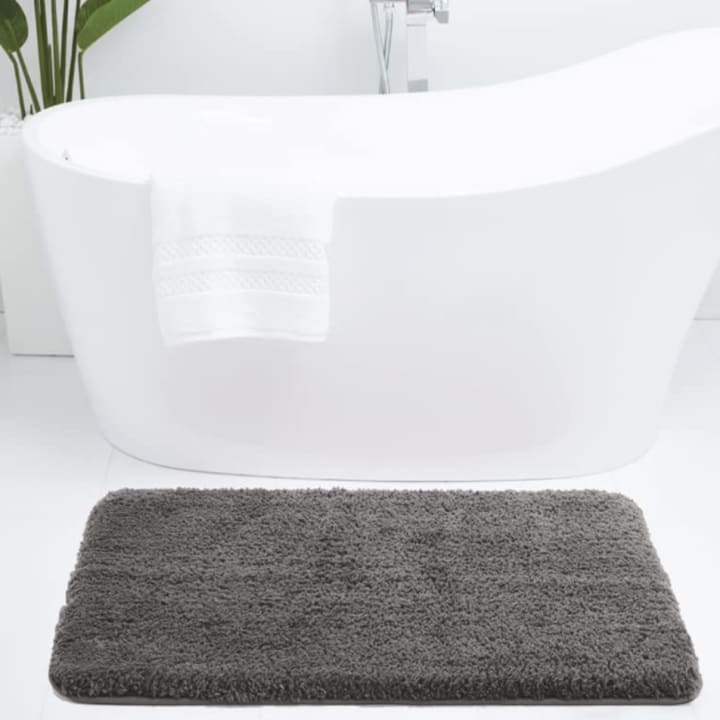 Gorilla Grip Premium Luxury Bath Rug / Hills Point Industries, LLC/Amazon
Time to put your old bath mat out to pasture? Consider grabbing a plush alternative like this one from Gorilla Grip to add an extra-luxe touch to your bathroom. The cushy microfiber material offers comfort and warmth (besides, nobody likes to step out of the shower and onto an ice-cold floor!) while absorbing excess moisture and water. It's even machine-washable for easy cleaning. Choose from five sizes and 17 colors. You can also get a quick-drying, microfiber version from Gorilla Grip in 10 different sizes and over 40 color varieties.
Buy them: Gorilla Grip Microfiber Bath Rug; Gorilla Grip Premium Luxury Bath Rug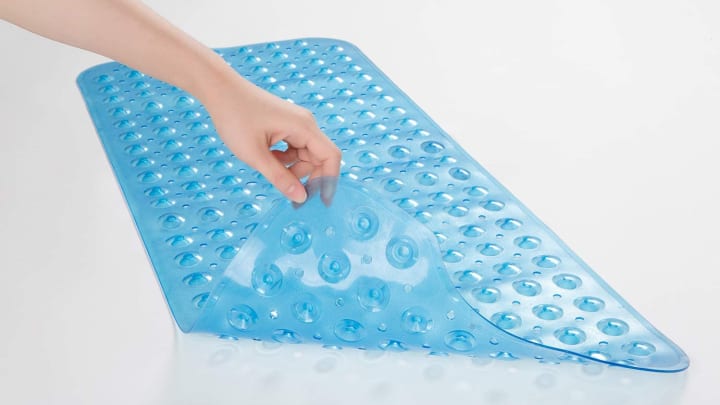 AmazerBath Bath Tub Mat / AmazerBath/Amazon
This machine-washable PVC bathtub mat has close to 32,000 reviews and a 4.5-star rating on the site. It also offers 200 suction cups to keep it securely in place (read: no slipping and falling). Meanwhile, the 176 drainage holes in it prevent water from building up, so you're less likely to deal with mildew. Just keep in mind that the mat was specifically designed for smooth, clean surfaces, which means it won't work on tile. Select from 10 colors. 
Buy it: Amazon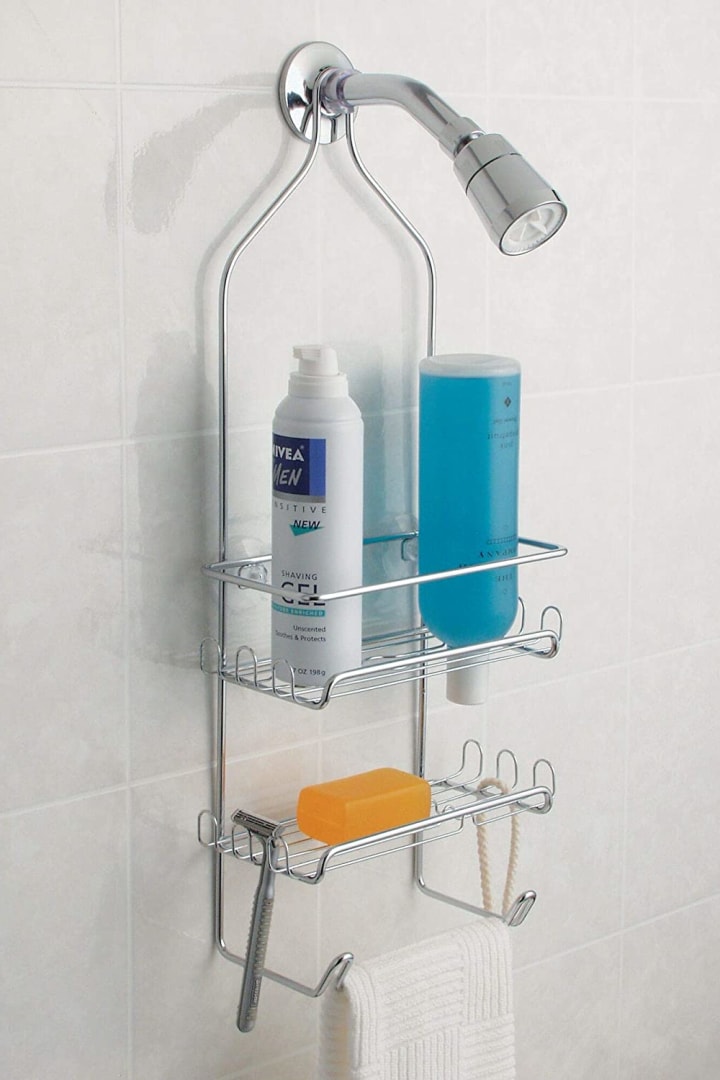 iDesign Milo Steel Hanging Shower Organizer / InterDesign/Amazon
If you're tight on bathroom storage space, consider purchasing this hanging shower organizer to keep your shelves clutter-free. It's equipped with two shelves, a towel rack, and 14 hooks for all of your bath and shower accessories. The sturdy stainless steel construction is especially noteworthy, as it's rust-resistant and many of the more than 1100 Amazon shoppers who have reviewed this 4.6-star-rated item say it's easy to clean off with simple soap and water. 
Buy it: Amazon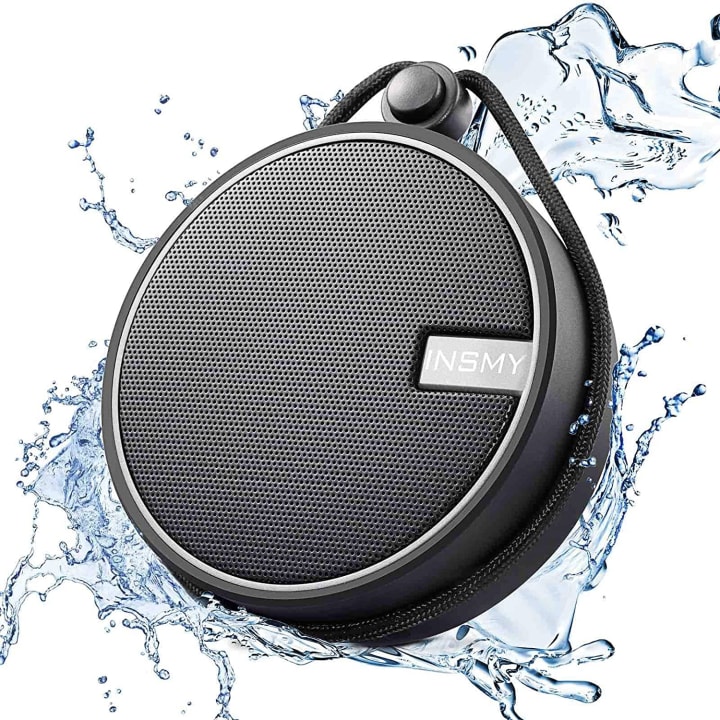 INSMY C12 IPX7 Waterproof Shower Bluetooth Speaker / INSMY/Amazon
This Bluetooth shower speaker features 20,000-plus ratings and an affordable price tag. Not only does it offer up to 12 hours of playing time, but it can also be submerged in up to 1 meter (about 3.2 feet) of water for up to 30 minutes and still function. When it comes time to charge, just plug it into the included USB cable. It even comes complete with a suction cup for easy installation in your shower. 
Buy it: Amazon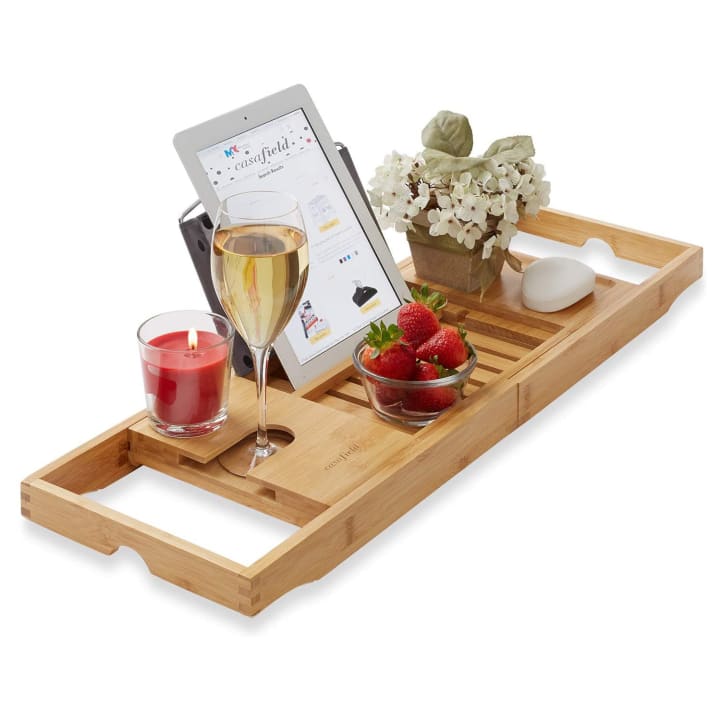 Casafield Bamboo Bathtub Caddy / Casafield/Amazon
Take bathtime to a whole new level with Casafield's bamboo bathtub caddy. The adjustable tray easily holds your favorite book, tablet, or magazine—along with a handful of other essentials (think: a cellphone, candle, or bath bomb). The secure wine glass slot makes it easy to enjoy a glass of vino while you soak, while the non-slip silicone grips will prevent it from sliding out of place. Plus, the waterproof coating adds durability. 
Buy it: Amazon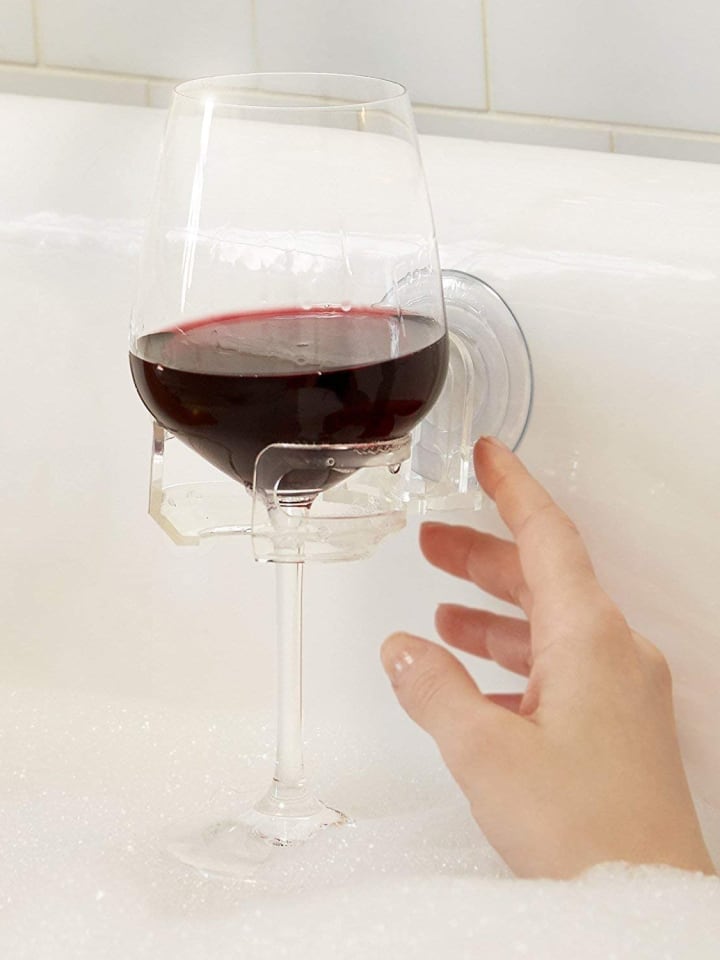 SipCaddy Shower Beer and Bath Wine Holder / SipCaddy/Amazon
The SipCaddy conveniently holds beer cans, bottles, wine glasses, and certain-sized coffee mugs, allowing you to enjoy your desired drink straight from the comfort of your bath or shower. Because it utilizes suction cups, the SipCaddy is designed for use on smooth surfaces (such as glass and mirrors). When it's time to clean, just pop it in the dishwasher, et voila. 
Buy it: Amazon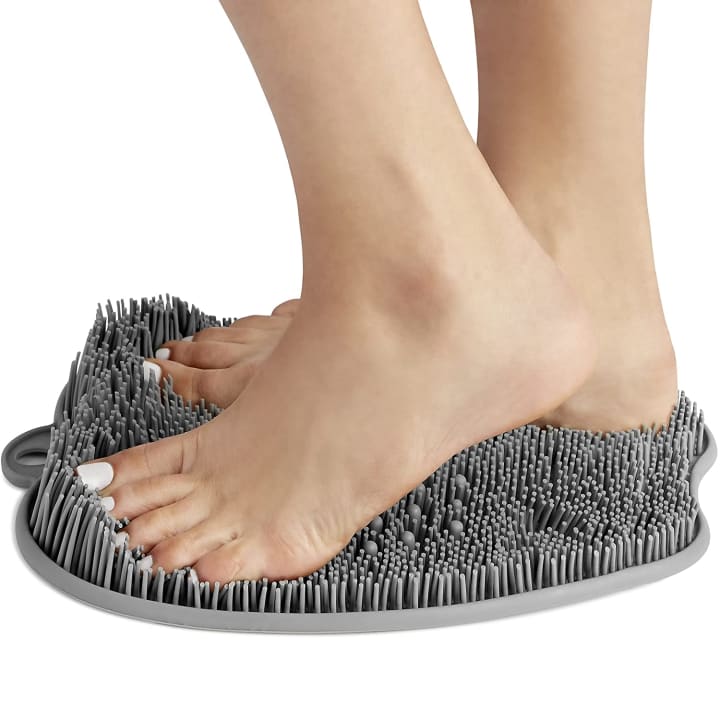 Love, Lori Foot Scrubber / Love, Lori/Amazon
This fan-favorite foot scrubber has a 4.1-star rating and more than 17,000 Amazon reviews. It's comprised of hundreds of bristles to easily clean all the crevices of your feet, especially between your toes. The non-slip suction cups adhere to smooth, clean surfaces. The best part? You don't even need to bend down. Plus, it pulls double duty as a foot massager. Snag it in one of three sizes and choose from five available colors. 
Buy it: Amazon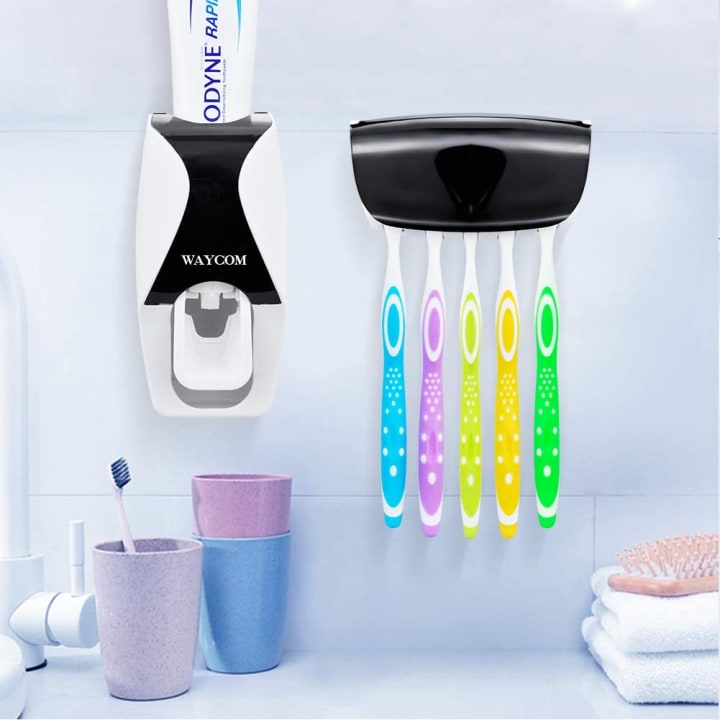 WAYCOM Toothpaste Dispenser / WAYCOM/Amazon
Preserve precious sink space by using this toothpaste dispenser and toothbrush holder from WAYCOM. The nifty gadget, which holds up to five toothbrushes, is designed to keep your dental essentials organized. The included double-sided stickers are suitable for use on smooth surfaces, making installation a breeze. It's also hands-free for added convenience, and with the toothpaste dispenser, not even a single dollop of toothpaste will go to waste.
Buy it: Amazon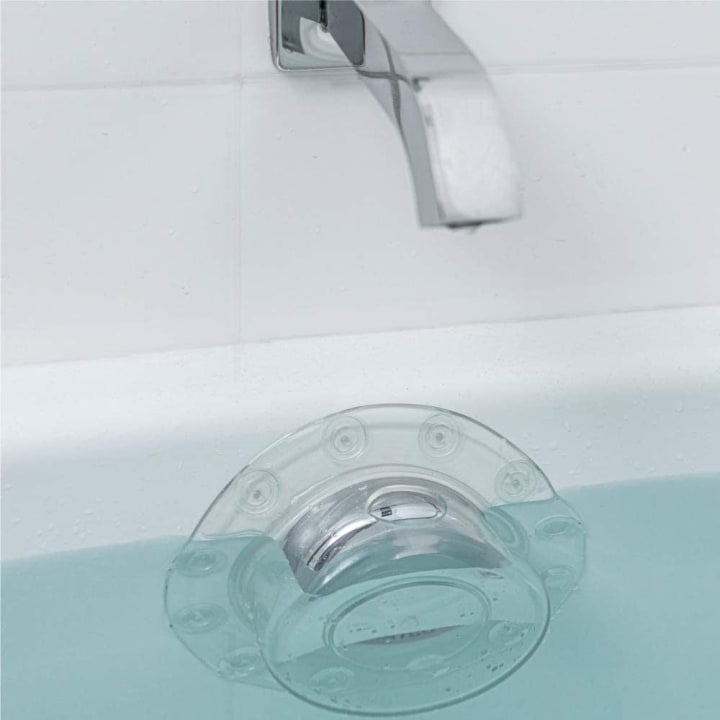 Gorilla Grip Bathtub Overflow Drain Cover / Gorilla Grip/Amazon
Soothing your senses with a nice, hot bath can be a wonderful way to self-care after a long day. That zen state is bound to be short-lived though if you're soaking in water that's slowly seeping down the drain. Grab this overflow drain cover from Gorilla Grip in one of 10 shades and you won't ever look back. It's made with 12 ultra-strong suction cups that work in tandem to create a tight seal, and can fits most types of bathtubs with overflow drains, whether they be toggle, snap, lever, or even flat designs.
Buy it: Amazon
Related Tags
Adblock test (Why?)