Live edge tables are beautiful but pricey. Here's how to DIY one.
We wanted a bit of a unique look in our house so decided to go for some natural timber.
The timber is best sourced locally and can be pricey. It is much cheaper to buy a wood slab and sand it and treat it yourself than buying a readymade live edge furniture or cabinet.
Our choice was Black Wattle, a type of acacia wood.
Required materials:
IKEA VÄSTANÅ underframe (Or any other separately sold sturdy underframe like the TROTTEN)
A treated solid timber slab
A box of black 70mm timber screws
Photo: VÄSTANÅ underframe | IKEA.com
Easy way to build a live edge dining table
Step one is to assemble the underframe and center it on the underside of the slab.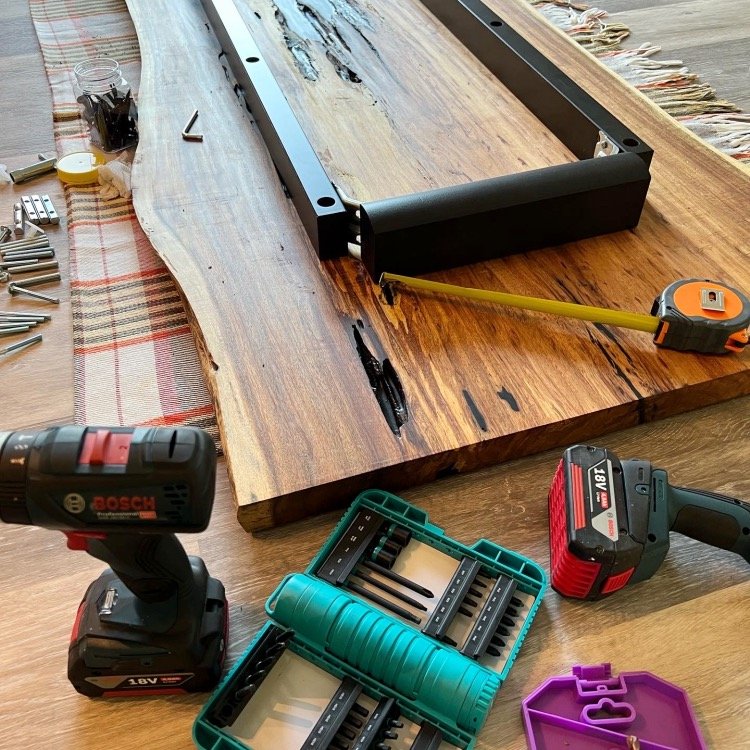 Step 3 is to mark the locations for the screws on the underside of the wood slab. Using a drill bit that fit the size of the predrilled screw holes on the underframe, I drilled holes for the screws on the wood. Be careful not to overdrill through to the surface of the table.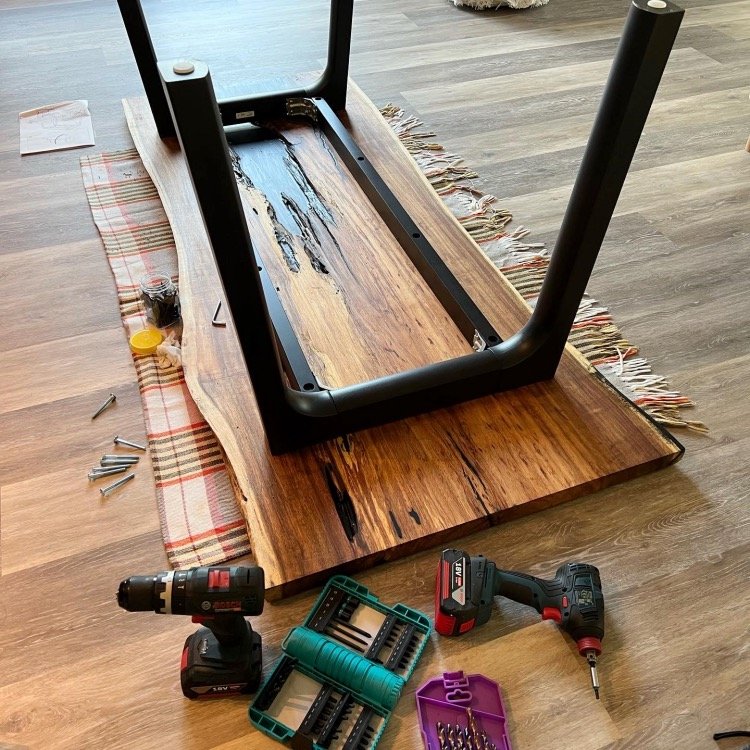 Use a bit of masking tape to mark the depth level to drill.
The last step is to screw the underframe to the wood slab.
And you're done.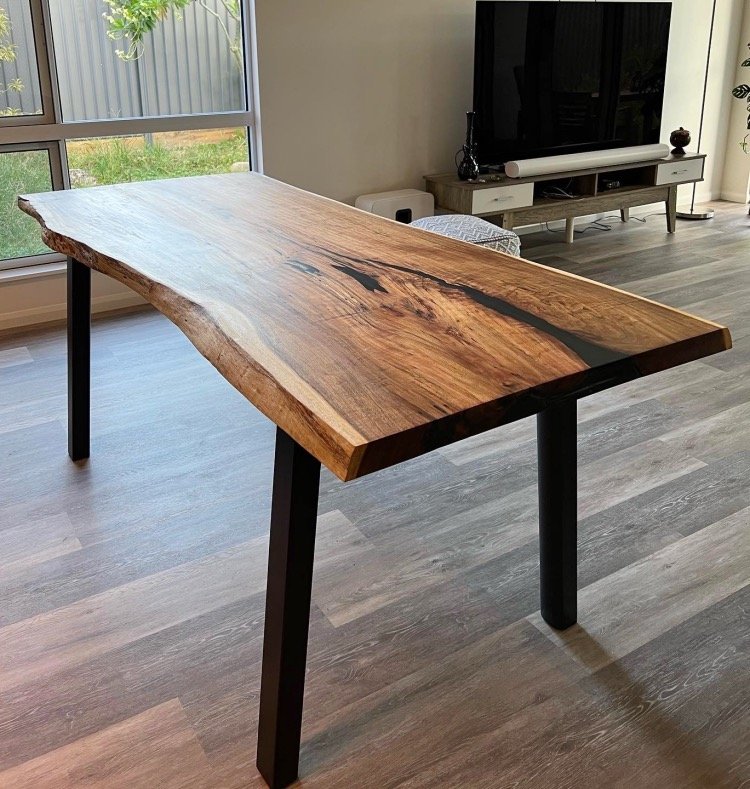 This table is a feature piece and looks AMAZING in our dining room!
How much does a DIY live edge table cost?
The breakdown of cost as follows:
IKEA VÄSTANÅ underframe: $150
Black Wattle Table Slab (including cutting to size, treatment and epoxy work) $1700
Screws $10
All in about $1860.
I hope this inspires some other people to upgrade IKEA furniture with beautiful natural timber.
~ by Regina Meyer @reginapetrameyer on Instagram.
More IKEA hacks with live edge wood slabs
Luxurious bathroom vanity with live edge countertop
In this IKEA hack, we upgraded the GODMORGON vanity look with a live edge white oak countertop, chrome handles, Kohler top-mount sinks and wall-mounted Grohe faucets for a more luxurious look. Read more.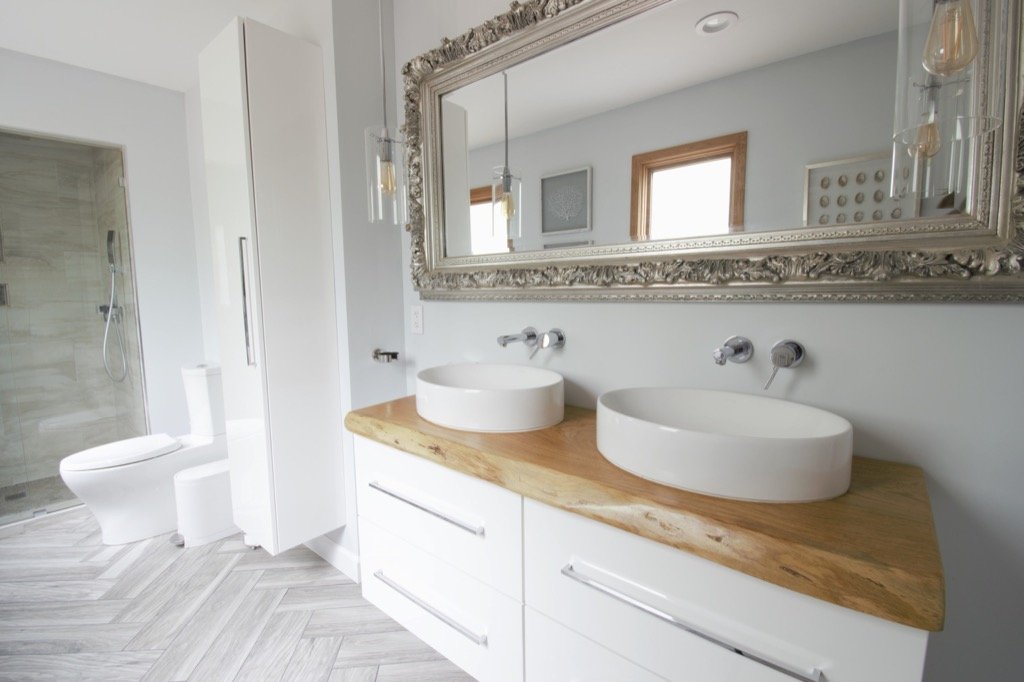 Dual workstation with live edge desk top
The counter top is a 12′ slab of bubinga purchased from a lumber yard. By having the lumber yard cut one raw edge off (placed at the back wall), but leaving the front raw edge, we have both an organic look, and an ergonomic, soft edge for typing. Read more.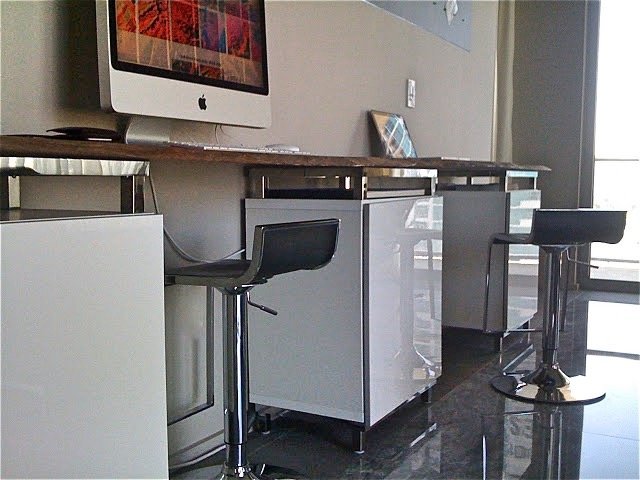 The post DIY Live Edge Dining Table even a Beginner can Make appeared first on IKEA Hackers.