Encompassing 2.2 million acres—larger than the size of Rhode Island—Yellowstone National Park is enormous, which is why it's a good idea to figure out what you want to see and know which entrance is closest to those sights. There are five ways into Yellowstone: the North Entrance, Northeast Entrance, East Entrance, South Entrance, and West Entrance. Here are the details on each to help you plan your adventure to the country's oldest national park.
North Entrance, open year-round, brings you to Mammoth Hot Springs.
Northeast Entrance puts you at the doorstep of the park's wildlife.
East Entrance brings you to Yellowstone Lake.
South Entrance allows you to tackle two national parks in one day.
West Entrance brings you to geyser paradise.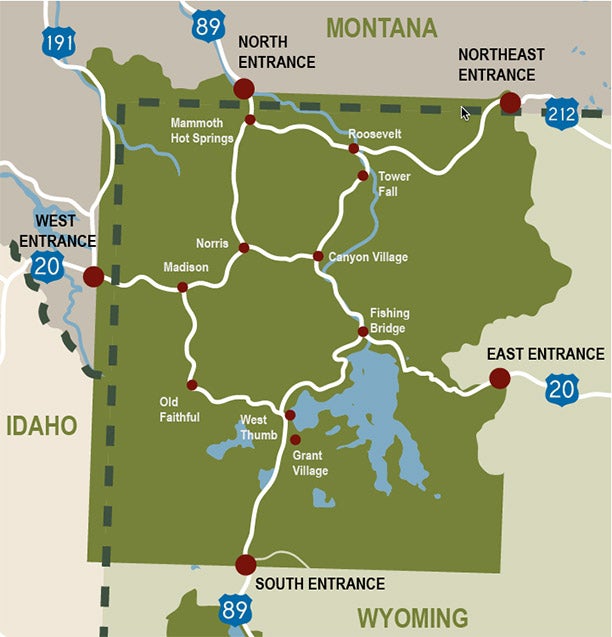 1. North Entrance Brings You to Mammoth Hot Springs
Want to experience some of the West's most spectacular scenery in a town that can feel like a cross between Northern Exposure and Animal Planet, given its wild neighbors living up the street in Yellowstone?
Head to Gardiner, Montana, just five miles from Yellowstone's steaming terraces of Mammoth Hot Springs, one of the park's many natural wonders. Located at the only year-round entrance to the world's first national park, pretty much everything in Gardiner is colorful, from the scenery and people to the names of the dishes on menus, adding a poetic slant to your visit.
If you're coming from the Pacific Northwest or even Missoula, Montana, the North Entrance, along U.S. 89, may be the one for you. Situated in the lively small western town of Gardiner, the North Entrance is open year-round and is the only way to reach the park's northeastern border in winter.
Be Wowed by Mammoth Hot Springs
From the North Entrance, you are well-situated to see the park's incredible wildlife, as well as the famed Mammoth Hot Springs and the historic hotel and dining room located nearby. You also pass the Boiling River turnoff on the stretch of road from Gardiner to Mammoth. In the Boiling River, one of two sanctioned swimming areas in the park, you can swim in an area where warm hot springs water enters the Yellowstone River.
Explore Lamar Valley
From Mammoth, you can head east on the northernmost road in the park to reach the expansive Lamar Valley, referred to as the Serengeti of the United States because of the extraordinary diversity of mammals living there. Lamar Valley is where the first wolves were reintroduced to the park in 1995–1997. It is also home to grizzly bears, black bears, bison, and elk, among many others. Bring your binoculars.
2. Northeast Entrance Puts You at the Doorstep of the Park's Wildlife
Closest to Cooke City, Montana, and its sister village, Silver Gate, the Northeast Entrance gives you the best access to Yellowstone's legendary Lamar Valley, where grizzlies, black bears, bison, and wolves roam. The tiny outpost of Cooke City, with a year-round population of 100, has a downtown that spans only a few blocks but offers good dining and lodging options.
Closed in winter, the Northeast Entrance is a good choice if you're coming from the northeast side of Montana, like Billings or Red Lodge. From Billings, you can take I-90 west to U.S. 212 west; from Red Lodge, take U.S. 212 west. Driving U.S. 212 west is arguably the most dramatic route to enter the park.
Be Amazed By Beartooth Pass
With its sweeping alpine vistas, Beartooth Highway, along U.S. 212, is the closest you might get to feeling as if you're on top of the world. Every corner of the road presents a more incredible view than the previous. Head south over Beartooth Pass before dropping into Cooke City and Silver Gate, the closest towns to the Northeast Entrance.
Fuel Up in Cooke City
Cooke City is a tiny town but offers a number of services, including lodging, restaurants, and gas. From there, your drive to the Northeast Entrance is a matter of minutes. Once you go through the entrance gate, the Lamar Valley unfolds before your eyes and is home to bison, grizzly bears, black bears, wolves, and elk. Plan to spend some time along the roadside turnouts to view the animals from a safe distance. The Lamar Valley will give you an overwhelming sense of what the Greater Yellowstone Ecosystem looked like before white pioneers settled there more than 150 years ago.
3. East Entrance Brings You to Yellowstone Lake
The East Entrance brings you directly to Yellowstone Lake, the largest high-elevation mountain lake, at 7,733 feet. It stretches 20 miles long and 14 miles across, and its shorelines are dotted with geothermal features. From there, the West Thumb Geyser Basin and Old Faithful lie to the southeast, and the Grand Canyon of the Yellowstone lies to the north.
To get to the park's East Entrance, you will pass through Cody, Wyoming, founded by Buffalo Bill Cody. Although Cody is 53 miles from the East Entrance, it is the closest town to the entrance.
Have an Authentic Western Experience
Cody is an Old West town that celebrates its rich history through daily summer rodeos and incredible museums that make up the Buffalo Bill Center of the West. With its historic downtown and numerous family-friendly activities, including the Cody trolley tour, where you can learn more about Cody's history, the town is well worth a stop for a day or two. Admission to the Buffalo Bill Center of the West is good for two days, so take your time exploring.
Buy a cowboy hat downtown at the third-generation-owned Wayne's Boots or up the hill at Boot Barn, and head to two of Cody's family-friendly venues that offer cowboy music during the evenings. The Cody Cattle Company has a casual atmosphere where kids can run around the establishment's wooden picnic tables. Dan Miller's Cowboy Music Revue is a more upscale show that has moved next to the Irma Hotel in downtown Cody. The show starts at 8 p.m., Monday through Saturday, throughout summer.
Stop at Buffalo Bill Dam
From Cody to the East Entrance, you'll take the Yellowstone Highway, also known as U.S. 16-20-14, past the enormous Buffalo Bill Dam, six miles from town. Completed in 1910, it was the tallest dam in the world at the time. Today, it supplies water to 93,000 acres of farmland in the Bighorn Basin, bringing to life alfalfa, sugar beets, oats, barley, and beans. The dam's visitor center is open daily May 1 through September 30. From there, you will continue through the valley, eventually reaching Sylvan Pass, which is RV-friendly and tops off at 8,350 feet.
4. South Entrance Allows You to Tackle Two National Parks in One Day
If you are looking to tackle two national parks in one day, the South Entrance is for you. From Jackson, Wyoming, you can stop at the awe-inspiring Grand Teton National Park along your 57-mile drive north on the John D. Rockefeller Jr. Highway up to Yellowstone. Plus, if you're staying in Jackson, the South Entrance is the easiest access to Yellowstone.
Jackson itself is an incredible mountain town that attracts skiers to its steep slopes in winter and throngs of tourists in summer. Blending the Old West with upscale boutiques, Jackson is the ritziest of all Wyoming towns, but it offers a full range of hotels and eateries catering to every type of traveler.
After entering through the South Entrance, you'll drive along a stretch of the park's road that has no turnoffs for more than 20 miles. Once you hit the West Thumb Geyser Basin, you can stretch your legs and explore some of the park's amazing geothermal features. From there, head west to view Old Faithful, or continue north along the shores of Yellowstone Lake and up as far as the Lamar Valley, which stretches to the Montana border and is known for its abundance of large mammals, including wolves, bison, and bears.
5. West Entrance Brings You to Geyser Paradise
If geysers top your Yellowstone hit list, you may want to enter the park via U.S. 20 and the West Entrance, which puts you in the heart of the park's geyser country.
This entrance is the park's busiest, so it's no wonder that West Yellowstone, Montana, is a bustling gateway with dining, shopping, and attractions for travelers. Located just across the Wyoming border in Montana, West Yellowstone is convenient for those coming from Idaho or western Montana, especially Missoula. Visitors will find Wild West flavor, plenty of lodging, and a mix of cultural and outdoor activities.
Welcome to Geyserville
When you enter the park through the West Entrance, you'll drive 14 miles until you reach Madison, a jumping-off point for geyser basins to the north and south. Head south and you'll see the Lower Geyser Basin, the largest geyser basin in Yellowstone, which includes Fountain Paint Pot, the Firehole Lake Drive area, and the Great Fountain Geyser. You'll want to stop at the Midway Geyser Basin, slightly south, which is home to the dazzling Grand Prismatic Spring and its resident bacteria that creates rainbow-like rings in spring.
Farther south is the Upper Geyser Basin, home to Old Faithful, Biscuit Basin, and others. At least 150 geysers exist in one square mile here.
Up north you'll find Norris Geyser Basin, the park's oldest and hottest thermal area, with two walkable zones. It's home to the Steamboat Geyser, the world's tallest geyser at 300-plus feet. If you drive farther to the park's northern border with Montana, you can explore the boardwalks of Mammoth Hot Springs, a two-tier travertine wonder.
West Yellowstone Attractions
There's a lot to do when you're ready to take a break from sightseeing in the park. Minutes from the West Entrance is West Yellowstone, Montana, home the Grizzly and Wolf Discovery Center, as well as lodging and dining.
Catch a show at the Playmill Theatre, or study up for your park trip at the Yellowstone Giant Screen Theatre, which shows IMAX movies about Yellowstone and beyond. It's also home to a number of well-equipped RV parks, making it a fantastic place to park your RV and launch tours of the park via your car.
Getting a park map is key to understanding where Yellowstone's scenic attractions are located and their proximity to the park's entrances. You'll get a free map when you go through an entrance station, but if you want to plan in advance, purchase a Trails Illustrated map of Yellowstone from REI.com.
Pssst: Want to receive a printed insider's guide to Yellowstone, with tips on where to stay and what to do? Order our free stunning Yellowstone Trip Planner filled with an inspiring itinerary, gorgeous photographs, and everything you need to plan your dream vacation.
The post Which Entrance to Yellowstone National Park Should I Take? appeared first on Outside Online.