Girls and women, we need a piece of your attention! The important topic is on the agenda of the article — make-up bags. We all shall agree, that any woman can never have enough of these organizational helpers, just as with the cosmetics that we put into them. I guess, every one of you would agree, that at least three make-up organizers are needed for each of us girls.
Just in case there are those, who don't get it, here is an explanation why do we need a minimum of three bags.
One bag is for home, it is obvious. Some girls have too many products which they do not use in their everyday life, but still, need all those cosmetics, and here comes the bag, where we store all those make-up things. By the way, one bag is a rare case, mostly, girls have a minimum of 3 "home" make-up bags. What is the point? It is simple – organization, who needs all that mess in their bathroom or bedroom!?
The second make-up bag is the small one, which can be carried in a bag or backpack. Probably not all the girls have such, but most of us. If a man read this, he would surely ask "If you have cosmetics at home, why do you need to take it with you as well?" They won't understand us, will they? This make-up mini organizer is a saver of our lives. We use it when we are late, and in this case, we can wear some makeup on our way, we can use it to fix makeup that was done at home, and, we can also make a new – evening make up on Friday evening, so to go out right from work. See, loads of functions for one bag.
And the third organizer that is also important – a travelling make-up kit. And no, we can't use any of the previous ones for travelling. This bag varies from other ones, it has to be comfortable, capacious, and of medium size at the same time. It would be perfect to have even two travel make-up bags, one smaller for mascara, bb-cream or something, eyeshadows, and so on, and the other one – bigger, for all "bathroom" products such as shampoo, toothpaste, shower gel, etc.
We decided not only to tell you about the use of all these make-up bags, but also we found on Amazon some great examples of mentioned-above types of bags. Ladies, here is the list of make-up bags for home, small bags to go, and travel make-up bags for you.
"Home" make-up organizers:
*Can be used at home, and as a travel bag
This make-up bag is perfect! First, it is usual and will take much place neither in your drawer nor in your suitcase. Then, it is transparent, so it will be easy to find everything you need without struggling and trying to remember "Where did I put that mascara..". It is waterproof from both sides, and if something spills, you can just wash the bag with some soap and water and then put all the products back. Plus, you don't need to worry about your clothes if you take this makeup bag with you, or about your furniture being spoiled by your cosmetics. Finally, it looks pretty good. We all know that something simple looks the best!
2. Zipper Pouch Makeup Organizer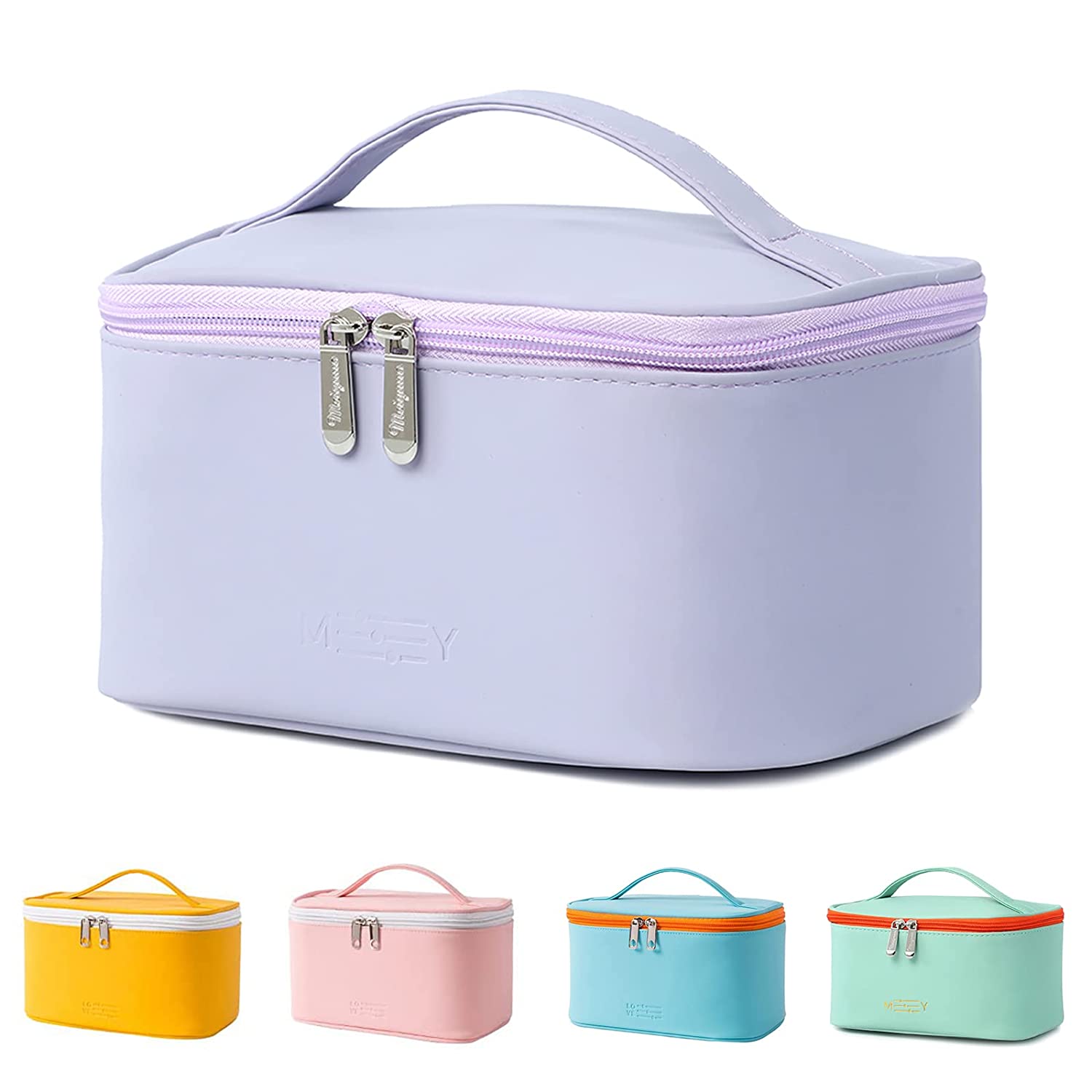 *also can be used for traveling, but is quite big 
This variant is bigger, so, first of all, is suitable for girls and women that just looove (you know what we mean) cosmetics, and have lots of make-up products. This organizer is also waterproof, it is made of high-quality leather fabric, smooth and soft to touch, and, what is the most important – easy to clean inside. And, look at those colors, aren't they cute?
*you can use this for traveling, but it is quite big and may take much space in your suitcase
This bag is a real treasure! Why? The reason is quite easy, it is comfortable, capacious, and space-saving at the same time. How does it save place? Well, you just put all the cosmetics, which you don't use daily into the bigger layer below, and all the every-day-makeup-products you can keep on the smaller, transparent layer. Genius, this is the best description of the organizer like this!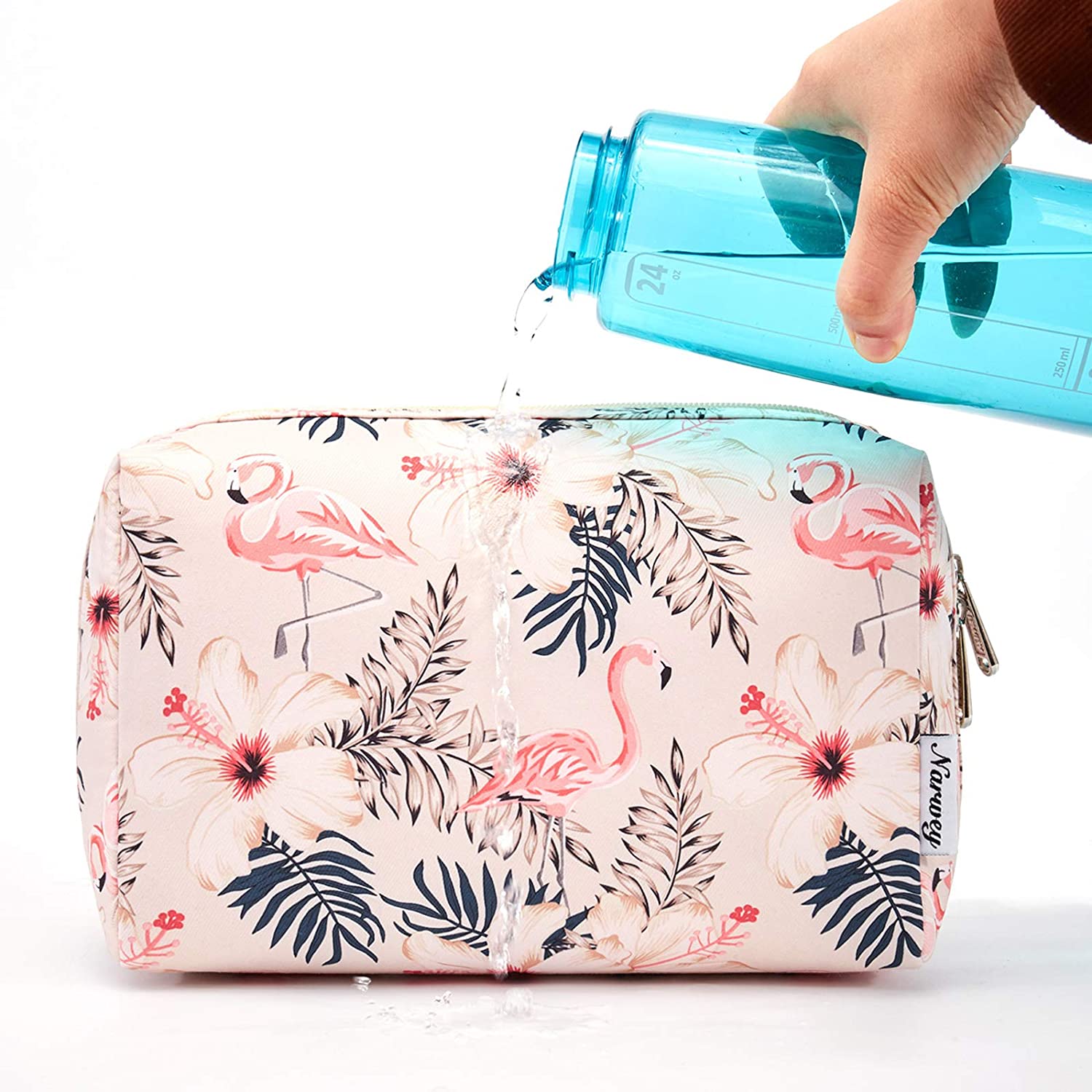 If you don't have many makeup products, you may like this bag, where you can keep your cosmetics and skincare products at the same time. This will be your "face" kit, which you can keep in your bathroom or the bedroom, and this bag will save much space around. The bag is water-resistant and easy at cleaning, plus, has various cute prints. This bag can be described as – easy-peasy lemon squeezy.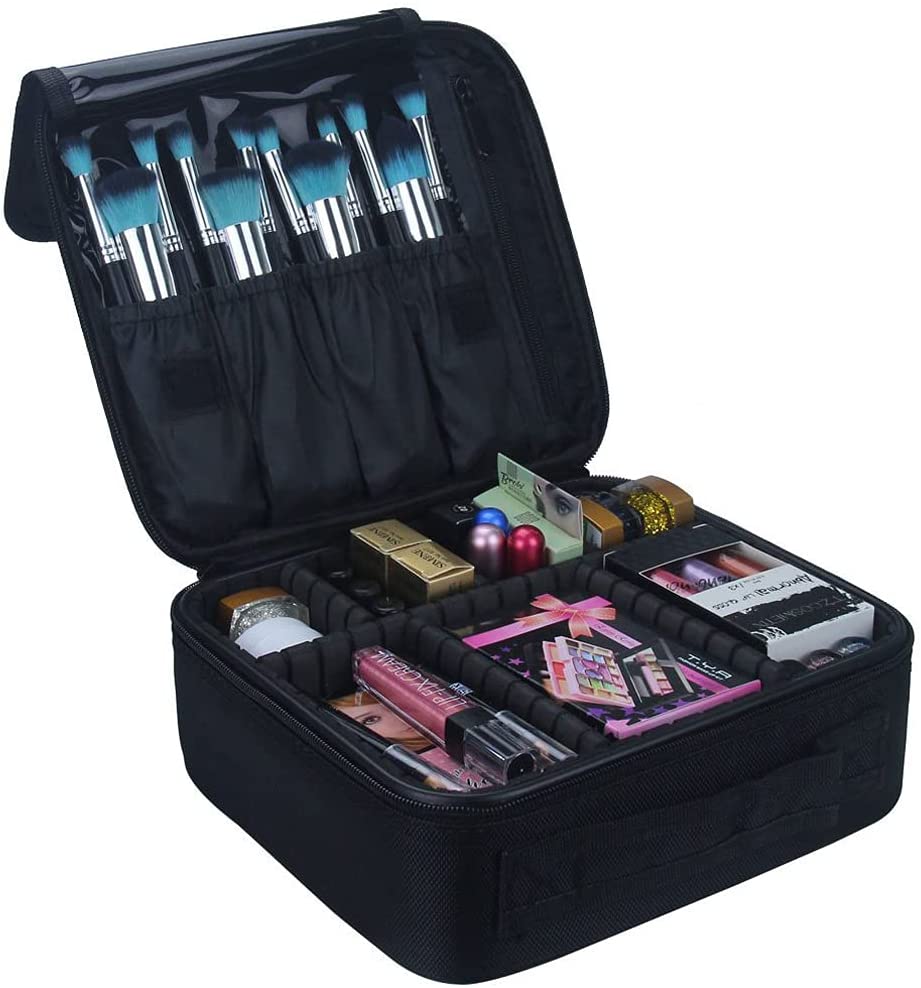 *you can use it while traveling, but mostly for long trips, as the bag is quite big
For those who love order in everything and everywhere this organizer is a dream that can be true. The makeup organizer is available in three sizes: small, medium, and large. Everything in this bag says that it will be with you for years. The bag has much space for all of your cosmetics and skin-care products. This organizer has several compartments and makeup brushes slots — and that's why it is perfect for order-lovers. The design is quite minimalistic, but you can choose any other available design.
Small make-up bags "to-go":
1. Portable Nylon Toiletry Pouch (6 pieces)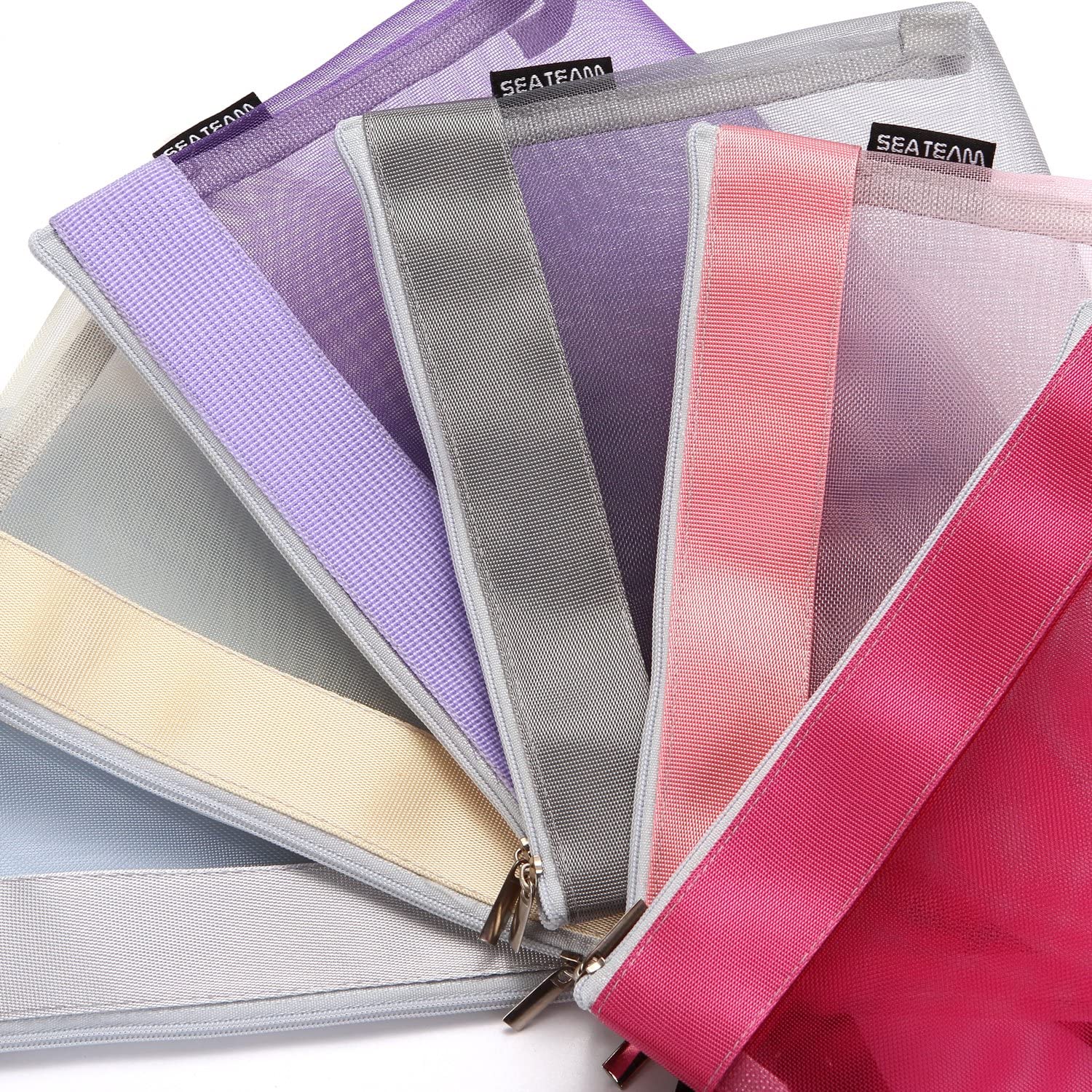 This pouch is really simple, lightweight, which is good, and the colors are pretty nice. You can carry come lipsticks, mascara, concealer, and whatever you need to have with you all the time. You may wonder, why would you even need this pouch, well, to keep your cosmetics in one place, plus, to prevent dirt and mess in your purse.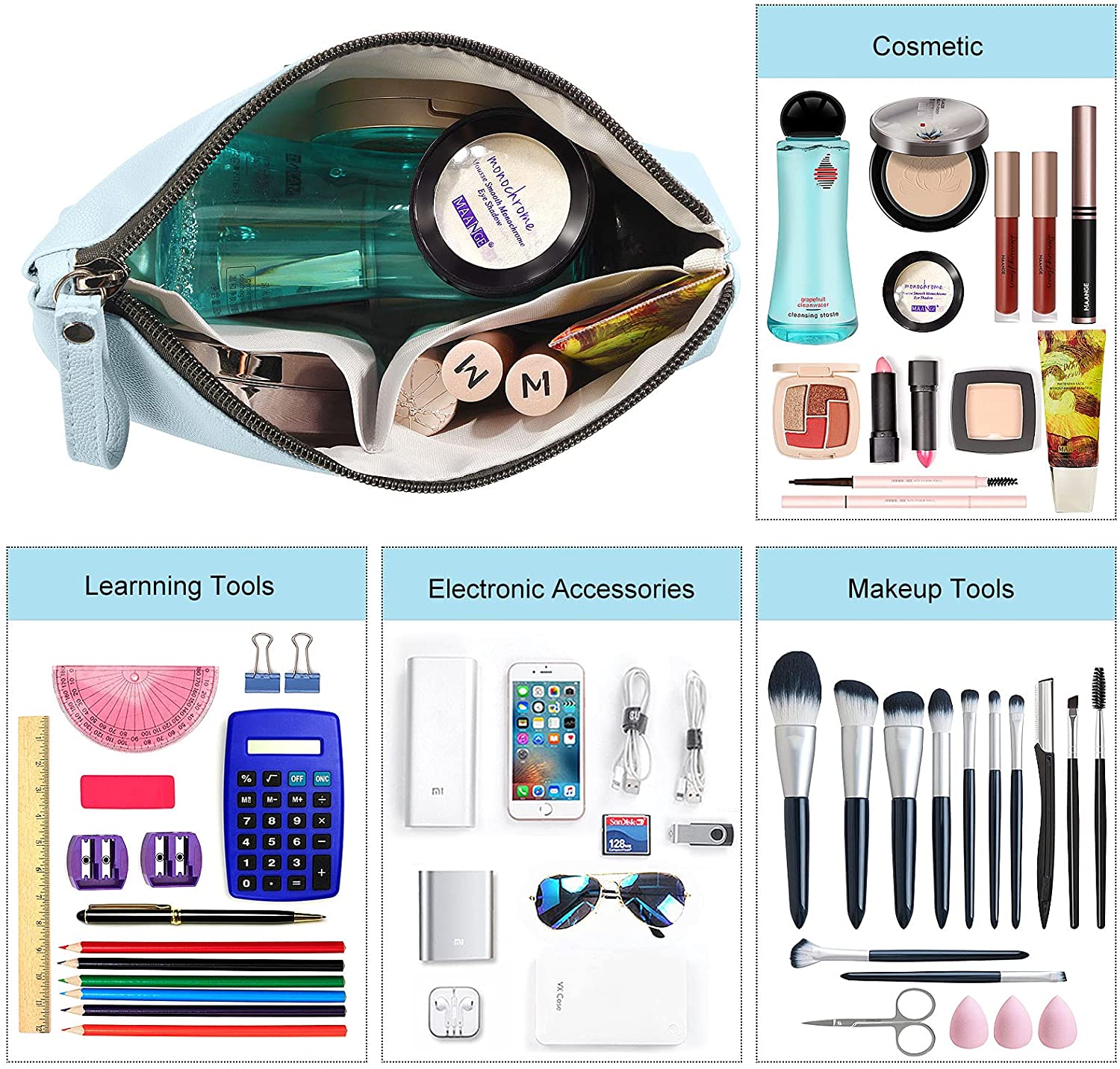 A bit bigger than the previous one, but is still suitable for your purse makeup bag. The organizer is made of high-quality waterproof leather, it is soft and durable. Also, the bag is easy to clean, which is good, as you have to carry it it's you, and it may get dirty accidentally. It has two inner pockets, which is quite useful, as you can make some orders even in the bag. And, the bag is available in several lovely colors.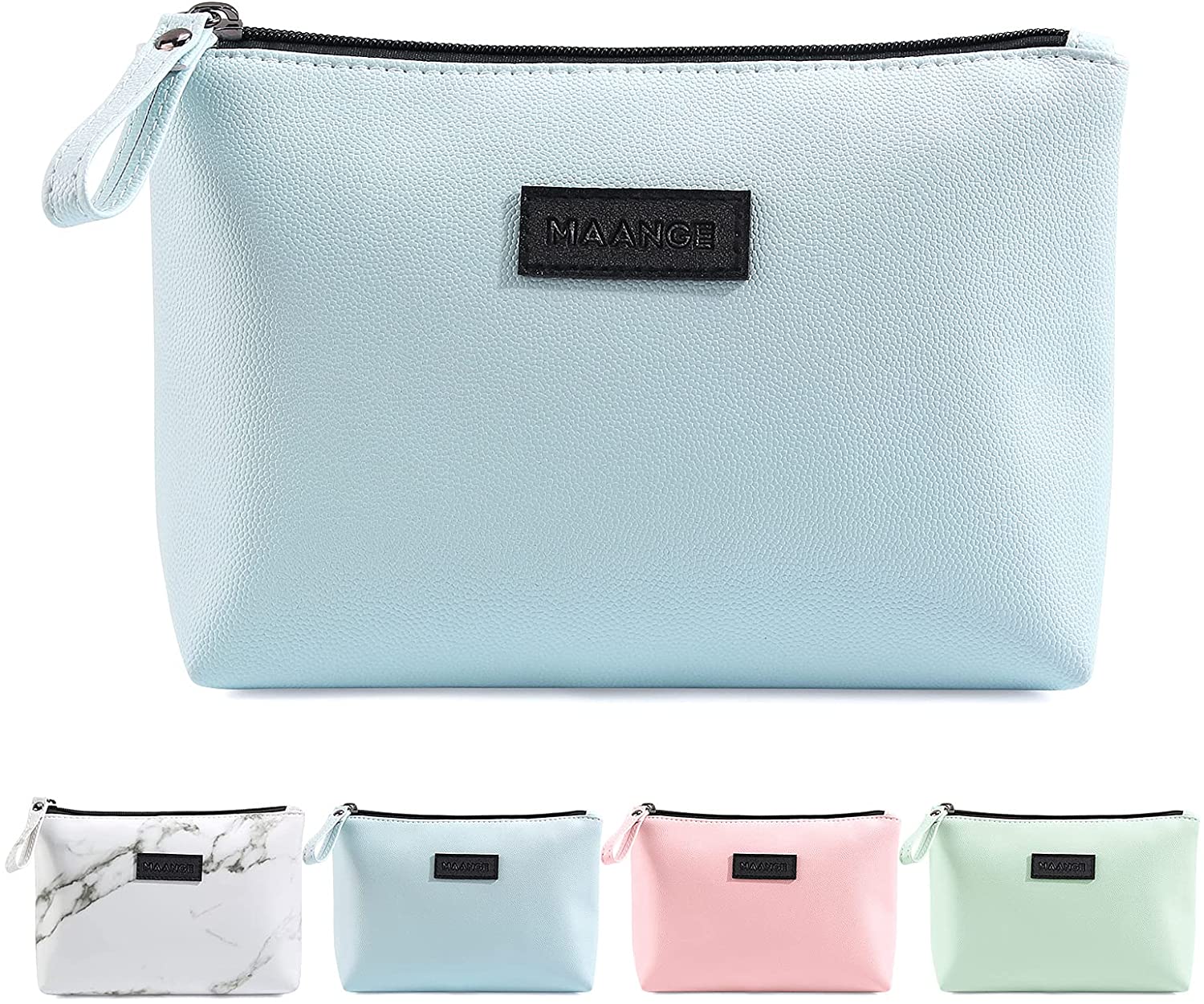 One more lightweight, water-resist, easy to clean, the leather small makeup bag is here for you. This one is quite similar to the previous bag, but the design is a bit more accurate and the colors are more natural. It's up to you, which version to choose.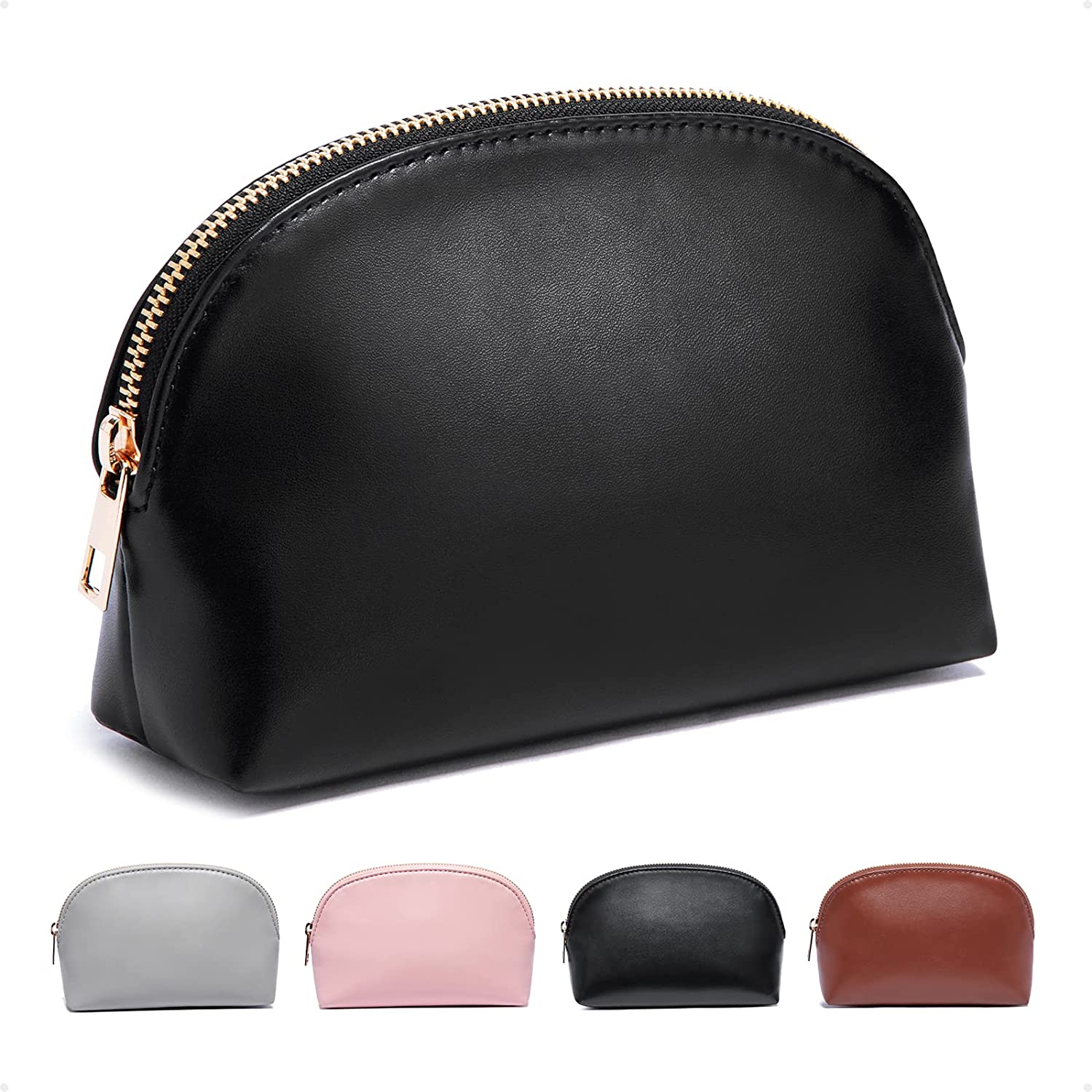 You may think that this back is exactly the same as the one before, well, almost, but only from the outside. On the inside, it has multiple storage compartments, which can contain a bit more and neatly organize your makeup products. At the same time, this bag is actually smaller than the two previous makeup bags. The bag is also lightweight and waterproof, and it is made of durable nylon.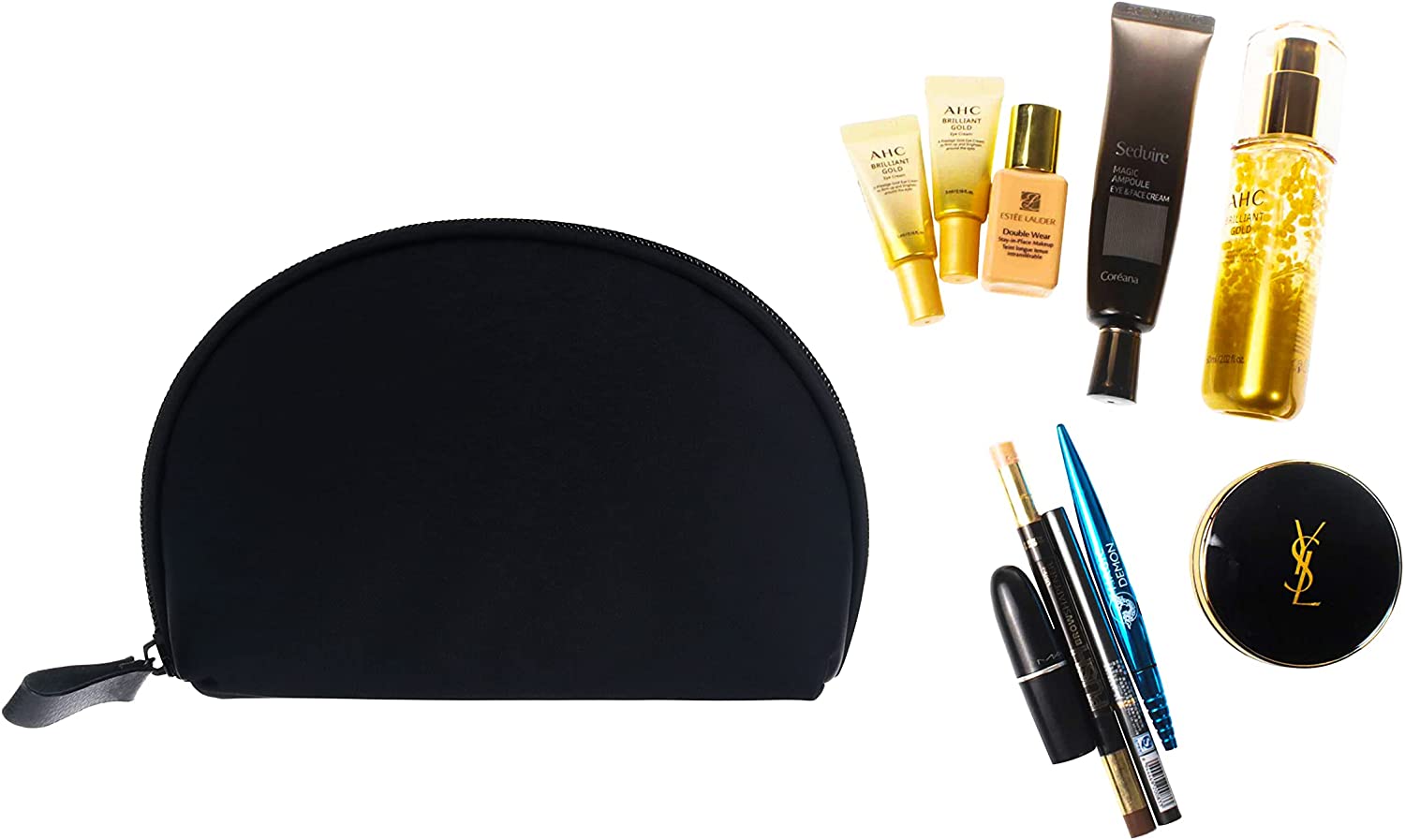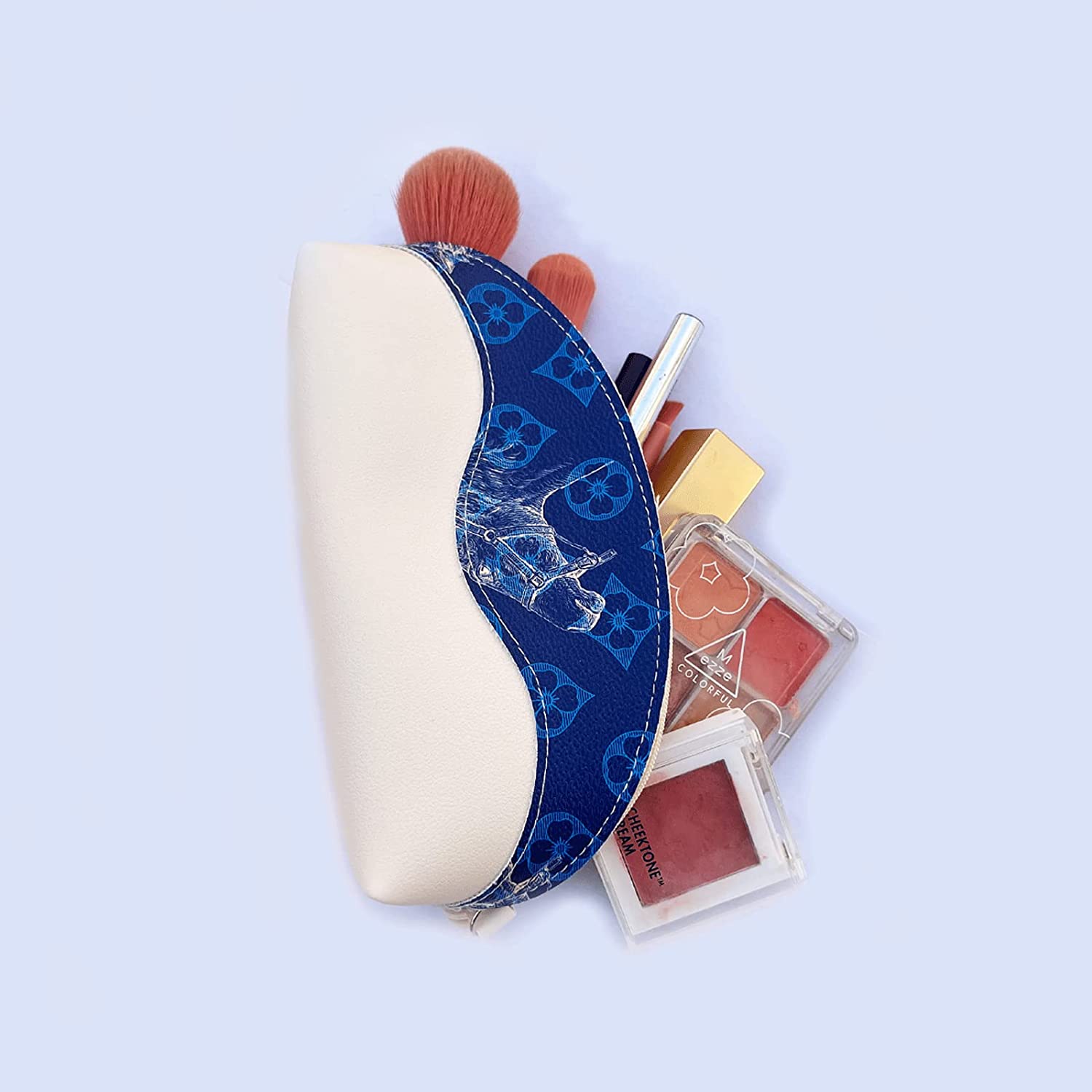 Looking for some stylish tiny makeup organizer for your purse? What about this one: lightweight, durable, and, what is more, with a unique design. This bag will contain a small number of beauty products, for example, lipstick, mascara, concealer, and maybe a hand cream or something like that. By the way, this bag, like all the previous ones is waterproof and easy to clean. You have to be careful with your choice, as this bag is the smallest among all the others, but if you don't have many cosmetics then you have nothing to worry about.

Traveling makeup bags: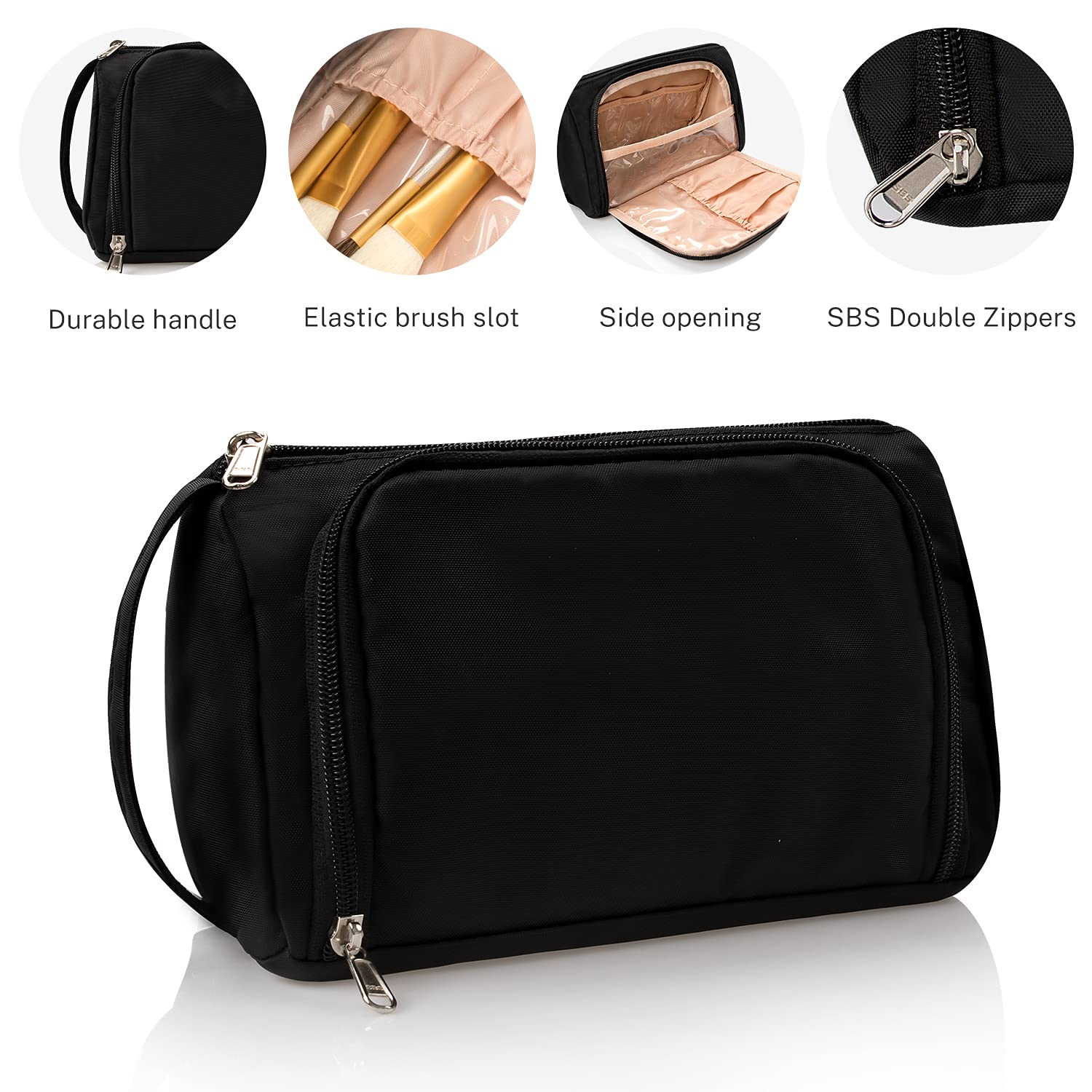 This medium-size traveling make-up bag is just what every girl needs. First of all, the bag is good, because it doesn't take much place, so you won't have to decide, which skirt to leave, because you won't go anywhere without your cosmetics for sure. This organizer has several compartments, has two ways to open this bag, and, of course, it is water-resistant. In addition, this bag is available in various designs. 
One more, well-organized make-up bag, with a double layer structure — we do not doubt that you need this. The bag is good if you are going on a short, up to one-week long vacation, as it is small, and might contain an average amount of beauty products that a girl or a woman will need. In the bag, you will find 2 zippered layers with 3 separated rooms to help keep your different makeup essentials organized. The second layer has a large storage space and mesh pocket. It is not a bag, it is a dream of a perfectionist.
3. Bagsmart Toiletry Travel Bag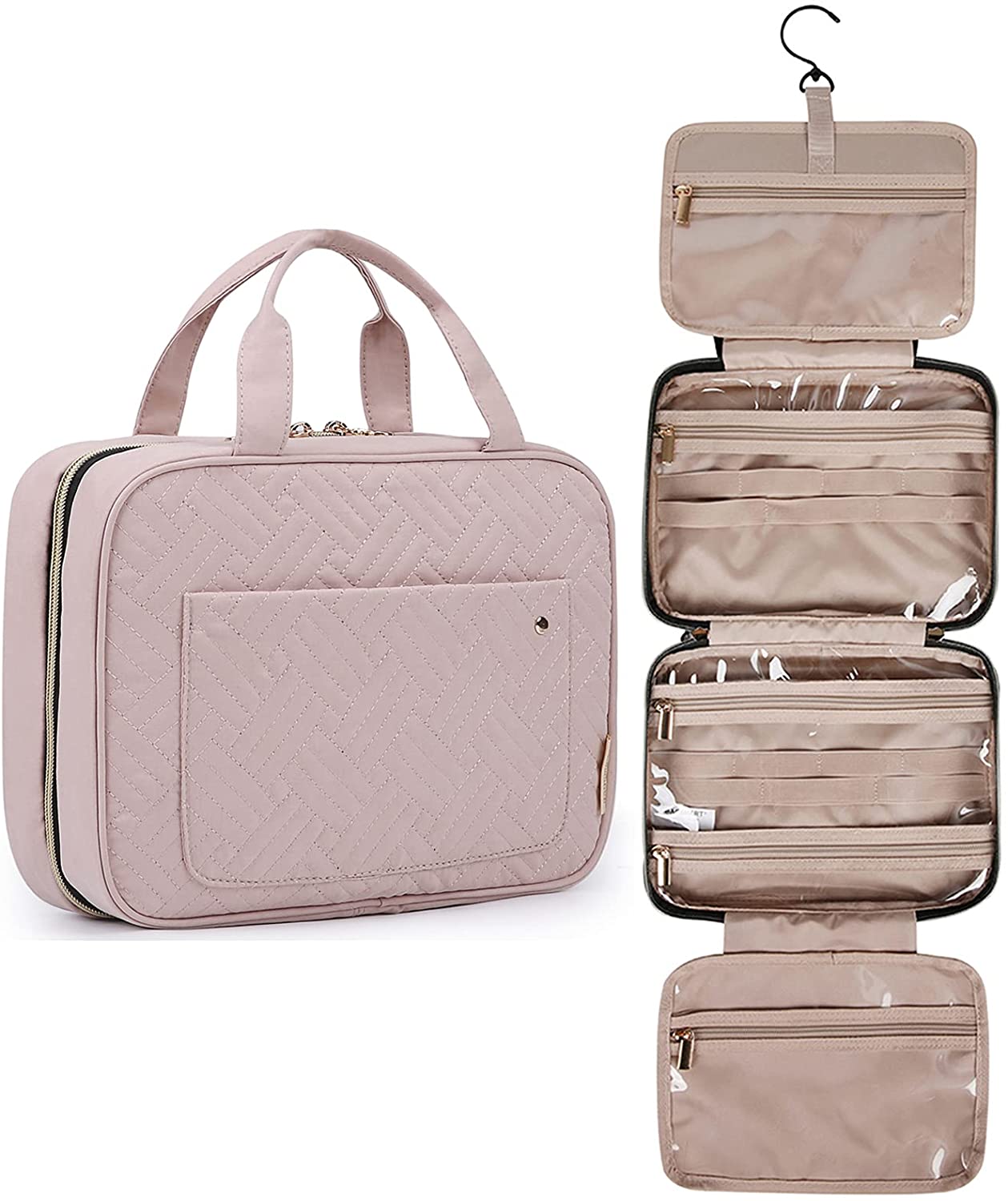 This is not just another travel bag. It is a bestseller, as it's a bag with a hanging hook. The bag is quite big, so is suitable for long-time traveling, as you will probably take a big suitcase, and there will be enough room for everything. This popular make-up organizer has 4 separate compartments with zipping. We won't surprise you if we say, that the bag has waterproof material. The sides are transparent to provide a clear overview of the contents. This make-up organizer is available in two sizes: medium and large. 
4. Lay-n-go Drawstring Makeup Organizer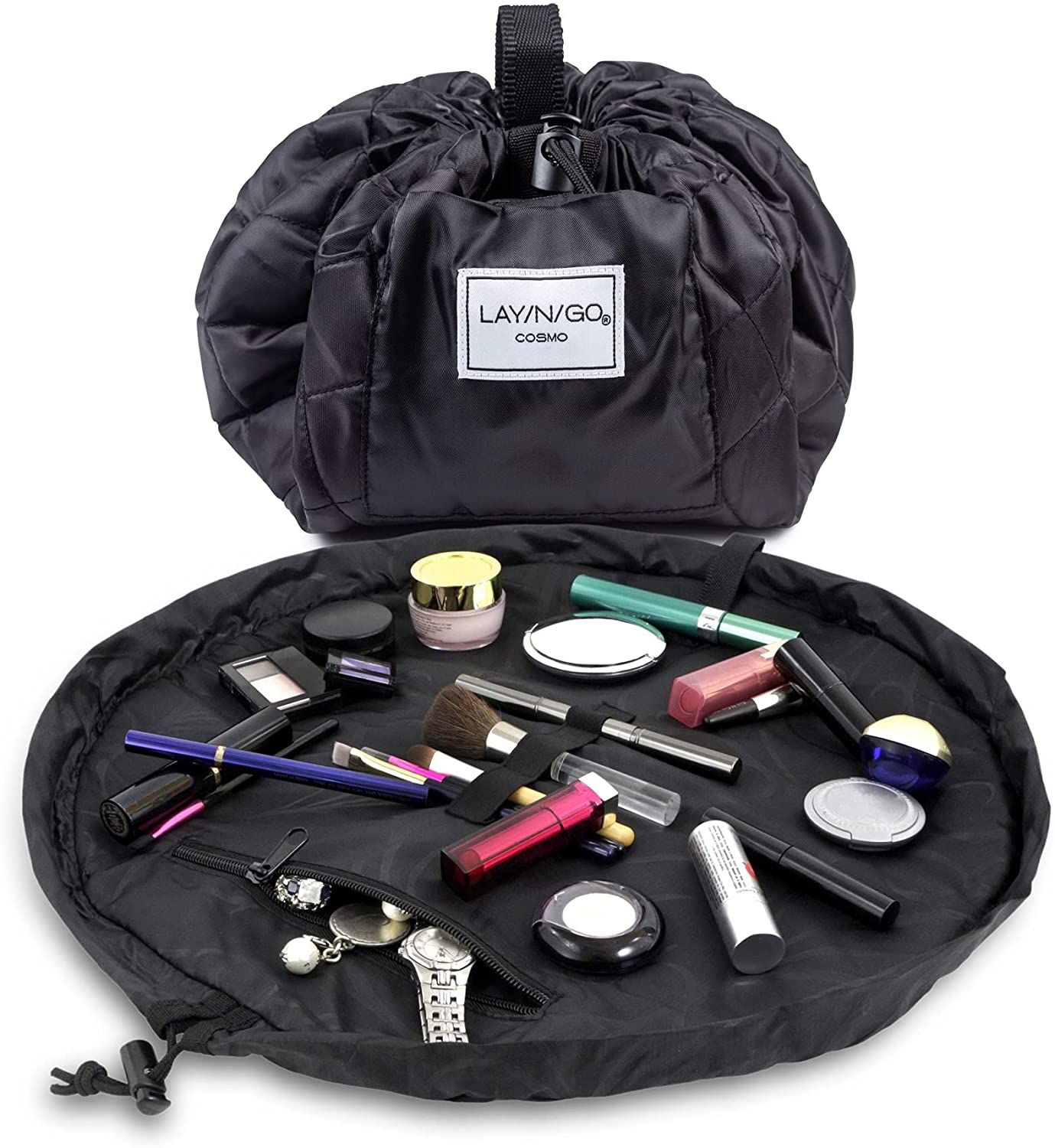 This is the second most popular make-up organizer — multifunctional and practical, what else is needed? Maybe the fact that bag is also has a special design, it is stylish, durable, and what is more, machine washable. The lay-flat design protests items from touching foreign surfaces and futures water-resistant polyester fabric that is easy to clean. And, the bag is really spacious, while it doesn't take much room in the suitcase.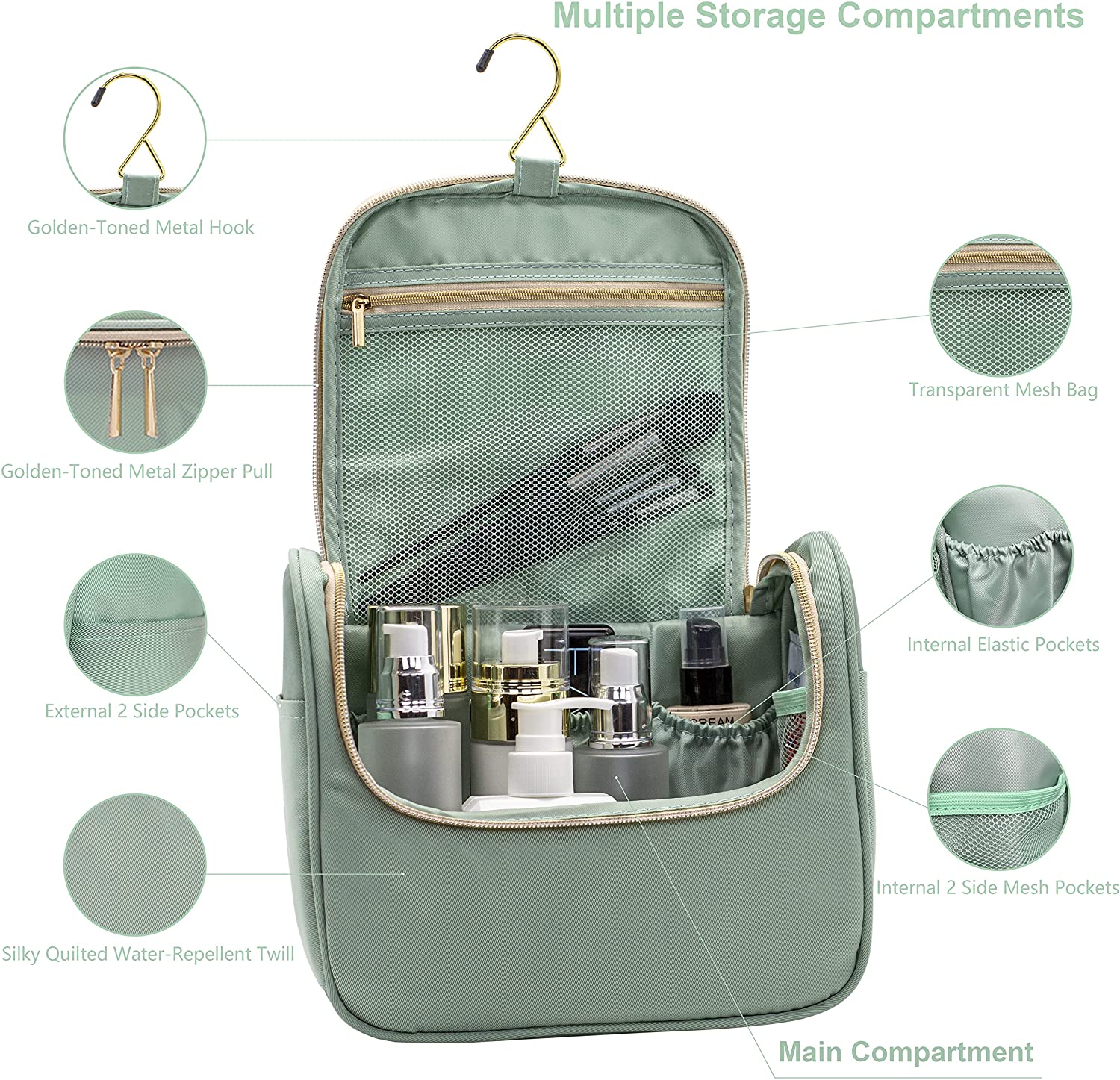 Similar to the hanger bag above, but smaller, just in case you don't need that much. Functional and cute, once you purchase such a bag, you'll have a huge willingness to travel, you'll find many reasons to use this stylish bag more and more. The organizer is medium size, with a large capacity and several compartments in it yet. 
There are various other make-up bags which may be also suitable for you in case you haven't found anything you may like. But this list is filled with a good amount of comfortable, stylish, and useful bags.
FAQ: Makeup bags
📍What to carry in a travel makeup bag?
Quite a lot actually. All your beauty products, starting with skincare routine and up to all the makeup products, bb-creams, highlighters, blushes, powder, mascara, etc. Also, you can put there a comb or a hairbrush, some scrunchies, make-up pads, and don't forget about make-up brushes.
📍How to make a makeup bag into a travel art kit?
Easy, just buy the one that matches your style, fill it with all the daily routine products, pack it in your suitcase, and enjoy the perfect flat lay with your makeup bag.
📍How to pack a travel makeup bag?
Actually, it is up to you. The only thing we can recommend is making a list of products you may need at the vacation so that you don't forget anything important.