Deep powdery snow, sunny skies, relaxed vibes, exciting nightlife options and plenty of delicious food make Reno Tahoe the ideal hub for skiers, mountain enthusiasts and travelers everywhere. With so many ski resorts you'll need two hands to count them—all covered in some of the best snow you'll find on the planet—there's ski terrain for everyone from beginner, to family cruisers, to big-mountain crushers. Only have 48 hours to pack in as much of Reno Tahoe as possible? Use our template as a guide to experiencing it all.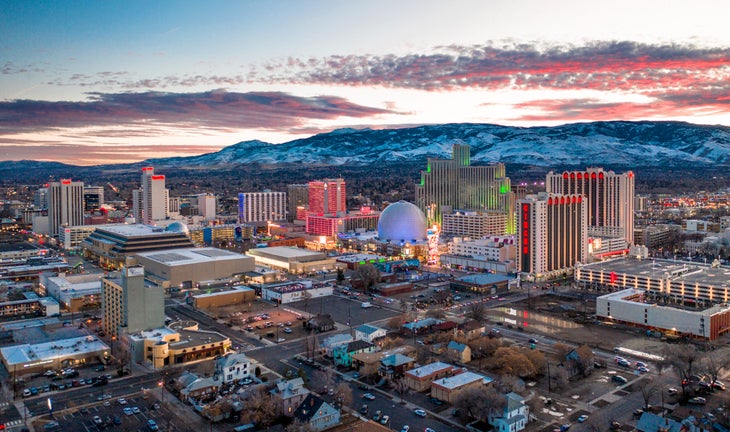 Day 1
For most people, a trip to Reno Tahoe begins by flying into Reno-Tahoe International Airport which features non-stop flights from more than a dozen different cities including Denver, New York, Chicago, and cities all along the West Coast. Don't want to rent a car? There are plenty of shuttles that can whisk you from the airport straight into the mountains. For anyone more local, Interstate 80 puts the area within striking distance of San Francisco, Sacramento, and Salt Lake City, meaning however you choose to get into town, it's an easy trip on a Friday afternoon after work. 
While you're in Reno, head to Beer NV to sample any one (or more?) of the laid-back taproom's 60 beers and ciders, hailing from Nevada and California, to Bavaria and everywhere in between. You can also visit one of the many local breweries, which are easy to find using the local brewery map. Once you're warmed up, a trip to Reno wouldn't be complete without checking out some of the "Biggest Little City in the World's" famous casinos. The casino resorts make great lodging options (family favorite Circus Circus features regular performances and fun restaurants even the little ones will love), but Reno also has many non-gaming hotels and vacation rentals, both near downtown and closer to the slopes. 
Day 2
Time to ski. For as much as there is to do in Reno Tahoe, hosting the highest concentration of ski resorts in North America is what really sets the area apart, and it's where the real decision making begins. It would be hard for even a local to ski all of the area's terrain in a lifetime, so you'll have to make some choices. Thankfully, Reno Tahoe's resorts offer a variety of terrain for everyone, no matter your experience level. Traveling with your family with a wide range of skills and desires? Try beginner-minded Diamond Peak, or intermediate-focused Northstar California. Want big lines and deep snow? Sugar Bowl is largely north-facing so it stays cold and fluffy. Want to make sure you get good drinks and a lively after-ski scene?  Reno Tahoe has no shortage of apres options serving wine, local beer and happy hour specials 7-days-a-week.
Speaking of après, consider loosening up your sore muscles after a long day of skiing with a massage at the Spa at Silver Legacy where you can experience a salt inhalation chamber or a hydrotherapy soaking tub. Rejuvenated, head out to find some live music (it won't be hard, trust us) and grab a beverage at one of the many bars and restaurants in Midtown. Spend the rest of the night soaking in the full Reno Tahoe experience, no need to worry about the weather with plenty of fire pits sprinkled through town its never hard to find a spot to warm up even in the most wintery conditions. 
Day 3
Start your final morning exploring the Reno Riverwalk—a walking trail that follows the Truckee River through downtown Reno. You'll find shopping, restaurants, artwork, and more. Grab breakfast at one of the many cafes or coffee shops and ease into your day before grabbing some final runs. 
Sneak in some more skiing with an afternoon at Mt. Rose. It's 30 minutes from the airport and offers high quality terrain beloved by locals, especially those looking to fit in a couple runs when they're short on time. 
From there, head back to the airport to catch your evening flight home. We're confident it won't be long before you're planning a longer trip to make sure you experience even more of what the area has to offer!  
The post Slopes to City: The Best Way to Spend 48 Hours in Reno and Tahoe appeared first on Outside Online.