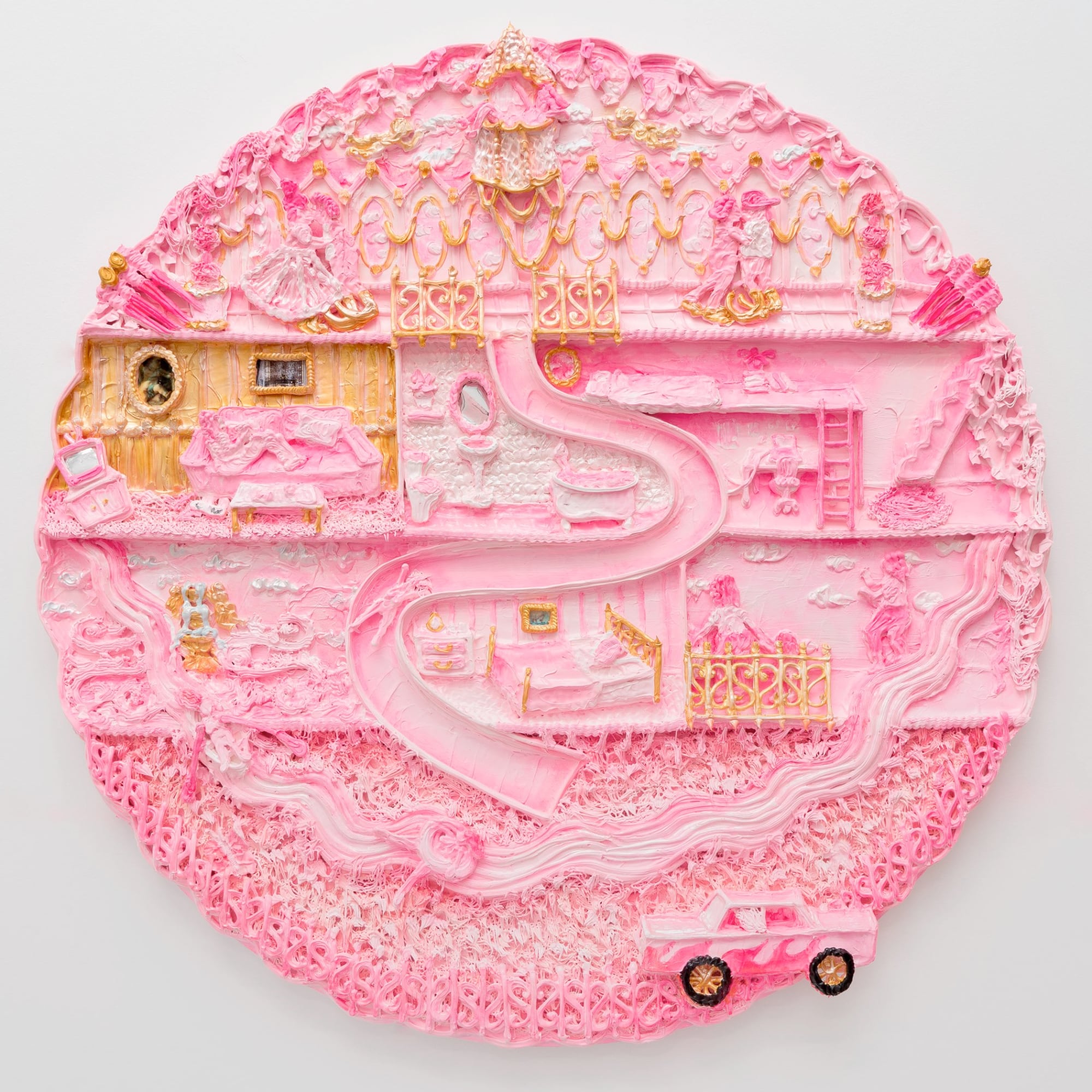 "Surveillance Locket 2″ (2021), acrylic piping, and collage on panel, 36 inches in diameter. All images © Yvette Mayorga, shared with permission
Within the luscious pink acrylic that composes Yvette Mayorga's Surveillance Locket series, messages of joy and nostalgia for a 90s childhood coexist with critiques of consumerism and gendered labor. The Chicago-based artist uses tools like piping bags and tips to apply paint in peaks, curls, and scalloped edges evocative of an elaborately decorated cake. She builds each relief layer by layer, drawing on techniques she gleans from baking shows and Instagram tutorials. "Cake decorating is a true craft that is super laborious," she says.
This sense of labor permeates Mayorga's body of work and provides a conceptual framework that's as subversive as it is celebratory: "The color pink holds so much weight that is tied to fragility and prescribed to femme identity and gender norms. Piping and baking labor is also very gendered and constitutes a perceived notion of labor," she says. "I am saying that pink and baking labor is powerful. The hyper femme is powerful."
Alongside fields of ornate textures, the artist also uses the tactile material to define labyrinth-like playhouses, which reference the small, plastic clamshells called Polly Pockets. "It's a toy that I always dreamed of owning," she tells Colossal. "To me, it's a marker of attaining an Americaness that as a child of immigrants is often sometimes forced upon us in order to fit in." Mayorga's iterations include recreations of her childhood home alongside gilded rooms, staircases, and Rococo-style flourishes she admired while spending her childhood summers in west-central Jalisco and Zacatecas, Mexico. More modern emblems like cartoon-style characters and the televisions she used to watch MTV and Looney Tunes, alongside frames showcasing art historical works and selfies, complete the decadent mansions.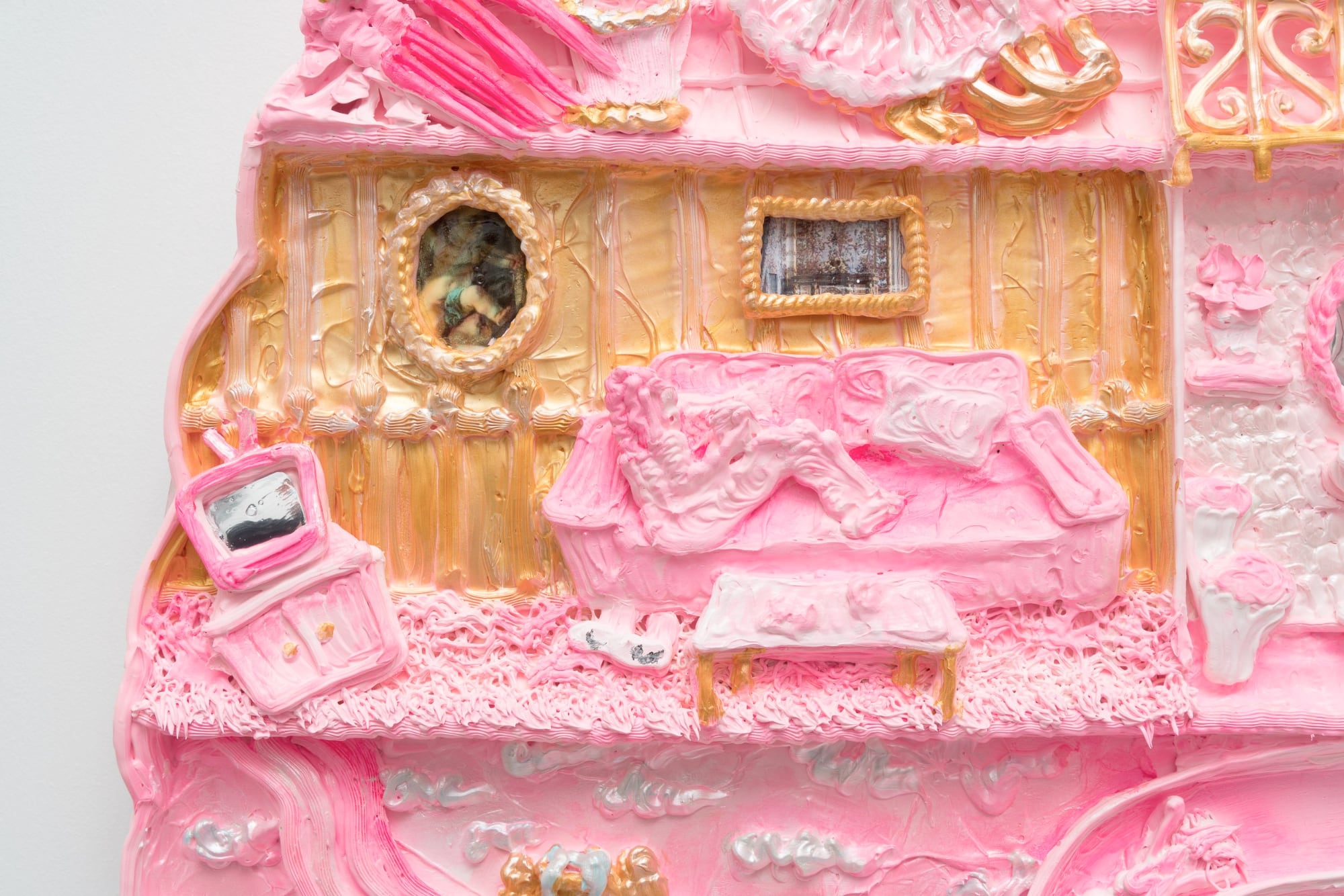 Detail of "Surveillance Locket 2" (2021), acrylic piping, and collage on panel, 36 inches in diameter
Beyond their idiosyncratic and playful reflections, though, Mayorga's works contain more ominous messages. She stations toy soldiers in entries and underneath staircases, shrouding the works with "a feeling of an impending doom" as the concealed characters surveil the scenes in a nod to patrols at the U.S./Mexico border. "My practice is a compounding of these two worlds coming together to create surrealist landscapes that are about the pink, decadent, playful, real-time, nostalgic, art historical, surveillance, and consumerism. To me, the decadence becomes the surrealist in-between space that marks my identity, because it is imagined and an aspiration," she shares.
You have multiple chances to see Mayorga's dioramas in person this year: in April, she'll be at EXPO Chicago, in a group show in Hong Kong this fall, and will open a solo show at Crystal Bridges The Momentary in October. A commissioned work will also be installed in O'Hare's Terminal Five at the end of the year. See more of her works on her site and Instagram. (via It's Nice That)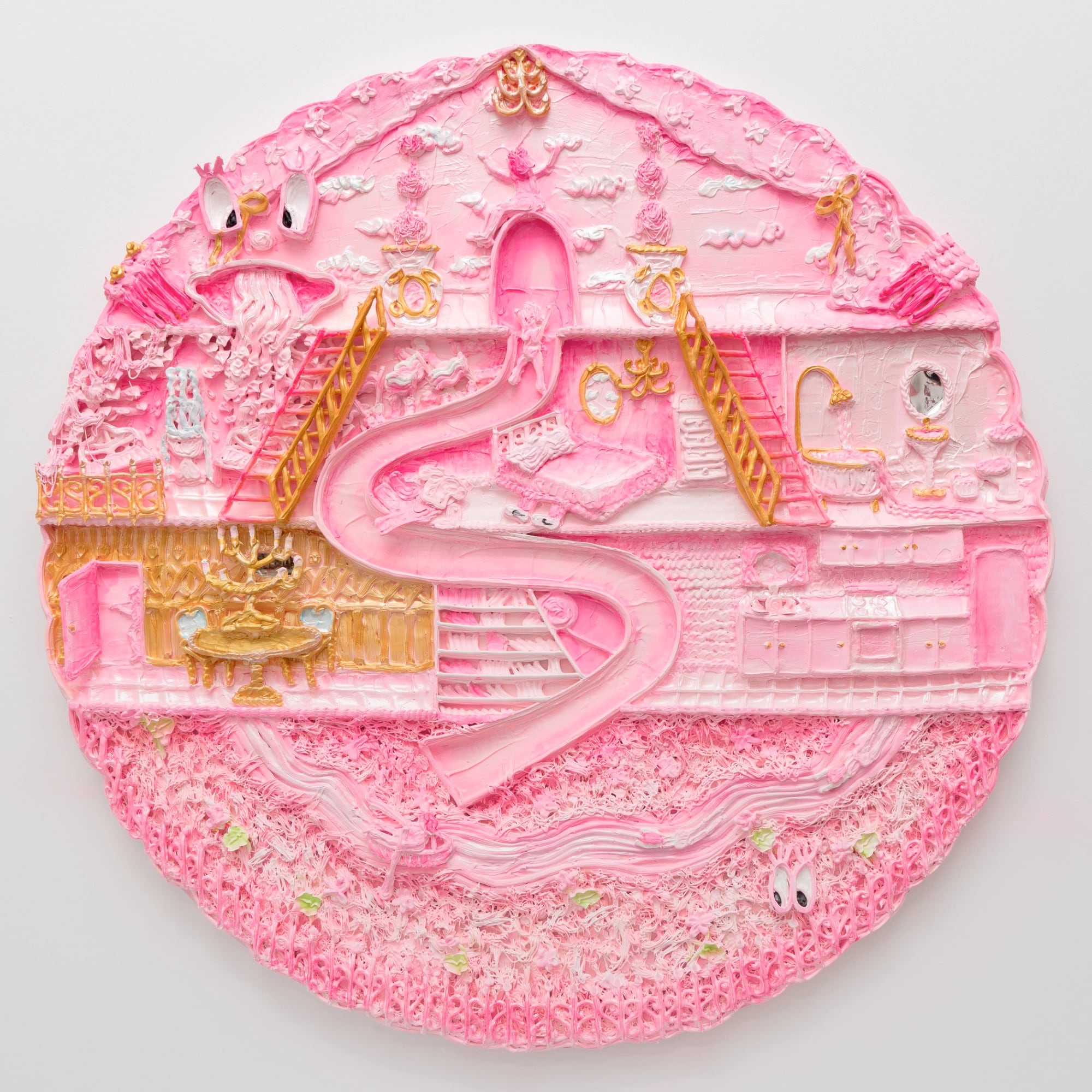 "Surveillance Locket 3" (2021), acrylic piping and collage on panel, 36 inches in diameter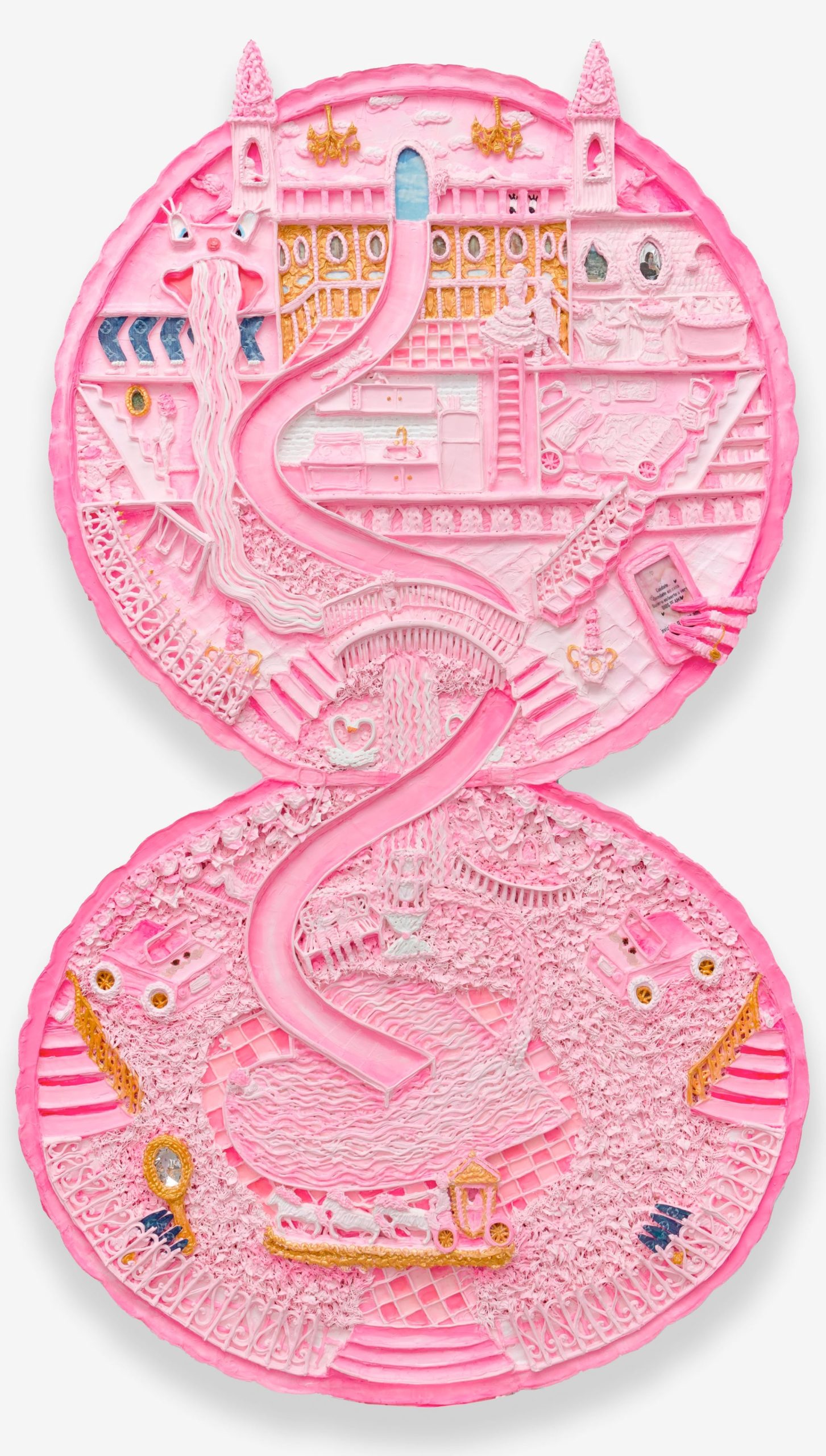 "Surveillance Locket" (2021), collage and acrylic piping on wood, 60 x 35 x 2 inches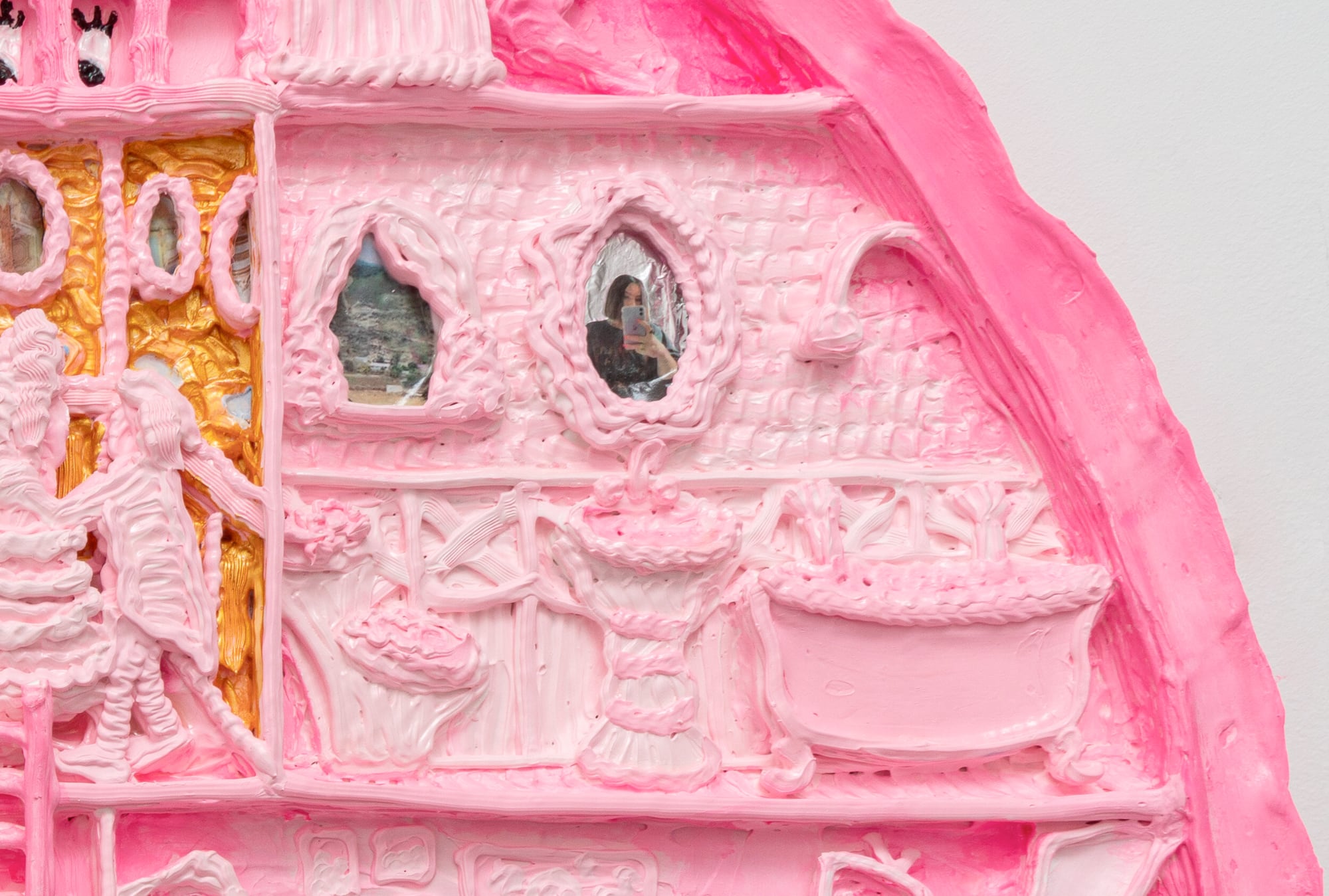 Detail of "Surveillance Locket" (2021), collage and acrylic piping on wood, 60 x 35 x 2 inches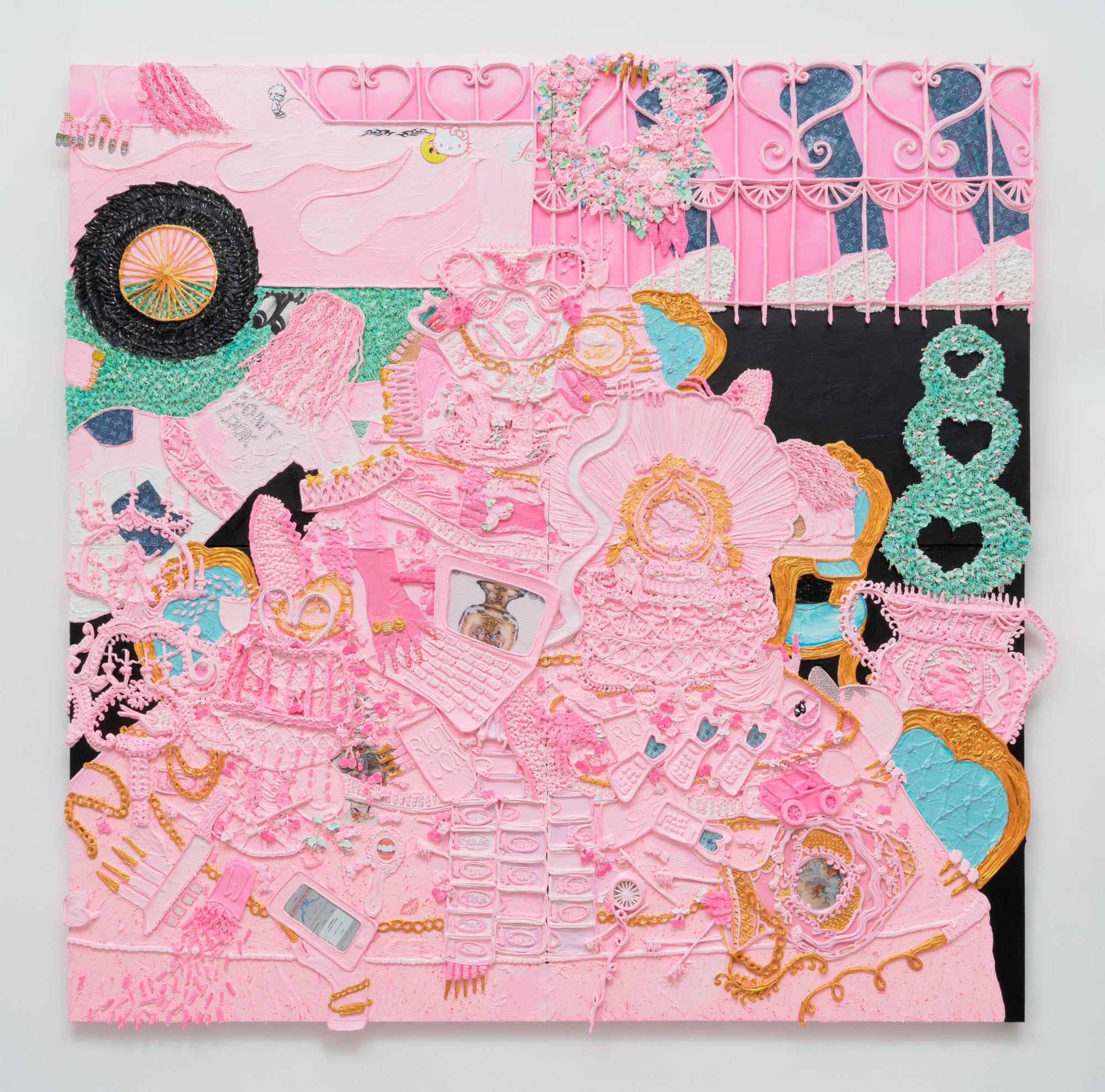 "The Procession (After 17th-century Vanitas) – In loving memory of MM" (2020), acrylic nails, decals, collage, piteado, rhinestones, and acrylic piped on canvas, 72 × 72 inches