In early November, the unthinkable happened. Images of the 20-foot self-righting rowboat Row of Life, once skippered by the American Paralympian Angela Madsen, surfaced in a wire story from Agence France-Presse (AFP). Madsen's boat, the article said, had washed ashore on a remote section of Mili Atoll, a thin ring of coral islets in the Marshall Islands.
The Row of Life had been adrift for more than a year, and it had held video footage of the last days of Madsen's life.
Madsen was 60 days into an attempt to become the first paraplegic and oldest woman to row solo from California to Hawaii when she drowned on June 22, 2020. The 60-year-old had been attempting to repair the Row of Life's bow shackle in preparation for a tropical cyclone that was bearing down on her position in the remote Pacific.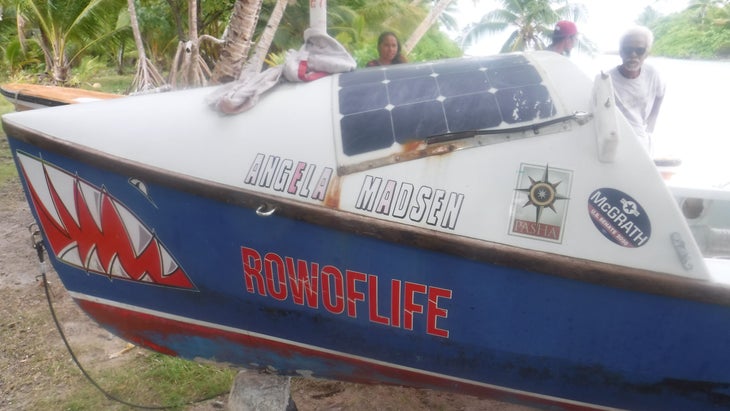 The Row of Life washed ashore in November. (Photo: Benjamin Chutaro)
A German cargo ship en route to Tahiti was able to recover Madsen's body a day later, still tethered to the Row of Life by her lifeline. Due to the approaching storm, however, the ship's crew had to leave the boat behind, along with dozens of hours of GoPro footage that Madsen had captured for a documentary that was being produced by 25-year-old filmmaker Soraya Simi.
Immediately following Madsen's death, Simi and Madsen's wife, Deb Madsen, decided on a two-pronged recovery approach: Deb would focus on getting Madsen's body back home to Long Beach, California, and Simi would work on finding a vessel and crew in Hawaii that could locate and retrieve the Row of Life. But the boat's GPS signal soon went dark, and, in late July, a hurricane passed over the search area in the central Pacific, complicating the effort. Deb Madsen went on to launch her own search effort, but that, too, came up empty.
The photos of the Row of Life, propped up on rocks on a coconut palm–lined beach and surrounded by onlookers, were taken by Benjamin Chutaro, a Marshall Islander who snapped them while on a visit to Mili, where he has family.
For being lost at sea for over a year and drifting nearly 4,000 miles, the Row of Life appeared to be in remarkably good shape, save for some damaged solar panels, rust stains on the forward cabin, and a crack on the starboard hull, which Chutaro told me likely happened when the boat hit the reef just before washing ashore.
In the AFP article, Chutaro said he thought the boat had only recently reached Mili. But after returning to the atoll in December to investigate further, he now believes it showed up several months earlier.
"In September we have king tides," Chutaro said. "It makes sense that the boat would have come ashore then; otherwise it would have just gotten slammed into the reef and probably sunk—and no one would have ever known the boat was there."
By the time Chutaro learned of the boat, its life jackets, lines, and rigging had been taken. Madsen's GoPro cameras and the treasure trove of video footage they held were also nowhere to be found. "Material wealth in the outer islands is zero," Chutaro told me. "It makes total sense [that these items are gone]."
"When something floats in on these remote islands, it's fair game," Giff Johnson, editor of the Marshall Islands Journal and source of the AFP wire article, told me.
Chutaro removed the Row of Life's EPIRB and, when he returned to the capital city of Majuro, took it to the U.S. Embassy, which used the device's information to track down Deb Madsen. It was after Deb contacted Chutaro directly that he decided to return to Mili in late November to try and recover the cameras' microSD memory cards.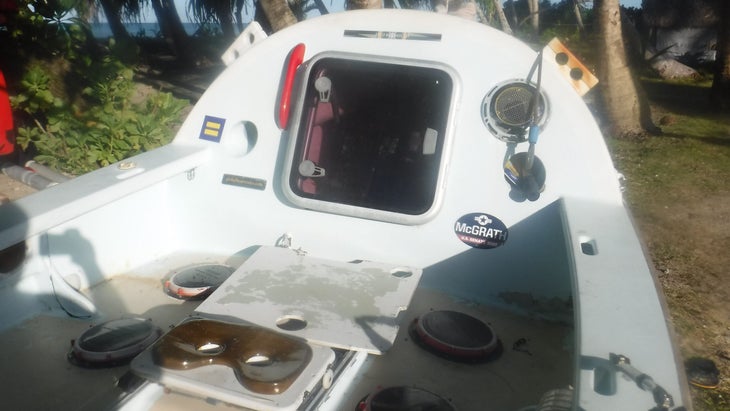 The boat was intact, but the camera equipment was missing. (Photo: Benjamin Chutaro)
On his second trip, Chutaro was still unable to track down the equipment. He believes that whoever took the electronics may be willing to hand them over. "There's a group of us now that are trying to make sure we can get the SD cards," he said. "But the cautionary part of this is that if people have opened up [the cards], they may have destroyed them inadvertently."
Chutaro has since returned home to Majuro. But a U.S. Army official, who left for Mili for a previously scheduled patrol in December, has promised him that he will continue the search for the SD cards while he's there, Chutaro said.
"It's remarkable the boat washed up at all," said Simi, the filmmaker. "But now that it has, it's agonizing to learn that the footage is still missing but hopefully still salvageable."
Simi guessed there were five or six GoPros onboard, along with a night-vision camcorder, a waterproof hard drive, up to ten batteries, around 20 microSD cards, and other accessories like cords and adaptors.
When Chutaro first told Johnson of the Row of Life's discovery in early November, the editor reached out to U.S. ambassador to the Marshall Islands Roxanne Cabral, as well as Marshall Islands Police Department deputy commissioner Eric Jorbon. Neither Cabral nor Jorbon had up to that point heard of the rowboat's discovery, but they said they would look into it. Since then, Cabral's office, Jorbon, and Chutaro have all been in contact with Deb Madsen, keeping her updated with any news from Mili. At present the SD cards remain missing.
According to Johnson, abandoned vessels and castaways regularly wash up on the shores of the Marshall Islands, due to the prevailing westerly current in that region of the Pacific. "If you look at the Marshalls, we're two vertical, essentially north-south chains of islands," he said. "So anything that's blowing in from Hawaii or the U.S., chances are you're going to run into one of these islands."
Deb Madsen declined to comment for this article, but Simi told me that both she and Madsen agree that the film should be completed if, by some miracle, the dozens of hours of footage that Angela captured at sea can be salvaged.
"Angela's story deserves to be told and her legacy celebrated," Simi said. "It would mean everything to finish what we started."
The post How Angela Madsen's Rowboat Was Found After a Year at Sea appeared first on Outside Online.