Hoping to see better while driving at night without spending a fortune, I ordered a set of LED replacement bulbs for the reflector headlights on my new Ford Ranger. Boy was it a good reminder that I should follow my own advice: installing LEDs into a housing designed for halogen bulbs simply doesn't work. 
Fire up YouTube, Google, Amazon, or an owner's forum, and you'll be inundated with claims that simply swapping a set of aftermarket LEDs into your vehicle's stock headlights will result in brighter lights, which allow you to see further down the road at night. Not only do the makers and sellers of those LEDs claim that they produce more lumens than halogen bulbs, but they also make various assertions that their products are optimized to take advantage of the complex reflector shapes inside the headlights. 
Those messages are compelling. They're often accompanied by staged photos or videos of a beam pattern that matches the wide, even spread provided by the stock bulbs, but which appears much brighter. It's totally understandable why people fall for these cons; I certainly did. 
Amid supply chain issues and computer ship shortages, I replaced my old Ford Ranger with a new one that didn't come fitted with the optional LED headlamps. And, as identified by the Insurance Institute for Highway Safety, the halogen headlamps on lower-spec Rangers are marginal for effective illumination. 
It's important to make the distinction that LED headlights, designed from the ground up to take advantage of that technology, can be exceptionally effective. But many cars and trucks still come with older halogen headlamps, which you can identify by the presence of large reflector housings. Those halogen bulbs emit light in all directions; it's the job of the reflectors to gather and project that light down the road. 
I've since added powerful off-road driving lights to my Ranger. But since it's illegal to use those on public roads in the U.S., and impolite to blaze them around town, I wanted to get a little more light out of the stock headlights, too. Better vision means greater safety, no matter where you're driving. One night, while scrolling through YouTube videos, I came across one from an online retailer that specializes in LED replacement bulbs. It claimed that a set of those replacements could boost low-beam brightness by 217 percent, and appeared to show a light spread that looked as even as stock. So I got out my credit card and spent $150 on a pair of LED low-beam bulbs.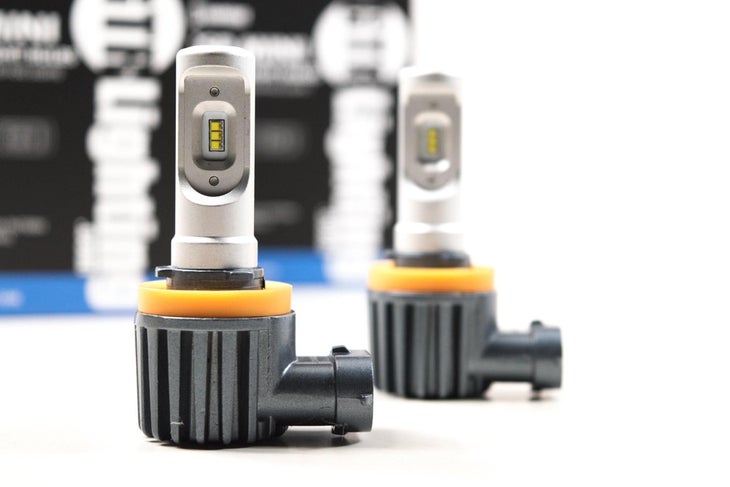 LED replacement bulbs designed for reflector housings attempt to replicate the shape of halogen bulbs, but are limited by the need to mount the diodes to a single-sided, two-dimensional surface. (Photo: Amazon)
There are three problems I should have been aware of, since I've written about them at length before. For one, raw lumens—the amount of light an LED is theoretically capable of producing in a lab—have little to do with true output once assembled into an actual light or bulb. The apparent brightness of cold color temperature LEDs does not typically add up to more effective lights in the real world. Worse, LEDs emit light from a single-sided surface, rather than from a bulb. While the company that produces the bulbs I bought claims they, "[create] a similar light output profile as compared with the original filament bulb for an accurate beam pattern," there's just no way a flat surface, or even two of them, can replicate the spread of light created by a globe. 
Installation was easy, and the lights appeared to be very bright against my garage door. I carefully adjusted my headlight aim downwards to avoid blinding other drivers, as LED bulbs don't typically have the same vertical cutoff as halogens, then took off for a test drive. 
View this post on Instagram

A post shared by Go Fast Campers (@gfc_usa)
Above you can see just how blue the color temperature provided by the LED bulbs in the low beam housings is, in contrast to the warm white light of both the stock high beams, and the aftermarket off-road lights. While blue color temperatures may appear brighter to the human eye, they don't actually provide any additional illumination. 
The problems were apparent immediately. While close up, against a garage door, the light looked much brighter, out on the road, the very cool, nearly blue color temperature of the LEDs failed to provide any additional vision. Projected from those two flat surfaces of the bulb, the reflectors scattered that light into a splotchy mess. The even output of the stock bulbs was replaced by a Rorschach Test of bright and dark spots. Even though the output was a little brighter, the lights actually reduced my ability to see at night.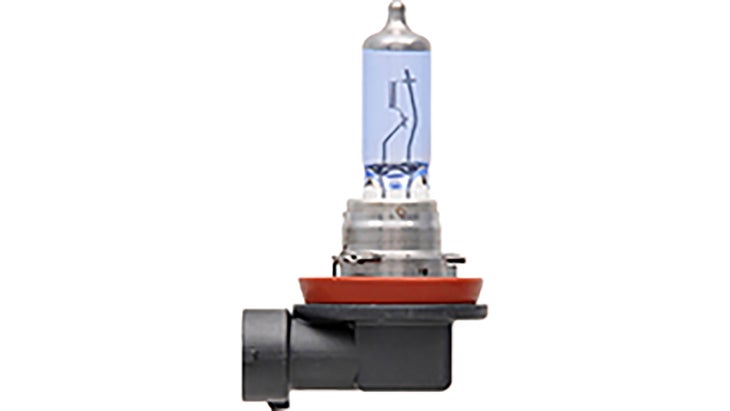 Halogen bulbs emit light in all directions, from a globe. (Photo: Sylvania)
So what's the answer? I swung by the autoparts store and picked up a $20 set of Sylvania Silverstar Ultras. They're halogen bulb— just like what came stock on the Ranger—only a little higher quality. Their light output is noticeably superior to the LEDs, and maintains an even spread of light. And since the vertical cutoff remains, I was able to adjust my headlights upwards, projecting that light further down the road. 
Whether you're driving around town or down a lonely mountain road on the way home from skiing, optimizing your vehicle's light output is an important way to ensure your safety. Halogen headlight bulbs grow dimmer over time, so they should be replaced every year. Learn from my mistake, save your money, and buy the proven solution: a quality halogen bulb is the only thing that belongs in a reflector housing.
The post A $150 Reminder That LED Headlight Bulbs Don't Work appeared first on Outside Online.