This article contains affiliate links to products selected by our editors. Mental Floss may receive a commission for purchases made through these links.
Amazon Prime Day is here, which for many shoppers is kind of like Christmas in July. Whether you want to get an early start crossing off names on this year's holiday list or are just looking to treat yourself to some budget-friendly finds, you can scoop up some of the bestselling movie, TV, and video game titles—plus popular LEGO sets, card games, and Funko Pop! toys—for as much as half-off.
Not an Amazon Prime member yet? No problem! You can easily sign up for a 30-day free trial and take advantage of all the best deals—like these 10 great buys from Apple.
'Everything Everywhere All At Once' (4K UHD + Blu-ray + Digital) / Lionsgate / Amazon / baramee2554 / iStock / Getty Images
A Clockwork Orange (4K Ultra HD + Blu-ray + Digital) for $20 (Save $14)
Indiana Jones 4-Movie Collection for $25 (Save $23)
Everything Everywhere All At Once (4K UHD + Blu-ray + Digital) for $25 (Save $18)
Mission: Impossible – 6 Movie Collection (Blu-ray + Digital) for $29 (Save $31)
Jurassic World 5-Movie Collection from $33 (Save up to $28)
Three Colors: Blue, White, Red (The Criterion Collection) for $40 (Save $40)
The Godfather Trilogy (4K UHD Collection + Digital Copy) for $43 (Save $48)
Alfred Hitchcock: The Ultimate Collection for $74 (Save $25)
Godzilla, the Showa-Era Films, 1954–1975 (The Criterion Collection) for $112 (Save $112)
The Complete Films of Agnès Varda (The Criterion Collection) for $125 (Save $125)
'Breaking Bad': The Complete Series / AMC / Amazon / baramee2554 / iStock / Getty Images
Chernobyl for $20 (Save $15)
The Office: The Complete Series from $30 (Save $50)
Friends: The Complete Series from $35 (Save up to $55)
Yellowstone: The First Four Seasons for $41 (Save $50)
Star Trek: The Original Series: The Complete Series – Steelbook for $51 (Save $61)
Breaking Bad: The Complete Series for $68 (Save $93)
Full House: The Complete Series Collection for $80 (Save $33)
Dragon Ball Z: Seasons 1-9 Collection for $100 (Save $35)
Game of Thrones: The Complete Collection from $113 (Save up to $105)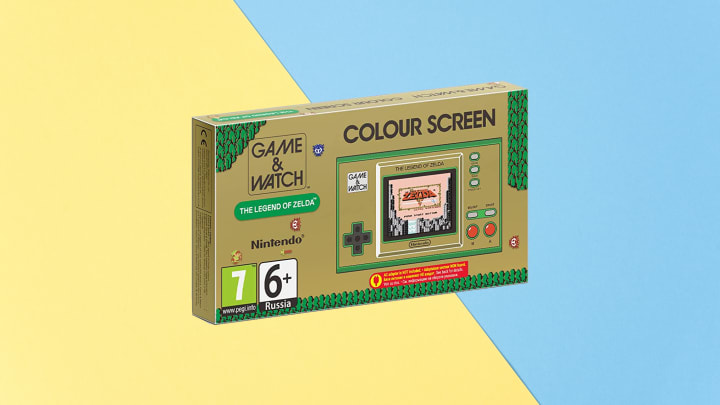 Game & Watch: 'The Legend of Zelda' / Nintendo / Amazon / baramee2554 / iStock / Getty Images
Switch Game Case Holder for $8 (Save $7)
Battlefield 2042 – Origin PC for $12 (Save $28)
BENGOO Stereo Gaming Headset for $16 (Save $18)
Forza Horizon 5: Standard Edition – Xbox Series X & Xbox One for $22 (Save $38)
Final Fantasy VII Remake Intergrade – PlayStation 5 for $30 (Save $40)
The Quarry from $40 (Save up to $20)
Game & Watch: The Legend of Zelda for $44 (Save $16)
LEGO Star Wars: The Skywalker Saga for Nintendo Switch for $44 (Save $16) 
Elden Ring – Xbox Series X for $46 (Save $14)
Xbox Series S + SteelSeries Arctis 3 Wired Gaming Headset for $295 (Save $75)
Meta Quest 2 (128GB) + $25 Amazon Gift Card for $299 (Save $25)
LEGO 'Star Wars' Boba Fett Helmet Building Kit / LEGO / Amazon / baramee2554 / iStock / Getty Images
Funko Pop! Icons: Jordan Peele for $7 (Save $6)
Funko Pop! Deluxe, Marvel: Avengers Assemble Series – Captain America for $17 (Save $13)
Funko Pop! Artist Series: Disney Treasures of The Vault – Chip & Dale for $20 (Save $20)
Funko Pop! Moment Star Wars: The Mandalorian and The Child for $20 (Save $15)
Funko Pop! Deluxe: Stranger Things Build-A-Scene – Eleven for $21 (Save $9)
LEGO Technic Jeep Wrangler for $40 (Save $10)
Funko POP! Moment- Harry Potter and Albus Dumbledore with The Mirror of Erised for $42 (Save $18)
LEGO Classic Large Creative Brick Box for $43 (Save $17)
LEGO Star Wars Boba Fett Helmet Kit for $52 (Save $8)
LEGO Star Wars: The Rise of Skywalker Millennium Falcon for $128 (Save $32)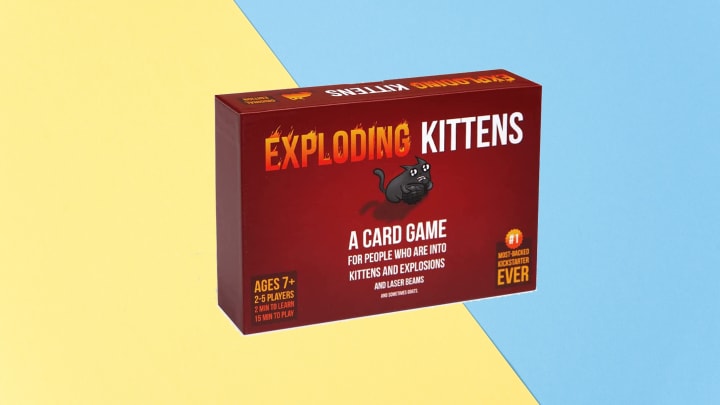 Exploding Kittens Card Game / Exploding Kittens LLC / Amazon / baramee2554 / iStock / Getty Images
TeeTurtle Unstable Unicorns Card Game for $9 (Save $10)
SEQUENCE Game with Folding Board, Cards, and Chips for $10 (Save $15)
New Phone, Who Dis? – The 100% Offline Text Messaging Party Game for $13 (Save $7)
What Do You Meme? Family Edition for $13 (Save $7)
Retro Series Clue 1986 Edition Game for $14 (Save $8)
We're Not Really Strangers Family Edition for $14 (Save $6)
Exploding Kittens Card Game for $14 (Save $6)
Throw Throw Burrito by Exploding Kittens for $14 (Save $11)
Taco vs Burrito Game for $16 (Save $9)
Czech Games Codenames for $16 (Save $2)
Settlers of Catan Board Game (Base Game) for $30 (Save $19)
Related Tags
Adblock test (Why?)