The hot pots at Ektafiskur in Iceland are popular all year round. Photo by Moira McCarthy
It was a frigid autumn day in northern Iceland. 
I was checking into the Sigló Hótel in the tiny port of Siglufjörður, once considered the capital of the world herring fish industry.
Now it's a sleepy oceanside town.
While it was only about 3:30 p.m., darkness was upon us.
The porter lit up like it was midday as he entered my room, pointing first to the water faucet and then out the window to what sat below: an outdoor, year-round soaking spa.
"Drink it!" he said. "And soak in it! Water is our medicine."
I thought he was being clever, but I discovered otherwise during a weeklong trip through the many tiny towns of northern Iceland, a region where it seems hot pots (the Icelandic name for hot tubs), saunas, and year-round outdoor pools are as ubiquitous as McDonald's arches are in the United States.
The people I met? Lean and fit; engaged and happy.
And my own spirit, despite potential jet lag, short hours of light, and a grinding schedule? Serene.
Maybe there's something to this, I thought.
Could the key to long-term health and happiness truly be as simple as water?
Health and water
Iceland regularly tops lists of the healthiest — and happiest — countries. 
The OECD Index rates it the second happiest population.
The Bloomberg Health Index rates it the second healthiest country in the world.
And then there's the organic "data."
It's hard to find someone not satisfied, in general, with their lives here. They lean toward positive. For the most part, they are also fit and active.
Water, they tell you, is a natural part of nearly every day for the Icelander. Heading to lunch? You might take 15 minutes of your lunchtime to hop into the restaurant's outdoor hot pots.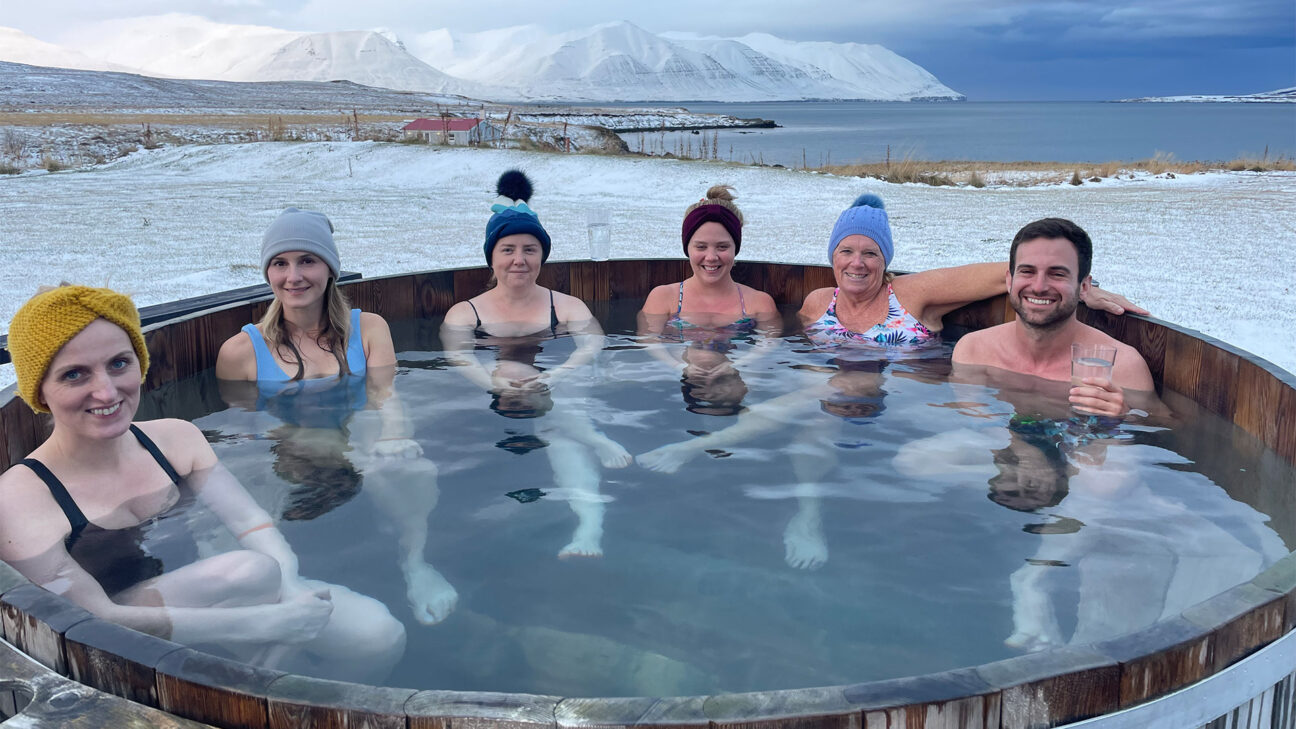 A group enjoys a soak in a hot pot at the Beer Spa in Iceland. Photo by Moira McCarthy
Visiting another town or looking at your schedule in your own? A visit to the town's warmed outdoor pool is a must.
Morning routine of the retired? Head to the local pool or tub and soak, catch up on life, and just breathe in the sharp, fresh air.
And don't even ask for bottled water. The pure water right from their tap is cold and clean, and popular enough that it is bottled and shipped away.
The Blue Lagoon, set amid the moss-covered lava fields on the Reykjanes Peninsula in southwestern Iceland, has long been known as a spot for healing and relaxation, not just for the warm water but for the minerals that the water holds.
The homes in Iceland are, for the most part, heated by steam from the hot water that sits just below their ground surface. Sometimes, Icelanders bury bread dough in the dirt and let the steam and heat from that water bake the bread. 
But it's not just special spots with minerals. Rather, it seems, it's a culture that embraces what I thought was a marketing line that day at the Sigló.
Water is indeed thought of as medicine.
Research backs it up
It's not like water as medicine is new to the world.
President Franklin Roosevelt was perhaps the most influential American to embrace it when he visited hot springs regularly to manage his polio symptoms.
Dr. Christof Leicht, PhD, a senior lecturer in exercise physiology at Loughborough University in the United Kingdom, began researching water as medicine after a graduate school visit to Japan, where, like Iceland, hot water immersion and water therapy seems to be everywhere.
In a 2018 study, Leicht and team found that even passive warm water immersion can lead to health benefits such as improved vascular function, weight management, and better insulin sensitivity.
Researchers also concluded that mental health improvements can be gleaned from regular soakings as well.
"We found psychological disorders to be less frequent in those who bath," Leicht told Healthline. "Sleep quality was improved as well."
Why? Leicht said they believe that blood flow impact is at the root of it.
"When in hot water, your blood vessels open up," he said. "That makes your heart work a little harder, increasing your adrenaline."
He said that can be compared to the rush someone who runs or works out in other ways may feel and experience.
There's also a decrease in inflammation, which is a factor in chronic diseases.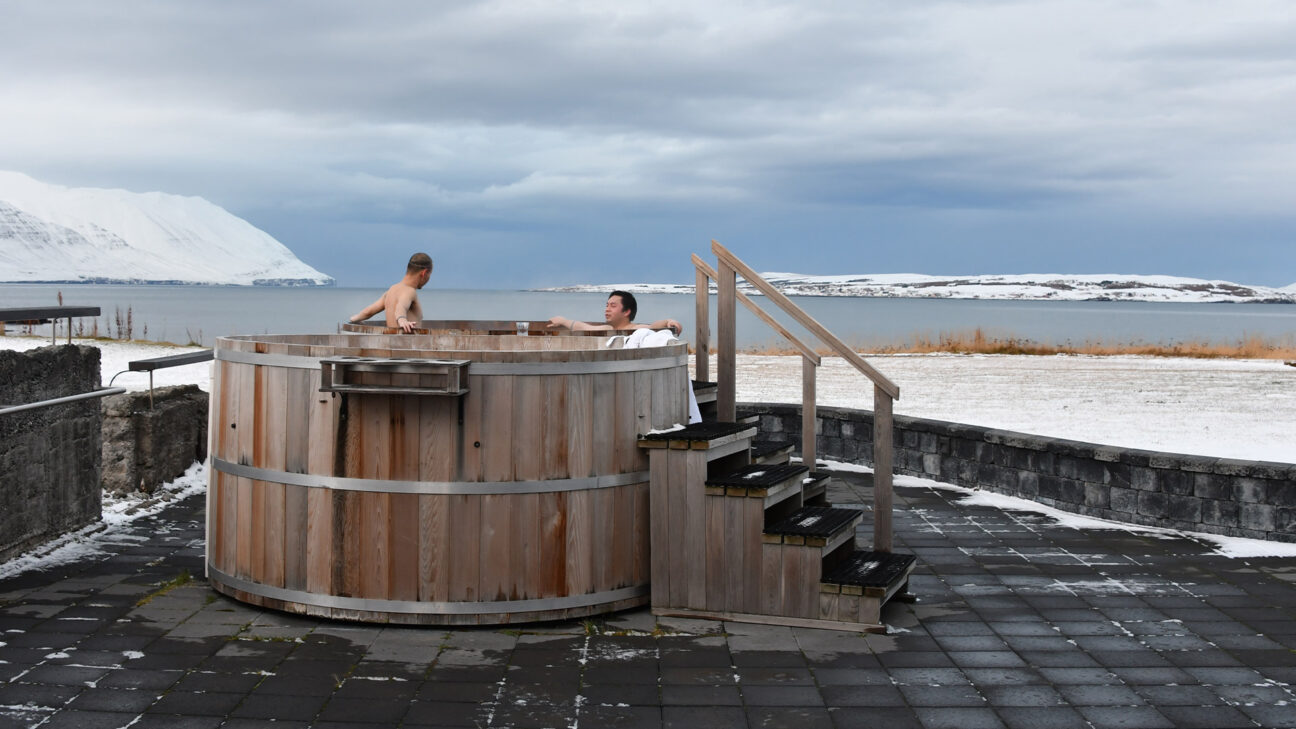 At the Beer Spa in Iceland, you can soak in hops inside or hot pots outside. Photo by Moira McCarthy
Warm soaks have long been used to fight skin conditions, and through that research, many experts realized other benefits.
Jod Kapilakan, a certified wellness coach and the CEO of Abundance No Limits, has long pushed the benefits of warm soaks.
"Water makes us feel less burdened due to its buoyancy, and we feel relaxed when we take a dip into it," Kapilakan told Healthline.
"It can help us in curing our anxiety and depression. It boosts our resistance and increases our resilience. This helps in better processing of our thoughts and increases mental health wellness," he added.
Dr. Karena Wu is a physical therapist working in New York City who often gets clients into the water for many reasons, both physical and emotional.
"When we go into a body of water, the surrounding water adds sensory feedback," she told Healthline.
"Water offers a buoyancy that helps give us a feeling of lift and lightness. It unloads our joints, which are typically compressed due to the effects of gravity and weight-bearing," Wu explained.
The feeling of the water moving on our skin, she added, also stimulates our mechanoreceptors, "giving us a continuous touch sensation which is typically more pleasurable than pain."
There's a social aspect of it as well.
Dagný Pétursdóttir, managing director at Sky Lagoon, Iceland's newest geothermal spa, as well as a lifelong Icelander, told Healthline she believes that is a key to the medicine in their water as well.
"Iceland's hot pools have served as a form of community for hundreds of years. People gather in the warmth to visit, catch up, share, and collaborate," she said. "And we all know how important it can be to our well-being to stay connected to others."
Like the Blue Lagoon and other destination soak spots, Sky Lagoon offers a "ritual" involving soaking, scrubbing, a sauna, and even swim- and walk-up bars. 
However, the real base of the health experience is that soaking, something Pétursdóttir has personally experienced to ease aches and more.
Run out and buy a hot tub?
So, if one of the keys to health and happiness is as simple as water, how do those of us not living in Iceland with its many soaking and swimming spots embrace this life?
First, said Leicht, do not think this is a replacement therapy to other good practices.
"I would never say replace your exercising with bathing," he said.
In fact, Icelanders also tend to eat fresh, organic food as well as get outside to exercise (hiking and skiing are popular).
Nor must you rush out and purchase a hot tub.
"Almost anybody can do this," Leicht said. "You don't need a sauna or a fancy tub. I recommend that if you can, just get in a bath of any kind at least once a week. You're going to see a difference, particularly in the winter."
I'd researched ahead of time and known that I should always carry a bathing suit and a wet bag while in Iceland. So, I did, although at first it felt strange.
The American in me thought, "Ugh. Change into a bathing suit and get wet, and then change back into my day clothes just for a quick soak? Ehh."
But wanting to embrace the culture, I committed. I swam in an outdoor pool in the tiny town of Hofsós, a quick few laps with white mountain peaks as my view.
At the simple hot pots outside the popular Ektafiskur Restaurant, owner and third-generation fisherman Elvar Reykjalín told Healthline that while on lovely weather days you can sometimes spot a whale in the distance, the rougher weather days are just as popular for his ground-fed hot pots.
"In the wintertime I am having people every day for the hot tubs. It is even more fun to be in them if the weather is bad and just lay in cozy hot water watching the waves splash on the beach," he said. So I tried it.
I visited the GeoSea Thermal Baths and soaked in mineral-rich water. I hopped into hot pots in the evening at the time of night (particularly when it's been dark since afternoon) when I'd usually lean toward pajamas and Netflix.
I drank deep the faucet water, not worrying I was in another country.
And I felt great. No jet lag there or back home.
I've been taking deep water aerobics classes at my local gym for about a year, and some of the female regulars have long amazed me. Fit in both body and mind, I just assumed they happened to be like that.
But Iceland and its soaking culture made me wonder: Had these women discovered the secret as well?
I know this: When I travel west from New England to ski, I often struggle with jet lag and altitude the first day. This year, I'll have a new arrival practice: First stop will be a soak, be it in a tub, outdoor hot tub, or mineral spring.
From what I learned and experienced in Iceland, it will make my trip all the better.
Water can be my medicine.