Hilton and Ionian Hotel Enterprise, which owns the hotel, announced in December that they had agreed to redevelop the current Hilton Athens Hotel and rebrand it as Conrad. The hotel will also consist of Conrad and Waldorf-Astoria branded residences.
The hotel today announced that it would close on January 31, 2022, for the duration of the redevelopment. The Conrad, with 280 rooms and suites and 50 unit residences, is expected to open by 2024 (there are often delays).
You can access Hilton Athens here.
READ MORE: Hilton Honors Rate & Bonus Points Offers
The hotel has posted the following announcement on Social Media:

Following an agreement for a new Conrad hotel and residences, it has been mutually agreed with the owner that Hilton Athens will cease to operate under the brand on the 31st of January 2022. We are enormously proud of the hospitality delivered at Hilton Athens and want to extend our thanks to all Team Members at the hotel for their incredible service. We look forward to welcoming guests to the new hotel.
Bookings Closed Past January 31:
JANUARY 2022

FEBRUARY 2022
Hilton Athens Fact Sheet:
Download (PDF, 4.42MB)
Warning About The Redesign: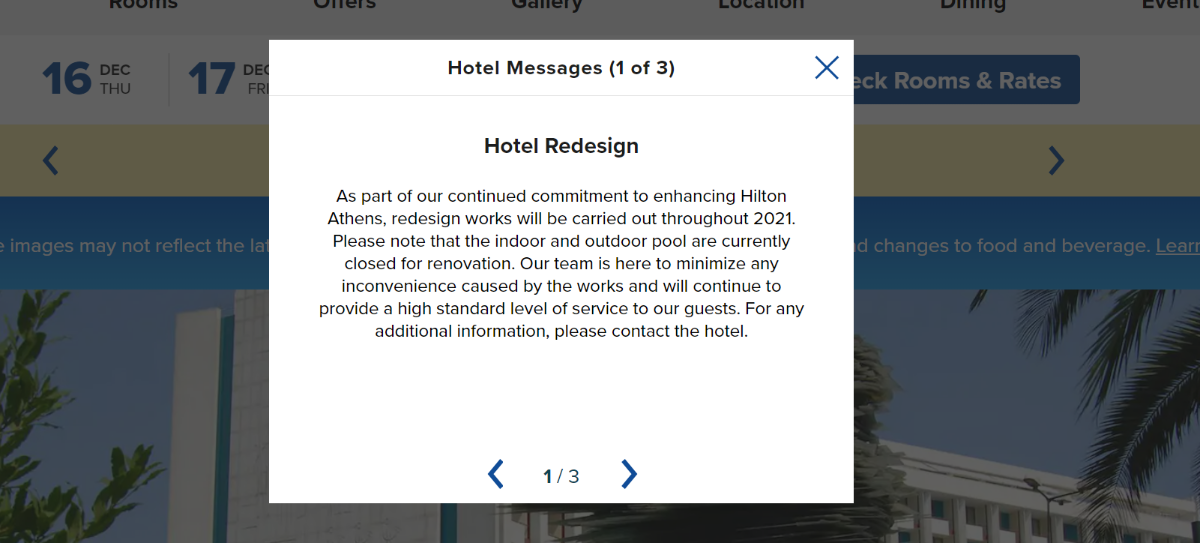 Videos Of The Suites I have Had:
Here's the announcement from Hilton:
Hilton and Ionian Hotel Enterprises Announce Plans for New Luxury Hotel and Residences in the Heart of Athens

Conrad Hotels & Resorts, Conrad Residences and Waldorf Astoria Residences to arrive in iconic Athenian location as part of a 130 million EUR redevelopment program

ATHENS and MCLEAN, Va. – Hilton (NYSE: HLT) and Ionian Hotel Enterprises (IHE) have announced an agreement for a new hotel and residences to be developed by IHE in the Greek capital. The news marks the introduction of Hilton's luxury brands — Conrad Hotels & Resorts, Conrad Residences and Waldorf Astoria Residences — to Greece. A renowned city landmark currently operating as Hilton Athens is set to be transformed into a new destination comprising a luxury hospitality and residential offering, which will connect authentic modern-day Athens with its Greek and international audience.

Simon Vincent, executive vice president and president, EMEA, Hilton said, "For more than half a century Hilton Athens has played a pivotal role in the city's emergence as a global destination, welcoming international guests, royalty, and captains of industry. We're incredibly proud to continue that legacy with the introduction of Conrad Hotels & Resorts alongside Waldorf Astoria and Conrad branded residences. Hilton's luxury brands are on a powerful growth trajectory, with new properties opening in Sardinia, Kuwait, Tulum, Rabat, Shanghai and Los Angeles in the next year. With contemporary luxury interiors, seamless service and stunning views overlooking the ancient citadel of the Acropolis, this is set to be an incredible addition to the portfolio."

The agreement strengthens the longstanding partnership between Hilton and IHE, and represents a significant milestone in Hilton's 60-year legacy in the Greek capital. Hilton Athens first opened its doors in 1963 as the first major international hotel in Greece and has been instrumental in Athens' growth as a leading travel destination, offering unforgettable hospitality experiences to visitors from all over the world. An integral part of the city's history, Hilton Athens is cherished by the Athenians, who had fervently demonstrated this during an extensive stakeholder survey carried out by IHE a year ago, in which Hilton was viewed as a key element of the new destination's identity.

The new destination represents a strategic investment of more than 130 million EUR by IHE — in addition to the initial c. 145 million EUR for the property acquisition — and aims to introduce an innovative mixed-use development model to the city and become a focal point of reference for both visitors and locals. It will feature a luxury hotel along with premium private residences, a private lifestyle members' club, multiple culinary and entertainment venues, curated shopping as well as leisure and wellness experiences, with the goal of contributing further to establishing Athens among the top choices in Europe to travel or live. A well-curated blend of global and local brands will inspire the capital's residents, as well as a wide and inclusive audience, to experience the true spirit of modern Athens.

"Ionian Hotel Enterprises is developing a new city destination that aspires to connect the world to this vibrant capital and its people. We are honored and excited to extend our partnership with Hilton and we are confident that the legacy of Hilton Athens along with the global expertise of Hilton will contribute significantly towards making this new destination a successful contributor to the city's growth," said IHE Chairman Achilles V. Constantakopoulos, adding, "After six decades of cooperation between IHE and the group founded by Conrad Hilton, we are thrilled to now call Hilton by its first name."

Dino Michael, senior vice president and global category head, Hilton Luxury Brands, said, "Athens is a city that perfectly responds to the needs of today's luxury traveller. Steeped in history, with a thriving cultural and entertainment offering, it's a fitting location in which to introduce our Conrad Hotels & Resorts brand. Increasingly, we're also seeing significant demand for branded residences that offer our signature luxury hospitality, so we are particularly pleased to be expanding our partnership with IHE to introduce this exciting concept to Athens for the first time."

The new Conrad hotel, which is expected to welcome its first guests in 2024, will include approximately 280 stylishly appointed guest rooms and suites, alongside approximately 50 private residences under the Conrad and Waldorf Astoria brands. The development marks the latest European entry for Hilton's rapidly expanding luxury portfolio, joining trading European properties in locations including Portugal's Algarve, Amsterdam, and Rome. Spanning five continents with 40 properties, Conrad Hotels & Resorts creates a seamless connection between contemporary design, leading innovation, and curated art to inspire the entrepreneurial spirit of the globally connected traveller.
Conclusion
It is probably good that the hotel ceases operations while the extensive renovations are completed to convert it to a Conrad, Conrad, and Waldorf Astoria Residences. Unfortunately, the hotel has no information on how they plan to relocate guests with check-in dates past January 31, 2022. There are no currently other Hilton-affiliated hotels in the city.
I have fond memories from Hilton Athens, where I have stayed half a dozen times, most recently in the past year. So I am eager to try out the Conrad in 2024!