When the pandemic dissolved offices across the country, my husband and I, like many others, sold our house in greater Denver and headed for the mountains. We picked Salida, Colorado, a place we had visited many times, in every season, as an escape from suburban life. We'd head to the mountains as often as possible to camp, hike, mountain-bike, and ski. Full-time life in Salida seemed like a dream. I've lived in a lot of different places, but this was the first time I had chosen a home because I wanted to be there; not for a job, not for a person, just for the place.
We moved on Halloween, 2020. "Thriller" echoed down the street as we carried boxes into the house. As tends to happen in Colorado, fall conditions lingered. We got tons of warm November afternoons that begged for exploration. I felt at home right away, but I wanted to know every mountain and every trail. I wanted to be one of those people who looks out and names all the peaks and tells you all the back ways to get there.
I went to my new local bike shop and asked for a gravel-ride recommendation. One of the mechanics suggested I check out Droney Gulch, a 25-mile loop from Salida with great views of Mount Shavano. He pointed it out on a Latitude 40 Recreation topo map map hanging on the wall. I picked up a copy. On one side, it has 62 trail recommendations, and on the other, the local fourteeners. The Droney Gulch loop was one of the best rides of my life. Empty gravel roads take you right up to the base of snowcapped mountains. I soon bought a second copy of the map and hung one in the kitchen and one in my office. I wanted to look at it all the time.
I got in touch with the couple who made the map, Mary and Grant Morrison. They met in a cartography class at the University of Colorado Boulder in 1980 and started making mountain-biking maps before the sport was really a thing. Then they kept making recreational topo maps for places throughout Colorado and Utah, researching and updating them meticulously so that each map reflected the area's growing trail systems. Their trail recommendations are their own personal favorites, found over years of exploring each area.
After I spoke with Mary and Grant, I decided I'd attempt as many trails on the map as possible, on bikes and on foot. I created a spreadsheet. On January 1, 2021, I picked a trail that seemed doable in the snow: Sunrise at Narrow Gauge, a five-mile out-and-back just a short drive from our house. Wearing snowshoes and lots of layers, my husband and I walked through icy snow at sunrise. Phenomenal pinks and oranges lit up Mount Princeton, the Arkansas River Valley, and the Chalk Cliffs. The next weekend brought our pop and hiked the Midland Trail in Buena Vista in snow boots. With each new trail, I couldn't wait for the next.
January also brought my 40th birthday. I don't think too much about birthdays, but I have a twin brother, and I always imagined doing something big with him for our 40th. He lives in New York City, and with the pandemic locking down travel, we didn't get to have our epic birthday together. So I dug into the map. My husband and I camped in our van at the base of Ruby Mountain and hiked Turret Trail in 16-degree weather. I sent my brother a photo of the sunrise.
I loved having a project that required so much work to accomplish. Each week I looked at the weather and conditions and decided what I wanted to take on. It was like dipping into a box and pulling out a new toy.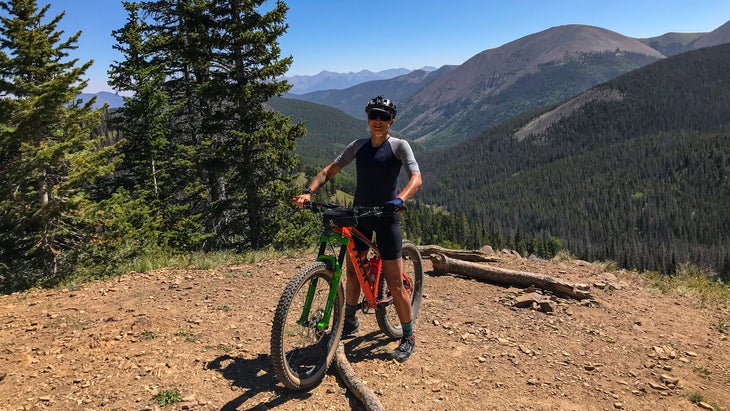 (Photo: Micah Ling)
Over the course of the year I got more confident. At the beginning of the project, I always brought my husband or a friend along, or at least my dog, but by midsummer I went out alone. I got a thrill out of being intimidated. I spent some nights at trailheads in our camper van so that I could get a predawn start on huge climbs. Just sleeping alone outside—even in a vehicle—felt like newfound freedom. I began to crave being fully immersed in the outdoors. When I'd head out at 4 A.M. on a massive hike, I'd concentrate on my breathing. I'd sing little songs when I felt there was a large animal nearby. I made videos with my GoPro so that I had someone (myself) to talk to. I took particular satisfaction in watching my fitness improve. By midsummer I was handily passing other hikers gasping from the altitude. There were so many times when I was the first to arrive at the summit for the day. It was exhilarating.
I also got better at being in the wilderness. I learned to pack enough food, enough water, enough layers, a first aid kit, and traction devices, even when snow and ice made the route seem impossible. I learned to always turn my Garmin InReach on, test it, and stay in touch with my husband about my progress and plans. I studied the map so much that I could see it in my mind and know exactly where I was when I was out on a trail. I knew where the river was, which peaks I was seeing, which direction I'd have to walk to hit town, and where other trails would intersect.
A year later, I've still got a few trails to check off, and life in the map has become less about completing my spreadsheet and more about knowing my backyard. I jotted down notes after each trek in a journal. I repeated the trails I loved several times. Over the course of the year, I was in the map nearly every day. I covered more than 8,500 miles and climbed nearly a million vertical feet. But the appreciation I gained for the landscape by traveling through it is much more important than the numbers.
Recently, I was mountain biking and someone on the trail asked me which peaks we could see. I pointed out each one with confidence. I also could have told them a story about being on top of each one, but I pedaled on.
The post This Year, I Hiked Every Trail in My Backyard appeared first on Outside Online.