Every holiday goodie needs a top dessert to fulfill the celebration. Whether you organize Easter brunch, lunch, or dinner, we want to offer you a mouthwatering top 3 for you to choose from for your Easter celebration. Many of the next divine Easter desserts showcase one of the traditional vegetables – carrot in Carrot Cake, which is so fabulous it has become a must-have in many families. Children and your guests will try these desserts with great pleasure and charge their Instagram accounts with stories. And that is just the beginning! If you prefer something beyond carrot for an Easter dessert, try cupcakes with cute decorations, a cake with a delightful twist of white chocolate and tasty buttercream, and appetizing coconut cookies, which will charm children of all ages. Welcome springtime with these vibrant desserts.
Celebrate the Easter holiday with the next delectable dessert recipes. The whole family is sure to love your showstopping cupcake, cake, and biscuits. See our recipes below or find more inspiration with the best Easter baking ideas and easy-to-make dessert recipes.
Carrot Patch Cake
Prepare: 25 mins
Cook: 1 hr 10 mins
Serves: 10 – 12
Ingredients:
175ml vegetable oil, plus extra for the tin
75g natural yogurt
3 large eggs
1 tsp vanilla extract
200g self-raising flour
250g light muscovado sugar
2 tsp ground cinnamon
¼ fresh nutmeg, finely grated
200g carrots (about three), grated
100g sultanas or raisins
100g pistachios, finely chopped (or slivered if you can get them)
For making the glaze:
100g slightly salted butter, softened
200g icing sugar
100g full-fat cream cheese
100g fondant icing or marzipan
orange food coloring
Method
Step 1
Warm oven to 180C/160C fan/gas 4. Grease and line a 900g loaf tin with baking parchment. Whip the oil, yogurt, eggs, and vanilla in a bowl. Blend the flour, sugar, cinnamon, and nutmeg with a good pinch of salt in a bowl. Wring any lumps of sugar through your fingers, shake the bowl a few times to bring the lumps to the surface.
Step 2
Mix the wet ingredients with the dry, along with the carrots, raisins, and half the pistachios. Mix well to blend, then scrape into the tin. Bake for 1 hr 10 mins or until a skewer inserted into the center of the pastry comes out clean. If any wet content sticks to the skewer, turn back to the oven for 5 mins, then check again. Leave to cool in the tin can.
Step 3
To make the icing, mix the butter and sugar together until smooth. Add half the cream cheese and beat again, then add the rest (adding it bit by bit helps the icing not to split). Get the cake from the tin and put the icing thickly on top. Spread out some of the remaining pistachios. Color the fondant or marzipan orange by kneading in a drop of food coloring. Roll into little pieces similar to carrots, then use a skewer to make indentations and poke a few pistachios in to look like fronds. Cover the cake with the carrots, then it's ready to be served. You can keep it in the fridge for up to five days (eat at room temperature).
Pull-apart Mini Cupcake Easter Wreath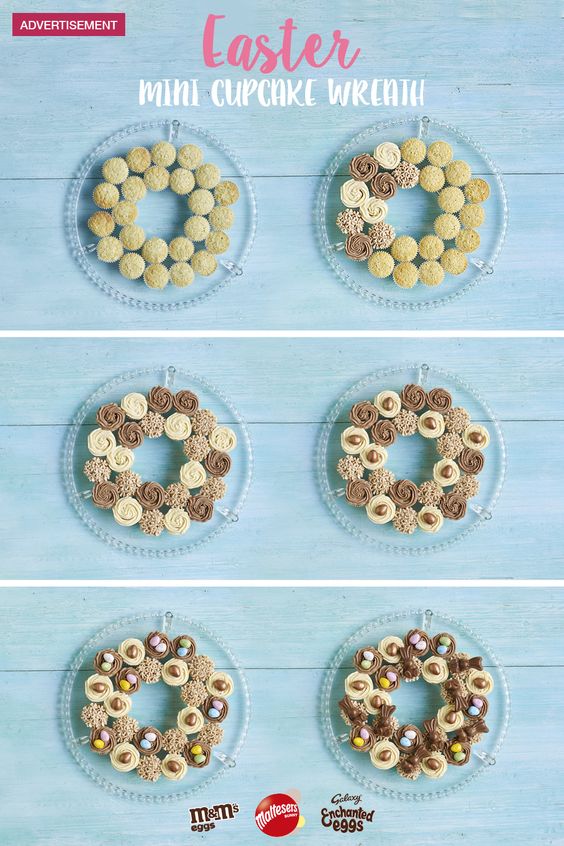 Prepare: 40 mins
Cook: 10 mins (plus cooling and setting)
Makes: 24
Ingredients:
3 large eggs
85g golden caster sugar
45g butter, melted
2 tsp vanilla extract
100g plain flour
½ tsp baking powder
For the icing and decoration:
150g butter, softened
300g icing sugar
1 tsp vanilla extract
1 tsp malt powder
1 tsp caramel sauce
1 tsp cocoa powder, sieved
8 Maltesers Mini Bunnies ®
8 Galaxy Enchanted Eggs ®
16 M&M's Eggs ®
Step 1
Warm the oven to 180C/160C fan/gas 4. Line 24 holes of a mini cupcake or muffin tin can with containers.
Step 2
Mix the eggs and sugar in a bowl, blend it with an electric hand whisk until it'll become really pale and foamy, about 5 mins. The beaters should leave a trail on the surface of the mix when eliminating.
Step 3
Stir in the melted butter and vanilla gently, then insert the flour and baking powder through a sieve. Add the flour to the mixture with a spatula, trying not to lose any air from the batter.
Step 4
Apply two teaspoons to divide the mix between the cases. Place in the oven and cook for 10 mins until the cakes are well risen and spring back when pressed. Remove it out from the tin and leave to cool on a shelf or table.
Step 5
For making the icing beat the butter, icing sugar, and vanilla together with an electric whisk until it'll become pale and fluffy. Split the icing into the three bowls.
Step 6
Mix the malt powder into one bowl of icing, throw in the caramel to another bowl, and the cocoa powder to the last. Shake each well until uniform in color, making an ombre effect from light to dark between the three creams. Spread the icing into three piping bags. Fulfill a bag with a petal or flower nozzle with the icing, and the other two in piping bags with star nozzles.
Step 7
On a large platter or plate, distribute the cupcakes so they sit in a wreath shape, touching slightly. Decorate the cupcakes with the malt icing over eight of the cakes. Top each with a Maltesers Mini Bunny.
Step 8
Create little nests over the rest of the cakes with the two icings, eight of each flavor. Put a Galaxy Enchanted Egg into the caramel iced cakes, and two M&M's Eggs into each chocolate iced nest cake. Leave to cool off for 10-20 mins before serving.
White Rabbit Biscuits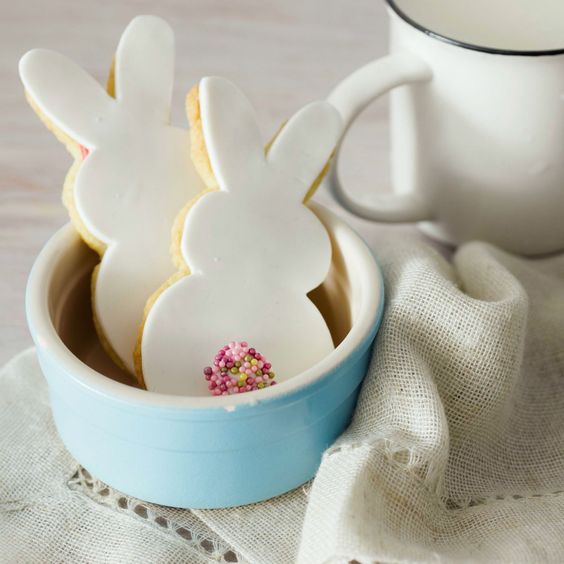 Prepare: 1 hr and 10 mins
Cook: 45 mins
Makes: 30-35 biscuits or 15 bunnies
Ingredients:
200g unsalted butter, at room temperature
400g plain flour
280g caster sugar
1 egg
¼ tsp vanilla extract
a pinch of salt
½ tsp cream of tartar
For the glaze:
600g icing sugar
pink food coloring gel
170g pack of desiccated coconut
15 mini marshmallows
You will also need:
1 x rabbit head-shaped cookie cutter
1 x 7cm round cookie cutter
1 x 3cm round cookie cutter
Method
Step 1
Warm oven to 180C/160C fan/gas 4. Lightly grind the butter and flour together with your fingertips until the mixture looks like fresh breadcrumbs.
Step 2
Mix the sugar and egg together in another in a bowl with a whisk and when it is really well combined and runny put it to the flour mixture.
Step 3
Add all the other ingredients and flatten it together with your hands, keep flattening the dough until it's smooth, soft, and comes together in one piece.
Step 4
Roll the dough out on a lightly floured surface with a rolling pin that you have half a centimeter thick. Cut into pieces. It's enough 15 rabbit heads, 15 large circles, and 30 minicircles.
Step 5
Put your biscuits on baking sheets lined with baking paper and bake in batches for about 15 mins (or until they become lightly golden at the edges).
Step 6
Leave them in the tin can for a few minutes before carefully transferring them to a wire rack to cool completely and become crisp.
Step 7
While the cookies cool mix enough cold water with the icing sugar to make a thick icing. Put a quarter of the icing in another bowl and add a very small amount of pink gel food coloring. Transfer both the white icing and the pink icing into disposable piping bags and cut the end to make a very small hole on the pink icing and a wider one on the white icing.
Step 8
Decorate white icing over the small round biscuits and leave to dry. Then put white icing to cover all of the large circular cookies and the rabbit biscuits (be fairly sparing and spread it out with the back of a spoon – it doesn't have to be neat on these ones). Once you've iced each one, decorate it also generously with desiccated coconut before the icing dries.
Step 9
Use the pink icing and use it to make paws on the smaller circles then stick 2 of them onto each of the large circles using icing like glue. With the icing, you have left, coat the marshmallows and cover those in coconut too before sticking them onto the middle of the bigger round parts to create a fluffy tail. Leave to cool off completely for about 15-20 mins then serve.
Wrapping Up
Cooking desserts is kind of a must for all celebrations, but Easter is by far my favorite holiday to prepare some sweets for. Easter desserts are just so cute with all the gorgeous pastel color tones and cute designs. We have found our 3 favorite easy Easter dessert recipes. So if you are wondering how to surprise children and guests this Easter, then you have come to the right place.