And IKEA's new range, KÅSEBERGA, specially for earth-conscious surfers and beach lovers.
For the love of the surf. When you're not surfing, wall mount your surfboard, both to store and use them as statement pieces.
There are plenty of readymade surfboard wall mounts but if you're in the mood for a simple IKEA hack, or perhaps you already have these items in hand, you can very easily wall mount your surfboards and display them loud and proud.
Wall Mounted Surfboard Storage Solution
This first idea comes from Ellen and uses the amazing SKÄDIS pegboard system. We love the SKÄDIS and its many uses. Here it proves its versatility again.
IKEA items used:
3 SKÄDIS panels of 56x56cm
3 SKÄDIS panels of 36x56cm
SKÄDIS containers, hooks, clips and rubber bands
SKÄDIS shelf
Other items:
Piece of EVA rubber (to cover the inside of the shelf on which the board rests)
Bungee cord to hold the board (the kind used in bicycle luggage racks)
Tools:
Drill
Level
Pencil
Screwdriver
How to wall mount a surfboard:
Assemble the SKÄDIS panels as they come in the IKEA instructions. Install them to the wall using wall fixings suitable for your type of wall. You'll need the SKÄDIS panels to be securely mounted to avoid any accidents.
Place the SKÄDIS shelf at the bottom end of the pegboards. Line the inside of the shelf on which the board will rest with rubber foam. This will prevent any scuffing of your surfboard.
Hold the surfboard up with a bungee cord, hooking the ends to the sides of the SKÄDIS pegboard. You can add another bungee cord in the middle if you need it to be more firmly attached. One single cord has worked well for me.
You'll still have space for your other skates and skating accessories.
~ by Ellen
Related: 5 Brilliant ways to hack a skateboard rack and organize them all
This next idea is so fun and way too cute, especially if you love surfing and dogs. It uses the BÄSTIS hooks with a twist.
Surfboards butt up on the wall
Materials:
BÄSTIS Hooks
How to use hooks as a surfboard rack
Use a trio of BÄSTIS hooks as a wall mounted surfboard rack!
These little doggie derrières make the perfect wall racks for surfboards, wakeboards, kiteboards, snowboard… name it!
Their soft texture and round shape is perfect: no board damage with these!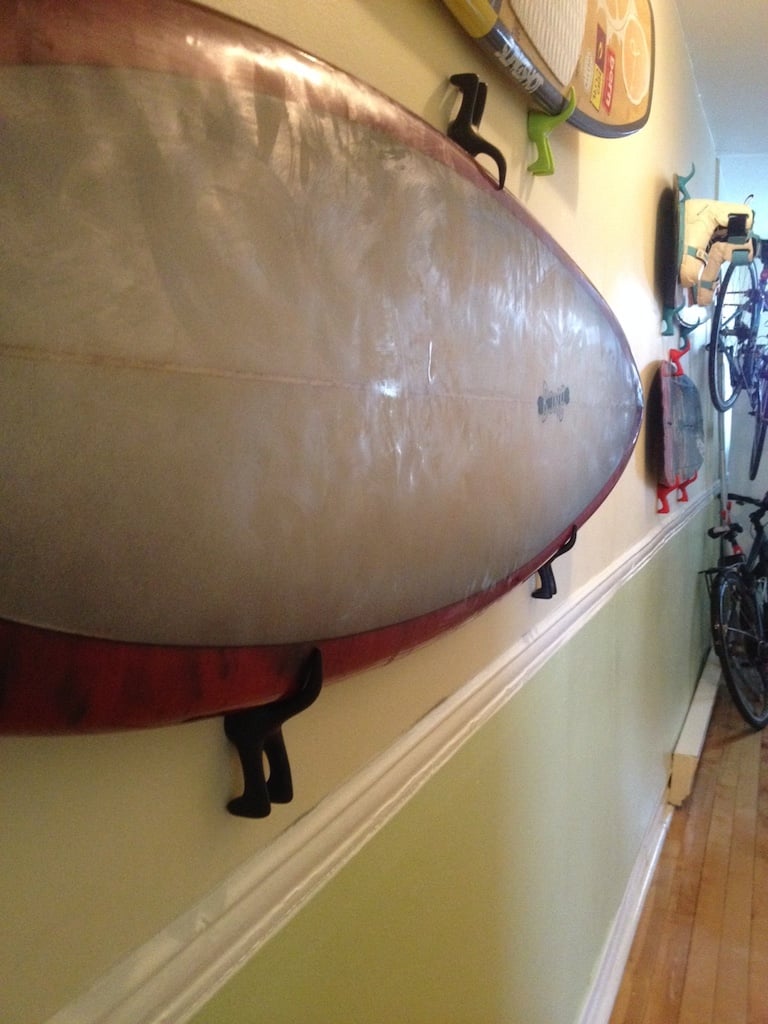 Install two hooks on the wall (distance varies according to the board), insert the board horizontally, then mark the center point of the board on the wall with a pencil.
You will have to switch the plastic plate where the screw inserts for the top hook, since it goes upside down.
Install top hook, leaving some play to be able to pivot the hook easily to put the board in and out easily.
Then TADAAA! You're done!
Surf's up for IKEA's KÅSEBERGA surfers collection
Back in 2019, IKEA initiated a collaboration with the World Surf League to produce products that met the demands of surfers. Next month, May 2022, this new collection is ready for a global unveiling.
The collection is name after KÅSEBERGA, a small city in Sweden with one of the most southern surf breaks in the country.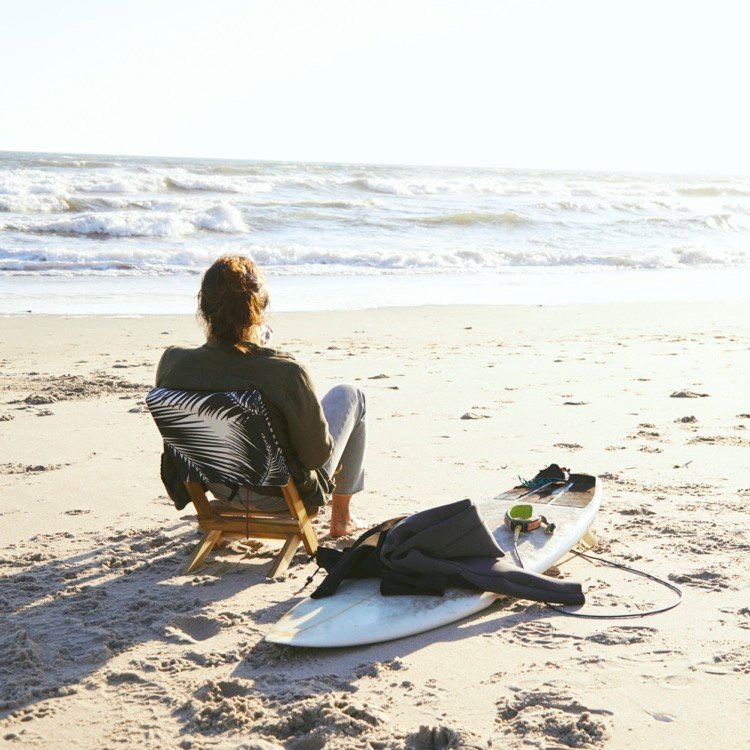 Photo: IKEA.com
By teaming up with WSL, IKEA dove deep into the surfing lifestyle. Surprisingly, these insights went beyond surfing per se and into a larger realm of being constantly on the go, such as organising mobility needs and handling humidity.
"These needs are relevant for many more people than surfers and inspired us to create products that enrich everybody's lives with similar demands. With this collection, we hope to spread the joy of the surfing lifestyle in the home and everyday life of many people", says Wiebke Braasch, Designer at IKEA of Sweden.
KÅSEBERGA beach chair | IKEA.com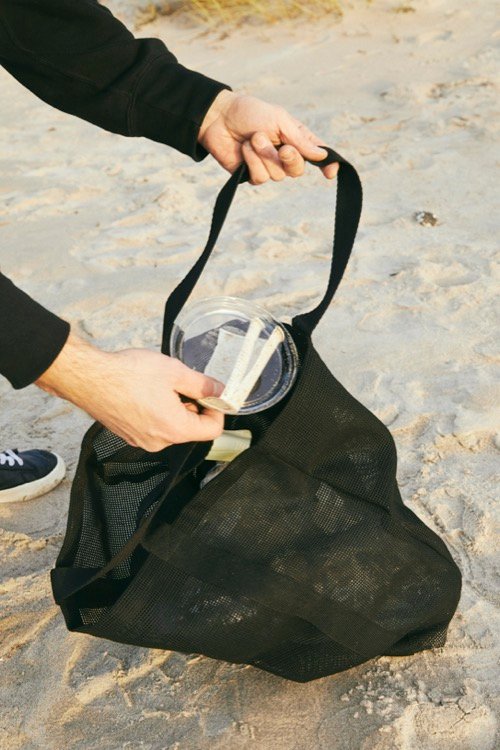 KÅSEBERGA beach bag | IKEA.com
The KÅSEBERGA collection will feature more than 25 products intended for the home or wherever life takes them. Among those are a hand plane for body surfing, a beach chair, a portable grill, a coffee table and a bag uniquely designed to function well for beach clean-ups.
Personally, the items that pique my interests are the portable grill and coffee table for impromptu backyard picnics.
Together with the World Surf League and the reputable surfers Kassia Meador and Rob Machado, the design process has revolved around including functionality, more recycled materials and promoting a more circular lifestyle. As a result, a big part of the products in the KÅSEBERGA collection are made of recycled polyester, while others are made of renewables, such as bamboo and cork.
Post updated with new content.
The post Surfboard display rack ideas: Wall mounted, awesome and fun appeared first on IKEA Hackers.