This salmon salad recipe is quick and healthy: an easy lunch or dinner! Make it with canned salmon or as a way to use leftover salmon.
Here's a fun way to mix up lunch with a spin on a deli-style favorite: Salmon Salad! It's a creamy, crunchy mix of tangy flavors: just like Tuna Salad but using canned salmon. Or, use it as a smart way to revitalize leftover salmon! The flavor is savory and satisfying, and this recipe has a healthy spin with less mayo. You can also class it up for a fancy brunch and serve it with fresh herbs on a croissant. It takes just 5 minutes, and works with crackers, in lettuce wraps, in a sandwich, and more. Lunch just got tastier!
Ingredients for salmon salad
The classic tuna salad goes back as far as 1907, and salmon salad is a spinoff on that theme. Using canned salmon makes it work for quick and easy meals. It's a bit more expensive than canned tuna, but just as convenient and a fun way to mix up the standard tuna. But this recipe also works with cooked salmon: either as a way to use leftover salmon, or classed up[ as a fun brunch idea! Here's what you'll need for this quick recipe:
Canned salmon or cooked salmon
Celery
Red onion
Dill pickle
Capers
Greek yogurt or plain yogurt
Mayonnaise
Dijon mustard
Salt and pepper
Looking for a green salad instead? Go to Smoked Salmon Salad and substitute cooked salmon for smoked.
Yogurt and mayo make a creamy sauce
This salmon salad is creamy but not mayo-laden. What's the secret? Greek yogurt! You can also use plain yogurt here. Yogurt in combination with mayo makes the salmon salad ultra creamy while keeping the calories low. It also makes the flavor fresh instead of heavy! Mayo and Greek yogurt work perfectly together: we also use this trick in our classic Tuna Salad, Healthy Ranch Dressing, and more.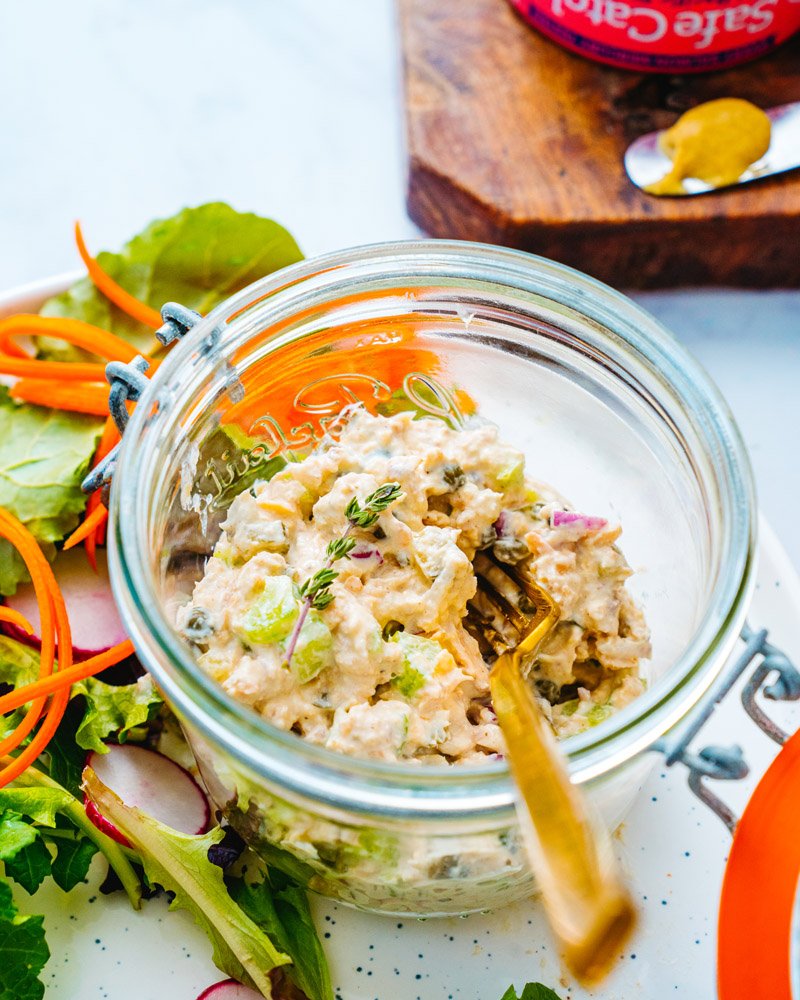 Using leftover salmon or fresh cooked salmon
At it's core, this recipe is a quick and easy lunch idea. But it's also a great way to use up leftover salmon. You can also cook the salmon fresh to make a fancier version of salmon salad (see below). Here are a few things to note:
5 ounces canned salmon equals 2/3 cup flaked cooked salmon. The recipe below makes enough for about 2 servings, or one very large serving.
Cook it fresh using one of these methods: Do this to make a fancier variation for a brunch or special meal. Try Pan Seared Salmon, Grilled Salmon or Baked Salmon.
Variations: a fancier salmon salad
This salmon salad is so versatile: you can make it straight-forward or add a few ingredients to make it more elevated. Serve it on a croissant and it's now fancy brunch ready! Here's what we'd do:
Add 1 to 2 tablespoons chopped fresh dill or basil
Add 1 to 2 tablespoons Parmesan cheese to elevate the flavors
Serve on a croissant or crostini for an elegant presentation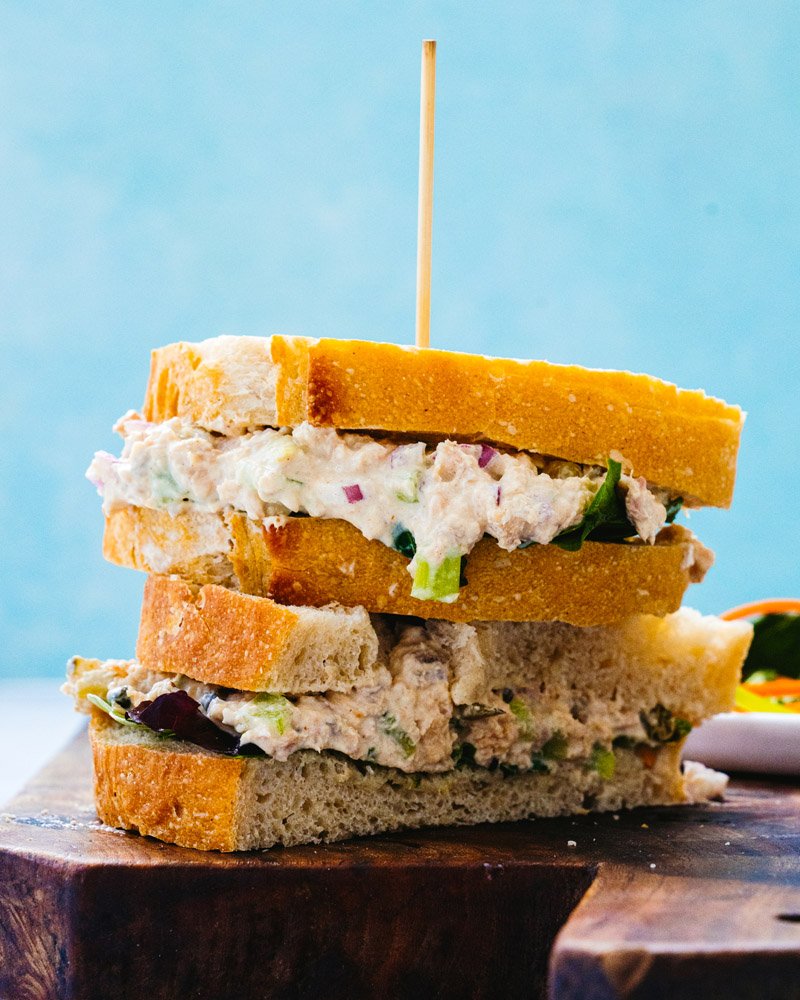 Ways to serve salmon salad
There are so many ways to serve this salmon salad recipe, our heads spin thinking about it! Here are a few ideas from simple lunch to fancy brunch:
Over greens: Place it over crunchy greens and it works as a simple lunch or dinner. Add some sliced tomatoes and hard boiled eggs for a heartier meal, or a cooked grain on the side (like rice or quinoa).
Sandwich: Make it into a Salmon Salad Sandwich! Use focaccia bread, ciabatta bread or a croissant to mix things up.
Lettuce wraps: Wrap it into lettuce leaves as a gluten-free lunch or dinner.
Crackers: Serve with cracker or gluten-free nut crackers as an easy lunch
Crostini: Spread it baguette slices for an appetizer
In an avocado: Throw it into half of an avocado for a healthy dinner idea
More salmon recipes
There are so many ways to serve salmon! Here are some of our favorite salmon recipes, with options for canned salmon and fresh:
Go for tasty Salmon Tacos with creamy green avocado sauce
Try Easy Salmon Patties (Salmon Cakes!)
Mix up a Simple Salmon Bowl with a creamy dressing
Make a tasty Classic Salmon Burgers
Go for Maple Glazed Salmon or Lemon Garlic Salmon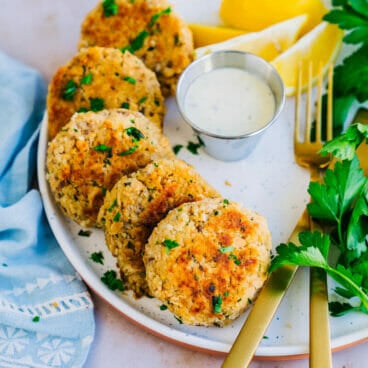 01
Easy Salmon Patties (Salmon Cakes!)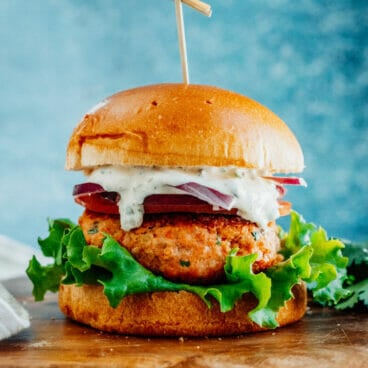 02
Classic Salmon Burgers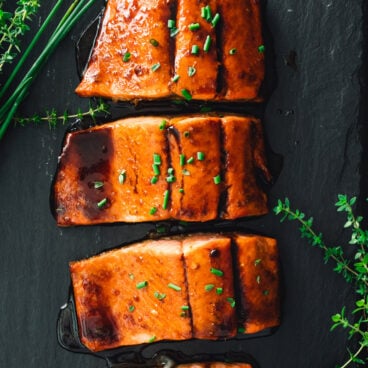 03
Maple Glazed Salmon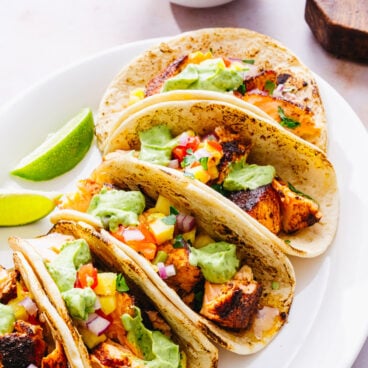 04
Salmon Tacos with Avocado Sauce
This salmon salad recipe is…
Gluten-free and pescatarian. For dairy free, skip the yogurt and use only mayonnaise: see the recipe below.
Print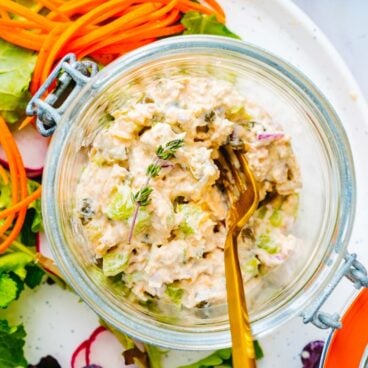 Easy Salmon Salad
★★★★★
5 from 2 reviews
Author:

Sonja Overhiser
Prep Time:

5 minutes

Cook Time:

0 minutes

Total Time:

5 minutes

Yield:

2 servings
Print Recipe
Pin Recipe
Description
This salmon salad recipe is quick and healthy: an easy lunch or dinner! Make it with canned salmon or as a way to use leftover salmon.
Ingredients
1

celery rib, finely chopped

2 tablespoons

finely chopped red onion

1

dill pickle, finely chopped (

¼ cup

)

1

5-ounce can salmon (

2/3 cup

cooked flaked salmon)

1 tablespoon

capers, drained

¼ cup

Greek yogurt or plain yogurt*

1 tablespoon

mayonnaise

1 tablespoon

Dijon mustard

¼ teaspoon

kosher salt
Fresh ground black pepper
Instructions
Prep the celery, red onion and dill pickle as noted above.
Drain the salmon and place it in a medium bowl: mash it lightly with a fork. Add the chopped vegetables, capers, Greek yogurt, mayonnaise, Dijon mustard, and kosher salt and stir to combine. Taste and add more salt if desired. Stores up to 3 days refrigerated.
Notes
*For dairy free, skip the yogurt and use 3 total tablespoons mayonnaise: add more to taste if desired.
Category:

Main dish

Method:

No cook

Cuisine:

Seafood

Diet:

Gluten Free
Keywords: Salmon salad, salmon salad recipe

Did you make this recipe?
Tag @acouplecooks on Instagram and hashtag it #acouplecooks
A Couple Cooks – Recipes worth repeating.