A LoyaltyLobby reader dropped us a note about their Lufthansa status match experience from now-defunct Alitalia MilleMiglia. The airline has resurfaced as an ITA, but there is no new home for MilleMiglia (the new Alitalia – ITA was not allowed to purchase it).
Readers are encouraged to send us questions, comments, or opinions by email, Facebook, Twitter, or Instagram. We'll try to cover them here several times a week.
Here's the email from the reader:
I regularly read your newsletter and came across the article on the status match from Alitalia Millemiglia to Lufthansa Miles&More.

I followed the link you indicated and, landing on the Miles&More status match page, I provided all requested information. I currently hold Freccia Alata Plus (the highest tier) in Alitalia's failed frequent flyer program and fully qualify for match to Miles&More Senato. By the way, I did hold Senator status for many years.

Anyway, I documented my current Millemiglia status with the required screenshot of my account page.

The Status Match was rejected (twice; I was so astonished at the first rejection that I tried again!) in spite of satisfying every criterion. The explanation of the rejection was uninformative (copied in below my note). I am writing to let you know that this particular status match program is disappointingly unreliable and misleading.

MilleMiglia Miles Issue (Worthless):
On a related issue, the Millemiglia miles were useless without the accompanying airline, Alitalia. Therefore I traded 326,000 miles in for vouchers on last.minute.com, an offer that Millemiglia bombards its members with. The vouchers come in specific sizes associated with specific mileage counts; the bottom line is that I could not trade 326,000 miles into 1 decent-sized vouucher, but instead ended up with multiple smaller vouchers which cannot be combined together! So it is all completely unusable.

Bottom line: the folding of Alitalia made Millemiglia worthless, and even a status match to Miles&More failed.

Oh well.
I was laughing when Millemiglia sent me an email last week trying to get me to buy these n"o "bankrupt" miles at a 20% bonus. I doubt that they had any sane takers on their offer.
It seems that their partner vouchers are % off or Euro off of a certain amount. Essentially, they are just a discount from the purchase price. I find it unlikely that Millemiglia would have any real cash to pay for try partner rewards.
Message from Lufthansa
Status Match Application Outcome

Unfortunately we are not able to process your status match application at this time.
Reasons why we are unable to approve on this occasion may include:
– The transaction involved has been marked as high risk
– The documentation provided has been altered
– The loyalty status provided is incorrect or invalid
Sebastian's piece about Lufthansa Status Match: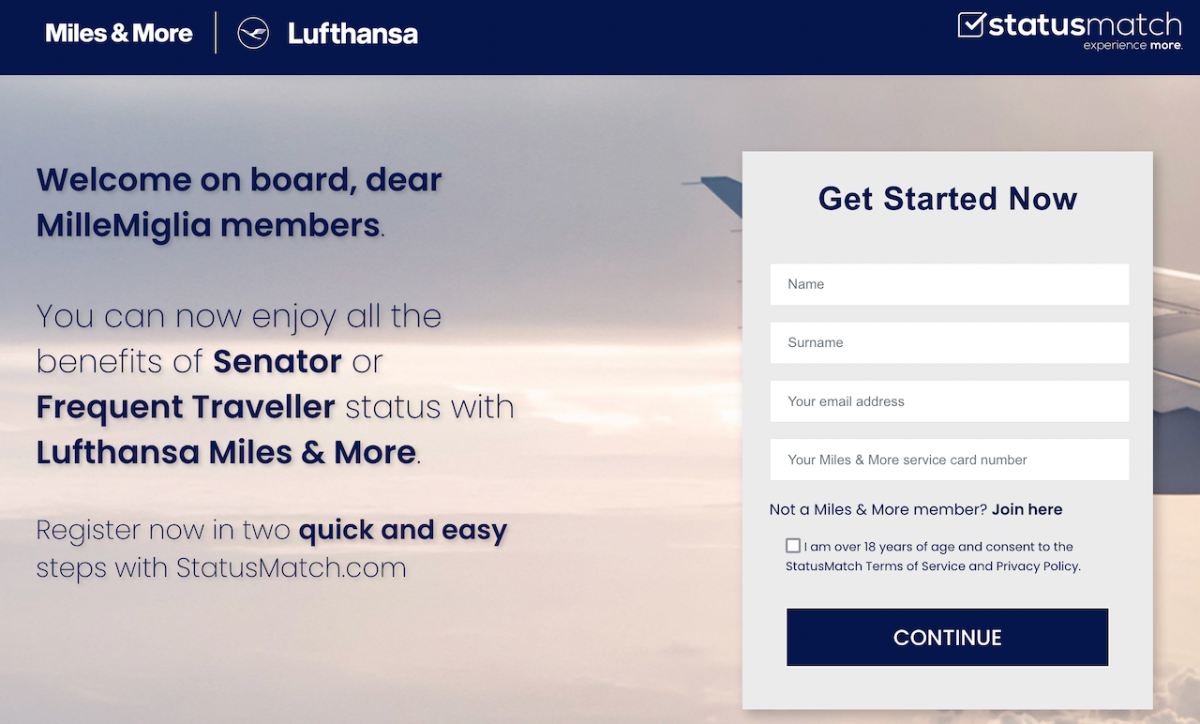 Lufthansa Miles&More Offers Status Match For Alitalia Mille Miglia Members Through March 31, 2022
Conclusion
Understandably, an airline that accepts matches from a specific program tries to ensure that the documentation submitted is accurate.
Based on the reader's email from Lufthansa, it is unclear what the real reason is. Why would they consider the status match application a "high risk"?
Not sure if Lufthansa or the company that handles these (Statusmatch.com)  is equipped to process these matches properly, it has extended to Millemiglia elite members considering how they failed to complete the application that the reader submitted?