The tortilla pizza is a genius quick meal! It forms the crust of this crispy pie, ideal for an easy dinner or appetizer.
Need food…fast? There's nothing better than a cheater pizza to the rescue, and this one is loads faster than delivery pizza. Try the mighty crispy Tortilla Pizza! This genius concept uses a tortilla to make the crust of the pizza pie, making for a delightful crunch for each bite. We love naan pizza and pita pizza, so it was time for testing it with a tortilla…which we like even better! Here's how to make the best crispy tortilla pizza: ideal for weeknight dinners, kid foods or even a quick appetizer.
Methods for tortilla pizza
The most important thing when you use a tortilla as the crust for a pizza? Getting the tortilla very crispy. No one wants a wimpy pizza. There are three different methods for tortilla pizza, each of which have pros and cons. Here's what to know:
Pizza stone (crispiest): The best method for a tortilla pizza is a pizza stone. While it's special equipment, the pizza comes out the crispiest. (Here's the pizza stone we have). You can cook about 2 to 3 tortilla pizzas at once on a stone, depending on your stone and the size of the tortillas.
Cast iron skillet (single serve): Don't have a pizza stone? Make a tortilla pizza in a cast iron skillet. This method comes out very crispy. The only downside? You can only make one at a time.
Oven grates (multi-serving): Tortilla pizza comes out great cooked right on the oven racks! This version doesn't come out quite as crispy, but it still tastes great. You can cook several pizzas at once, which is great for serving a family. Make sure to place a baking sheet in the oven to catch drips with this method.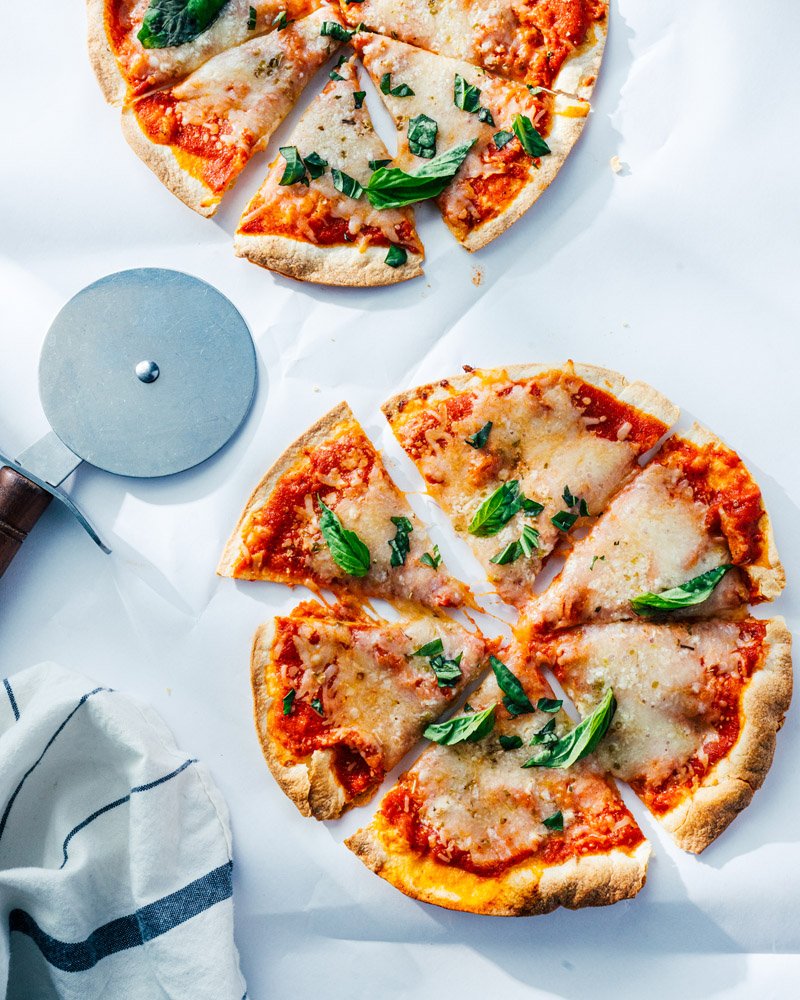 Another key: a great pizza sauce
Picked your method? The only other trick you'll need to make a killer tortilla pizza? Our 5 minute Homemade Pizza Sauce. Here's the thing: storebought pizza sauce is fine in a pinch. But this homemade sauce will blow your mind with the fresh, garlicky robust flavor. It takes every pizza up a notch. And it only takes 5 minutes to make, so why skimp?
This pizza sauce takes 5 minutes in a blender. All you need are canned tomatoes, garlic, oregano, salt and olive oil. In fact, we have the recipe memorized. Take one bite from the blender, and it's life changing.
It capitalizes on the magic of fire roasted tomatoes. Fire roasted tomatoes are key for the flavor here! They're tomatoes that have been roasted on an open flame, making them taste sweet right out of the can. Try them once, and you'll never go back.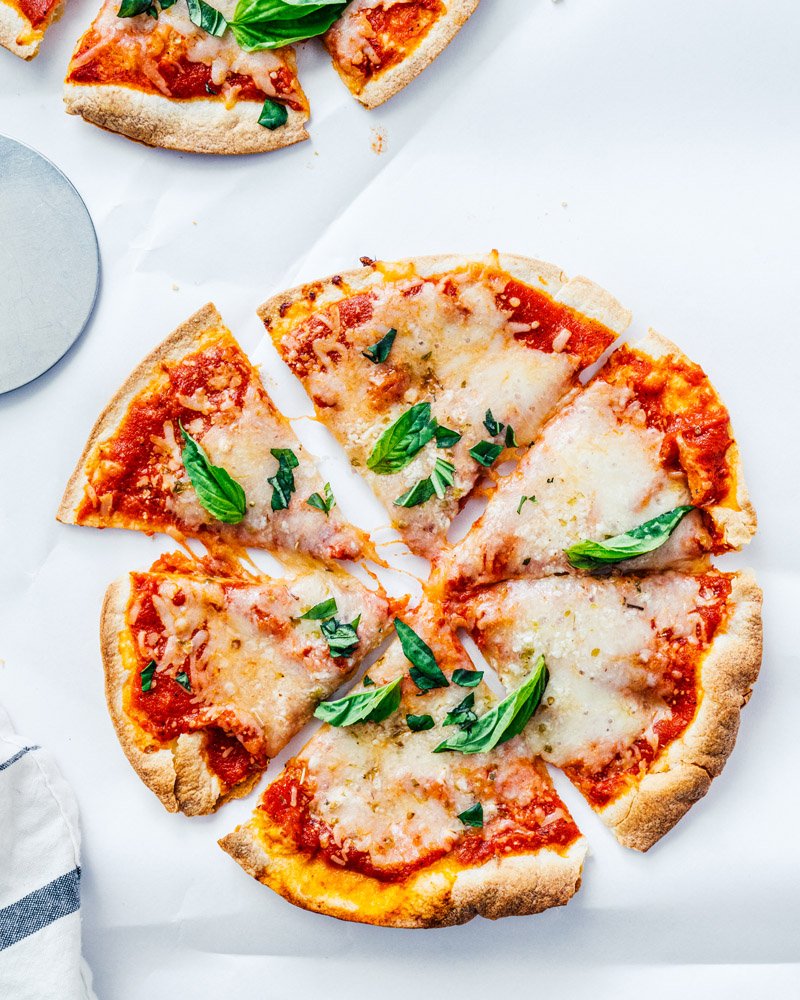 Tortilla pizza topping ideas
When it comes to tortilla pizza, our favorite flavor is margherita: a great pizza sauce, mozzarella and Parmesan cheese, and fresh basil. But you can customize this any way you like! The only thing to keep in mind? Chop the toppings very small, and don't overload the pizza. Because a tortilla is not as strong as a standard crust, you'll need small and light toppings. Here are some flavor combination ideas (scale down the quantities for personal-sized pizza):
Spinach Pizza
Jalapeno Pizza
White Pizza (Pizza Bianca)
Truffle Pizza or Mushroom Pizza
Spinach Artichoke Pizza (chop the artichokes very finely!)
Veggie Supreme Pizza
Best Ever Taco Pizza
Mediterranean Pizza
Pesto Pizza
Gluten free options
What's a good gluten free option for tortilla pizza? We don't recommend using corn tortillas because of their strong flavor. But there are lots of grain free tortillas on the market that could work! Use your favorite brand: the thicker the better. The brand Siete has various options like almond flour tortillas or cassava flour tortillas. We have not tested gluten-free tortilla pizza, so let us know in the comments below if you have good options.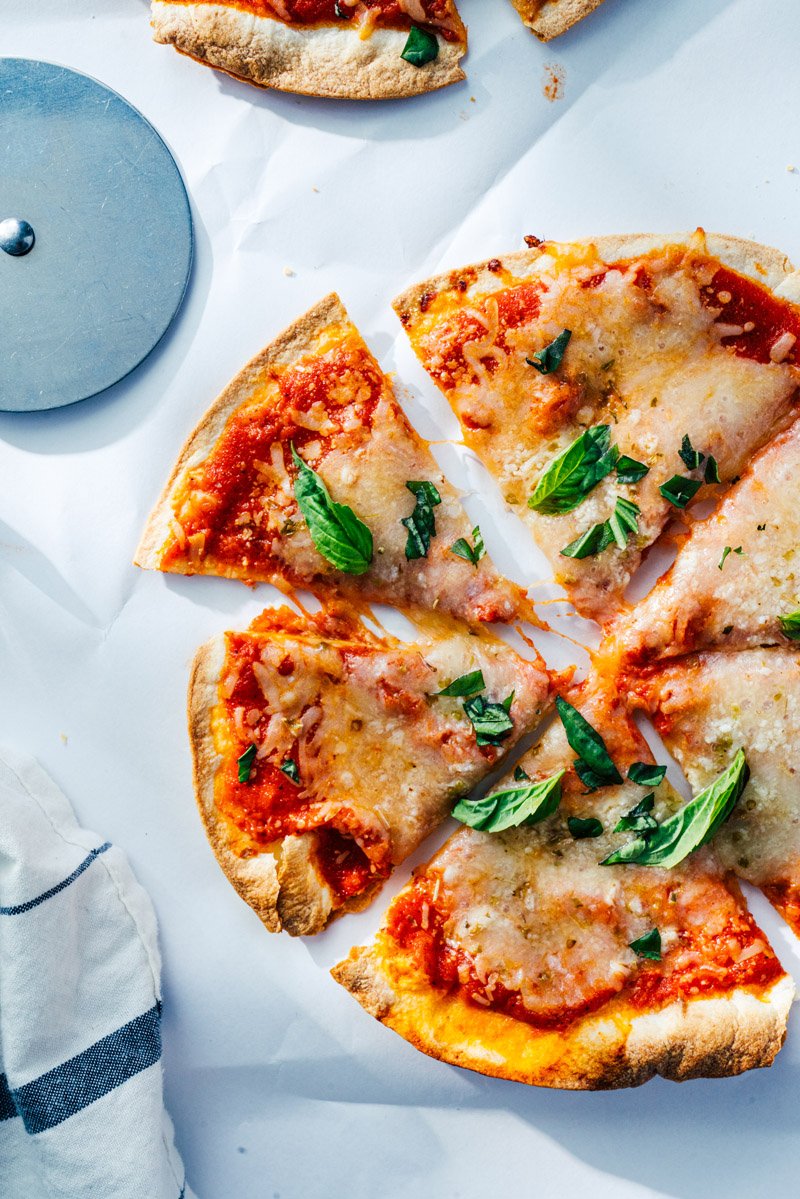 More pizza recipes
There are so many fun ways to make a pizza! Here are a few more alterative pizza ideas to add to your arsenal:
Don't forget our fan favorite Pizza Dough Master Recipe!
Try simple Naan Pizza or Flatbread Pizza
Opt for Easy Cheese Pita Pizza
Grab Easy Eggplant Pizza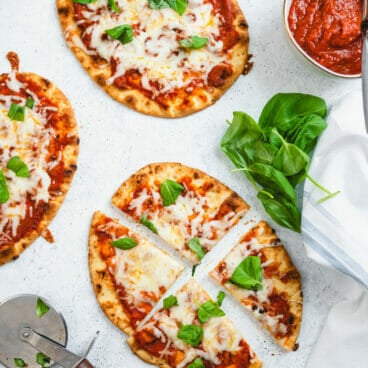 01
Naan Pizza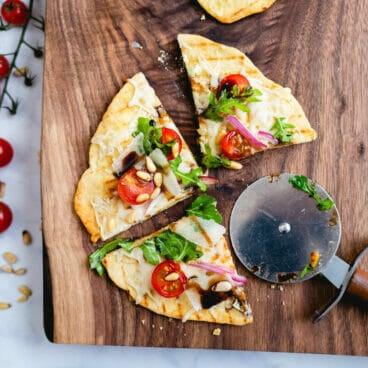 02
Flatbread Pizza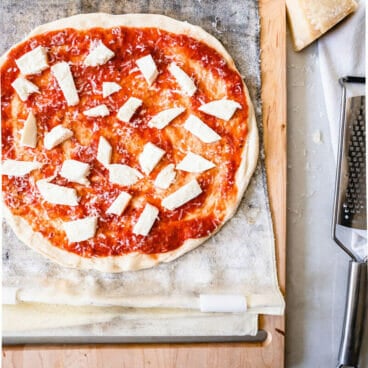 03
Pizza Dough Master Recipe
This tortilla pizza recipe is…
Vegetarian. For gluten-free, see the notes above.
Print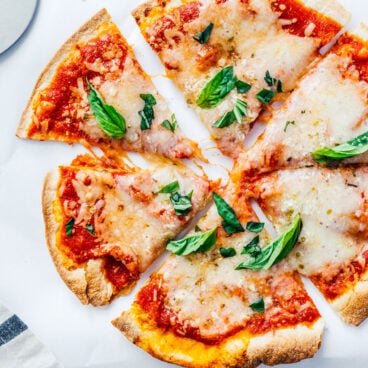 Quick Tortilla Pizza
Author:

Sonja Overhiser
Total Time:

15 minutes

Yield:

4 pizzas

Diet:

Vegetarian
Print Recipe
Pin Recipe
Description
The tortilla pizza is a genius quick meal! It forms the crust of this crispy pie, ideal for an easy dinner or appetizer.
Ingredients
8

-inch flour tortillas* (the thicker the better)

¾ cup

Homemade Pizza Sauce (required!)

1 cup

shredded mozzarella cheese
Grated or shredded Parmesan cheese, for sprinkling
Additional toppings as desired, chopped bite sized (see above)
Fresh basil, for garnish (optional)
Instructions
Preheat the oven to 450 degrees Fahrenheit with a pizza stone if you have one (or a cast iron skillet, if using).
Make the Homemade Pizza Sauce.
Brush both sides of each tortilla lightly with olive oil. Top each tortilla with 3 tablespoons pizza sauce and ¼ cup shredded mozzarella. Add a sprinkle of grated Parmesan and a small pinch of salt. Add additional bite-size chopped toppings if desired (but not the basil).
Cook using one of the following methods:

Pizza stone or cast iron pan (crispiest): Place as many pizzas as fit directly onto the preheated pizza stone, or place one pizza into the preheated cast iron pan. Bake 4 to 5 minutes until crispy and the cheese is melted.
Oven rack: Place the pizzas directly onto the oven racks, placing a baking sheet underneath to catch any drips. Bake 5 to 6 minutes until crispy and the cheese is melted.

Top with fresh basil, if using. Slice into pieces and serve.
Notes
*For gluten-free, use your favorite brand of grain free tortilla: as thick as possible. We don't recommend using corn tortillas because of their strong flavor.
Prep Time:

10 minutes

Cook Time:

5 minutes

Category:

Main dish

Method:

Baked

Cuisine:

Pizza
Keywords: Tortilla pizza

Did you make this recipe?
Tag @acouplecooks on Instagram and hashtag it #acouplecooks
A Couple Cooks – Recipes worth repeating.