This pesto gnocchi recipe comes out irresistibly creamy in 10 minutes! Use this trick for a tasty and easy side dish in a flash.
Here's a trick to a fast side dish or simple dinner: this Skillet Pesto Gnocchi! Get this: you don't even need to boil the gnocchi! Cook up these Italian potato dumplings right in a skillet and they cook right in the sauce, helping to thicken it as they release starch. Stir in purchased pesto and you've got a bright and herbaceous sauce: in just 10 minutes total. This trick has become a staple in our house when we need a quick meal!
Pesto gnocchi: how it works!
Gnocchi (pronounced NYOW-kee) are Italian pasta dumplings made with potatoes, egg and flour. Typically in a gnocchi recipe, you boil it up then add the dumplings to a sauce. But in this recipe, everything cooks in one skillet! You can cook both the sauce and the gnocchi in just 5 minutes. That's pretty magical, in our opinion! Here's what to know about the process:
In a deep skillet, bring milk and basil pesto to a simmer. Once it's ready, add the gnocchi.
Add uncooked gnocchi and cook about 5 minutes. The dumplings cook right in the sauce, and as they cook they release starch. The sauce becomes thick and saucy, then add the Parmesan cheese.
Adjust flavors to taste. See below!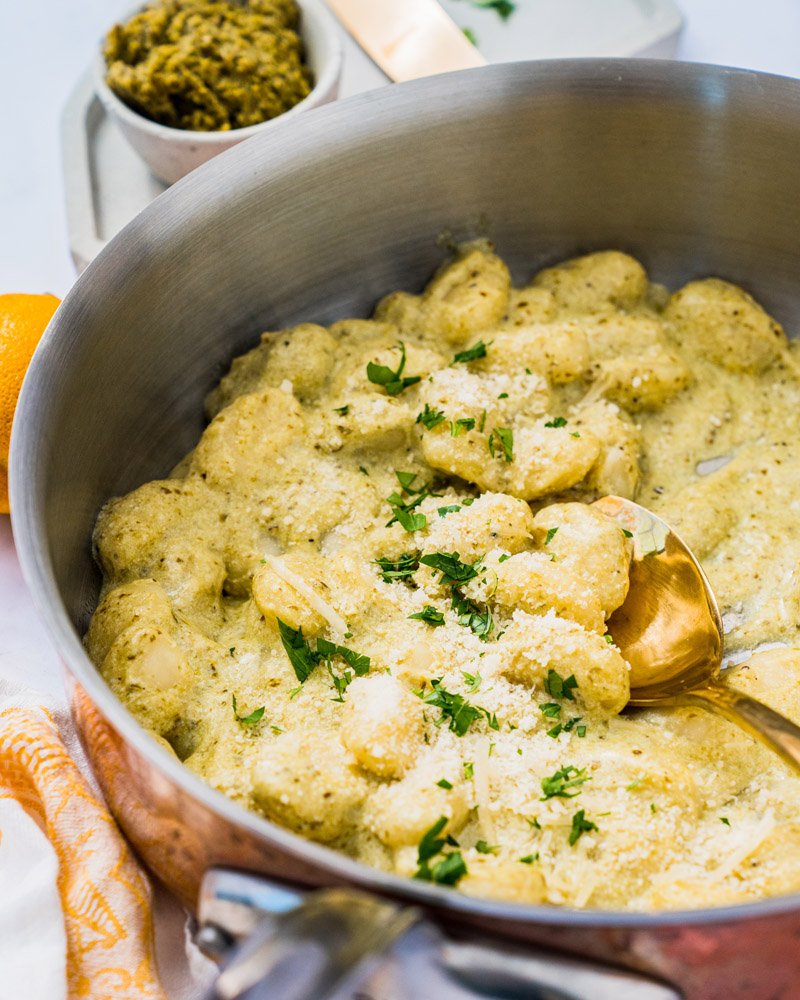 Pesto to use, and how to adjust flavors
Here's the thing about pesto: purchased pesto varies greatly between brands. Even more importantly, jarred pesto is nothing like the fresh flavor of the real thing. Many purchased brands taste intensely acidic or have an odd aftertaste. Here's what to know:
Purchased pesto brands vary greatly, so find one you love. We've experimented with lots of different jars: and they all have a different salt and acid level. But when it's the winter, it's t the only option!
Homemade pesto has the best flavor! Again, this is only an option when you have loads of fresh basil. But Basil Pesto is best homemade.
After cooking the pesto gnocchi, taste and adjust flavors. Add a pinch or two of salt, then if it needs it add up to 1 tablespoon additional pesto. It all depends on the brand!
Lemon zest adds freshness. If you happen to have a lemon on hand, lemon zest balances out the flavor of purchased pesto.
Can you use homemade gnocchi?
If you have time and energy, you can make homemade gnocchi with potatoes and flour. But it's a bit of a process! Do it on a day off when you have energy to channel Italian grandmother vibes. If you make homemade gnocchi, we don't suggest using it here. We've only tested this recipe with purchased gnocchi, and homemade have a different texture. Add your favorite marinara or butter sauce for those!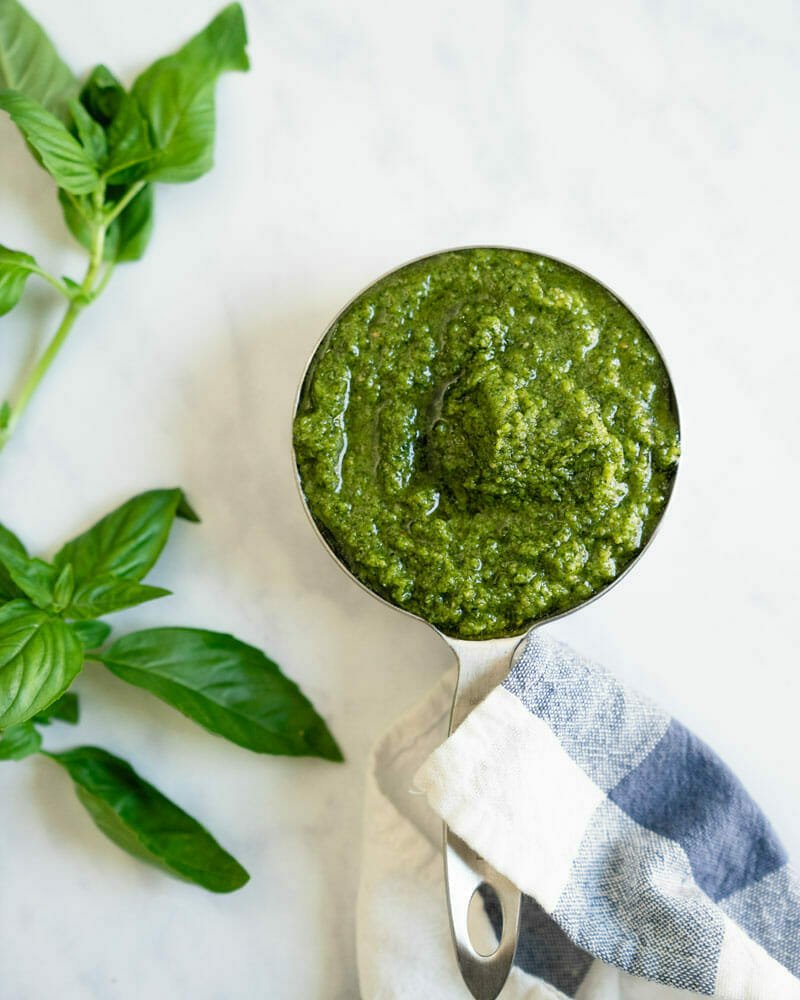 Homemade pesto has a brighter green color and fresher flavor than purchased. If you don't have access to fresh basil, use jarred pesto!
Serve pesto gnocchi as a side or main
You can eat pesto gnocchi as an easy side dish, or even a main dish if you accessorize it properly! Here are a few things to note:
Side dish: It works perfectly with salmon, shrimp or chicken.
Main dish: Make sure to add vegetables and a bit more filling protein. Try a green salad like Spring Mix Salad or Arugula Apple Salad, or add quick veggie sides like Green Beans, Pan Fried Broccoli, Peas, White Beans, or Chickpeas.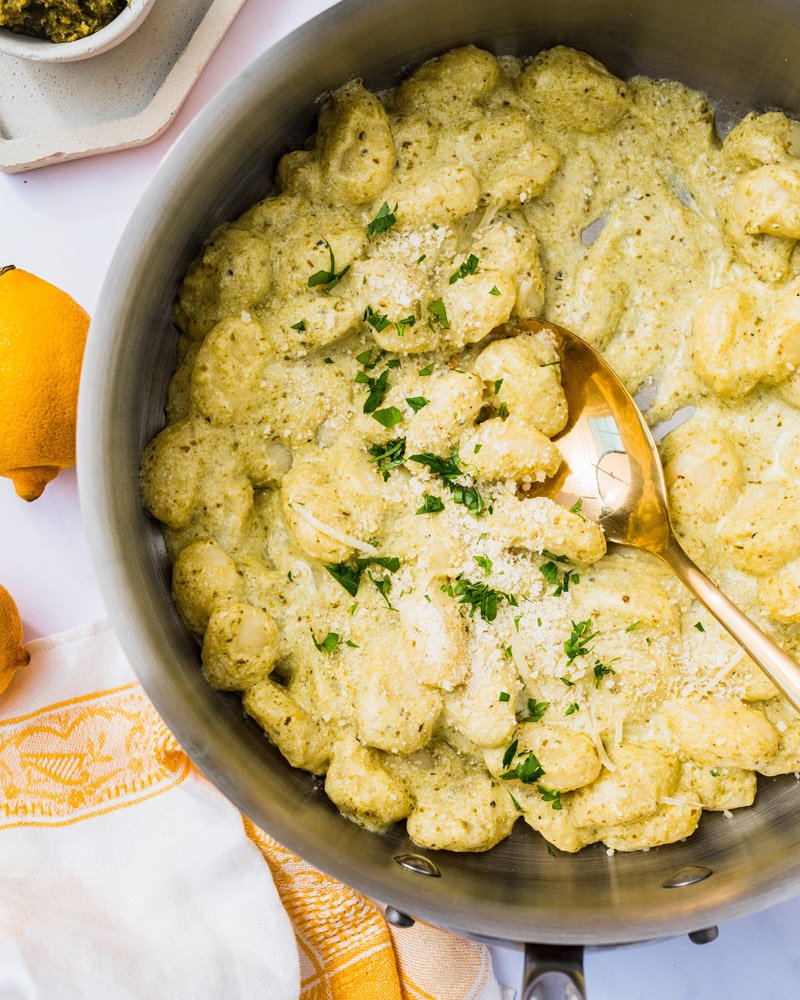 More recipes with gnocchi
There are lots of ways to cook gnocchi! Here are a few of our favorite gnocchi recipes:
Bake Tomato Basil Gnocchi up on a sheet pan
Make this creamy Cacio e Pepe Gnocchi Sauce
Bake up Cauliflower Casserole with Gnocchi
Make a pot of Tomato Basil Gnocchi Soup Recipe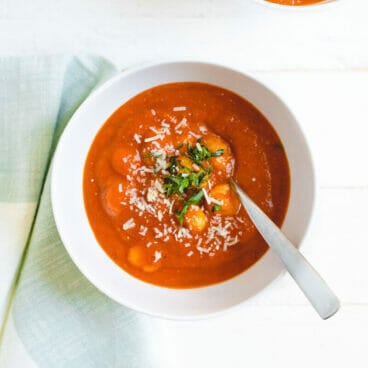 01
Tomato Basil Gnocchi Soup Recipe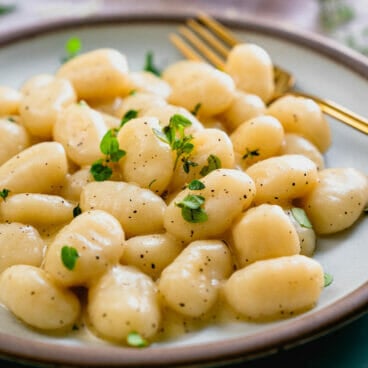 02
Easy Creamy Gnocchi Sauce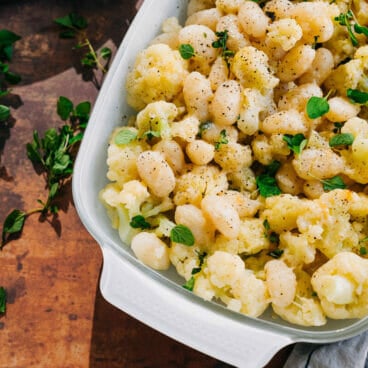 03
Cauliflower Casserole with Gnocchi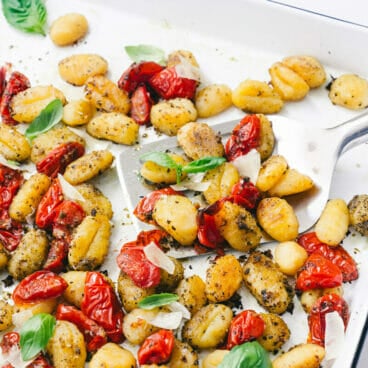 04
Tomato Basil Gnocchi
This pesto gnocchi recipe is…
Vegetarian. For gluten-free, use gluten-free gnocchi.
Print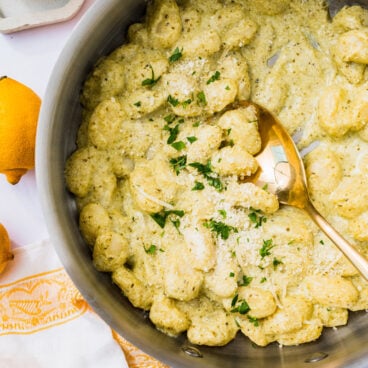 Pesto Gnocchi
Author:

Sonja Overhiser
Prep Time:

0 minutes

Cook Time:

7 minutes

Total Time:

7 minutes

Yield:

3 to 4

Diet:

Vegetarian
Print Recipe
Pin Recipe
Description
This pesto gnocchi recipe comes out irresistibly creamy in 10 minutes! Use this trick for a tasty and easy side dish in a flash.
Ingredients
1

pound purchased uncooked gnocchi

¼ cup

basil pesto (purchased or Homemade Basil Pesto), plus 1 tablespoon to finish

1 ½ cup

milk

½ teaspoon

kosher salt, plus more to finish

¼ cup

shredded Parmesan cheese
Zest of

1/4

lemon, optional
Instructions
In a deep skillet, bring the milk, pesto, and salt to a gentle simmer. Add the gnocchi, breaking it apart with your fingers if any are stuck together.

Cook for about

5

minutes, stirring occasionally until the gnocchi are tender and the sauce becomes creamy. Stir in the Parmesan cheese until it melts. 

Taste the sauce and add salt (we usually add ⅛ teaspoon) and if it needs it, the final 1 tablespoon pesto. Add a bit of lemon zest if you have it, which freshens the flavors even more. The amounts will vary since all pesto brands are differently salted and flavored. Serve immediately. The sauce becomes very thick as it sits, so if necessary, add a splash of milk and reheat, stirring until creamy. Store leftovers refrigerated for 3 days and reheat in the same way. (You can also serve this as a main dish like pasta: just add some vegetables and additional protein.)
Category:

Side dish

Method:

Stovetop

Cuisine:

Italian inspired
Keywords: Pesto gnocchi

Did you make this recipe?
Tag @acouplecooks on Instagram and hashtag it #acouplecooks
A Couple Cooks – Recipes worth repeating.