Yesterday John wrote about first signs of Thailand's Test&Go Program for Quarantine free entry being cancelled and unfortunately this has now become reality as the Prime Minister ordered the system to stop.
The Thailand Pass program won't accept any more new applicants effective 00:00h (midnight) December 22, 2021 but existing pass holder can still use it as scheduled on the condition of a second PCR test that will be administered free of charge.
All Sandbox systems except the Phuket Sandbox will also be affected as in they'll no longer be available for application and arrival. The Phuket Sandbox system will continue to function in it's established fashion.
The Ministry of Foreign Affairs has issued the following graphic on Facebook outlining the decision: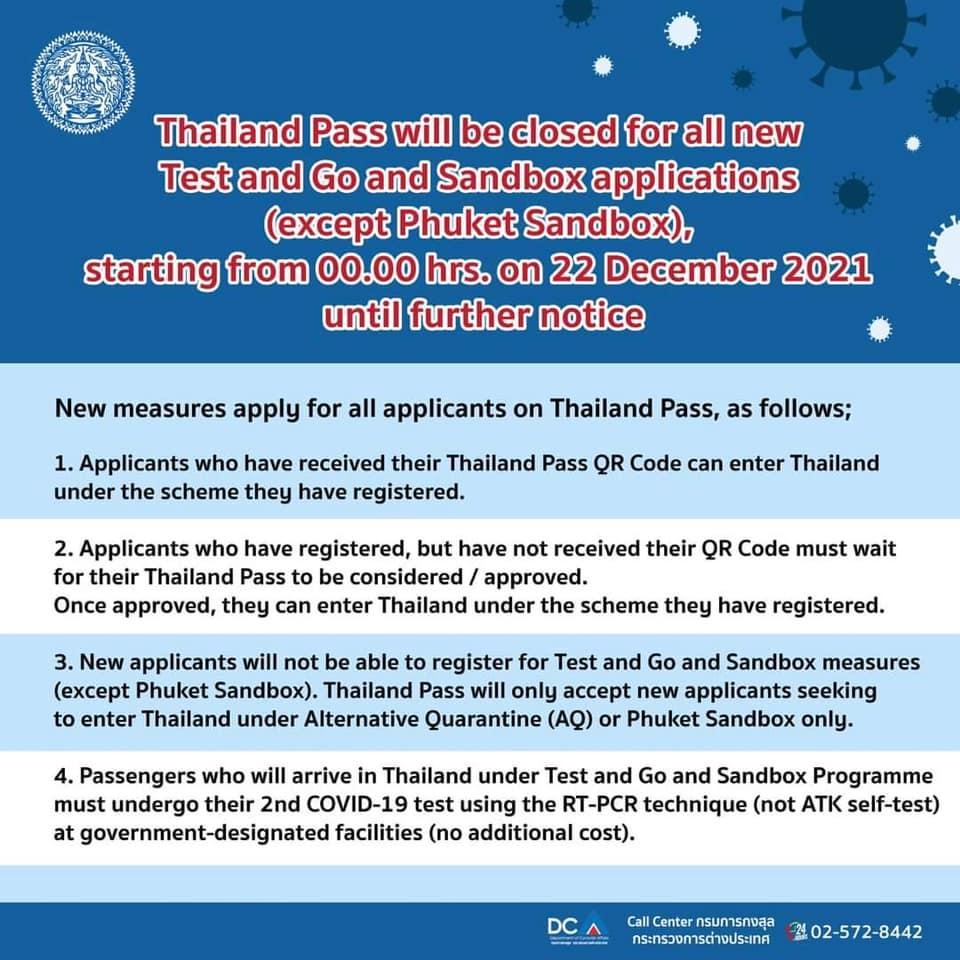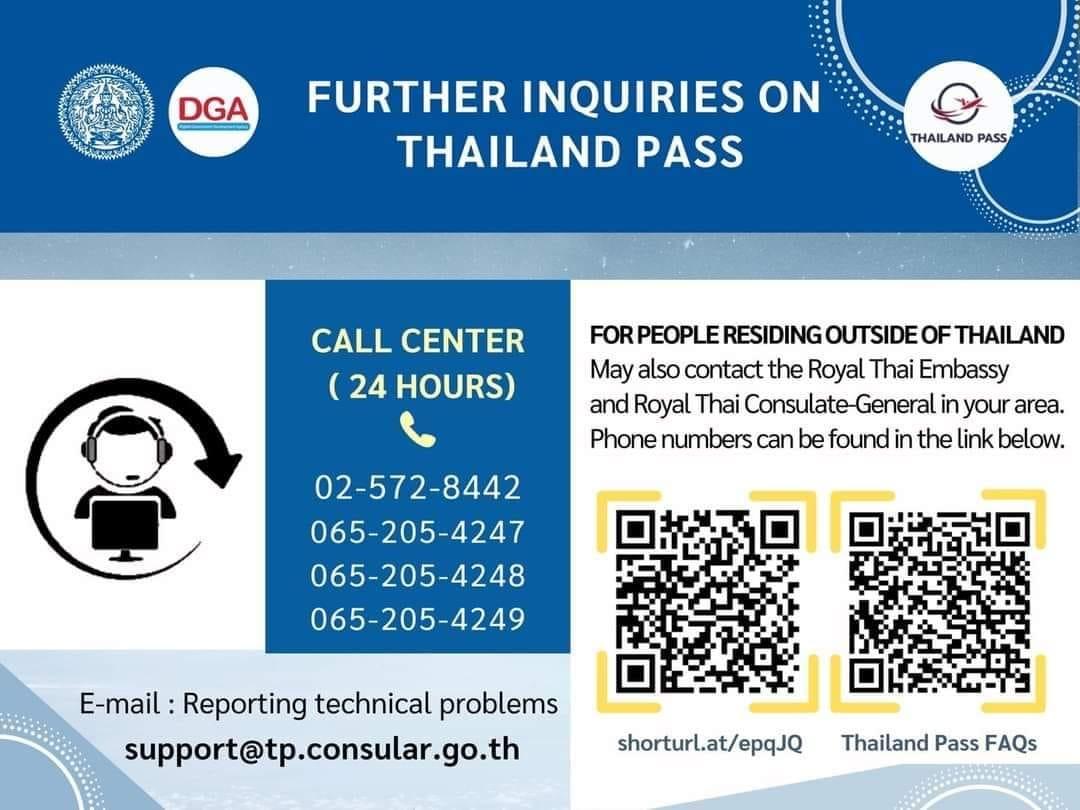 Mr. Tanee Sangrat, Director-General of the Department of Information and Spokesperson of the Ministry of Foreign Affairs shared the following important updates on entry into Thailand, due to the evolving situation of the Omicron variant: Thailand Pass will be closed for all new Test and Go and Sandbox applications (except Phuket Sandbox), starting from 00.00 hrs. on 22 December 2021, until further notice. The following new measures will apply for all applicants to Thailand Pass: 1. Applicants who have already received their Thailand Pass QR Code can enter Thailand under the scheme they have registered. 2. Applicants who have already registered, but have not yet received their QR Code must wait for their Thailand Pass to be considered / approved. Once approved, they can enter Thailand under the scheme they have registered. 3. New applicants will no longer be able to register for the Test and Go and Sandbox schemes (except for Phuket Sandbox). Thailand Pass will accept new applicants seeking to enter Thailand under the Alternative Quarantine (AQ) or Phuket Sandbox schemes only. 4. Passengers who will arrive in Thailand under the Test and Go and Sandbox schemes must now undergo a 2nd COVID-19 test using the RT-PCR technique (not ATK self-test) at government-designated facilities (no additional cost). The Spokesperson underlined that these updated measures are temporary, and being pursued in order to prevent the further spread of the latest new COVID variant. The agencies involved will assess the situation closely and the Ministry of Foreign Affairs will share any additional updates as soon as possible.
The Thai health minister gave related remarks on a Thai news program on Monday morning that immediately created confusion among potential visitors to the Kingdom.
You can access Thailand's page for Test & Go, Sandbox & Alternative Quarantine here.
The entry to the Kingdom would still be allowed through the Sandbox or Alternative Quarantine.
The Phuket Sandbox system requires visitors to spend seven nights in specific areas before traveling to other parts of Thailand. Visitors can freely roam within Phuket during these first seven nights.
Alternative Quarantine requires visitors to spend 10 to 14 days confined in their hotel rooms.
The Thailand Pass Application page: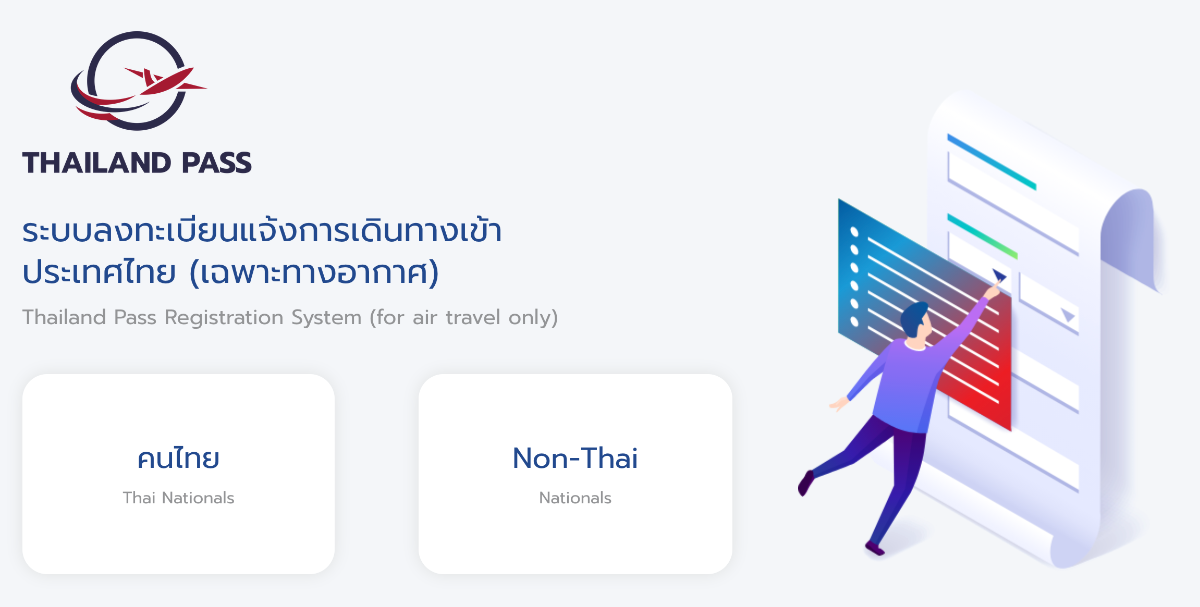 After checking the website, currently the system still accepts applications for the Thailand Pass including Test&Go until midnight of today, December 21, 2021 (Thailand Time). Just because it's still possible to apply at least on the surface that doesn't mean 100% the pass will be granted so I'd urge caution in that regard. Can't hurt to try though at this point if you have the required documents but I wouldn't put all my hopes on it.
You can find further information about this fluent situation (expect further updates by the hours) from Richard Barrows Twitter account as he's pretty good about compiling relevant information:
Looks like some good news for people who have applied for Test & Go but have not yet received their Thailand Pass. You might be able to still enter under previous conditions if application approved. Also, you might still be able to apply for Test & Go until midnight. Good luck! https://t.co/iNzniGQkeQ

— Richard Barrow (@RichardBarrow) December 21, 2021
He also summarized a phone call held with a contact of his at the MFA (access and if interested subscribe to Richard's newsletter here).
Important part:
One very important piece of information that the Thai media got wrong is the cut-off date for arriving in Thailand. Basically, there isn't one. Earlier, the media were saying you must arrive before 10th January if you didn't want to do quarantine. That is not true. You can arrive on the date that was approved on your application. For example, if you said you are arriving on 25th January, then you still can use Test & Go and only wait one night for the test results.
Thai Media has reported that this decision will be reviewed on January 4, 2022 on how to proceed further though I wouldn't expect a reversal by that date. All of this will be based on how the Covid Omnicron variant is going around.
At least they didn't close the country entirely although this will almost certainly flush the embattled Thai tourism industry even further down the drain after having early hopes of recovery.
I will update this post if there are further developments throughout the day(s).
Conclusion
The government of Thailand has advised that the Test&Go program will be stopped for new applications effective tomorrow, December 22, 2021. Existing approved pass holders will be able to enter the country but are subject to a second PCR Test at the governments expense.
Visitors who are seeking to enter Thailand can continue do so under the Sandbox program for Phuket or hotel quarantine.