If working out is part of your normal weekly routine, you're likely acquainted with the occasional bout of soreness and mild aches that come with the micro-torn muscle territory. For years I relied on aggressive foam rollers and knobbed massage balls to work out those knots. But recently I've upgraded to an even more effective and convenient tool: massage guns.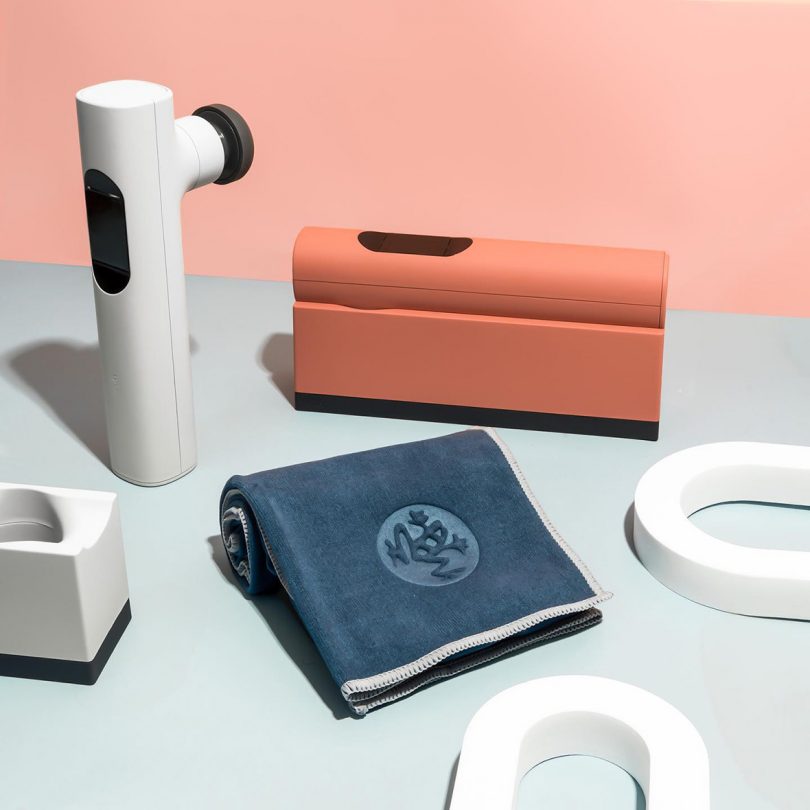 These handheld percussion tools engineered to deliver rapid concentrated percussive pulses are impressively effective delivering both superficial and deep tissue relief (and in the process make fat and skin jiggle in the most disturbing-amusing fashion). While the likes of the Theragun and Hyperice both offer excellent functionality and features, their industrial designs are unabashedly aggro, an extension of their sports therapy roots. The Lyric on the other hand is a massage gun designed with a softer lifestyle aesthetic and wi-fi enabled functions.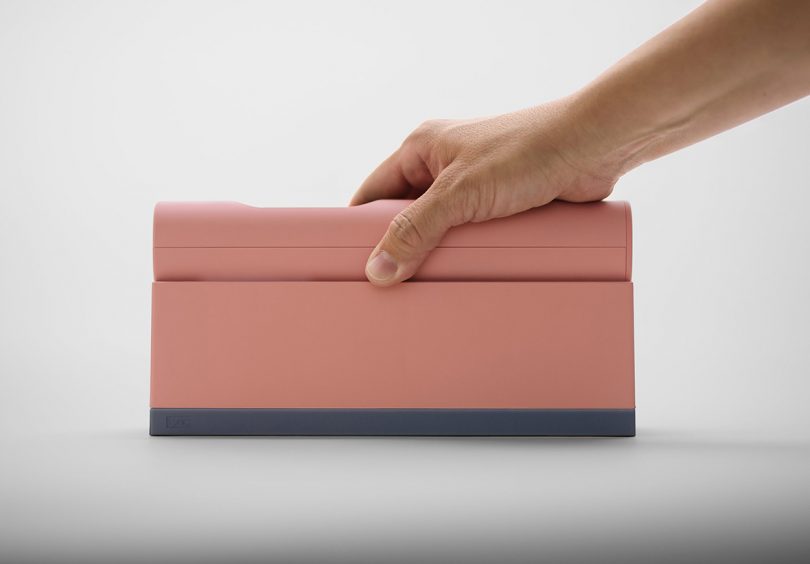 Cradled into its charging the base, the Lyric reminds of a contemporary style digital cordless phone prior to the advent of smartphones.
Reminiscent of the efforts (and color palette) of Ivy Ross's efforts at Google to democratize and expand the appeal of tech, the Lyric's gentler design and spectrum of soft pastel colors is similarly a more inclusive effort (an approach encapsulated in Lyric's description of their device as a "a self-care companion"). Unlike other massage guns meant to be used then stored away in a storage case or hid away in a drawer or closet between sessions, and in an attempt to ease a case of introducing an eyesore into the home, the Lyric's form and color options are much more welcoming.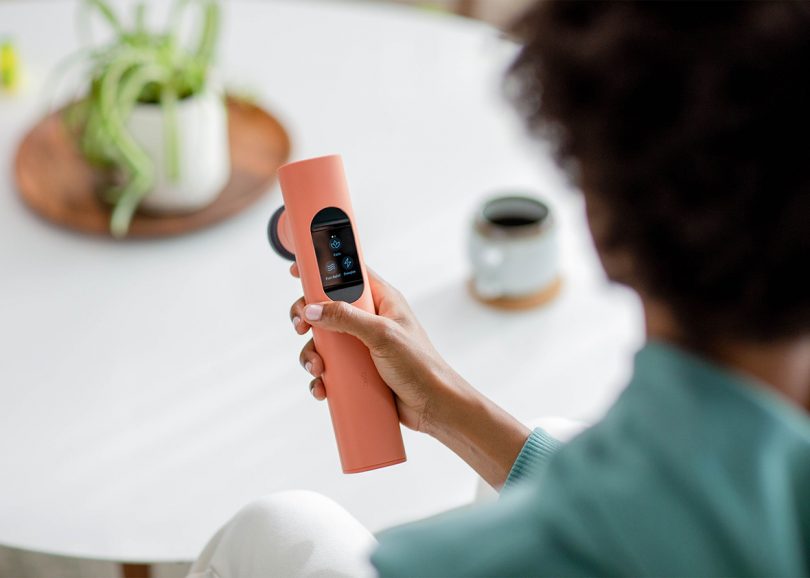 The Lyric uses a wave-like pattern instead of a singular rhythm massage, a feature the company claims to affect the endocrine, musculoskeletal, and nervous systems. What's proven is massage guns are effective at delivering temporarily relief from minor muscle pain, and the Lyric delivers this relief with the inclusion of four attachments – Cone, Dome, Thumb, and Double – and wi-fi + app connectivity and pre-programmed treatments to promote pain relief, induce energy, or introduce calm.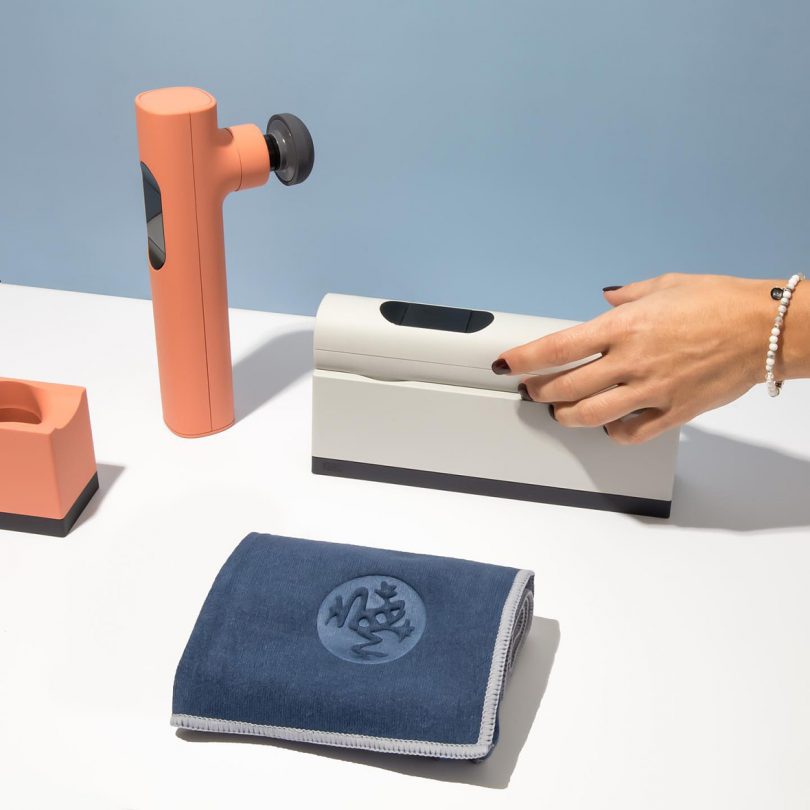 The Lyric charges via induction charging built into the docking station, and can also charge directly plugged in using a USB-C cord.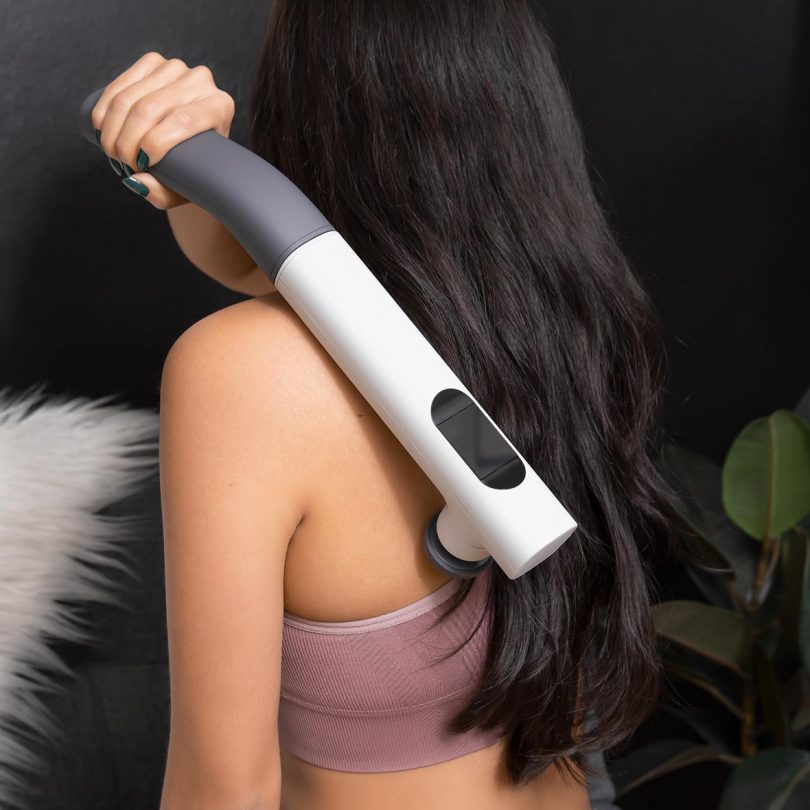 One of the most challenging aspects of using a massage gun is reaching sections of the shoulders and back. The Lyric's slim handle with ergonomic grip is fairly adept at reaching some of the more accessible sections of those body parts, but adding an optional extension handle really improves the reach toward hard-to-reach spots where the most annoying lingering aches reside.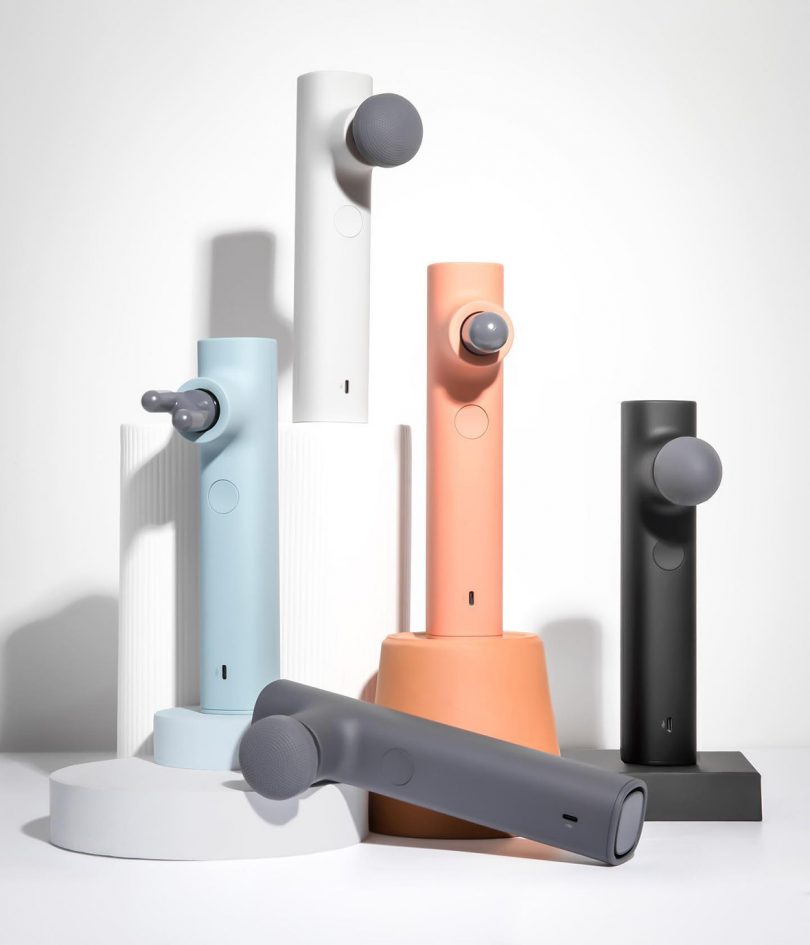 The Lyric is available in Blueprint (light blue), Terracotta (soft orange), Stone (off white), Slate (dark grey with blue undertone), and Granite (black) for $199.95 at experiencelyric.com.
This post contains affiliate links, so if you make a purchase from an affiliate link, we earn a commission. Thanks for supporting Design Milk!