All images © Andrew Moore, shared with permission
Between September 1998 and January 2001, Andrew Moore traveled around Cuba meeting residents and photographing them among their built environments. He snapped more than 700 8 x 10 color negatives during that period, producing a staggering visual record of a particular moment in the country's history primarily shown through its architecture.
Through Moore's lens, Cuba's palatial residences and generally lavish interiors with marble and gilded details are shown tinged with decay: Paint peels from a ceiling to reveal structural wooden slats, broken windows are left in disrepair, and mismatched outdoor seating and modern appliances become out-of-place furnishings in once opulent rooms.
Shot mostly in urban metropolises, the alluring images are evidence of architecture's power to both respond to and produce a community's way of life. Havana, Moore shares with Colossal, is built vertically, with tile roofs, high ceilings, and tall windows that encircle central courtyards and offer relief from the fierce heat and sun. "The daylight is generally hard and creates deep shadows, while by night, which falls quickly, the city is quite dark with little by way of street lighting," he says. Outdoor walls bleach over time from the sun, and verdant foliage and plant life grow in lush tufts from window boxes and landscaped villas.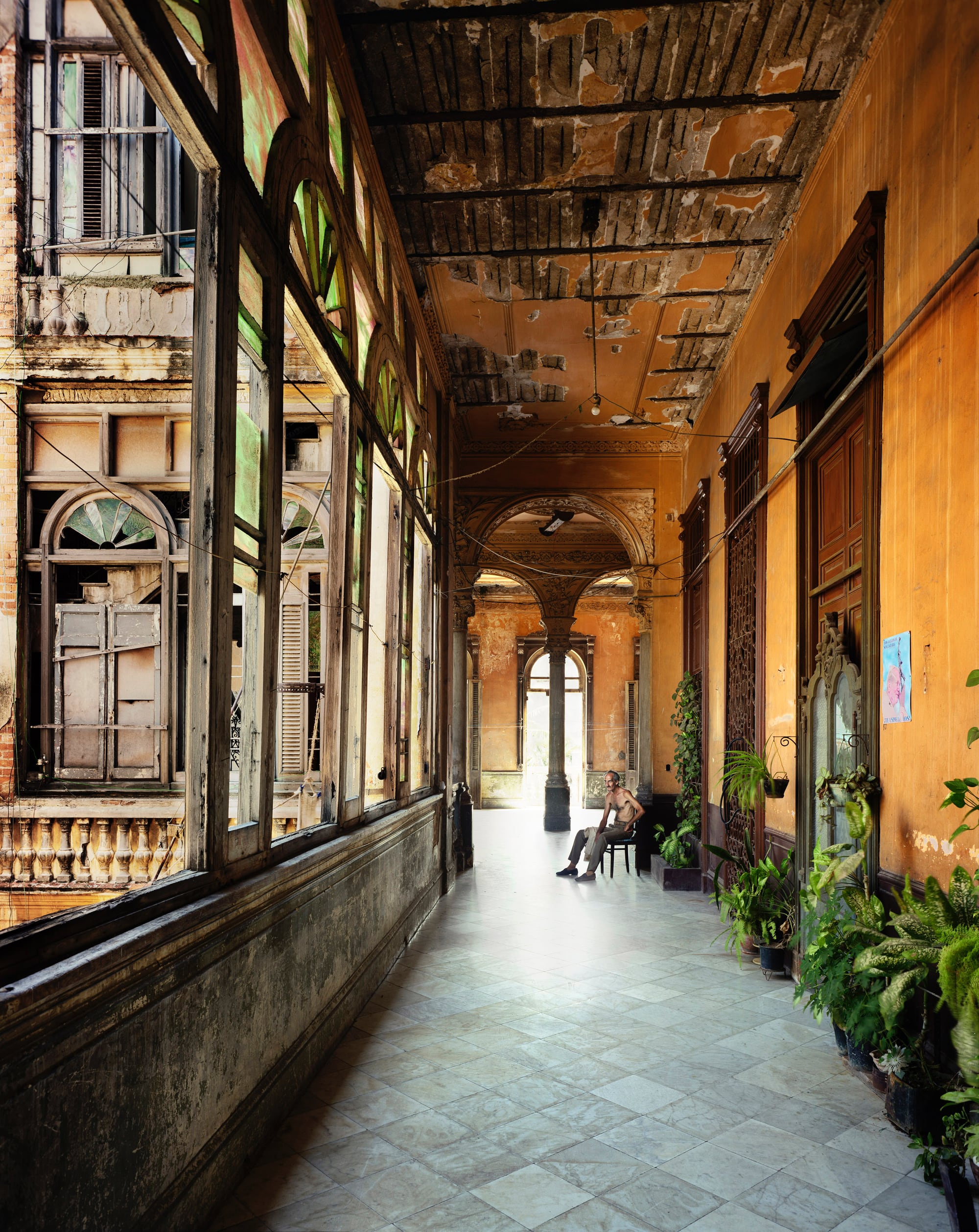 Many of the buildings Moore photographed were constructed before air-conditioning was ubiquitous and at the time, hadn't undergone significant updates. During his visit—Cuba and its residents were notably experiencing the effects of U.S. embargos between 1998 and 2001—this resulted in dozens of residents living together in a structure designed for single families. He explains:
These domestic clusters are known as solars. Given these crowded living conditions, and the tropical climate, Havana can seem like a city inside out: in their extraordinary activity, the overflowing streets remind one of a vast living room. Thus it became of particular importance to me to depict the architectural fabric of this unique city and country within the context of its people.
Residents, while often seen in the distance of the frame, add intimacy and humanity to the series. Along with assistants Ondrej Kubicek, Laurence Dutton, Kevin Fletcher, and Bart Michels, Moore interacted with locals and heard stories about their lives, which were translated by his friend Paquito Vives, while producing the collection. "All of us learned about the city by walking its streets, by knocking on doors, and through talking with the residents about the history of their city," he shares. "People would frequently complain about the condition of their houses, but they were always friendly and most freely invited us into their homes for a small coffee and long conversations."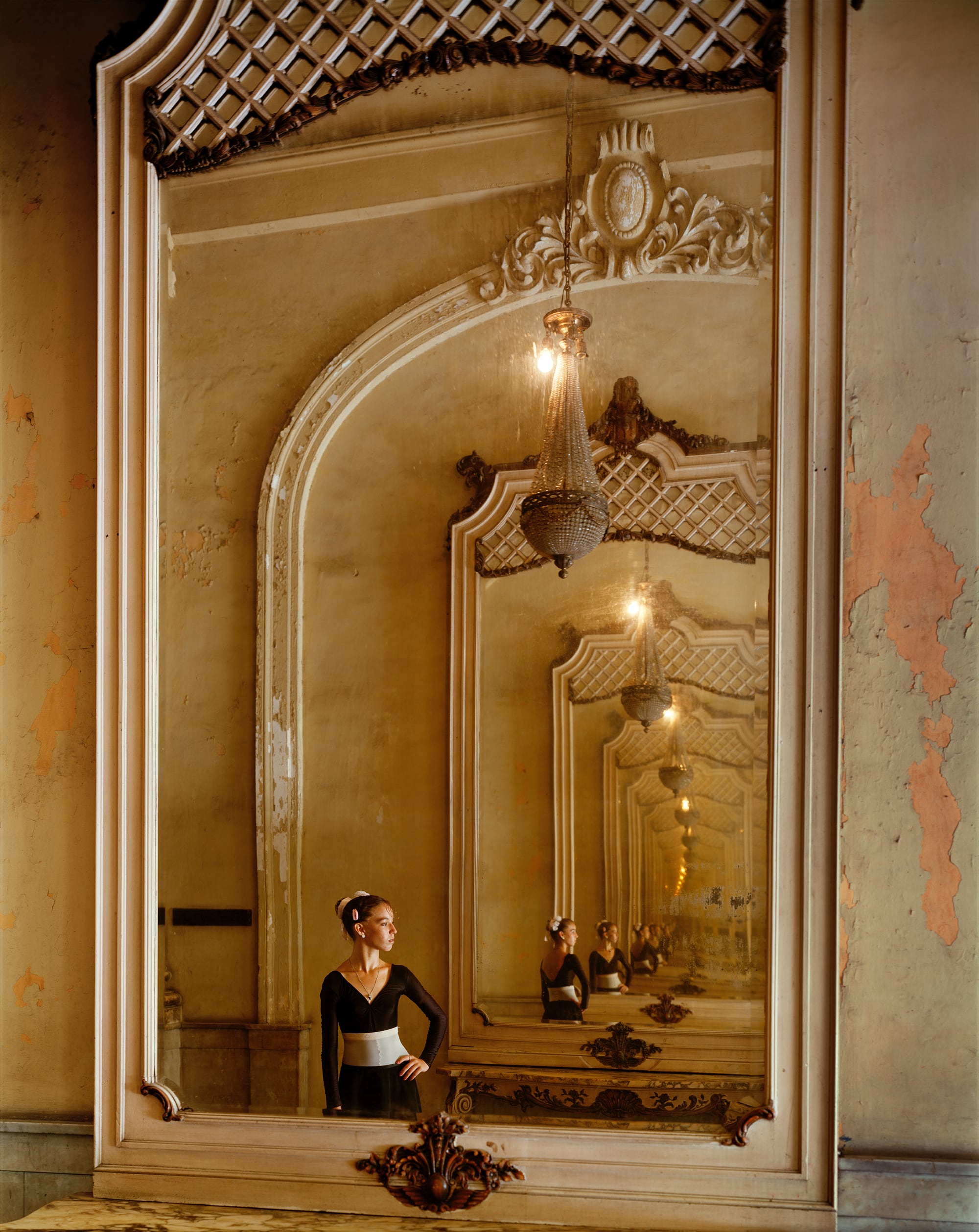 Professionally for Moore, this staggering body of work was his first chance to gather "color harmony, natural light, deep and shallow space, narrative detail, cultural history, and the human figure" within a single image. It was inspired by Julius Schulman's photos of Mid-Century Modern architecture and the way people configure within a space, a concern that's visible throughout his extensive archive of locales in Russia and Ukraine, New York, and Detroit.
Currently based in Kingston, New York, Moore has published six volumes of his photos, and you can find two of the most recent, Blue Alabama and Dirt Meridian, on Bookshop. He's currently preparing for a solo show featuring Hudson Valley landscapes, which will be on view in 2023 at Yancey Richardson. Until then, see more of his work on his site and Instagram. (via swissmiss)