This veggie power bowl makes an irresistibly healthy dinner or lunch! Serve roasted and fresh veggies with a whole grain and creamy sauce.
The bowl meal isn't revolutionary, but dang is it satisfying! There are millions of variations, but we think there's always room for one more idea. Introducing our easy Veggie Power Bowl! This combination of whole grain, veggies, protein and a sauce makes dinnertime delicious. This one is irresistibly good, pairing quinoa with tender roasted broccoli and cauliflower, crunchy raw veg, and finished off with a creamy pop of tahini sauce. Serve it in a shallow bowl and well, it's swoon-worthy.
Components in this power bowl
The formula for a great power bowl pairs a few key components to make a filling, healthy meal. When you construct it, you'll want to think about contrasts in colors, flavors, and textures. You'll also want to make sure that you have enough protein to keep it filling! This is a vegan protein bowl that goes big on plant-based protein. Here are the components of a great power bowl, then we'll provide more details on each below:
Whole grain
Veggies, ideally roasted and fresh veggies for contrasts in texture
Protein, vegan, vegetarian, seafood or meat
Sauce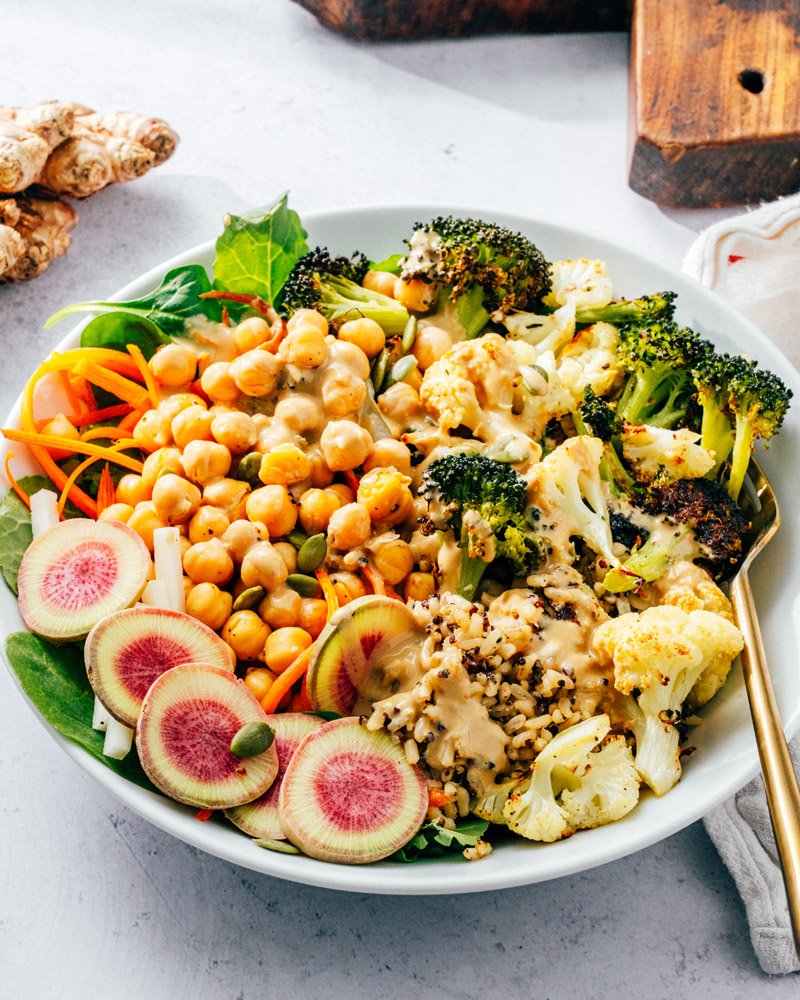 Choosing your whole grain
In this power bowl we chose quinoa as the grain: but you can opt for whatever grain you'd like! Here are a few options:
Quinoa is a versatile whole grain that's actually a seed, not a grain. It's gluten-free and relatively quick to cook (about 20 minutes total).
Couscous is actually tiny grains of pasta: we like it because it takes 10 minutes! Use this if you have a need for speed. Keep in mind it's not gluten-free.
Rice is an easy gluten-free whole grain. Try our Coconut Rice or Cilantro Lime Rice.
Farro is a chewy whole grain that's similar to barley, but cooks faster. Keep in mind it's not gluten-free.
Bulgur wheat is even quicker to cook: it takes 10 minutes (also not gluten-free).
For the power bowl veggies
When you think about veggies in a power bowl, it's all about contrasts in colors, flavors and textures! That's why we like a combination of roasted veggies and fresh veggies if possible. The hearty, savory vibes of roasted veg against the fresh crunch of fresh can't be beat. In this power bowl we used a favorite combo of roasted broccoli and cauliflower. Here are a few other ideas in the roasted category:
Roasted Broccoli and Cauliflower
Roasted Sweet Potatoes
Roasted Brussels Sprouts
Roasted Broccoli and Carrots
Roasted Carrots and Onions or Roasted Peppers and Onions
Best Roasted Vegetables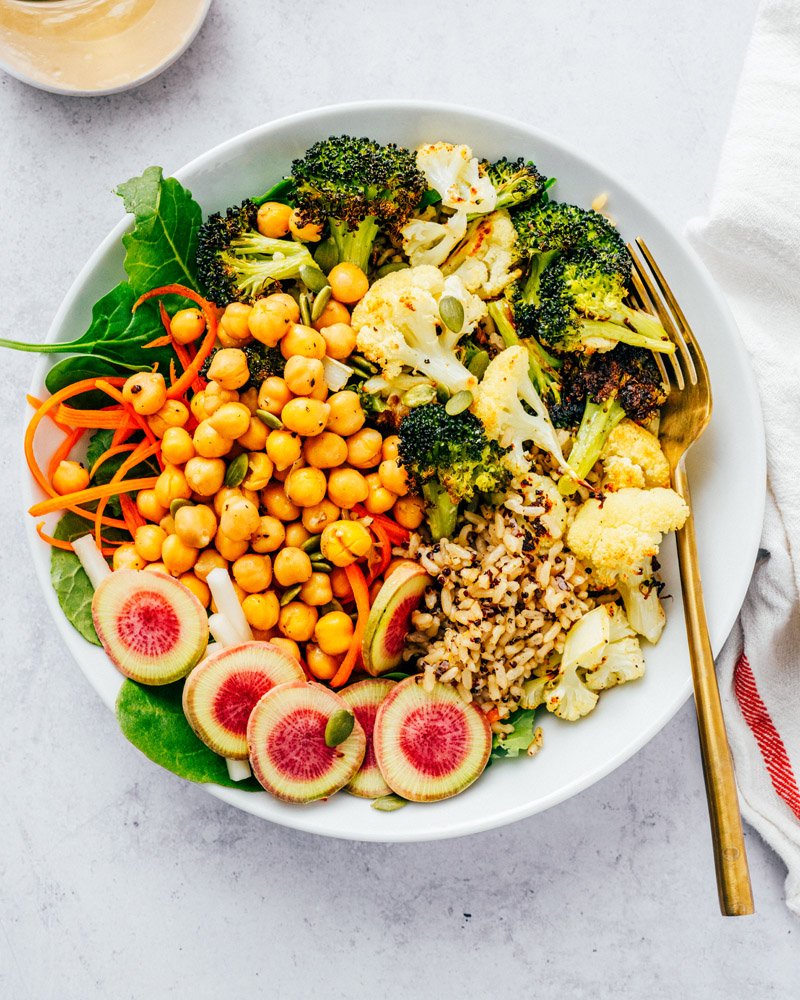 Protein in a power bowl
This power bowl is vegan, so it relies on a quick and easy plant-based protein: canned chickpeas! It's our favorite idea for quick and easy vegan protein for a bowl meal. But there are lots of different ways to add protein here, including seafood. Here are a few protein options:
Canned beans like Easy Canned Chickpeas, Easy White Beans, Easy Cannellini Beans or Easy Black Beans
Lentils like Seasoned Brown Lentils, Easy French Lentils or Seasoned Black Lentils Recipe
Tuna like canned tuna or Seared Ahi Tuna
Salmon like canned salmon, Baked Salmon or Seared Salmon
Shrimp like Baked Shrimp or Sauteed Shrimp
Sauces and drizzles
The best part of a power bowl? The sauce! Don't overlook this aspect: it brings the dominating flavoring to your veggie bowl. Here we used our fan-favorite Tahini Sauce, a blend of lemon and creamy tahini that's utterly irresistible (we think!). But there are many different options. Here are some favorite veggie bowl sauces:
Easy Tahini Sauce or Easy Tahini Dressing
Sesame Ginger Dressing
Carrot Ginger Dressing
Cilantro Lime Dressing or Creamy Cilantro Sauce
Easy Avocado Sauce
Creamy Salsa Dressing
And that's it! Let us know what you think of this veggie power bowl and what you choose for your elements. We love this combination, but there are endless variations!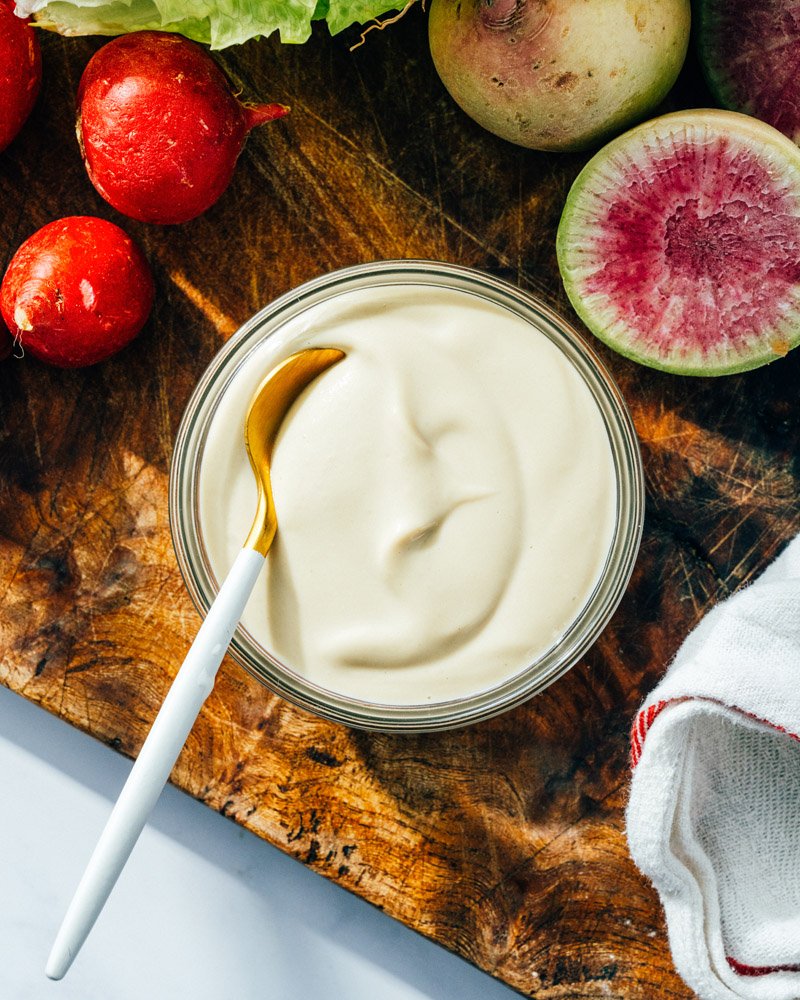 More veggie bowl recipes
There are so many more different veggie bowl meal ideas! Here are some favorite bowl recipes:
Try our quick and easy Quick Hummus Bowls
Opt for a simple Quick Burrito Bowl
Go for a Simple Salmon Bowl or Shrimp Bowl with Cilantro Lime Rice
Grab a Easy Rice Bowl or Easy Grain Bowl
Try a Poke Bowl or Vegan Poke Bowl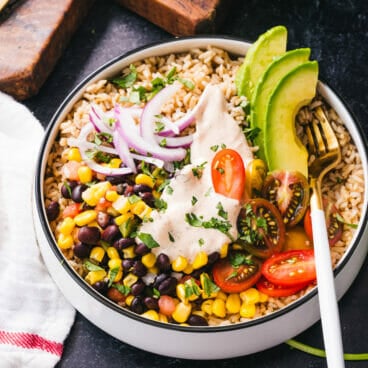 01
Quick Burrito Bowl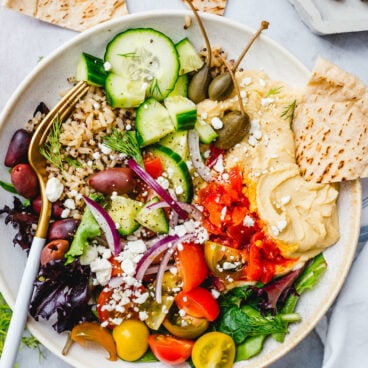 02
Quick Hummus Bowls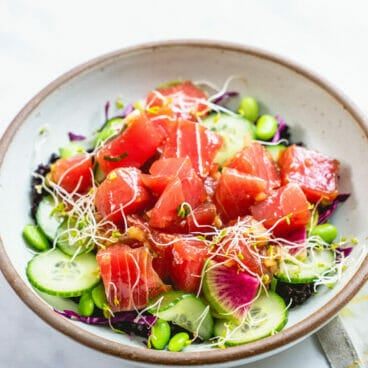 03
Poke Bowl Recipe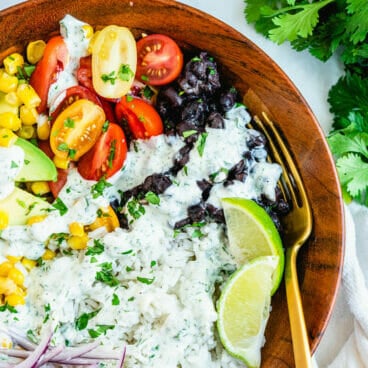 04
Easy Rice Bowl
This power bowl recipe is…
Vegetarian, vegan, plant-based, dairy-free and gluten-free.
Print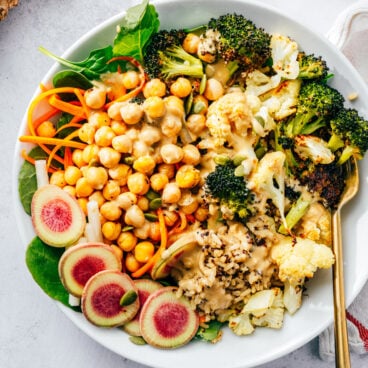 Veggie Power Bowls
Author:

Sonja Overhiser
Total Time:

35 minutes

Yield:

4

Diet:

Vegan
Print Recipe
Pin Recipe
Description
This veggie power bowl makes an irresistibly healthy dinner or lunch! Serve roasted and fresh veggies with a whole grain and creamy sauce. See above for more ideas for protein adders.
Ingredients
1

recipe Roasted Broccoli and Cauliflower

1 cup

quinoa (or make

1

recipe Lemon Couscous or Coconut Rice)

15

-ounce can chickpeas

½ tablespoon

olive oil

¼ teaspoon

kosher salt

3

radishes

1/2

kohlrabi, cut into sticks

1

large carrot, shredded

8 cups

salad greens

1

recipe Tahini Sauce or Sesame Ginger Dressing
Instructions
Start the Roasted Broccoli and Cauliflower.

Make the quinoa: Rinse the quinoa in cold water using a fine mesh strainer, then drain and shake out the remaining water. Place it in a saucepan with 1 ¾ cups water and ¼ teaspoon kosher salt. Bring to a boil, then reduce the heat to low. Cover the pot and simmer where the water is just bubbling for about 15 to 18 minutes, until the water has been completely absorbed. (Check by pulling back the quinoa with a fork to see if water remains.) Turn off the heat and let sit with the lid on to steam for 5 minutes, then fluff the quinoa with a fork. 

Meanwhile, prep the veggies: Drain and rinse the chickpeas, and mix them with the olive oil and kosher salt. Slice the radishes, peel and slice the kohlrabi, and shred the carrot.
Make the dressing: stir together the Tahini Sauce or Sesame Ginger Dressing.
To serve, place the greens in a shallow bowl, then top with the quinoa, roasted veggies, fresh veggies, and a drizzle of the sauce.
Prep Time:

10 minutes

Cook Time:

25 minutes

Category:

Main dish

Method:

Roasted

Cuisine:

Vegan
Keywords: Power bowl, veggie bowl

Did you make this recipe?
Tag @acouplecooks on Instagram and hashtag it #acouplecooks
A Couple Cooks – Recipes worth repeating.