This scrumptious and super easy pie crust recipe comes together in minutes and has just three ingredients: flour, butter, and water. You don't need any special tools to make it, just a little know-how. That's right. Contrary to popular belief, making pie dough from scratch isn't complicated. That's what relationships are for.
What's in a 3-ingredient pie crust?
Traditionally pie dough is just a mix of flour, liquid, fat, and salt. And while you can get super fancy with all of those ingredients, I use all-purpose for the flour and ice water for the liquid. By incorporating frozen, salted butter into the mix, I kill two birds with one stone. (For the record, I've never killed a bird with a stone, though my patio door did a number on one once). If you don't have salted butter, add 2/3 teaspoon of sea salt to your flour.
I prefer using butter as opposed to other fats because it adds rich, creamy, nutty notes to the dough. You just can't get that with shortening and other fats, which often leave a tasteless greasy film on the roof of your mouth. #shudder.
What is the secret to a good pie crust?
The secret to a good pie is never to break the golden rule: keep everything cold. I won't get too deep into the science of it all, but if you're interested, check out How to make perfect pie crust with the power of science.
For this easy 3-ingredient pie crust recipe, make sure to freeze your ingredients, especially in the summertime, when your kitchen can be a hot, steamy mess. Yes, I put everything in the freezer: the butter, flour, even the tools. When I worked in a kitchen with no AC (nightmare), I would roll out the dough on a frozen cookie sheet. If you don't have the space/patience for all of that, just freeze the butter and make sure you use ice water.
Can I freeze pie dough?
Absolutely! Because it only stays fresh in the fridge for three days, I keep WAY too much of this dough tucked into my freezer, where it keeps for up to three months. (What can I say? I prefer to eat my fruits and veggies wrapped in flaky layers of pie crust. Judge me all you want. My life is delicious.) To prevent freezer burn, double wrap it in either plastic or beeswax and then keep it in a freezer-safe container. Thaw it out in your fridge a day before you plan to use it.
What can I make with pie crust?
What I love the most about this 3-ingredient pie crust is how versatile it is. You can use it to make a double-crust apple pie or a savory chicken pot pie. The dough is flexible enough for hand pies and sturdy enough for a galette, like our awesome Blueberry Lemon Cream Cheese Galette. You can even use the scraps to make the most amazing little cookies, which I should totally share with my kid, but instead, I stash them away because every mom needs her secrets. (If you know, YOU KNOW.)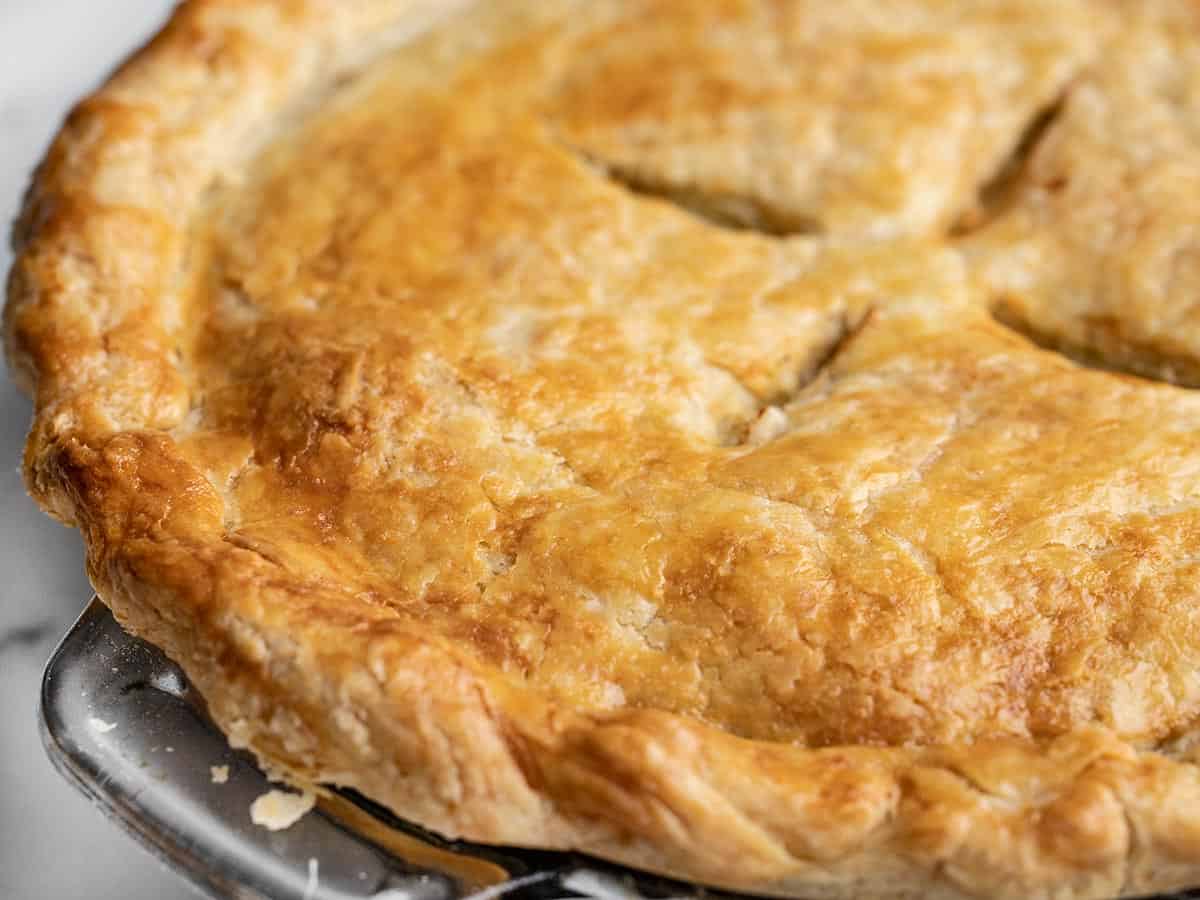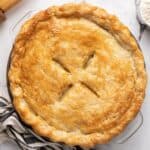 Easy 3-Ingredient Pie Crust
This super easy pie crust recipe comes together in minutes and has just three ingredients: salted butter, all-purpose flour, and water. Course Breakfast, Dessert, Dinner, LunchCuisine AmericanTotal Cost $1.34 recipe Prep Time 10 minutesResting Time 2 hoursTotal Time 2 hours 10 minutes Servings 2 Crusts Calories 1436kcal Author Monti – Budget Bytes
Equipment
Grater
Mesh Sieve
Measuring Cups Spoons
Rolling Pin
Ingredients
2 3/4

cups

all-purpose flour (plus some for dusting)

$0.34

2

sticks

salted butter (1 cup)

$1.00

1/2

cup

chilled water*

$0.00
Instructions
Sift the flour through a fine mesh sieve and then spoon 2 3/4 cups of flour into dry measuring cups. Use the back of a butter knife to level the flour before adding it to a large bowl. Place in the freezer to chill while you grate the butter.

Grate the butter sticks on the box grater's large holes. When the butter becomes challenging to handle, chop what's left of it into dice-sized pieces.

Add the butter to the flour. Use a spoon to toss the butter and flour like you would a salad. Work quickly until the butter is completely covered in flour and the mixture resembles a shaggy, coarse corn meal.

Spoon four tablespoons of chilled, icy water onto the flour/butter mixture. Mix quickly with a fork, incorporating the flour gathered at the bowl's bottom.

Continue to add water tablespoon by tablespoon, mixing between each addition, until you can lightly pinch the flour/butter mixture and it holds together in a dough.

Use your hands to press the shaggy bits of dough into a ball quickly. Then, lightly flour your work surface and shape the ball into a flat disc, about six inches in diameter and three to four inches thick.

Wrap the disc of dough tightly in plastic or beeswax. Let it rest in the fridge for at least two hours, preferably overnight.

Use the pie dough in your favorite recipe or keep the pie dough in the refrigerator for up to three days or frozen for up to three months. This recipe is for a double crust.
Notes
*The amount of water used will vary depending on multiple factors, like the humidity in the room. 
Nutrition
Serving: 1recipe | Calories: 1436kcal | Carbohydrates: 131g | Protein: 19g | Fat: 93g | Sodium: 730mg | Fiber: 5g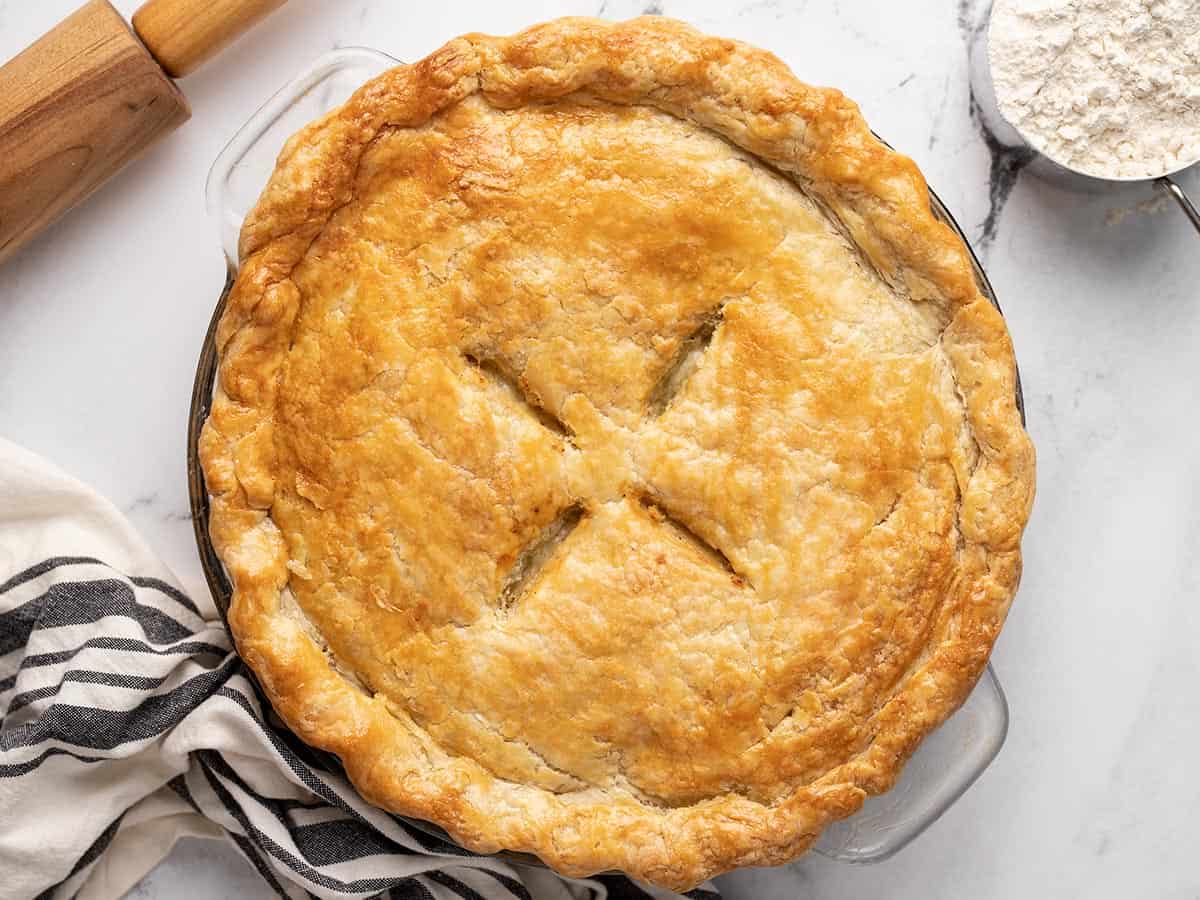 How to Make Homemade Pie Dough – Step by Step Photos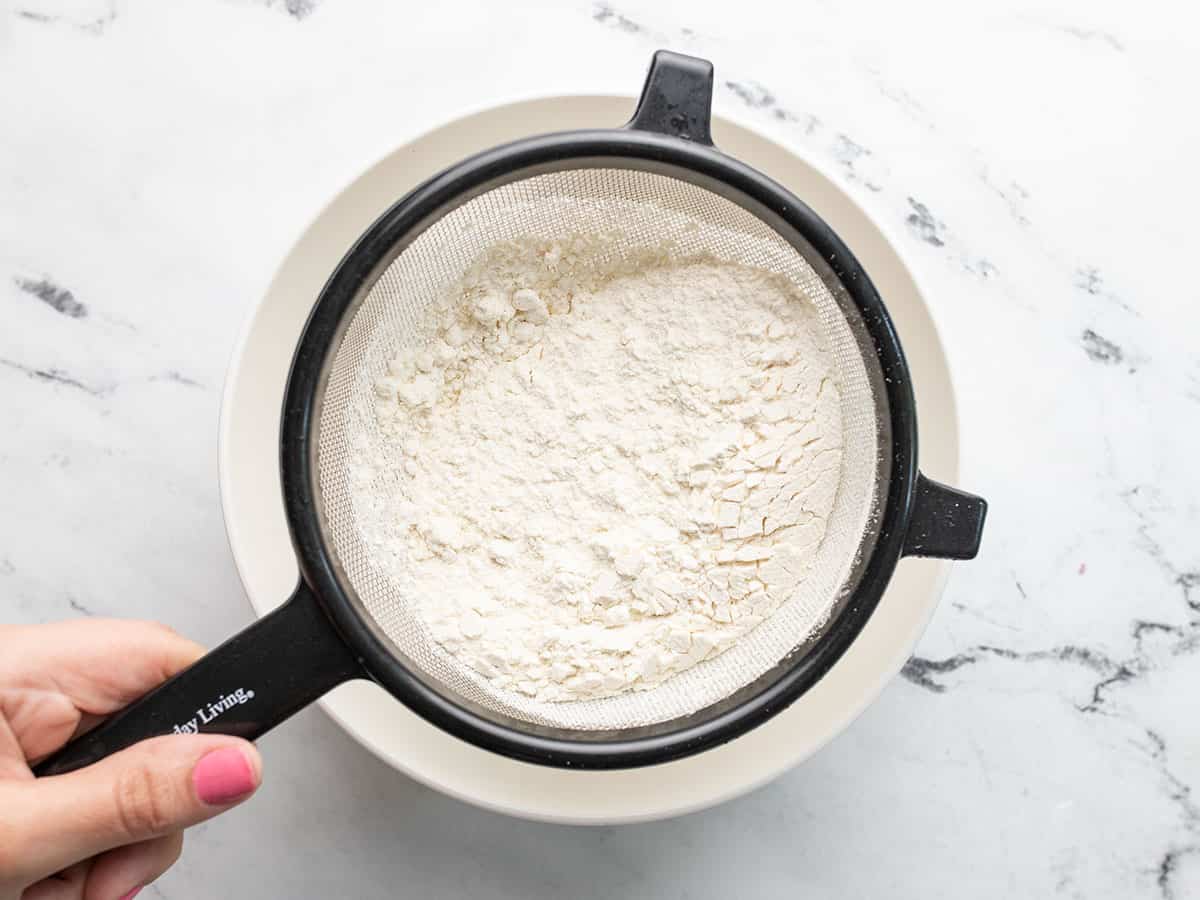 For an accurate measurement of volume, sift your flour, and don't scoop it into your measuring cups. Spoon 2 3/4 cups of sifted flour into the cups, and then use the back of a butter knife to level it off. Place it in a large bowl and put that in the freezer while you grate the butter.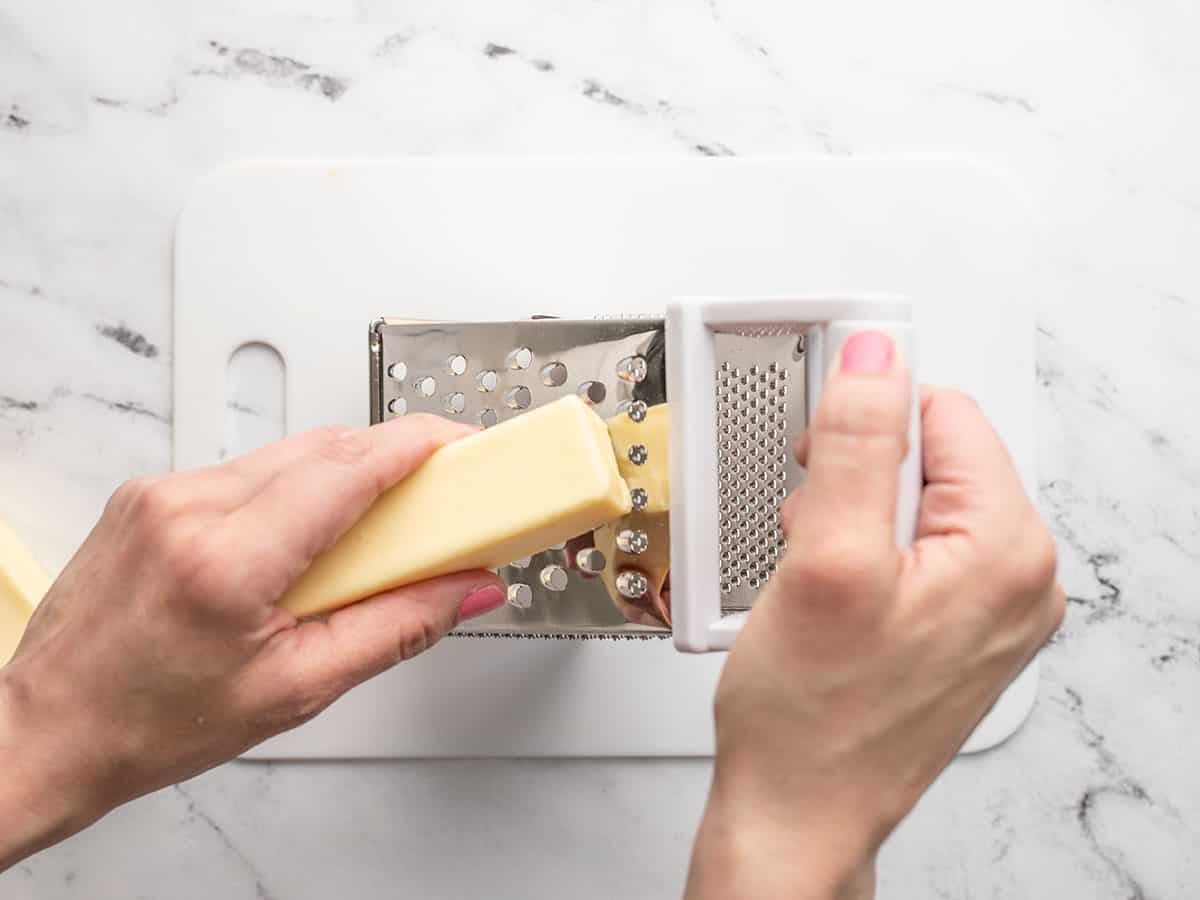 Grate two sticks of salted butter that have been frozen solid. When you get down to a three-inch knob of butter, and it's getting tricky to keep your knuckles out of the party, chop the remaining butter into diced-sized pieces.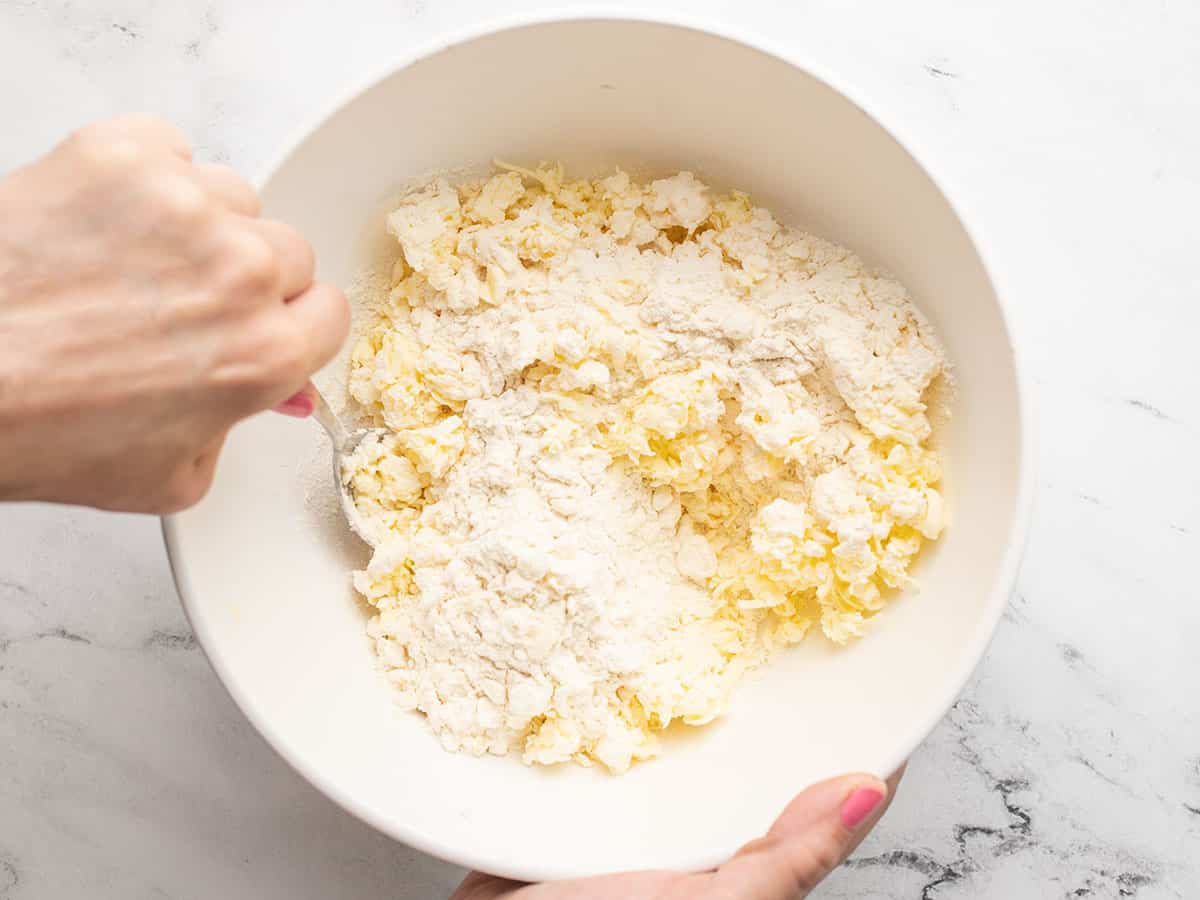 Take the bowl of sifted flour out of your freezer and add the grated butter. Use a spoon to mix the flour and butter as if you were tossing a salad. Mix until all of the butter is coated with flour.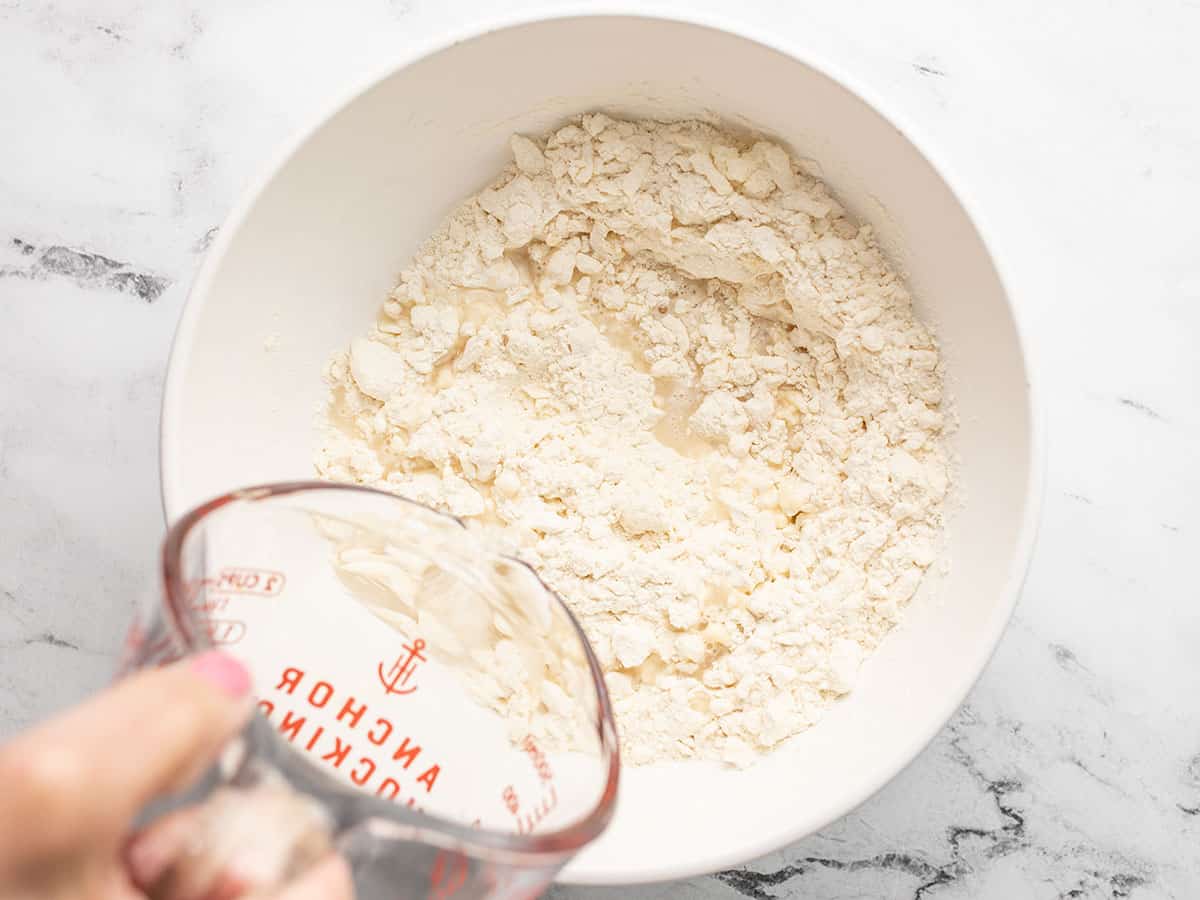 Add 1/4 cup of chilled water to the flour and butter mixture. Use your spoon to toss the mixture and incorporate the water. Continue adding water, tablespoon by tablespoon, tossing between each addition and incorporating flour that has shifted to the bottom of the bowl.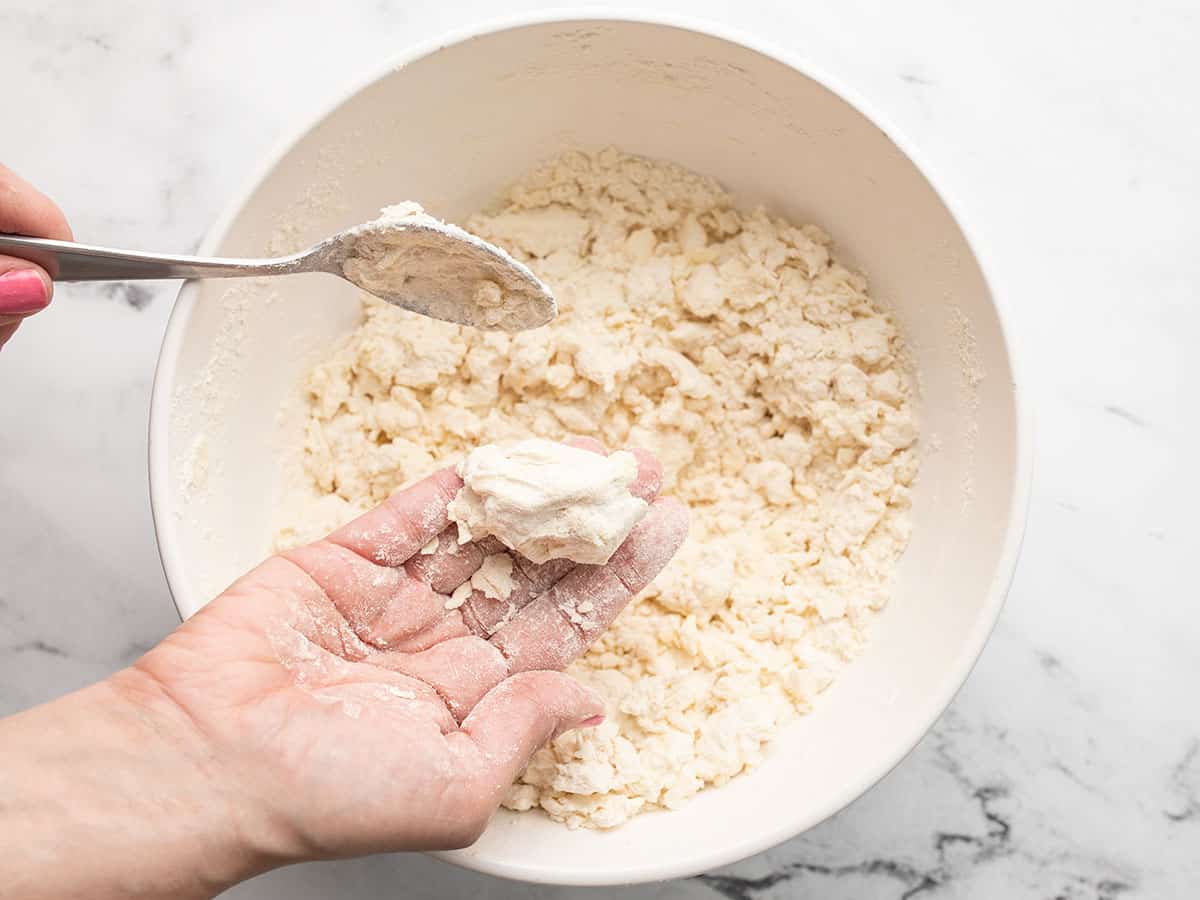 Once most of the flour has started to clump together with the butter, grab a bit and pinch it together. It should form a dough with a texture like play-dough, neither dry nor wet. If your dough is crumbly when you pinch it together, continue to add chilled water.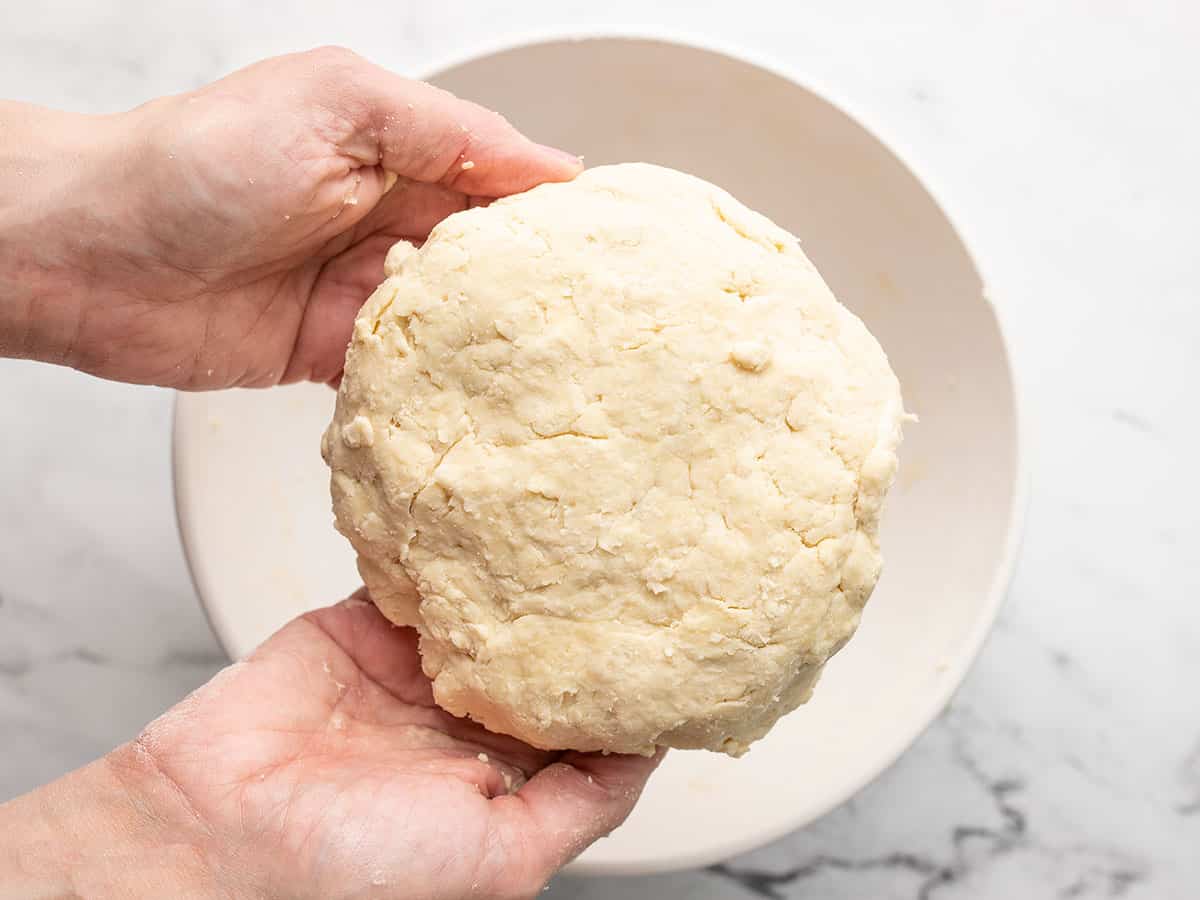 Press the bits of dough together into a ball and flatten it into a disc about 6 inches wide and three inches thick. Wrap it tightly in plastic or beeswax cloth and set it inside an airtight container. Let it rest in the fridge for at least two hours, preferably overnight.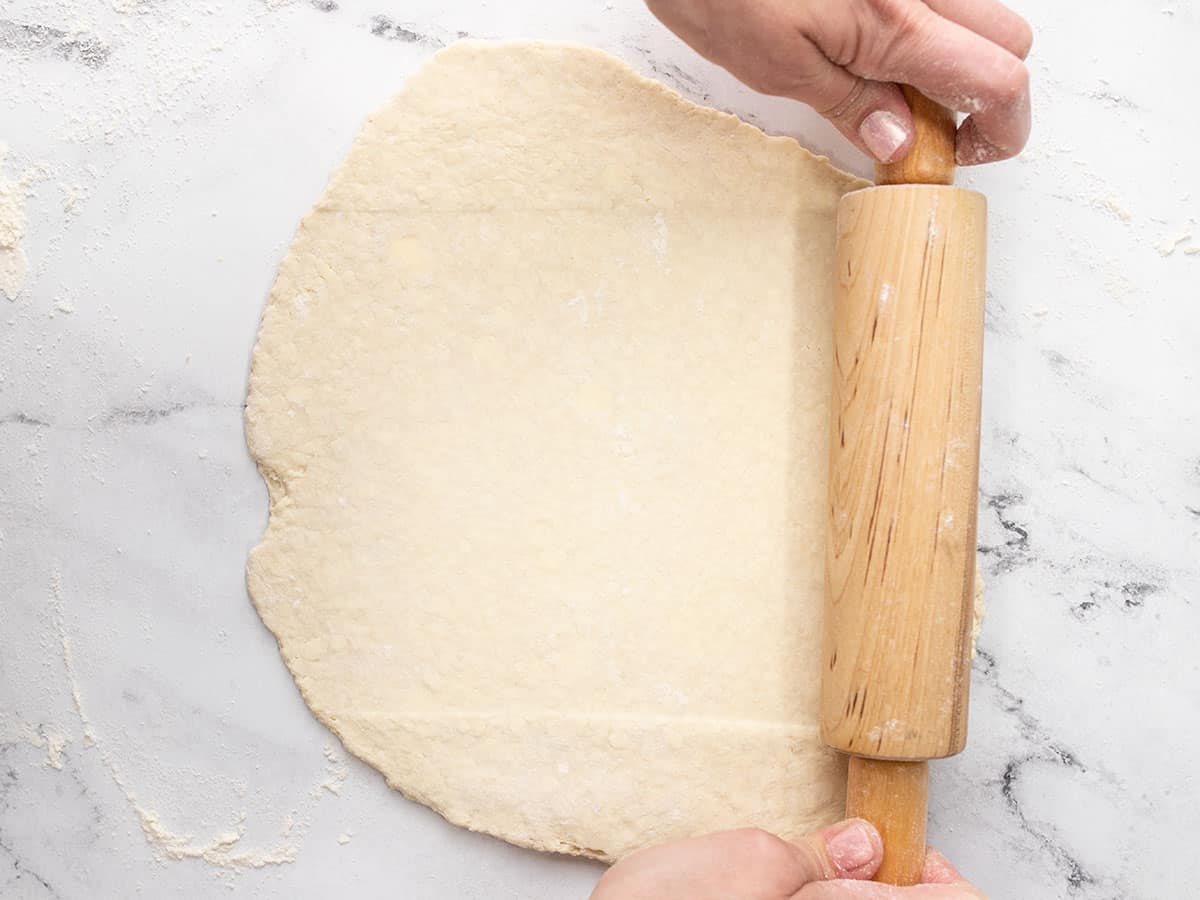 Slice the rested dough an inch above the center line and shape both halves into a disc. Place the larger half on a lightly floured work surface. Roll from the center up, down, left, and right. Lift the dough, rotate 15 degrees, and repeat the sequence until it's 14 inches in diameter and the thickness of an ear lobe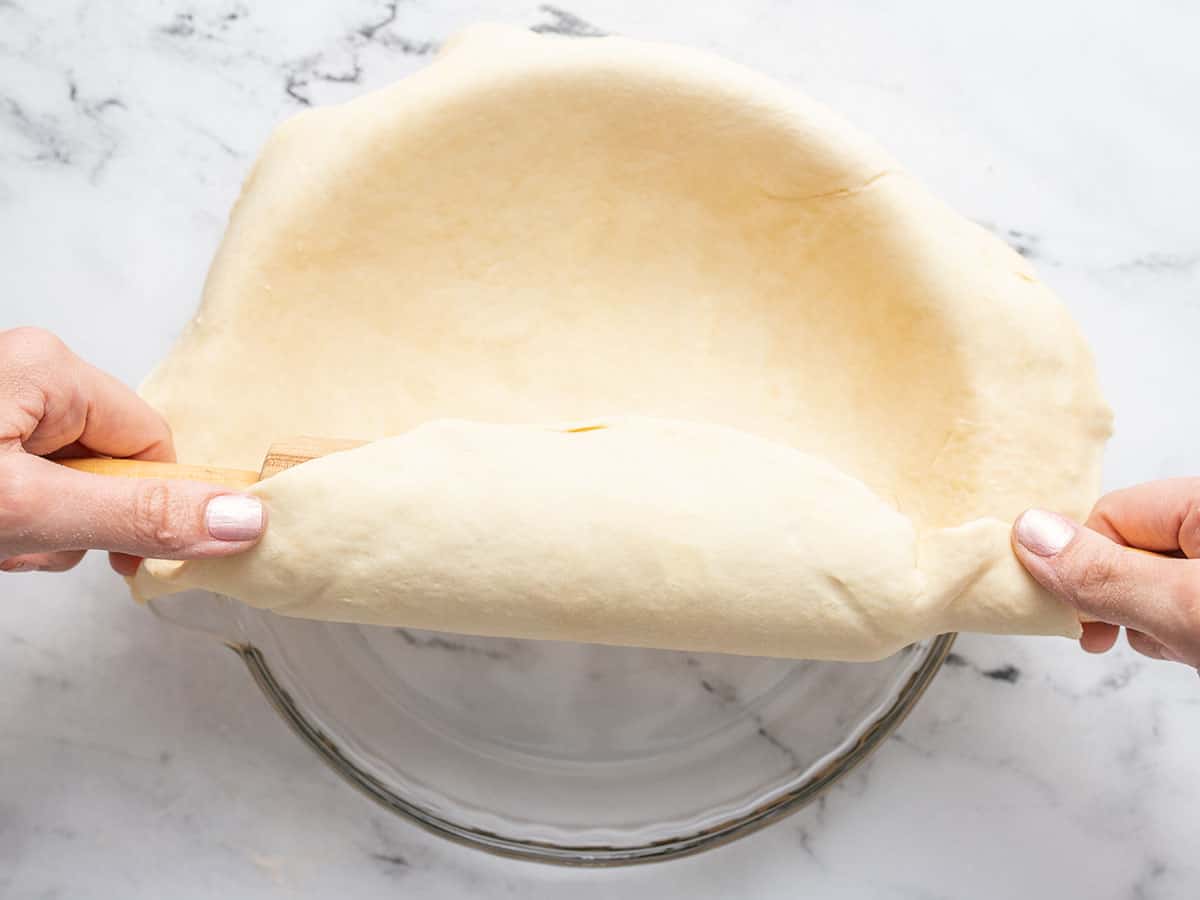 Place your rolling pin on the bottom edge of your crust and roll it onto your rolling pin. Place the pin on the top edge of a greased pie plate, centering the crust. Unfurl the dough towards you, then press it into the plate.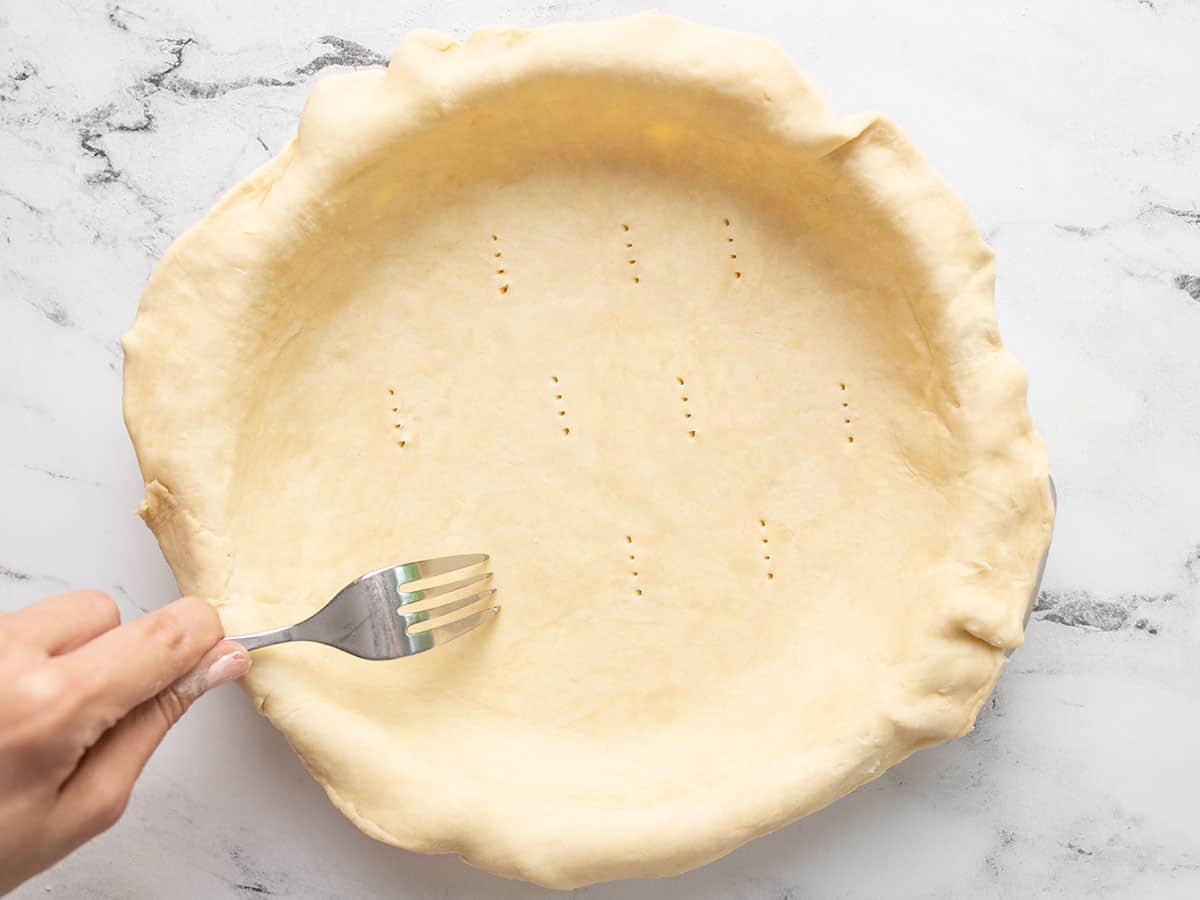 To prevent steam from forcing the bottom crust to bubble up, use a fork to dock the dough, pressing the tines all the way through. Optional if using a liquidy filling: separate an egg and beat the white until frothy. Brush a thin layer over the bottom crust to seal the crust. Rest the pie plate in the freezer.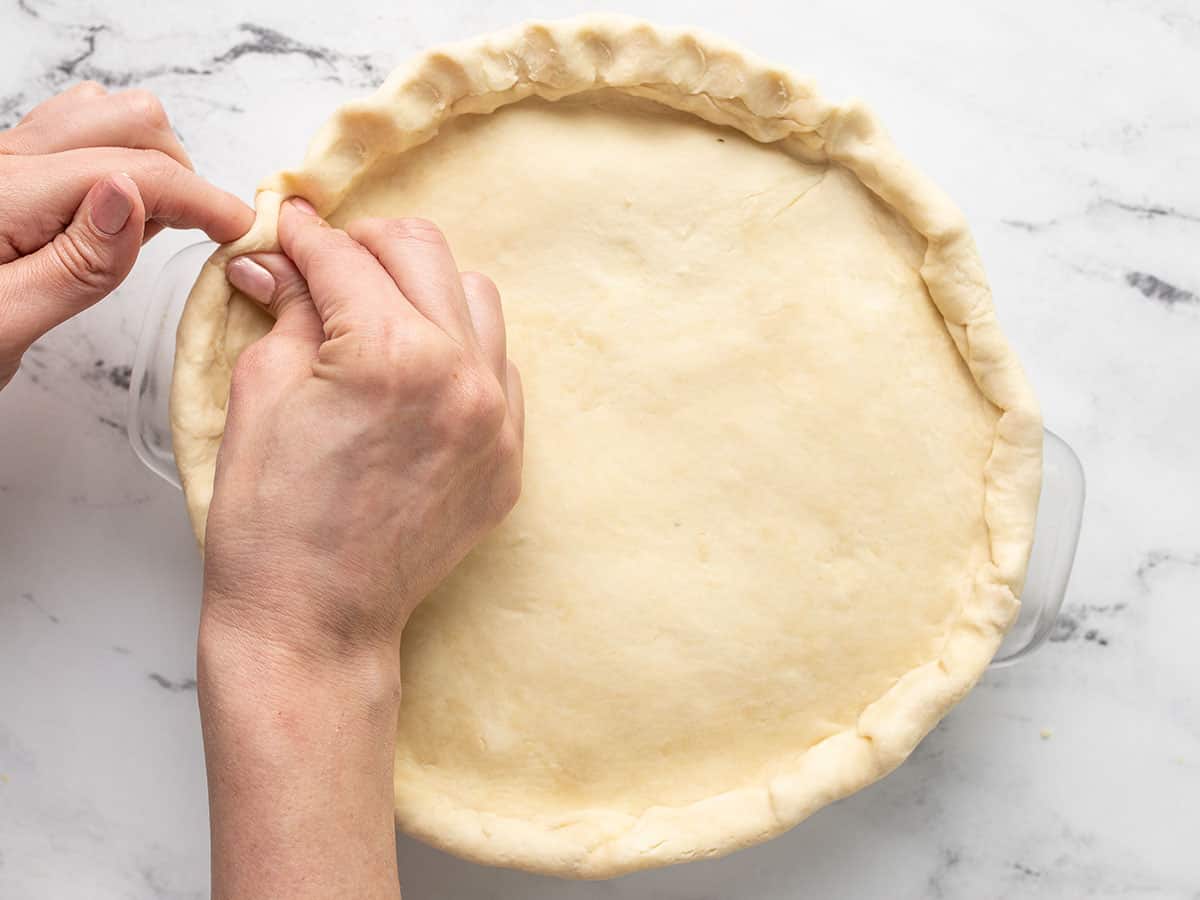 Roll out the top crust to 11 inches in diameter. Take the pie plate out, add your filling, and brush water on the outer edges of the bottom crust. Place the top crust over the filling, fold the bottom crust over it, and pinch the two together to seal.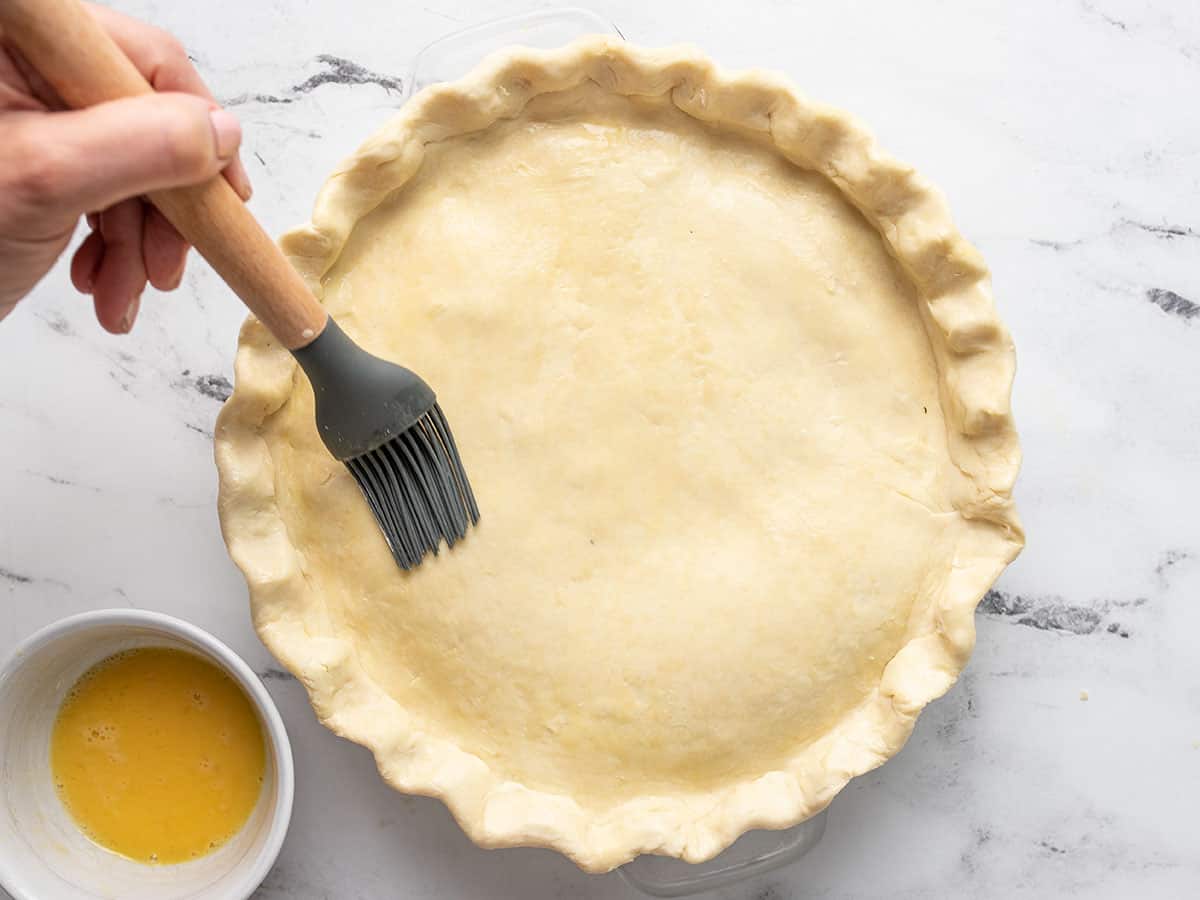 Optional: Beat the remaining egg yolk with a tablespoon of cream or milk and brush it onto the top crust. This will help with browning. You can also use plain milk or cream.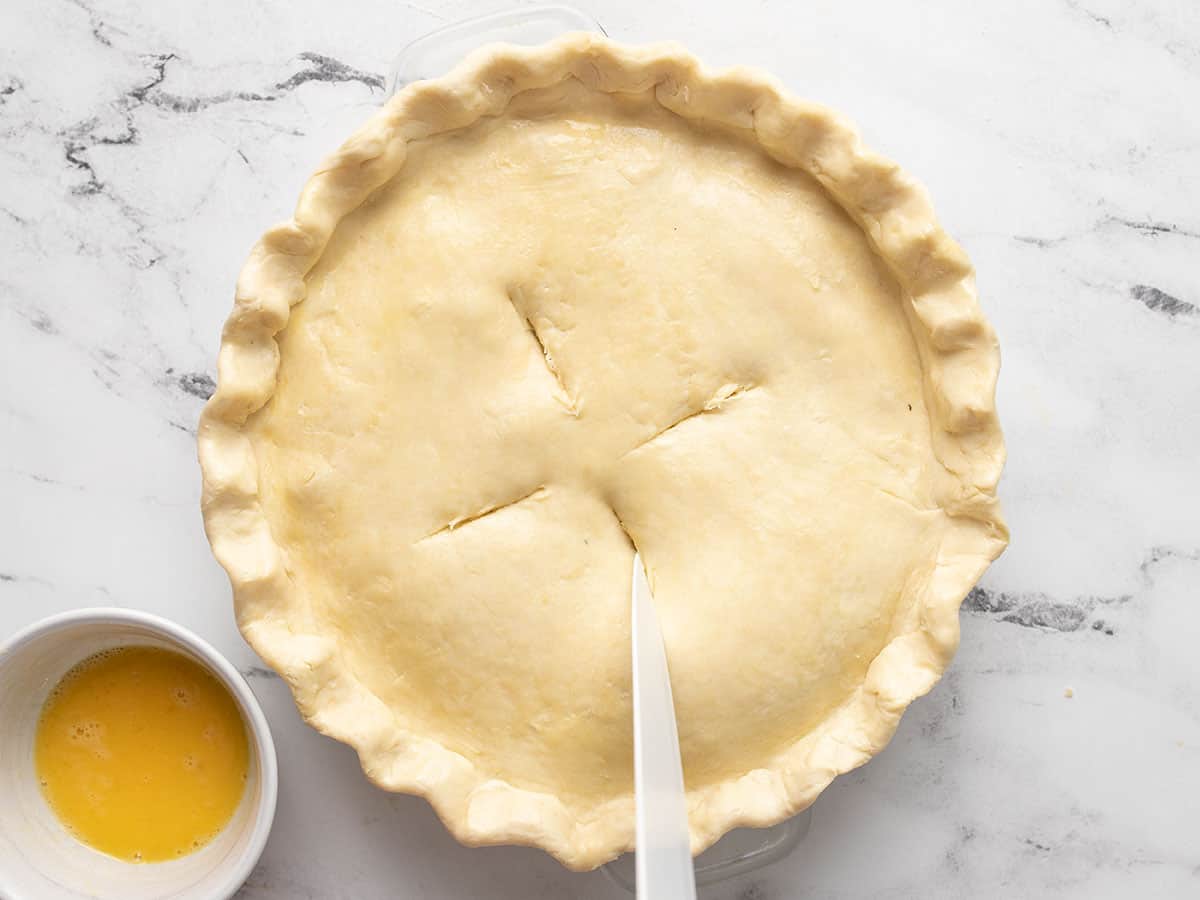 To prevent the pie crust from bubbling up as it bakes, cut steam vents into the top crust. Rest the pie in the freezer for fifteen minutes.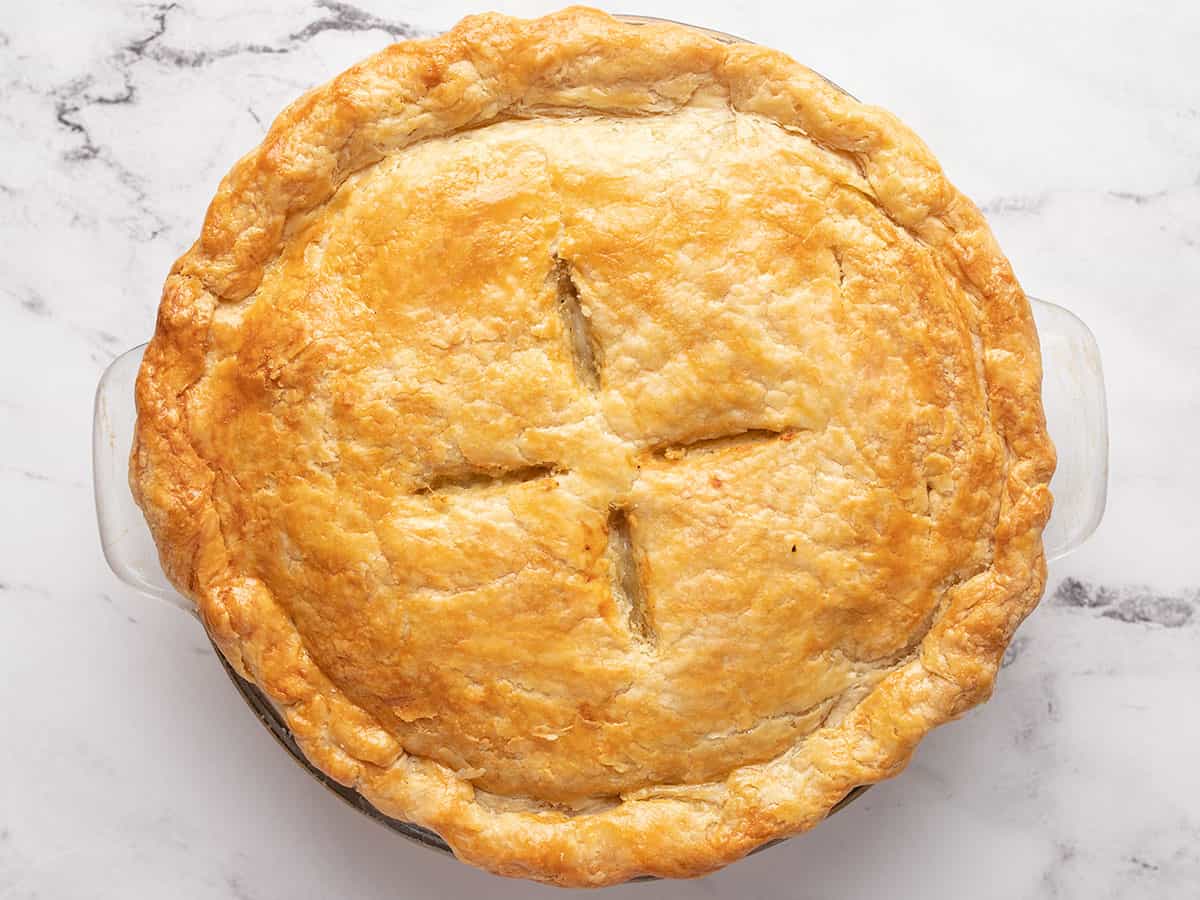 Place your chilled pie on the middle rack of a preheated oven and bake according to recipe directions.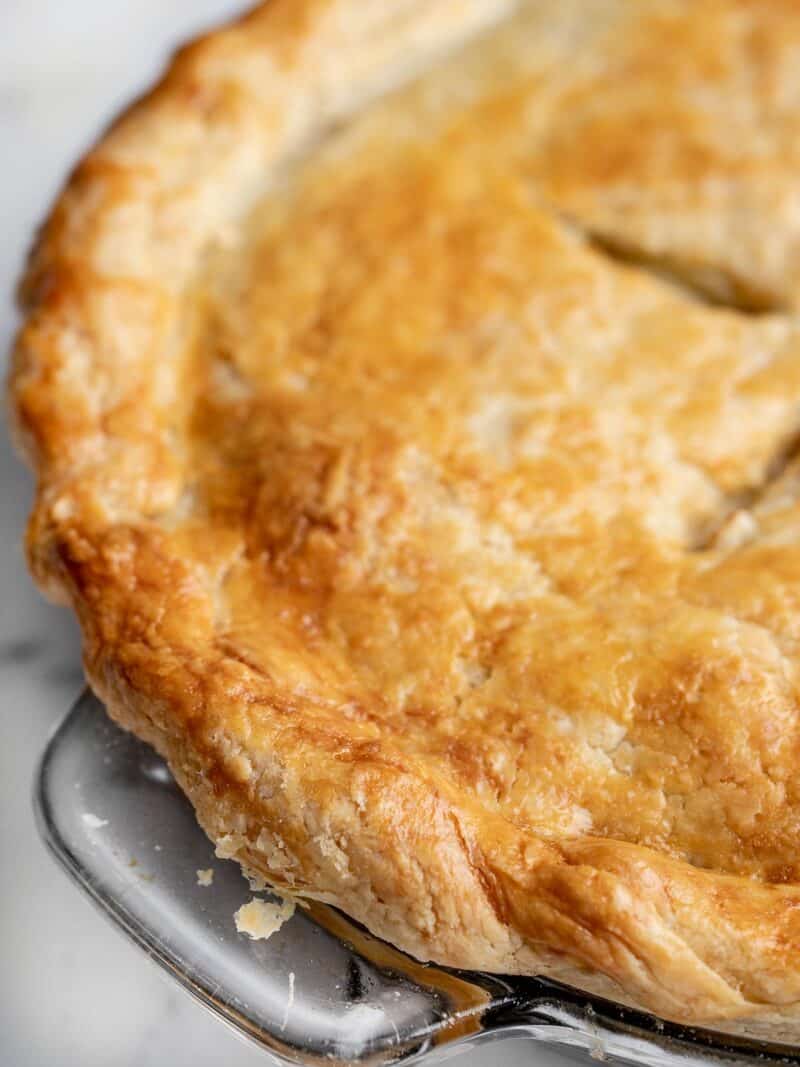 Look at all that flaky goodness for a little over a dollar! Yum!!
The post Easy 3-Ingredient Pie Crust appeared first on Budget Bytes.