In 1928, iconic French artist Yves Klein was born in Nice. The leader of the Nouveau Réalisme art movement and a pioneer of minimalism and performance art, Klein's work transcended traditional forms of artistic expression, capturing feelings over form. His contributions to the art world are immortalized through his seminal monochromatic paintings and most popularly, through his signature shade of ultramarine blue famously dubbed "International Klein Blue" or "Yves Klein Blue." The artists' bold, bluer-than-blue shade captures what historically couldn't be expressed – a powerful feeling of infinity. Today, International Klein Blue is beloved worldwide for its mesmerizing depth and intensity. The color is a fixture in the design world too, appearing on everything from planters and glassware to knitted goods and stationery. To celebrate the artist behind the hue, we're sharing a few of our favorite modern finds that showcase Yves Klein's awe-inspiring shade.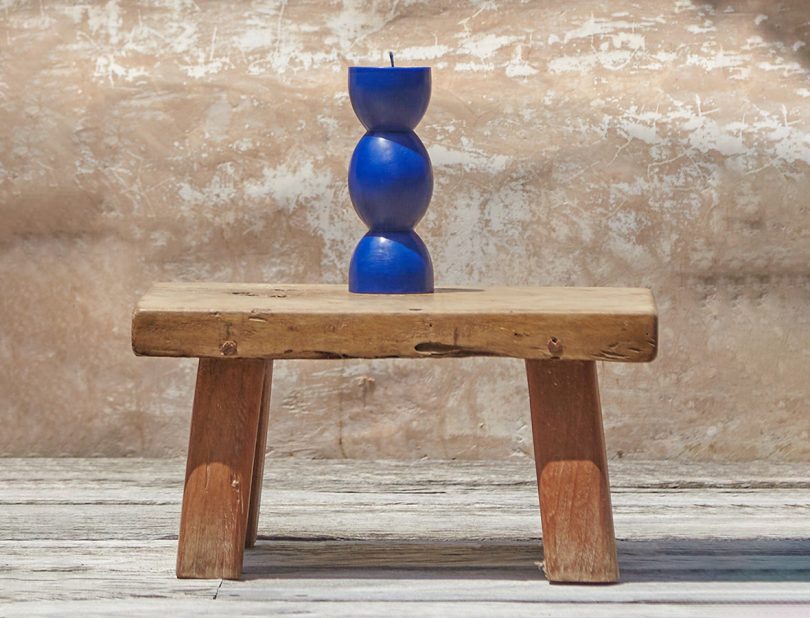 Small Summer In Lago Di Garda Candle in Indigo by Noka.Design
This sculpted candle by Noka.Design is an easy way to sprinkle Yves Klein Blue into the details of your home decor. Handmade using a blend of dyed vegetable-based waxes, the Lago Di Garda Candle has a one-of-a-kind, modern shape that lends the artists' statement color and visual impact to any spot in the house.
$46
Shop Now >>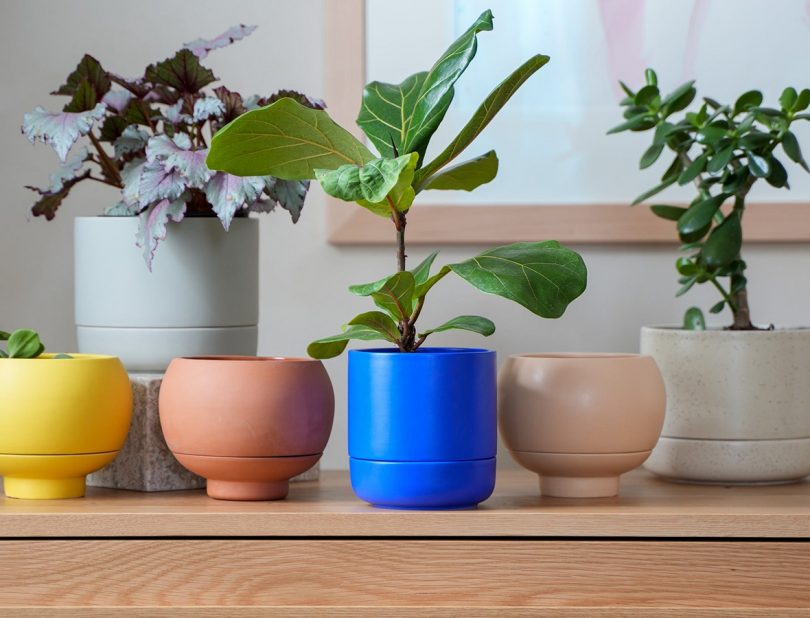 Franklin 12 Ceramic Self Watering Pot by Greenery Unlimited
"I'm a sucker for any color even close to Yves Klein Blue and this cobalt blue pot lands right in the same family," says our Editorial Director Caroline about the Franklin 12 Ceramic Pot. The planter's classic shape lets its bold blue color do the talking and makes for a beautiful contrast against the greens of your houseplants. Plant lovers everywhere will appreciate the sub-irrigation technology housed in the planter's base, which allows the roots of your plant to drink water at their own pace, saving them from a tragic death by overwatering.
$32
Shop Now >>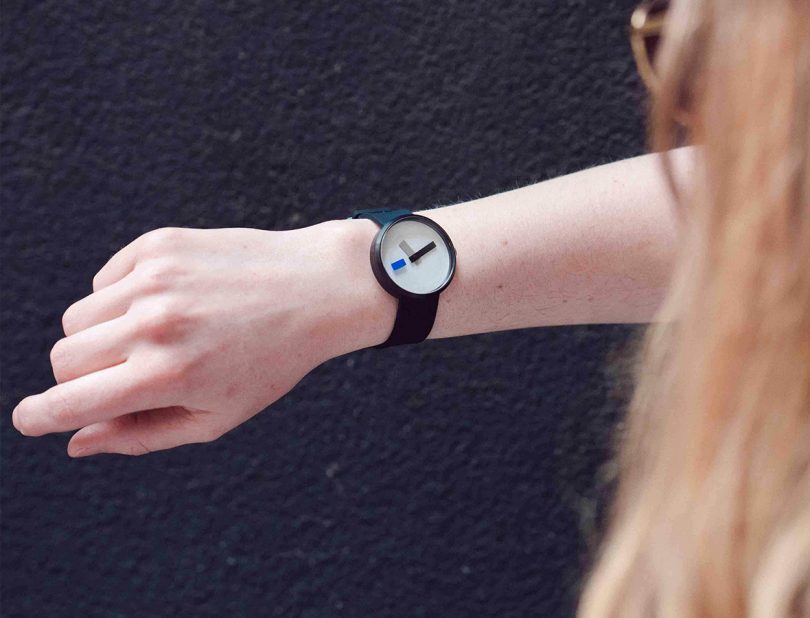 Kazimir Blue Watch by Projects Watches
To bring a hint of Yves Klein Blue to any outfit, check out the Kazimir Blue Watch. Inspired by the suprematism art movement brought on by artist Kazimir Malevich, the watch features a minimalist face and pop of blue that also feels very much Klein. The textural contrast between the silicone band and the steel watch is also as pleasing to the eye as it is to wear.
$159
Shop Now >>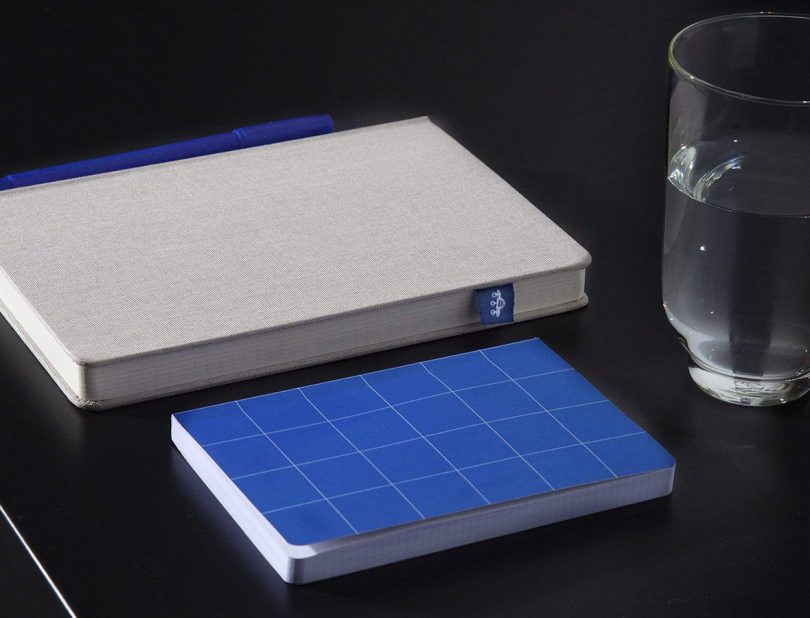 Notebook Set by Departo
Departo knows how to imbue everyday objects with a bit of modern magic, and their Notebook Set doesn't disappoint. This duo of handy notebooks is rife with thoughtful, design-driven details that make them a welcome upgrade from traditional stationery – from their textured covers to the different sizes that make capturing your thoughts, plans, and to-do's easy no matter where you are. Our favorite part? The electric Yves Klein Blue cover on its pocket-sized grid notebook!
$28
Shop Now >>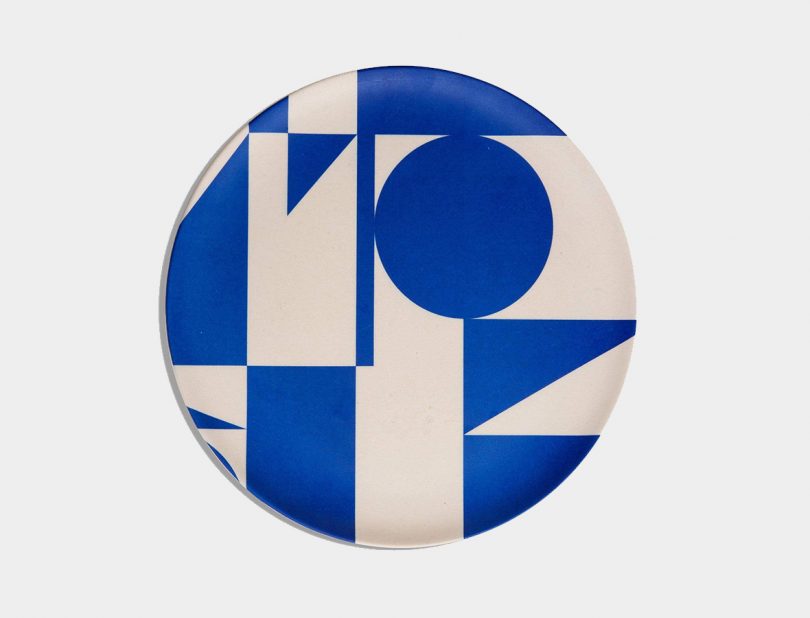 Bamboo Salad Plates in Shapes Set by Poketo
To turn everyday meals into photo-worthy works of art, look no further than these eco-friendly bamboo plates by Poketo. Sustainably made with organic bamboo and cornstarch, these planet-friendly plates are a stylish alternative to disposable paper or Styrofoam plates and are durably designed for daily use – they're even dishwasher safe! Even better, they're 100% biodegradable, so you can add them to your compost once they've reached the end of their life cycle.
$40
Shop Now >>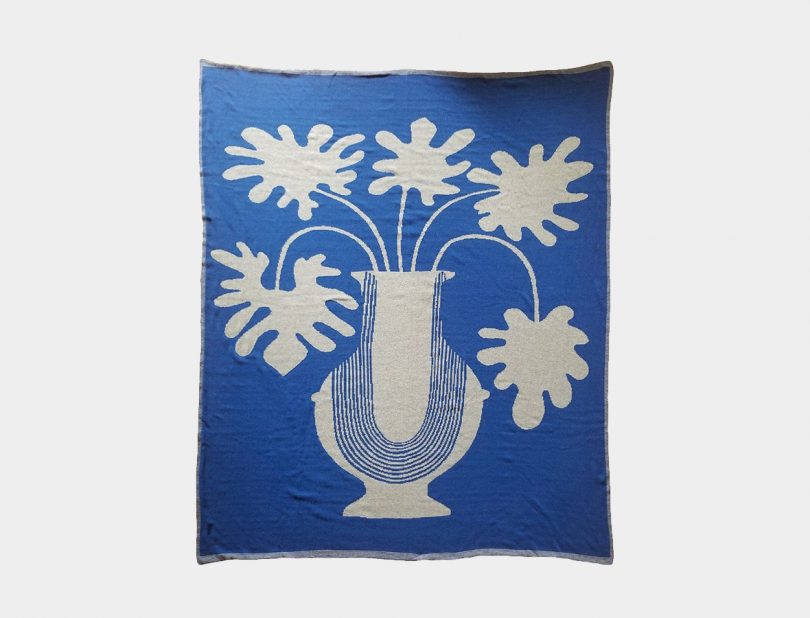 Vase Ebb + Flow Knitted Blanket by Claudia Pearson
Claudia Pearson's Ebb + Flow Knitted Blanket stars a bright and punchy blue that is undeniably reminiscent of the Yves Klein classic. Knitted from 100% organic cotton, the soft throw blanket is perfect for nights spent cozying up on the couch and functions as a decorative accent on its own when draped over an armchair. And when you're craving a more subtle look, just flip the blanket over to reveal its complementary gray and blue colorway.
$190
Shop Now >>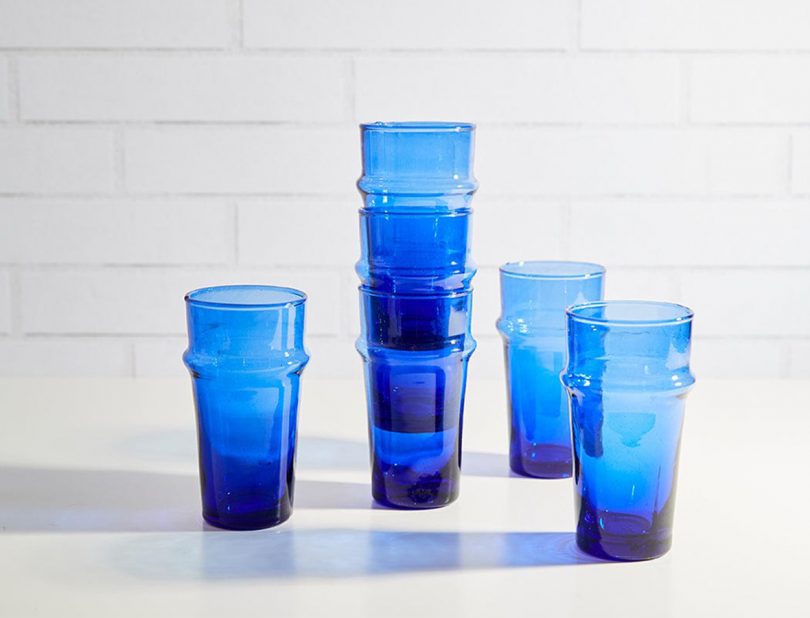 Moroccan Beldi Glassware Set by Verve Culture
Tinted glassware is all the rage right now and we couldn't be happier. To add some color to your kitchen cupboard, we love these blue tinted drinking glasses. Handblown using recycled beer and wine bottles, every cup in this set is one-of-a-kind – from their organic shape and to their small details like the tiny bubbles suspended in each glass. Whether you're drinking water, juice, or wine, drinking it will be infinitely more fun with these IKB-esque glasses.
$48
Shop Now >>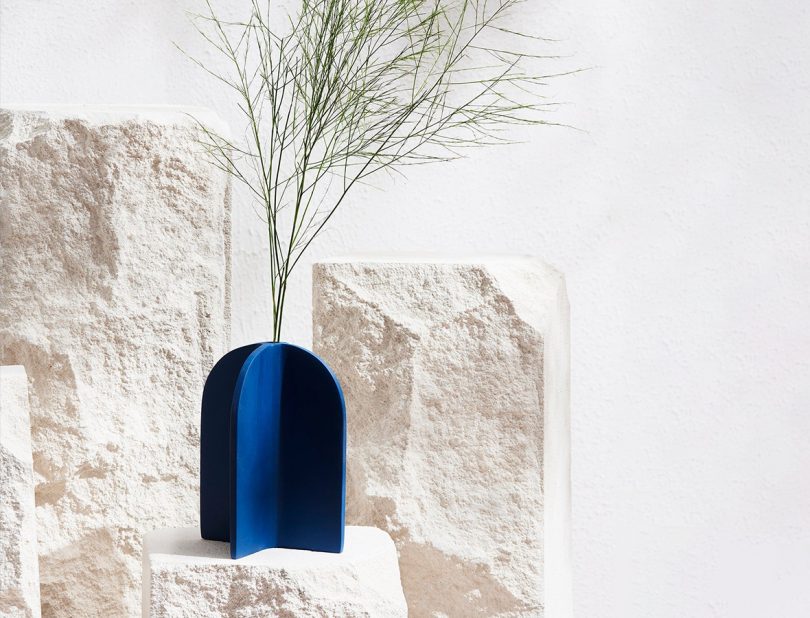 The Eros Vase by Capra Designs
A stem vase and piece of modern sculpture in one, Capra Designs' Eros Vase has a simple yet structural design that makes it an essential piece of home decor. We love the vases' multi-paned design, and it looks even better in Capra's Neptune blue color – which reminds us of a softer Yves Klein Blue. Fill it with a dried floral stem or two, or showcase it solo, and the Eros Vase will bring bold color and a sculptural interest to your space.
$89
Shop Now >>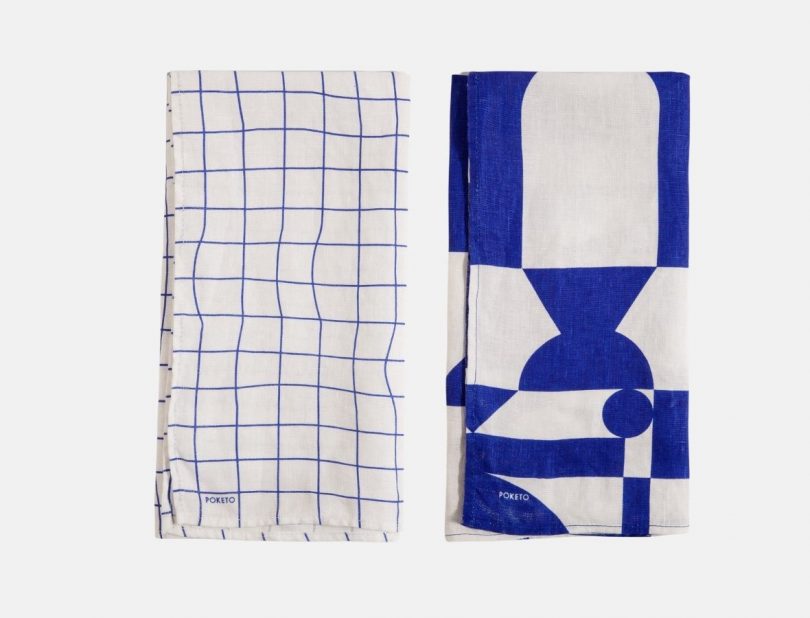 Linen Tea Towel Set in Blue by Poketo
The perfect complement to Poketo's matching bamboo plates, this linen tea towel set features a fun and timeless combo of modern geometric patterns that'll instantly jazz up your kitchen. The IKB tea towels are made of 100% linen, so they only get better with every wash, while being soft enough to effectively dry hands and dishes alike. Finally, kitchen towels that look great and are made to be used!
$34
Shop Now >>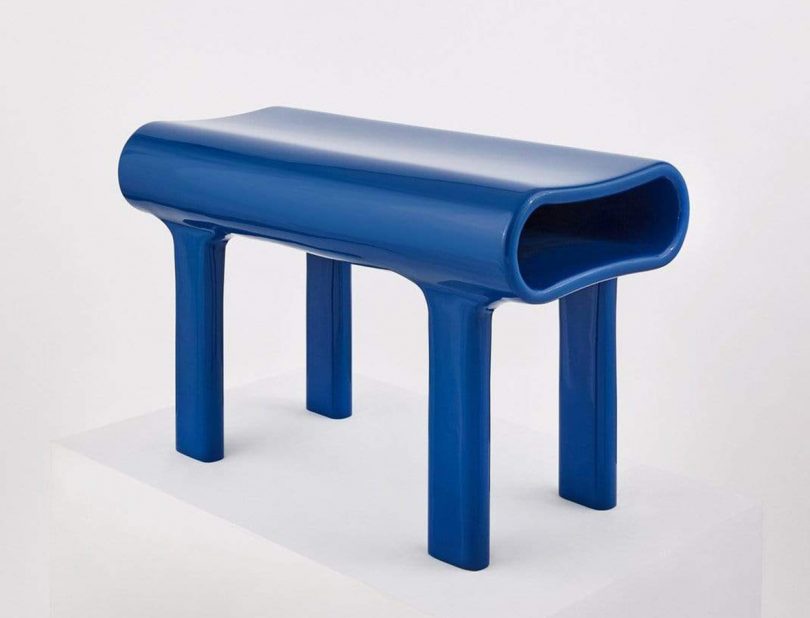 Blue Modernist Bench by Zelonky Studios
Looking to bring Yves Klein Blue into your space in a big way? Then you'll love the Blue Modernist Bench by Zelonky Studios. Designed using CMC technology, the statement bench stars a delightfully curved shape and smooth modern finish that'll make it a guaranteed showstopper in any room. A fun bonus, the hollowed-out seat is great for extra storage space – use it to stow books, umbrellas, or even shoes before dashing out of the house.
$1,400
Shop Now >>  
Shopping any of our Yves Klein Blue picks? Share your haul and tag us @designmilk to be reposted on our Instagram!