Smooth decor elements of wood and stone are implemented to carve out a look of luxury in these two inspirational home designs. To allow these soothing natural materials to come to the forefront, the home designs follow a light and laconic colour palette of crisp white and warm creamy hues. A restrained seasoning of black and charcoal grey accents pepper the room designs with small moments of visual weight. Luxury living rooms are given refined and airy layouts with designer lounge furniture, eye-catching TV walls and high-end dining sets. Kitchens are cutting-edge, bedrooms are restful havens of peace and tranquillity, and bathrooms evoke a spa-like feel.

Architect: Mohammad Alomran  
Wood panels are spliced with smooth marble slabs to create a fabulous feature wall in the living room of our first luxurious home design. Ribbons of LED light are installed along the vertical edge of the slabs to add definition and depth to the eye-catching focal point.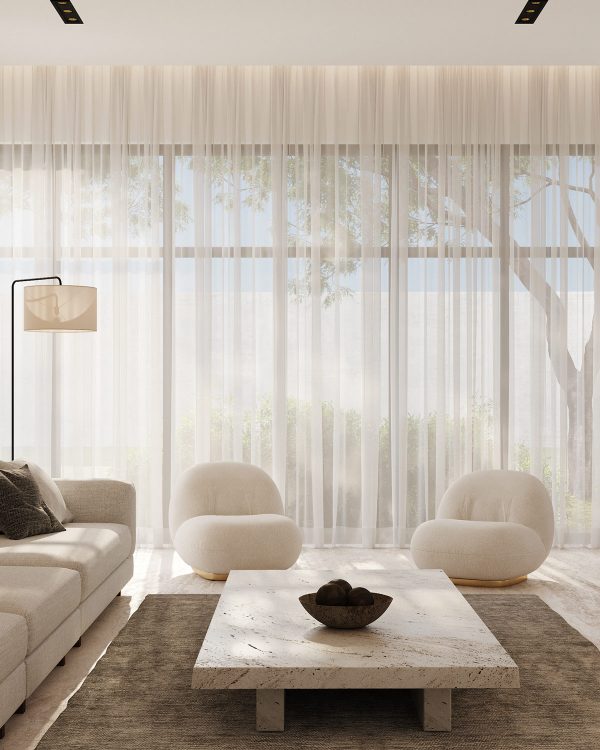 In the centre of the lounge space, a white marble coffee table draws the luxury stone decor element to the floor. A modern fruit bowl adds a dark visual anchor on top of the light stone.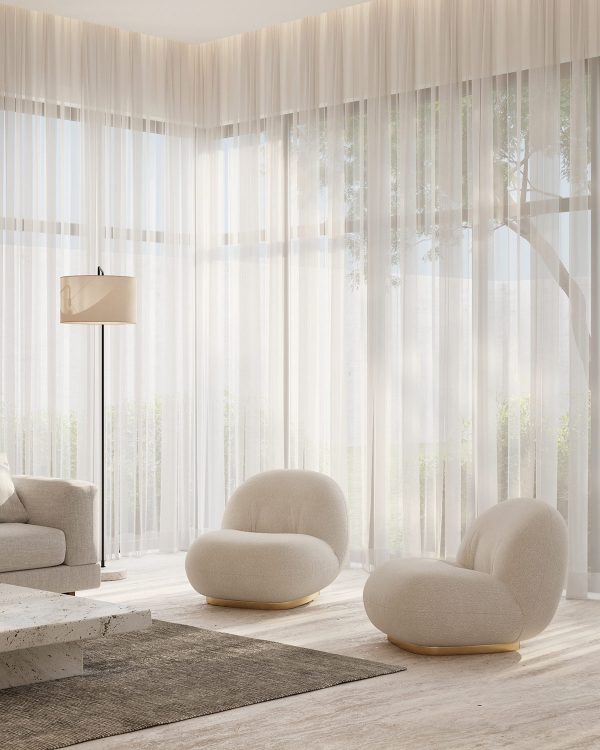 Curvaceous Pacha lounge chairs, designed by Pierre Paulin for Gubi, softly counteract the hard silhouette of the stone coffee table and the linear modern sofa.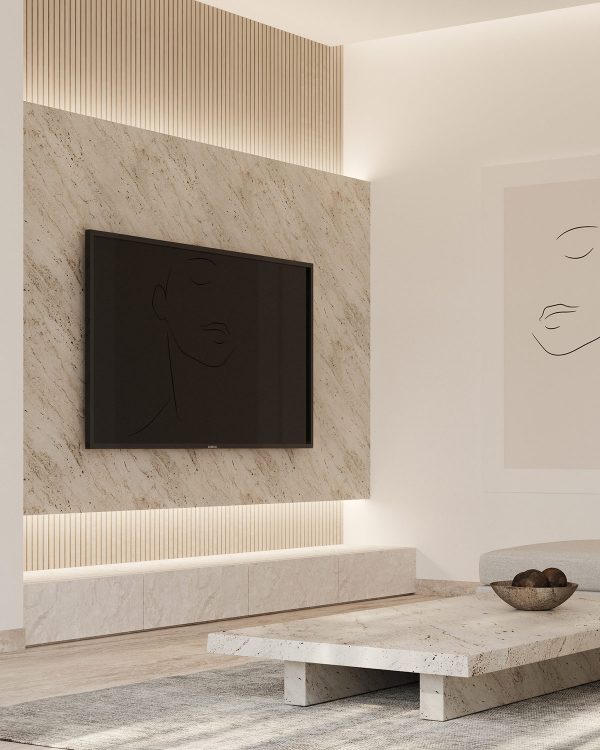 Opposite the contemporary couch, a stunning TV wall of white marble and slatted panels make up a textural statement piece. A stone effect media unit and an atmospheric lighting installation complete the luxurious ensemble.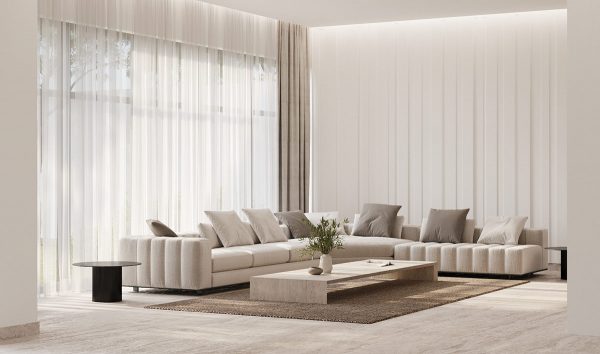 A second airy living room layout is furnished with another plush sitting area. A rectangle coffee table slots into the sleek outline of a channel-tufted sofa design, which hugs the lounge in a welcoming L-shaped arrangement.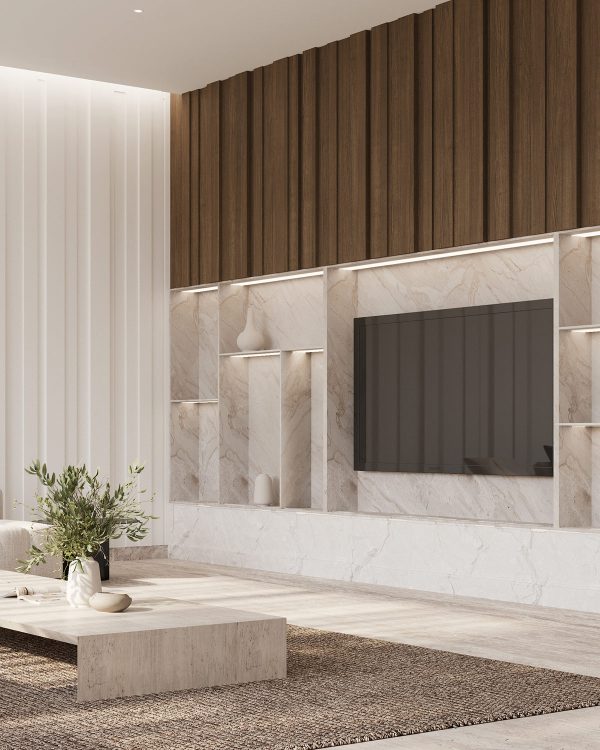 The marble TV wall in this sitting room is cut through matching stone display shelves. Slatted wood panels build rich colour and deep texture up to the ceiling line.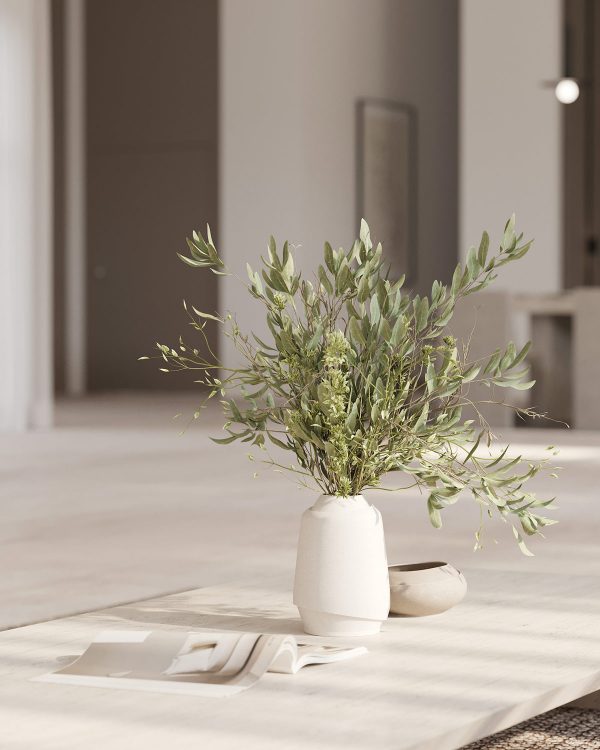 Elegant white decorative vases and ceramic bowls dot the display shelves and adorn the coffee table.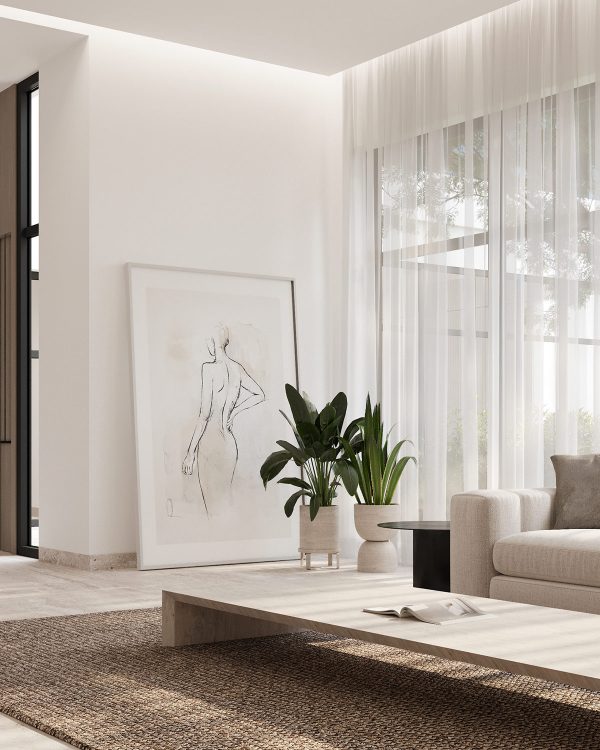 White stone planters house indoor plants, which bring a friendly burst of greenery to the cool decor colour palette. Line art provides simple yet beautiful interest to the plain white living room walls.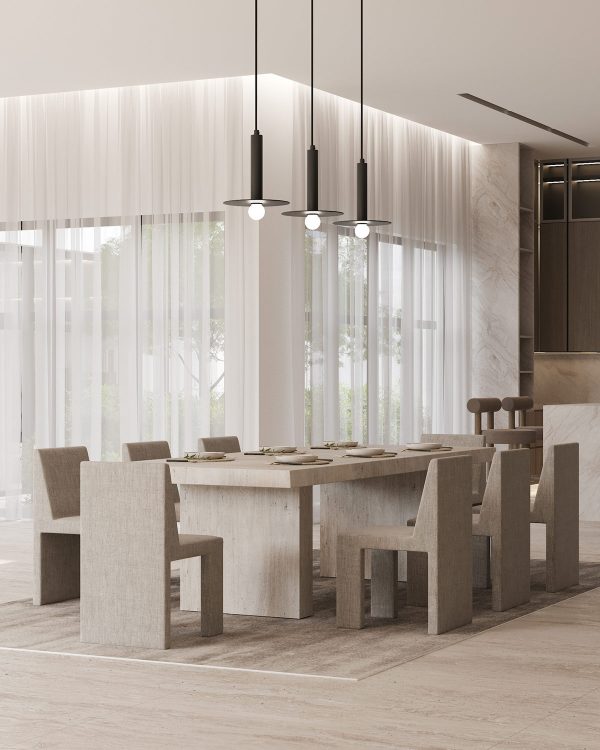 Three modern dining room pendant lights drop a trio of dark accents into the bright eating area. Sheer white drapes filter the copious influx of natural daylight that streams through enormous ground floor windows. A garden vista expands hazily behind the voiles.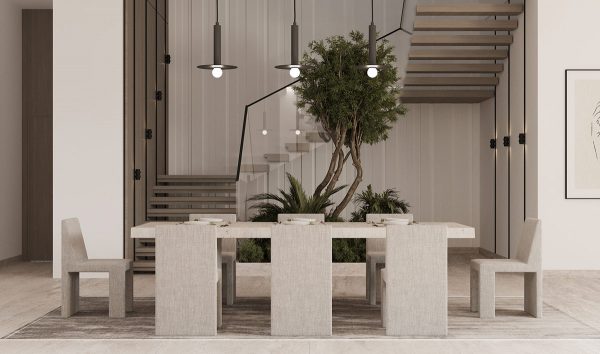 Designer chairs seat eight around the modern rectangular dining table.
The dining area is set in an open plan arrangement with the kitchen. A kitchen island serves as a second, more casual eating area.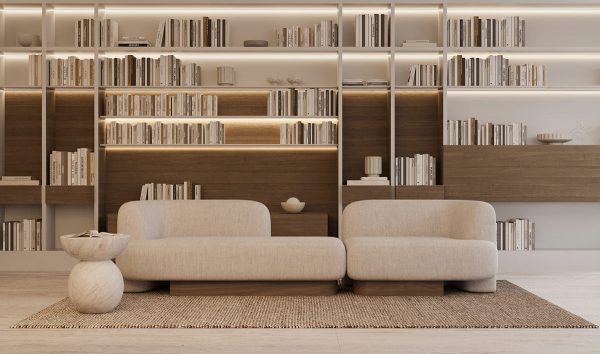 Inside the home library, bespoke bookcases stack from floor-to-ceiling and edge-to-edge. LED strips light the tomes to aid selection and to provide a cosmetically pleasing feature. In front of the book stacks, a modular sofa and small side table furnish a comfortable reading area.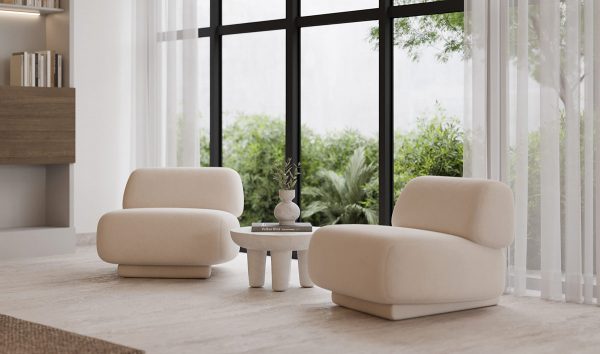 Two chairs and a side table make up a second sitting spot in the library window.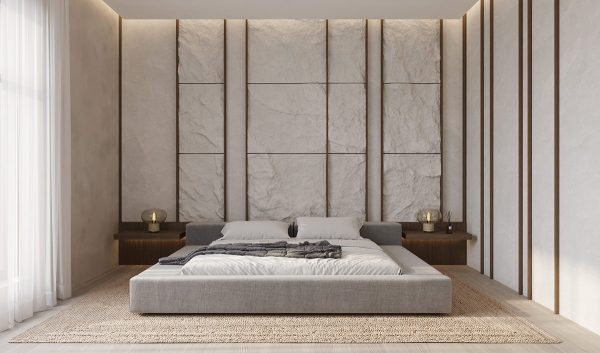 Elegant wall panels and a low upholstered bed give the bedroom a tranquil Japanese-style aesthetic.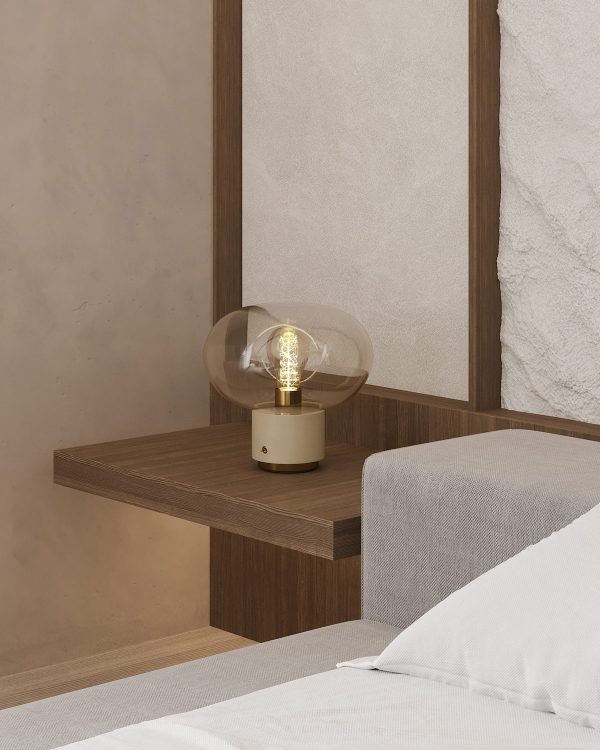 Bedside table lamps rest on floating bedside tables.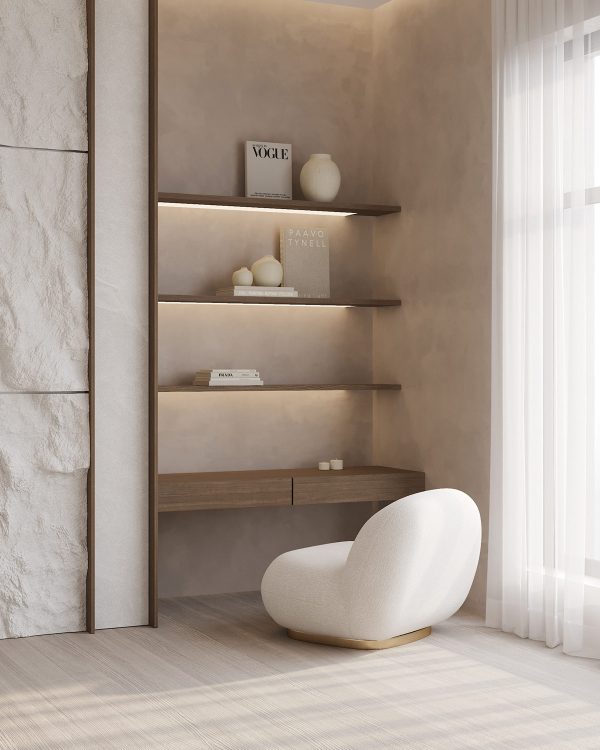 A floating vanity table neatly fills a narrow bedroom alcove.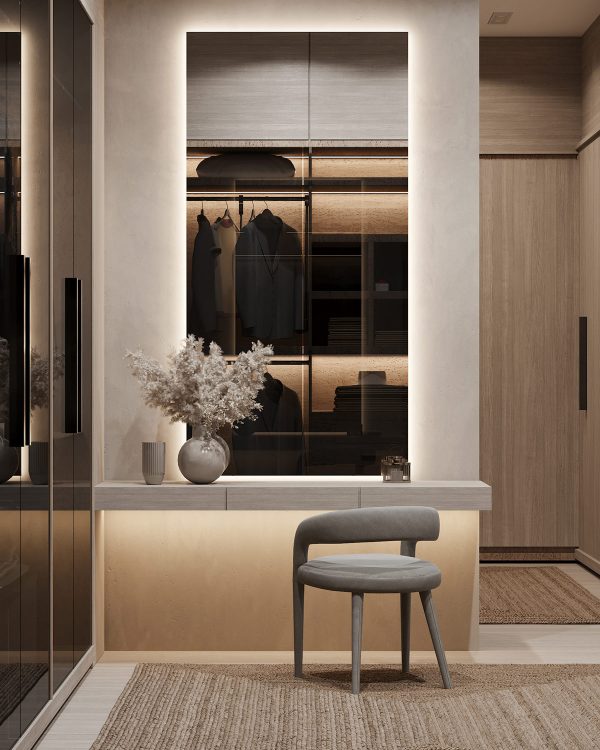 The cosy atmosphere around the home is set by opportune moments of golden light.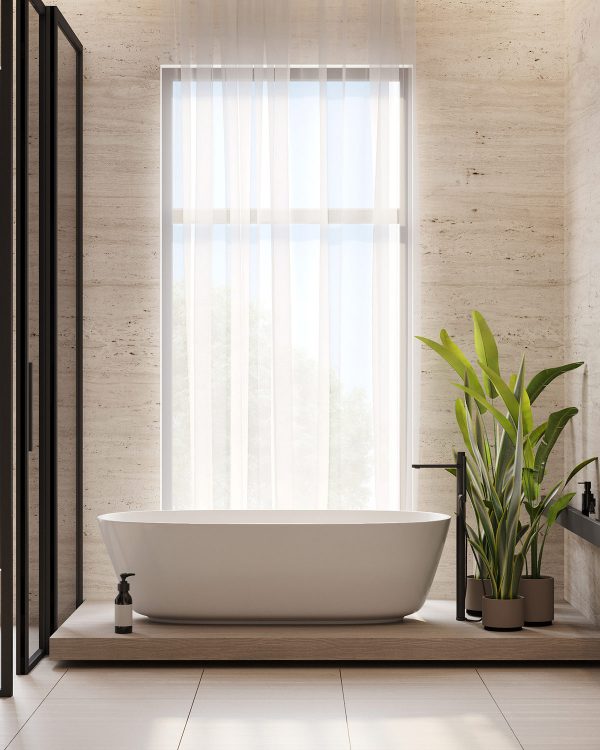 As we move into the luxury bathroom, we find the bathtub elevated on a wooden platform in front of the window. Indoor plants grow a fresh spa-like feel.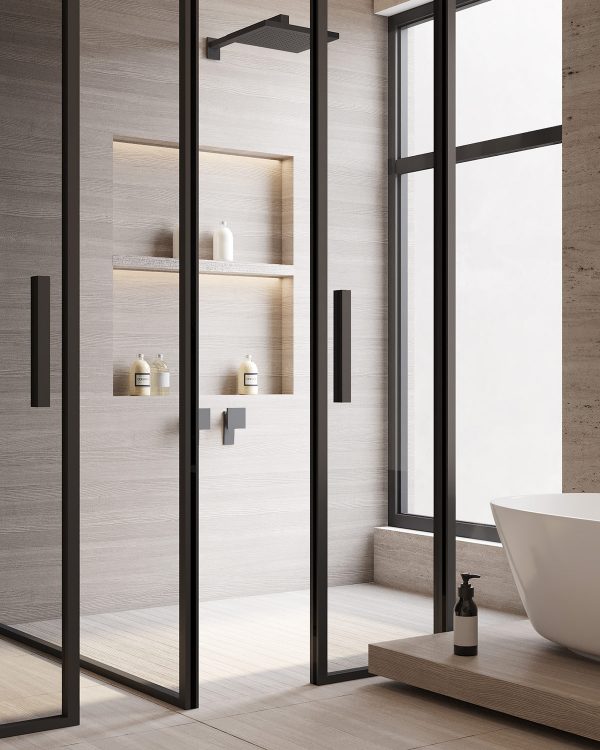 Black-framed screens form a modern shower area.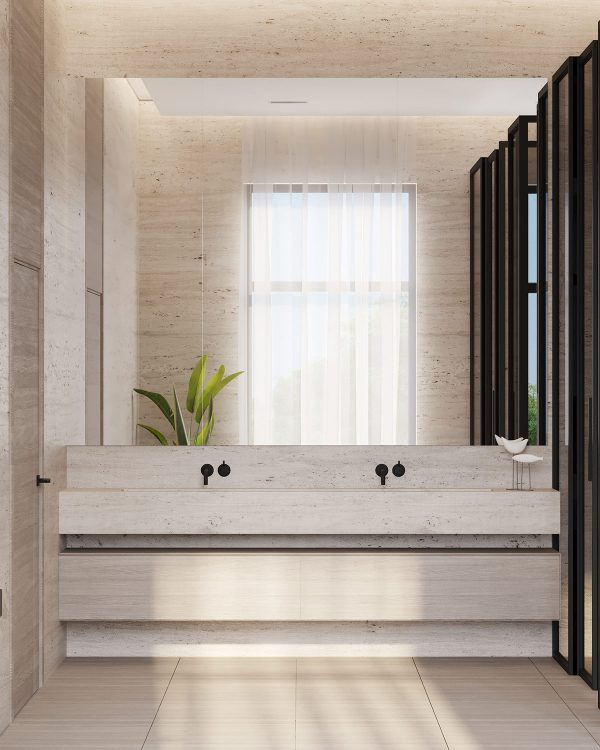 Stone basins, countertops and backsplashes fashion a chic double sink bathroom vanity.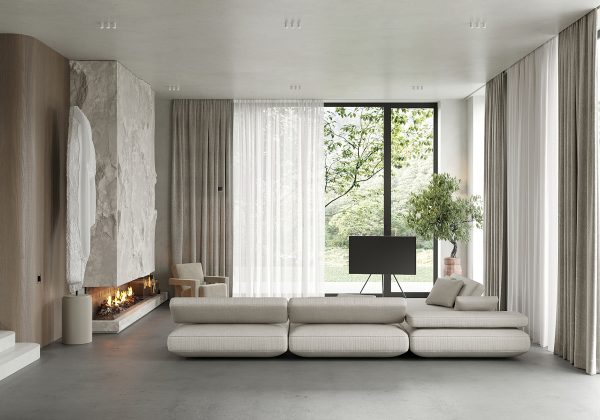 Visualizer: Daria Klimchuk  
In Ternopil, Ukraine, our second home design sports a ruggedly rough stone feature wall around the fireplace.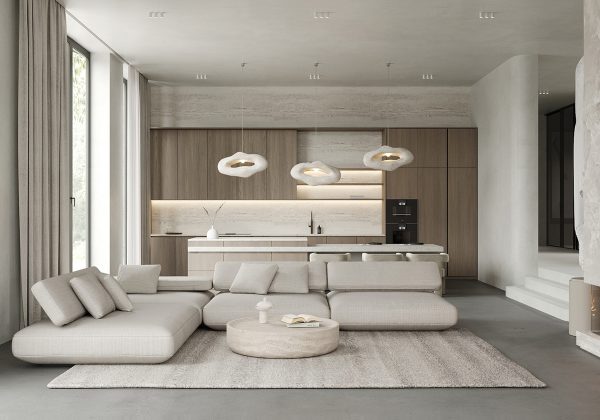 A round coffee table and rounded-edge sofa design offset the sharp edges of the stone chimney breast.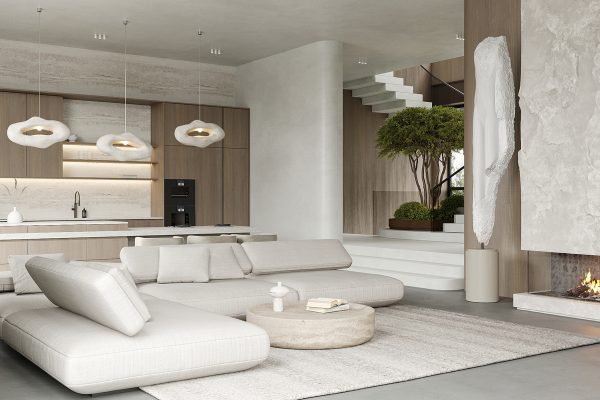 Stone sculpture makes fascinating artwork.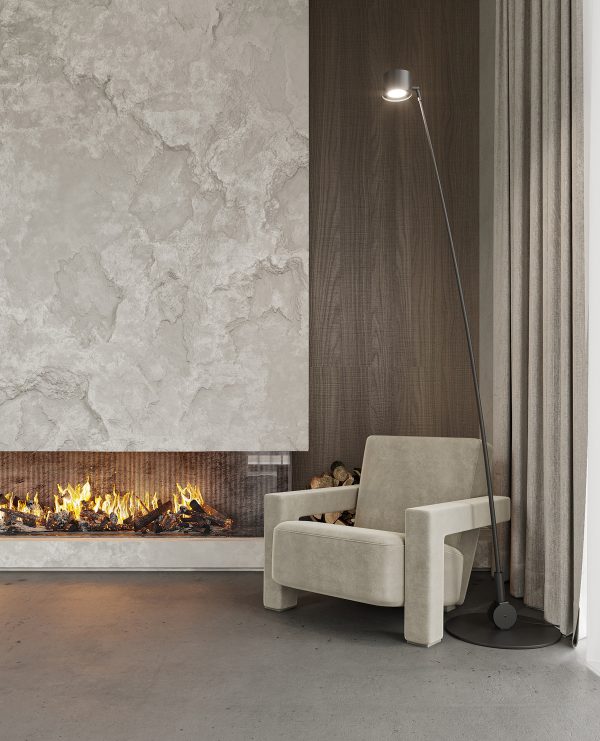 By the fireplace, a designer lounge chair and a Sampei floor lamp, designed by Davide Groppi and Enzo Calabrese, make a cosy reading nook.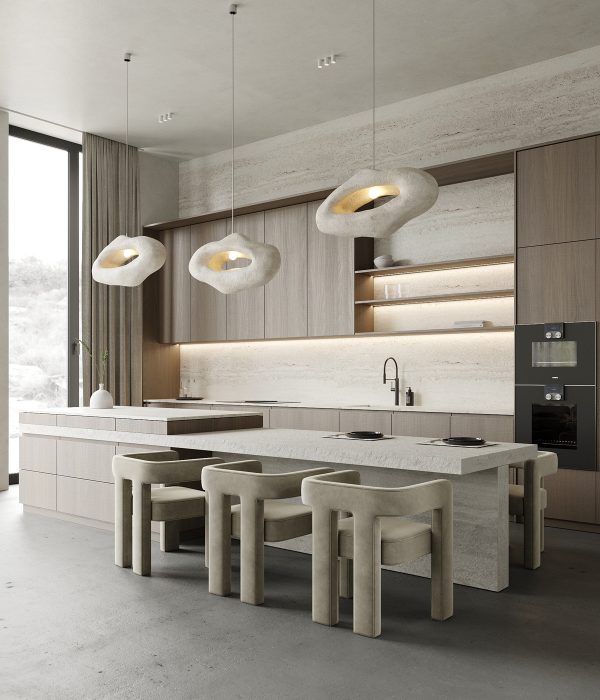 Three unique kitchen pendant lights form a sculptural arrangement along the length of the kitchen island and its integrated dining table.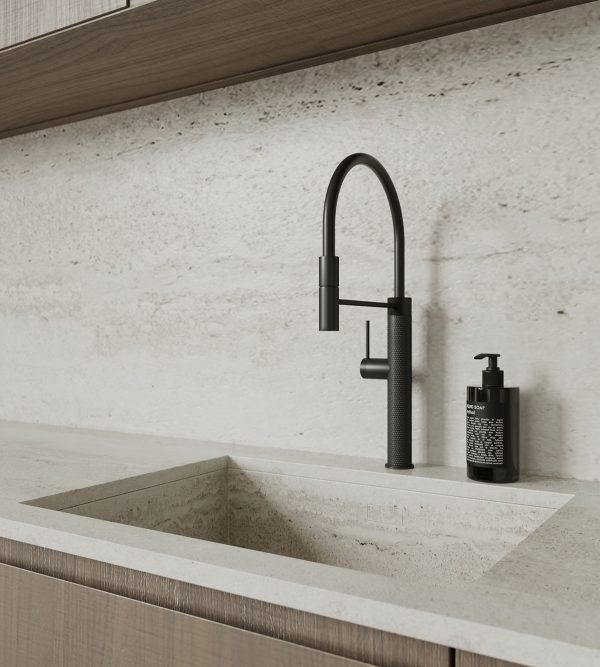 A black kitchen faucet disrupts its clean white stone surroundings.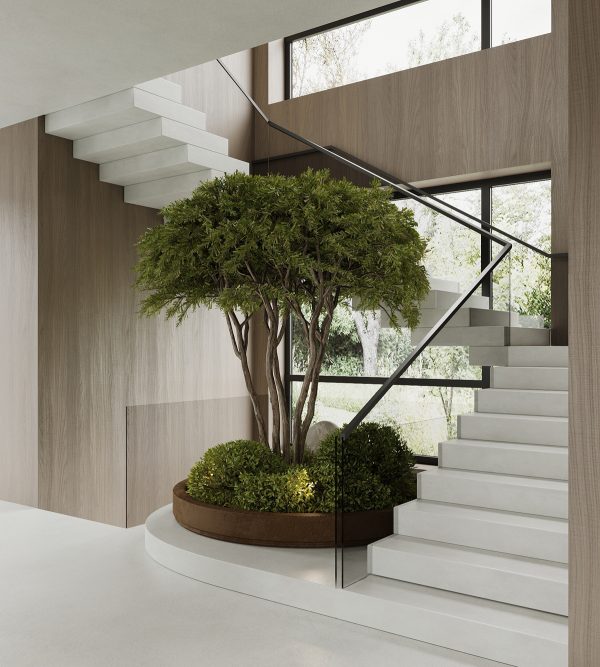 A small courtyard moment has been fashioned within the stairwell. The lush greenery appears vibrant against the crisp white stone staircase design.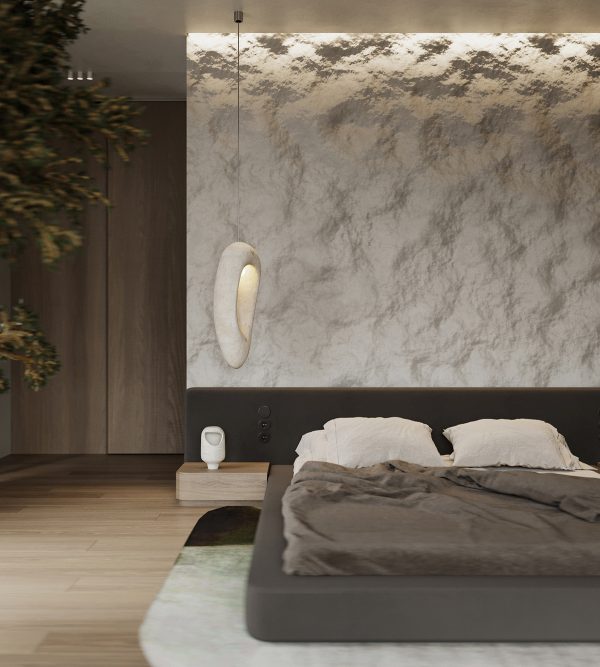 Moving up into the master bedroom, a white rock headboard feature wall dominates the space. A small wooden bedside table flanks each side of a dark charcoal upholstered bed.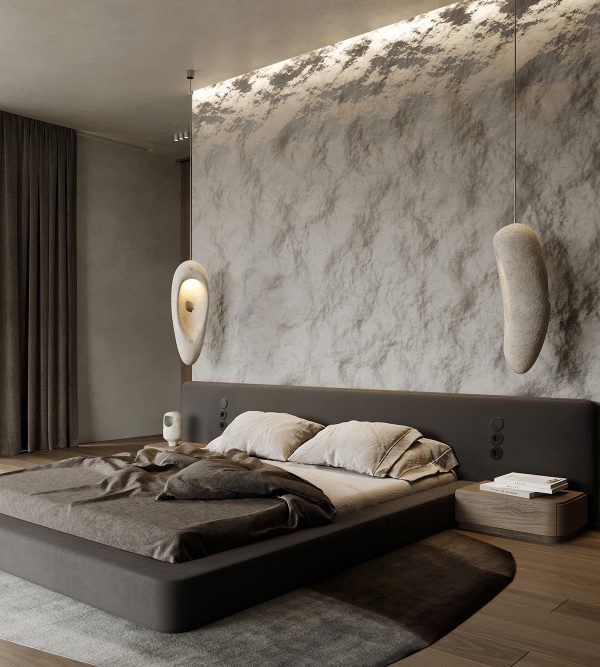 Sculptural bedroom pendant lights complement the rock focal wall. An unusual bedroom rug continues the freeform shape theme.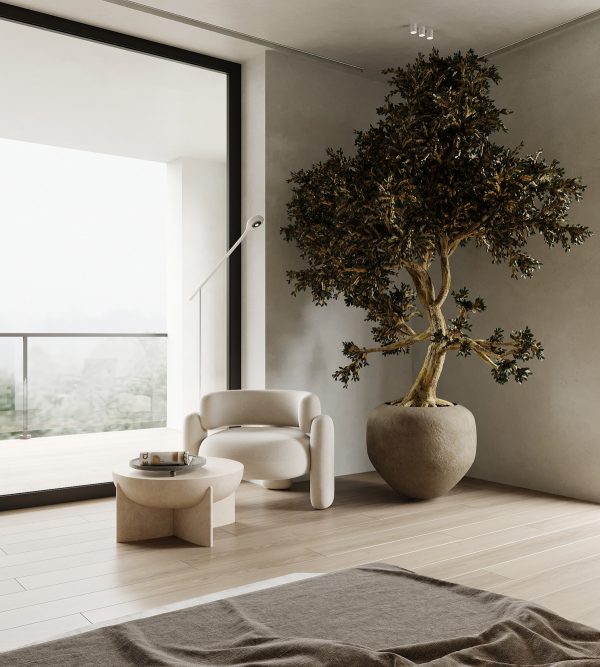 An indoor tree makes a dreamy addition to the bedroom reading nook, where a modern white chair and a contemporary floor reading lamp are grouped with a striking round coffee table.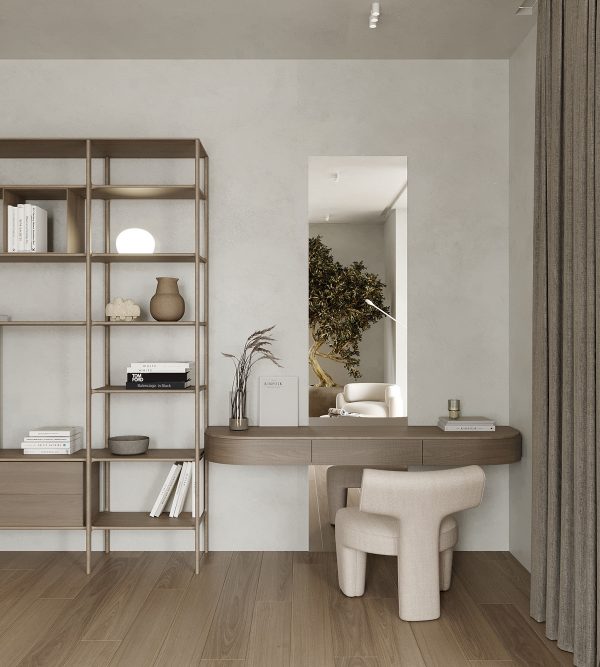 A floating vanity table furnishes the opposite side of the bedroom, next to a freestanding bookcase.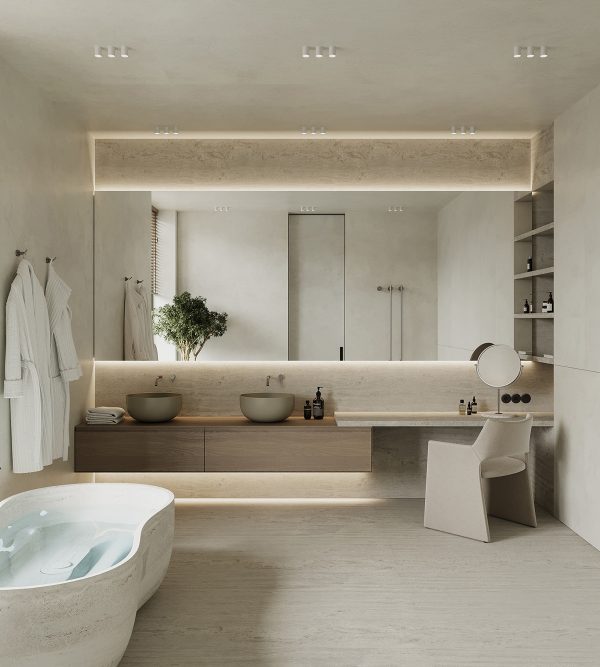 The bathroom is a large space with a built-in dressing table.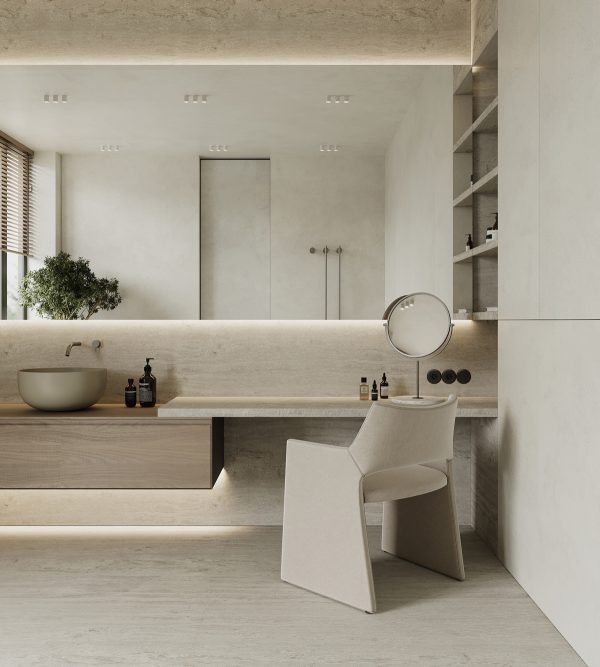 A modern vanity chair completes the dressing table area, which is smoothly integrated into a double sink bathroom vanity unit.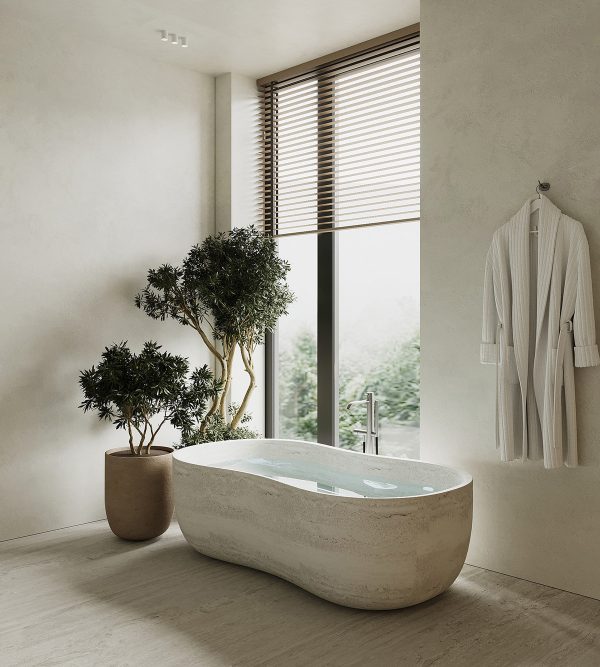 A freeform stone bathtub is placed up at the garden view. Indoor plants bring a touch of nature into the bathroom.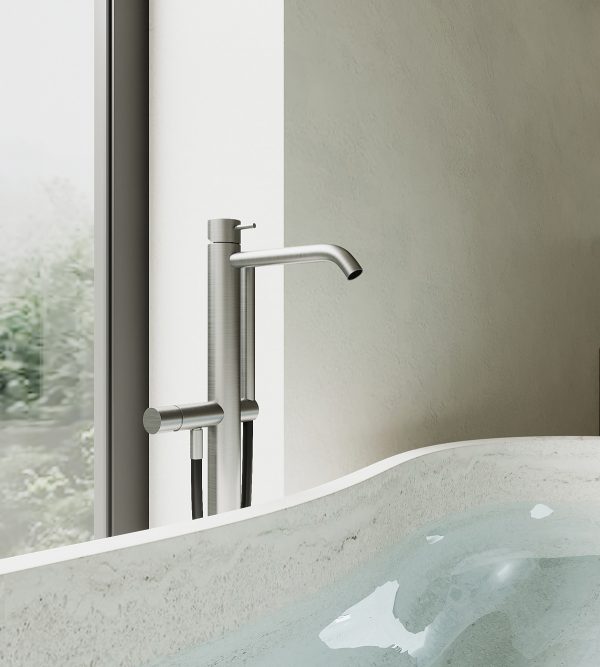 Satin stainless steel fixtures modernly accessorise the timeless sanitaryware.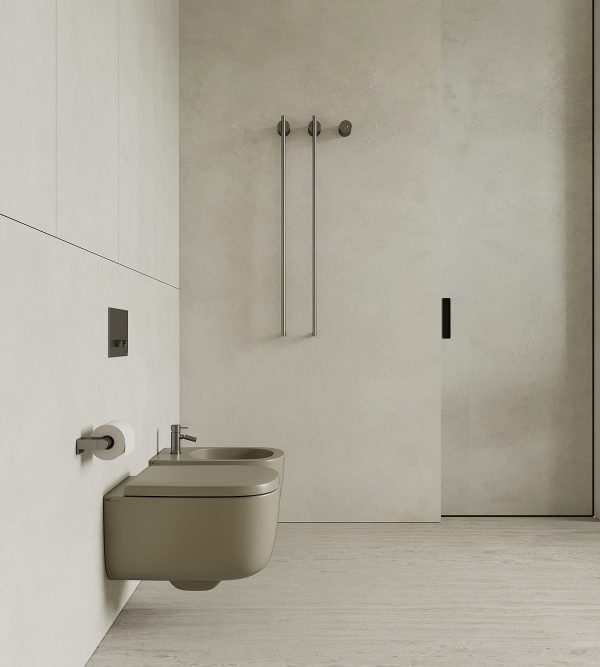 A wall hung toilet and bidet set leave the bathroom floor space clear, which maintains the sense of open space in the room and makes it easier for cleaning.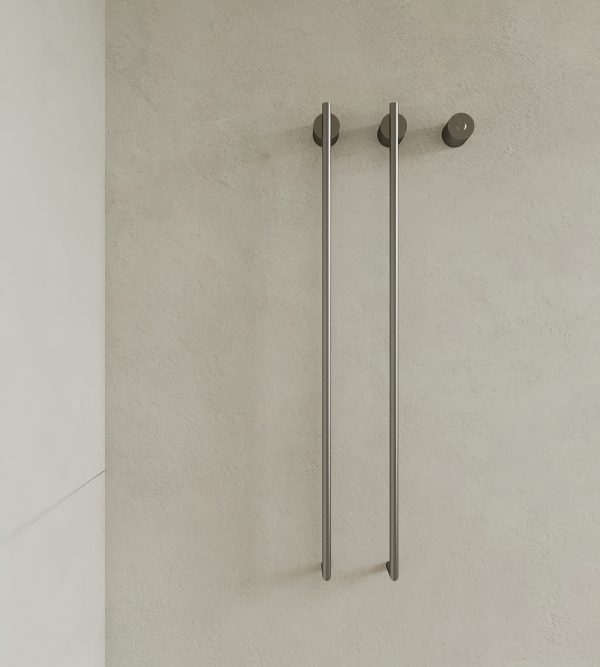 Recommended Reading:  Special Stone & Wood Interiors With Bags Of Style
For more regular updates from Home Designing, join us on Facebook.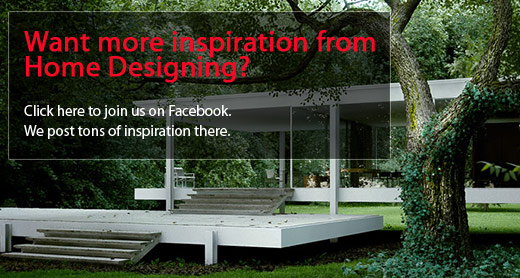 If you are reading this through e-mail, please consider forwarding this mail to a few of your friends who are into interior design. Come on, you know who they are!
Related Posts:
Modern Classic Chairs
Tuscan Style Kitchens
IKEA 2012 Catalog
Powerful Interior Designs With Stone Feature Walls & Furniture
Yellow Themed Rooms