This baked tilapia recipe is bursting with flavor! Pair the fish with lemon, tomatoes and feta for a impressive yet easy dinner.
Here's a tilapia recipe with a total wow factor: this Baked Tilapia with Tomatoes & Feta! The tender, flaky fish is covered in a lemon garlic sauce, cozied up with burst cherry tomatoes, Mediterranean seasonings and gooey bits of feta cheese. If you think baked fish sounds boring, this recipe is for you! Each bite is savory with just the right pop of brightness. It's ready in just over 30 minutes and great for impressing on weeknights or dinner parties. This one has already jumped to star status in our house.
Ingredients for this baked tilapia recipe
This baked tilapia recipe is the ideal healthy dinner that's impressively delicious. To be honest, when we're meal planning the idea "baked fish" never feels that exciting. But this one? It was so tasty the first time we made it, we couldn't wait to share it with you. The zing of the lemon, melty feta and tomatoes, and briny pop of capers make it irresistibly fresh. Here's what you'll need for this recipe:
Tilapia
Cherry tomatoes
Shallot
Garlic
Lemon
Olive oil
Feta cheese
Italian seasoning, red pepper flakes, smoked paprika
Capers
Salt and pepper
Parsley, for garnish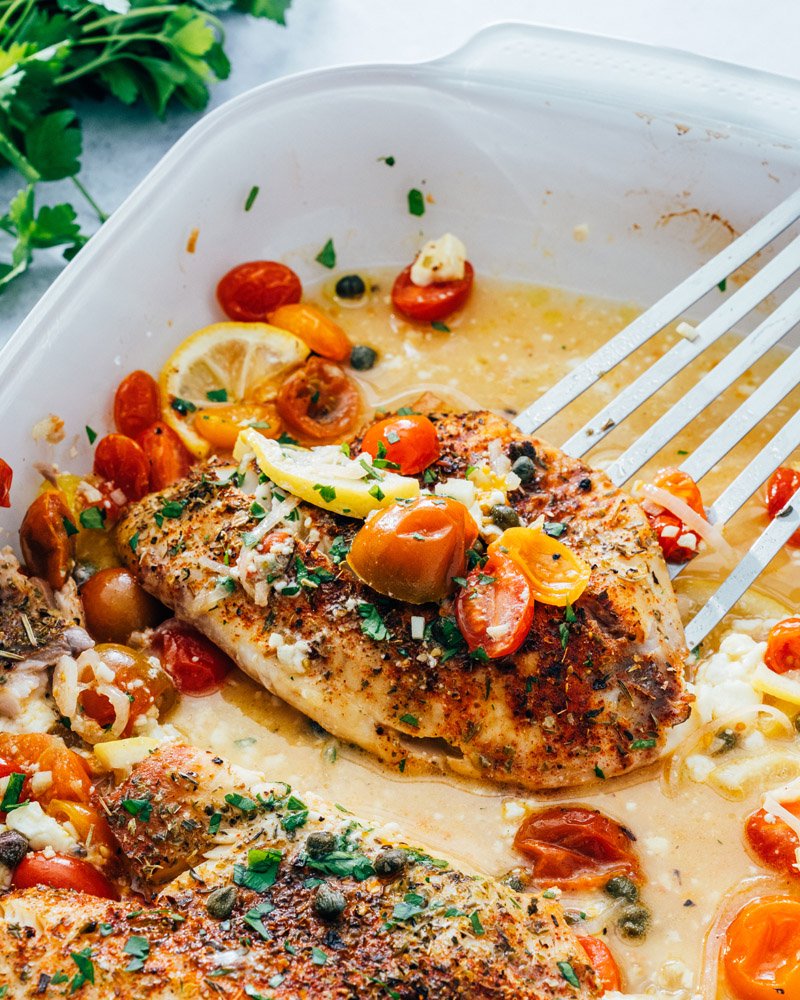 How to bake tilapia
Tilapia is a white fish with a mild, subtly sweet flavor. It doesn't tasty fishy, so it's good for people who think they don't like fish. Tilapia is easy to bake: you can simply season with olive oil and salt, or add the tomatoes and feta like in the recipe below. Like any fish, how long to bake tilapia depends on its thickness:
Preheat the oven to 400 degrees Fahrenheit.
Season the fish with olive oil and salt, and add any vegetables that will be cooking alongside it (see below.)
Bake for 23 to 28 minutes, depending on thickness, until the tilapia is flaky or reaches an internal temperature of 140 degrees Fahrenheit.
A few tips for seasoning
This baked tilapia is one of our favorite weeknight dinner recipes to date, because it looks and tastes so beautifully fun and fresh. A Mediterranean style recipe, it goes big on lemon, garlic and olive oil. Here are a few notes on the seasoning here:
Bake the tilapia with lemon slices, then remove when serving. Mixing the lemon slices right into the veggies makes for bold citrus flavor. Remove them when serving: unless you love very citrusy flavors. If so, you can definitely eat the lemon slices: they're extra tangy!
Don't omit the capers! Capers are a berry of the caper bush that's native to the Mediterranean. They're round and dark green gray, about the size of a peppercorn. Find them in the jarred section next to the olives at the grocery store. Their briny, salty flavor absolutely makes the dish!
Feta is also key. You can omit it for dairy-free diets. But the small melty chunks of feta cheese sprinkled throughout is what makes this dish! We'll admit, we were loosely inspired by the viral TikTok baked feta pasta for this flavor combination: and it's spot on.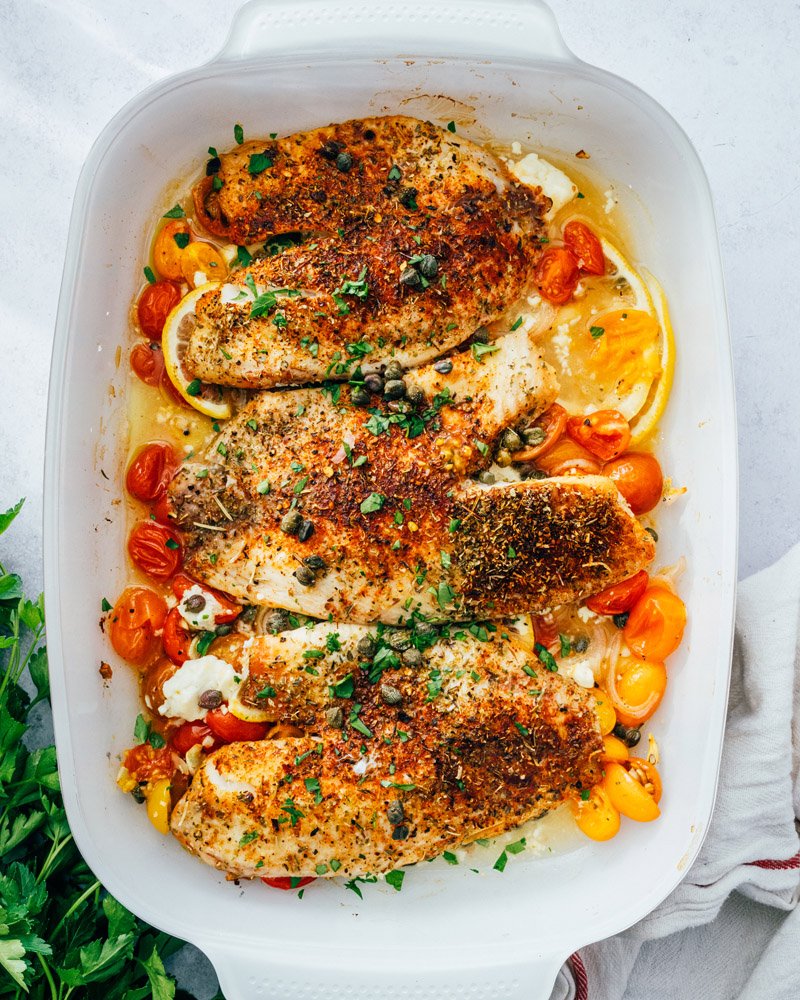 Sides to serve alongside
Make this baked tilapia into a meal by pairing it with a quick salad or veggie side dish! Here are a few ideas that keep the oven free:
Salad like Romaine Salad with Green Goddess, Butter Lettuce Salad, Fennel Salad, Endive Salad, Frisee Salad, Kale Salad or Easy Arugula Salad
Vegetables like Sauteed Green Beans, Pan Fried Broccoli, or Ultimate Sauteed Vegetables
Grains like Spinach Rice with Feta or Perfectly Seasoned Quinoa
Pasta like Easy Angel Hair Pasta or Couscous Salad
More tilapia & fish recipes
Tilapia is a favorite fish around here: it's even milder than salmon, so it's great for pleasing everyone. Here are a few more tilapia recipes to sample:
Make crowd-pleasing Tilapia Fish Tacos
Fire up the grill for Easy Grilled Tilapia
Try 15 Cod Recipes Everyone Will Love or 21 Easy Salmon Recipes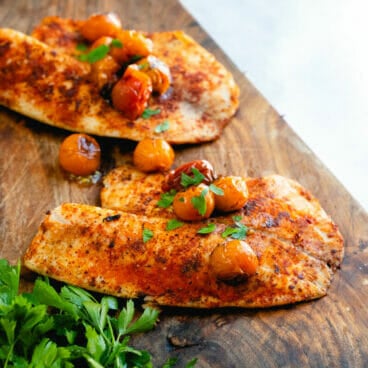 01
Easy Grilled Tilapia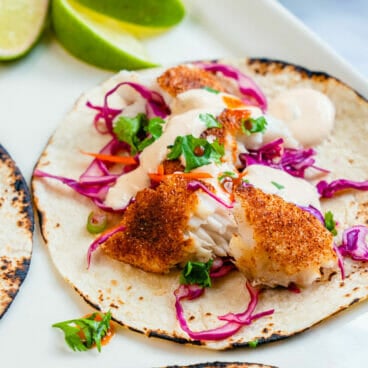 02
Tilapia Fish Tacos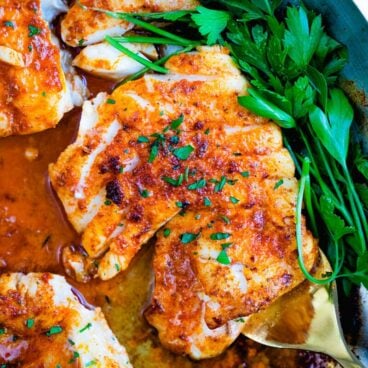 03
15 Cod Recipes Everyone Will Love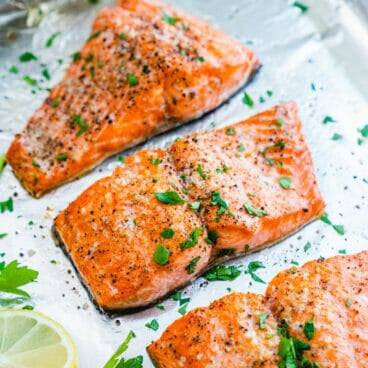 04
21 Easy Salmon Recipes
This baked tilapia recipe is…
Pescatarian and gluten-free. For dairy-free, omit the feta cheese.
Print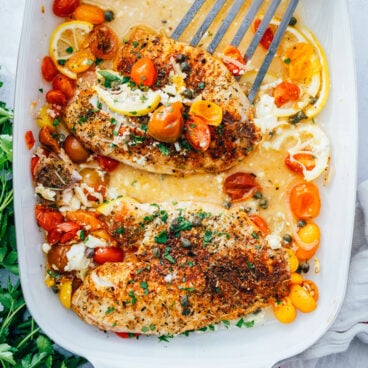 Baked Tilapia
★★★★
4 from 1 reviews
Author:

Sonja Overhiser
Prep Time:

10 minutes

Cook Time:

25 minutes

Total Time:

35 minutes

Yield:

4
Print Recipe
Pin Recipe
Description
This baked tilapia recipe is bursting with flavor! Pair the fish with lemon, tomatoes and feta for a impressive yet easy dinner.
Ingredients
1 pint

cherry tomatoes, sliced in half

1

large shallot, thinly sliced

3

garlic cloves, minced

1

small lemon, thinly sliced into rings

2 tablespoons

olive oil, divided

¾ teaspoon

kosher salt

4 ounce

block feta cheese

1 1/2

pounds tilapia

1 tablespoon

Italian seasoning

1

pinch red pepper flakes (optional)

½ teaspoon

smoked paprika (or standard paprika)

2 tablespoons

drained capers
Finely chopped fresh parsley or basil, for garnish
Fresh ground black pepper
Instructions
Preheat the oven to 400 degrees Fahrenheit.
Chop the tomatoes, shallot, garlic, and lemon as noted above.
Place the chopped vegetables and lemon slices in the bottom of a 9 x 13″ baking dish and mix with 1 tablespoon olive oil, ¼ teaspoon salt, and fresh ground black pepper. Crumble the feta cheese into rough chunks and add it to to the pan, tossing gently to combine.
Pat the tilapia dry. Rub it with 1 tablespoon olive oil and ½ teaspoon kosher salt, split between the filets. Sprinkle both with the Italian seasoning and a few grinds fresh ground black pepper, then add the red pepper flakes and smoked paprika. Sprinkle the capers over the top.
Place the pan in the oven and bake for 23 to 28 minutes (depending on the thickness of the fish), until the fish is flaky and the internal temperature is 140 degrees Fahrenheit when measured with a food thermometer. Garnish with chopped parsley and remove the lemon slices when serving (or eat them if you like!).
Category:

Main dish

Method:

Baked

Cuisine:

Mediterranean

Diet:

Gluten Free
Keywords: Baked tilapia, tilapia recipe

Did you make this recipe?
Tag @acouplecooks on Instagram and hashtag it #acouplecooks
A Couple Cooks – Recipes worth repeating.