Air France – KLM has launched Points.com product available with many other partners called Multiply Miles that Flying Blue has branded as Accelerate Miles.
Flying Blue states that you can double, quadruple, or sextuple the miles you earned with their partners on the previous calendar month, but it doesn't work as intended.
You can access Flying Blue's page for buying and accelerating miles here.
The website indicated that I could quadruple Flying Blue miles that I had earned from a Fairmont stays. There is a timing issue how Flying Blue groups flights on a ticket and dates them in your statement.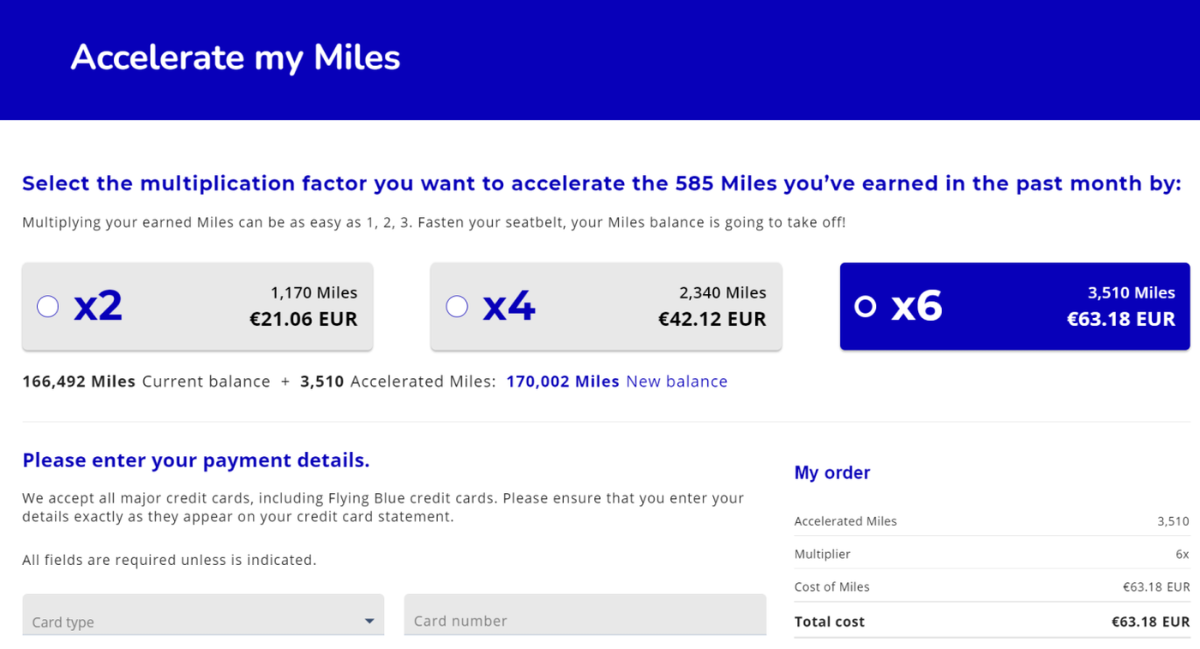 I had AeroMexico flight credited to my account in December, but it is now moved to January with many other flights on the same PNR.
The Flying Blue miles are priced at 1.8 euro cents each when you multiply them. Much more expensive than buying when they are offered on 100% bonus.
Conclusion
Flying Blue sells miles at 1.38 euro cents during frequent sales, and there is no limit to how many elite members can purchase. Therefore, Accelerate Miles may make some sense if you need a small number of miles when they are not on sale.
Here are the terms and conditions of Multiply Yours Miles:
Price includes all applicable fees

Members have the right to withdraw their purchase in whole and not in part within 14 working days of the date of purchase without penalty and for any reason. After this period, the accelerated Flying Blue Miles are non-refundable

Accelerated Flying Blue Miles will be posted within 72 hours

Accelerated Flying Blue Miles do not count towards qualification for any increased or improved status in the Air France-KLM Flying Blue Programme

All standard Air France-KLM Flying Blue Programme terms and conditions apply

Air France-KLM reserves the right to change the pricing and terms of the Accelerate option at any time

The total Miles Explorer members may purchase after acceleration has been applied is 100,000 Miles per transaction; and 100,000 Miles in each calendar year.

The total Miles Elite members (Silver, Gold, and Platinum members) may purchase after acceleration has been applied is up to 300,000 Miles per transaction, and 999,999 Miles in each calendar year.

Members can accelerate by purchasing 2x, 4x or 6x the amount of such Flying Blue Miles already earned from qualifying activity

Members are not eligible to accelerate, if they have already accelerated their Miles once

GST/HST/QST is charged to Canadian residents

All charges for purchases and related handling fees will appear with the description "PointsFlyingBlueMiles" on your credit card statement.