One of the things I've been working on recently is a collection of recipes I've created specifically for the members of my site. I mined my notebooks from the past few years to create a collection of favorite spice blends, seasonings, sprinkles and the like. A little magic for your food. The blends are bold, flavor-packed, and meant to be delicious and fun. They're the ones I use regularly, the ones in my notebooks with lots of stars and hearts next to them. Let's dive in! *Note: if you're already a member (thank you!) the PDF will be in the downloads section of your account.
Spice Blends for the Win
One of the best ways to personalize your cooking is by using spices, herbs, edible flowers, seeds, and zests. You can highlight each ingredient individually or combine multiples into punctuating seasoning and spice blends. The components can be electric with flavor, vibrant in color, and often have deep and rich histories of culinary use. Today I'm highlighting one of my favorite custom spice blends (Mandarin Marjoram Salt), along with glimpses of some of the other recipes included in the collection.

Mandarin Marjoram Salt
I'm going to include the recipe for this blend down at the bottom of the post. With citrus accents, fennel and sesame seeds, dried marjoram and lemon verbena this salt is a multi-purpose ringer. It's the perfect finishing touch on avocado toast, guacamole, or scrambled eggs. It's also great on hummus, and as a bread crumb seasoning. My absolute favorite way to use it is as a generous sprinkle on top of a silky, simple pureed carrot soup with a finishing thread of good olive oil. The recipe is at the bottom of this post.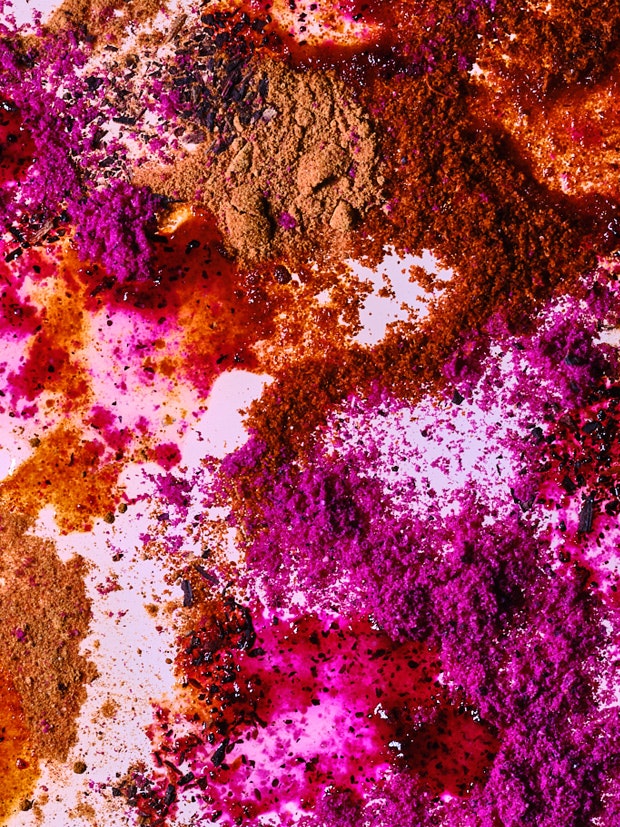 Pink Dragon Dust
This dust comes to life when stirred into ingredients like honey, nut butters, or yogurt – all to taste. It's also great sprinkled across the top of fruit salad. The recipe is included in the Spice / Herb / Flower / Zest recipe collection.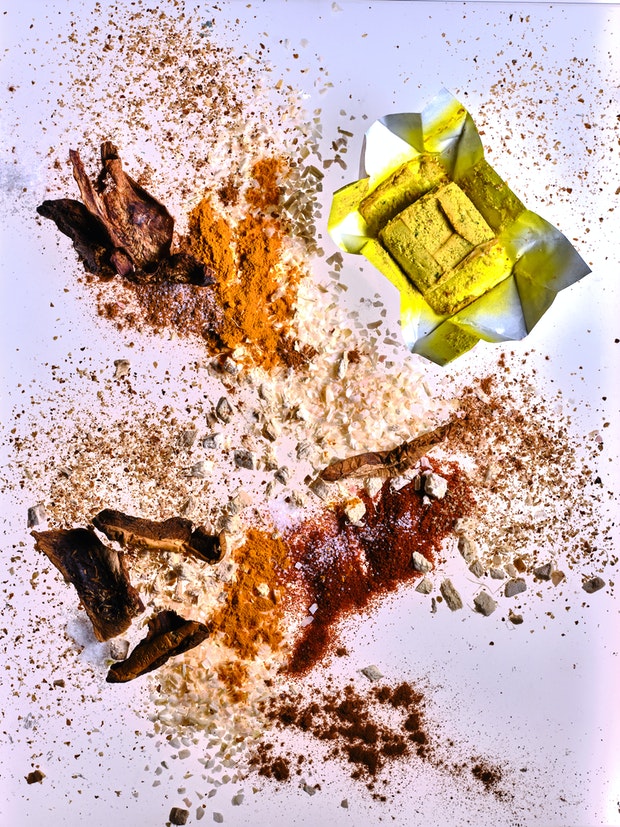 Diablo Powder
This is what I think of as a "dry" soup or curry starter. I like to make up a few little dry spice pouches whenever we go camping or take our Airstream out. They make for easy one-pot, just-add-water style meals. Add whatever protein and vegetable you have on hand. This broth mad from this spice blend is warming and chile-forward, but also grounding from the mushrooms. A finishing splash of coconut (or cashew milk) brings everything together. The recipe is included in the Spice / Herb / Flower / Zest recipe collection.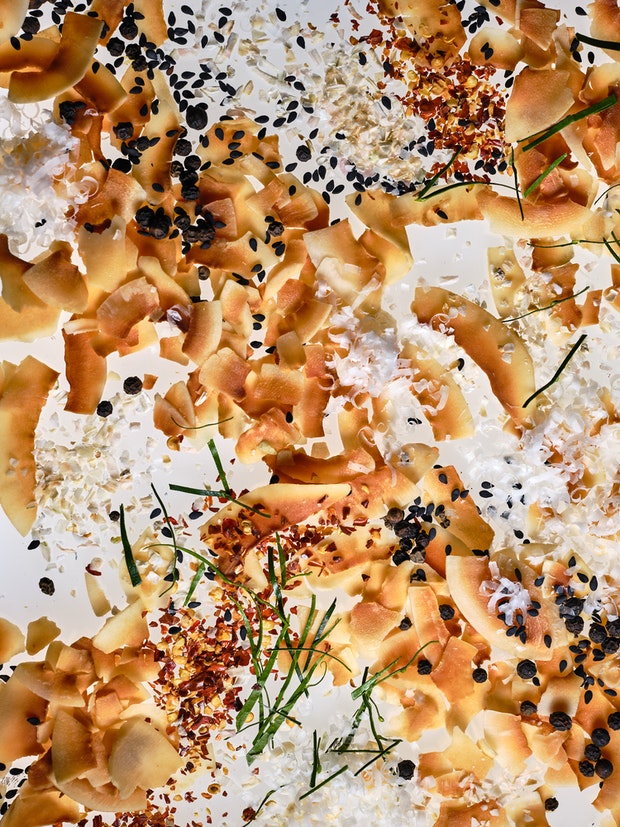 Toasted Coconut Pepper
With black peppercorns, sesame seeds, toasted coconut flakes, lime, dried garlic or onions, and grated cheese to finish, this seasoning blend is good on everything. You can't go wrong keeping a little container front and center in your kitchen. The zest (or leaves) of the uniquely fragrant makrut limes make this extra special, but any limes will work great. Work this combo generously into butter for a fantastic compound butter perfect on roasted sweet potatoes. Or, sprinkle it across your favorite grain bowls. I like it on soba as well. The recipe is included in the Spice / Herb / Flower / Zest recipe collection.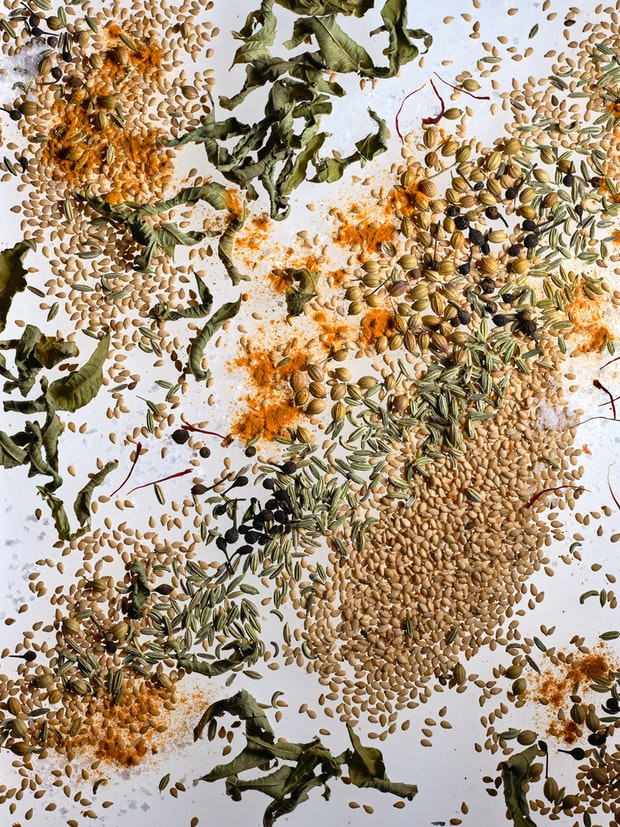 Golden Sesame Sprinkle
There's a lot going on with this hearty blend making it a fragrant fennel-flecked closer that you can use generously. The sesame seeds provide a substantial foundation, the coriander and lemon verbena bring bright citrus notes, and you get a kick from the peppercorns. It's not shy sprinkled on salted yogurt, accenting brown rice, or tossed with roasted asparagus. The recipe is included in the Spice / Herb / Flower / Zest recipe collection.

Salad Booster
I often carry a small vial of this spiced kale and nori medley in my purse, refilling it every few days. It's a blend of seaweed, crisped kale, seeds, and a few wildcards. Nutrient-dense and delicious, you can use it as a healthful seasoning for salad, vegetables, stir-fries – whatever you like. Get the recipe here or in the Spice / Herb / Flower / Zest recipe collection.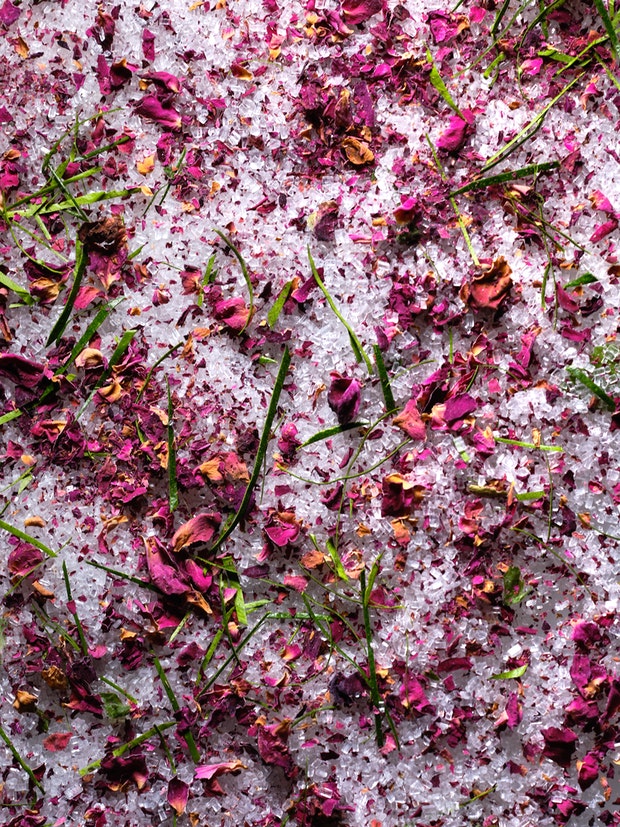 Rose Geranium Lime Sugar
Keep an eagle eye out for rose geranium at your local nursery, the leaves perfume the world around them – perfect for infusing sugars, alcohol, and baked goods. Try this floral sugar sprinkle as a finishing touch on everything from waffles to muffin tops, berry crisps to apple pies. The recipe is included in the Spice / Herb / Flower / Zest recipe collection.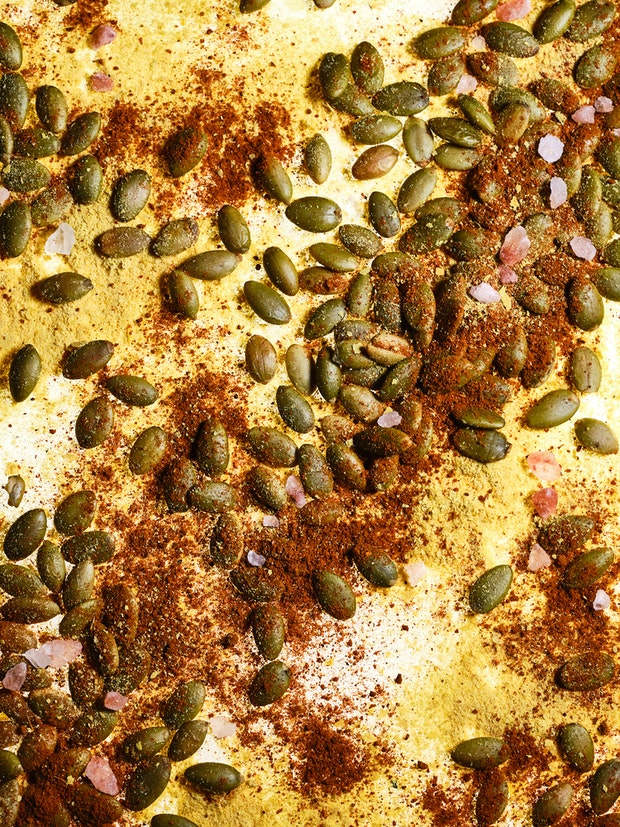 Yeast Beast
If you're not using nutritional yeast as a seasoning component, you're missing out. The only thing I reach for more often is sea salt. Nutritional yeast can add a cheesy savoriness to pasta, savory toasts, biscuits, crepes, and just about anything else you can imagine. I love it spiked with curry powder and cut with ground, toasted pepitas. This combo has been a finishing touch on the last pizza I baked, topping for a breakfast bowl of spicy congee, and a kiss of magic on a simple, green lunch salad. The recipe is included in the Spice / Herb / Flower / Zest recipe collection.
Using Spice Blends
Use these seasoning and spice blends to flavor your curries, rim your cocktail glasses, churn into compound butters, press into cookie dough, whisk into dressings, and sprinkle on toast. My hope is you'll then jump off and explore making your own creations. Have fun! 
Continue reading 8 Homemade Spice Blends on 101 Cookbooks