Nothing helps to brighten up a dark winter evening more than a festively-decorated home. Whether you prefer a more subtle approach to winter decor or want to become the most eye-catching house on the block, we've collected a wide variety of outdoor-friendly items sure to suit your needs. From string lights to faux topiaries to statuettes and inflatables, there's something here for every holiday decor style. Transform your yard, patio, or balcony into a brilliant winter wonderland using the ideas below for jolly inspiration. You just might find yourself starting a brand new Christmas tradition to enjoy for years to come.

$32

BUY IT
Outdoor Hanging Christmas Snowflakes: Looking for a more dramatic take on the traditional outdoor Christmas light setup? These oversized snowflake lights are sure to make a festive impression. Each string includes six oversized snowflakes along a 7.5 foot cord, perfect for tall porch overhangs and narrow rooflines. Use the included blink bulb to create a dazzling twinkle effect.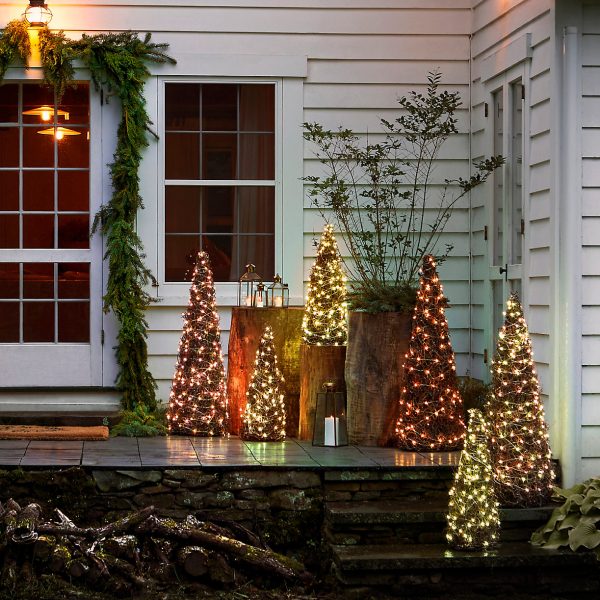 $88

BUY IT
Christmas Vine Cone Light Stands: These cone-shaped forms are crafted from beautifully preserved vines, elegant for display on their own or adorned with your favorite Christmas lights. This collection by Terrain includes vine cones in a wide variety of sizes accompanied by a wide selection of high-end outdoor light strings. Each Stargazer light strand offers 16 million colors to choose from so you can create the perfect complement for your outdoor Christmas decor.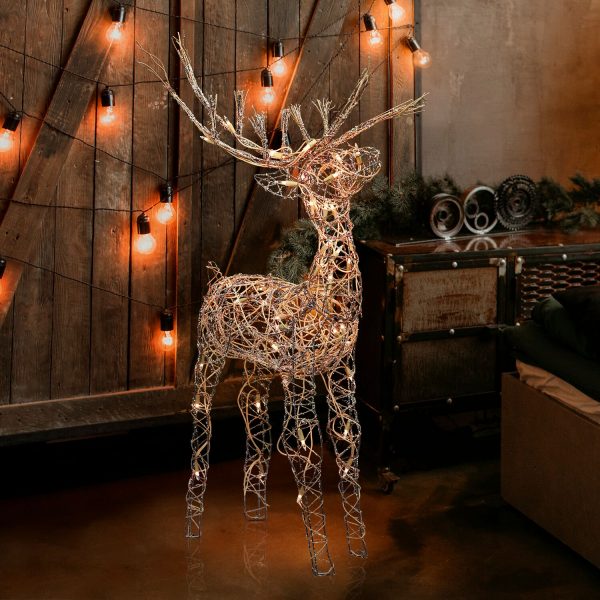 $64

BUY IT
Rattan Outdoor Lighted Reindeer: This elegant reindeer silhouette is crafted from durable iron wire made to look like natural rattan, providing a sophisticated aesthetic in daytime and nighttime alike. Each deer is equipped with 50 bulbs to provide a gentle glow throughout those cherished holiday evenings.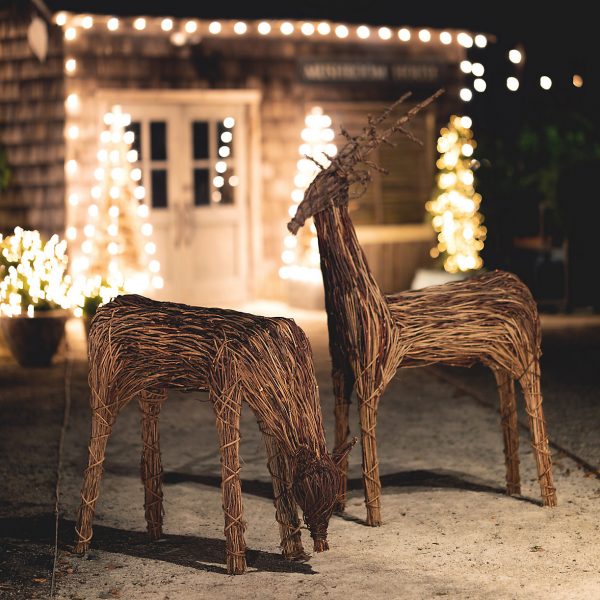 $226

BUY IT
Outdoor Grazing Deer Christmas Garden Statue: For a designer take on the classic reindeer yard decoration, these sculptural beauties are sure to satisfy. Each one is a true work of art – handcrafted from natural round vine worked into an elegant grazing or standing silhouette. Display alone or drape with your favorite lights to create a whimsical nighttime display.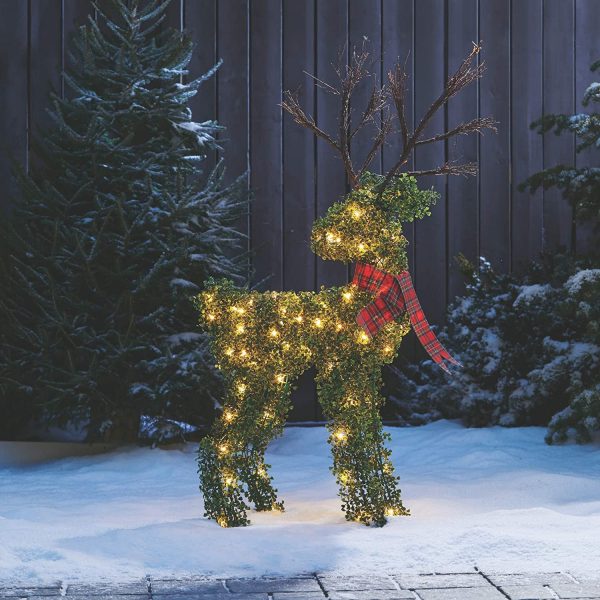 $99

BUY IT
Topiary Christmas Reindeer Decoration: Beautiful for snowy landscapes and temperate environments alike, this topiary reindeer decoration provides charming character in any setting. This deer measures at just over 4 feet in height and is equipped with 100 incandescent bulbs for radiant illumination in the evenings.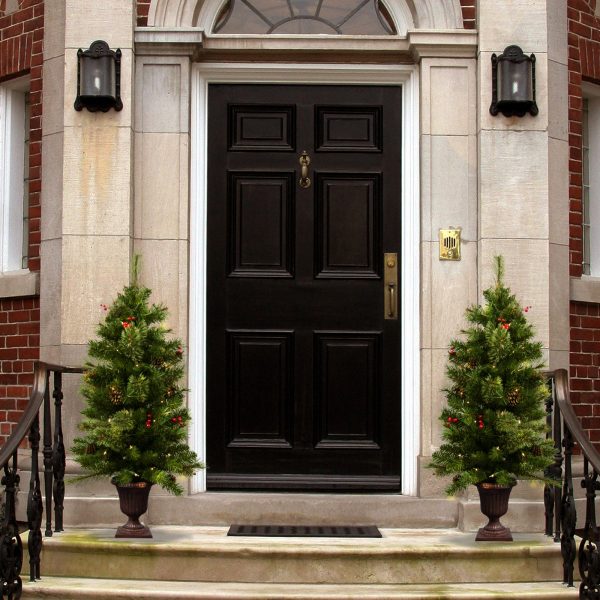 $30

BUY IT
Outdoor Lighted Potted Christmas Tree: Adorned with water-resistant lights, these small artificial trees are perfect for decorating outdoor spaces like balconies and patios. Display as-is or hang your favorite ornaments to add a personal touch. Each set includes one tree – the decorative urn planter is included.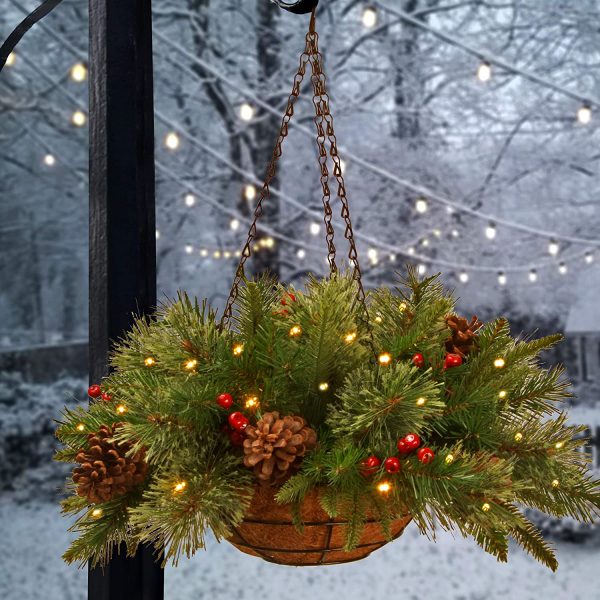 $50

BUY IT
Lighted Outdoor Hanging Christmas Planter: This hanging Christmas foliage basket is equipped with realistic pine boughs, pinecones, and bright red berries. Warm white LEDs are strung throughout, the lights powered by battery for cordless convenience. Suspend this basket from a porch overhang or use along a walkway with any garden basket hook.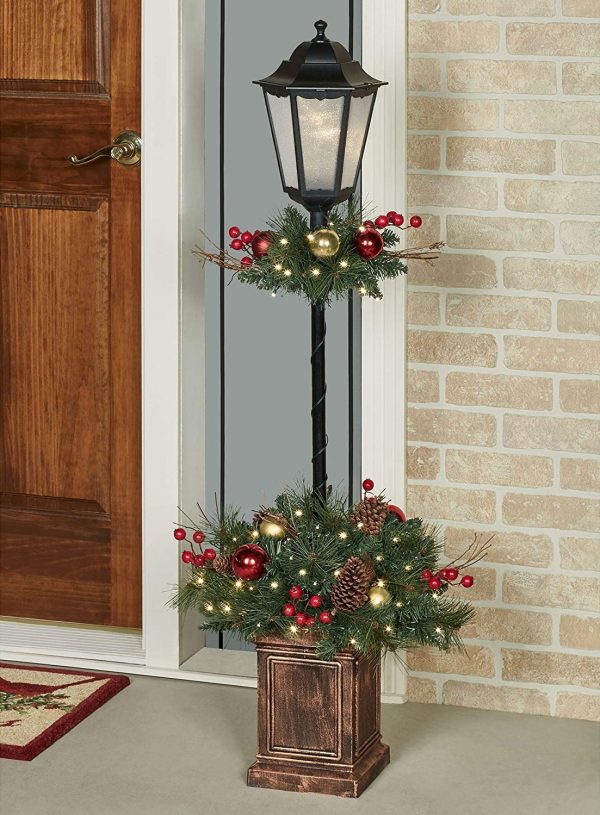 $165

BUY IT
Outdoor Christmas Lamp Post Decoration: Light up your patio with this beautiful Christmas lamp, accented with festive evergreen needles with various baubles and berries. This piece is powered by two D batteries and controlled with a convenient timer for cordless operation. This piece is recommended for covered outdoor areas away from direct rain.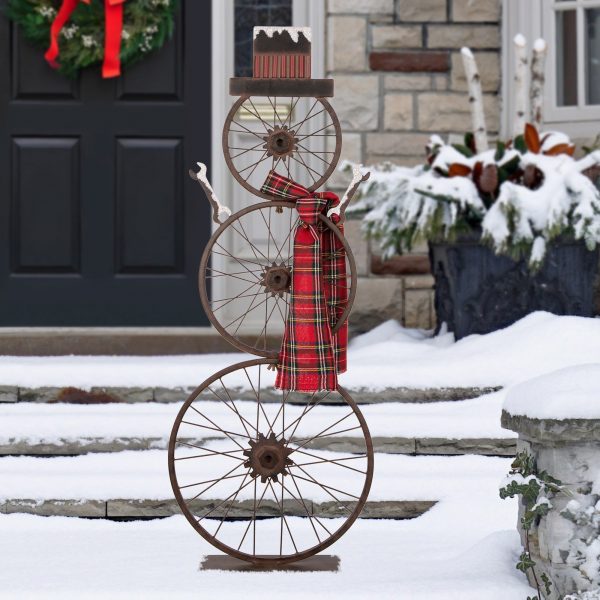 $42

BUY IT
Rustic Outdoor Snowman Christmas Decoration: Crafted from durable faux-weathered iron, this charming snowman statue mimics the look of recycled bicycle tires and tools – a fun rustic accent for traditional and country Christmas decor themes. It's a weather resistant option for use anywhere throughout your yard.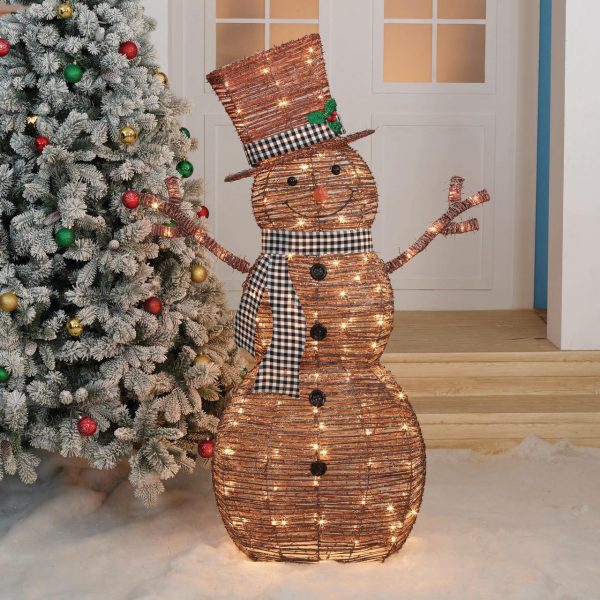 $36

BUY IT
Rustic Outdoor Lighted Snowman: Faux rattan construction gives this lighted snowman statue a whimsical rustic charm. Each snowman measures at 60 inches in height and is equipped with 150 incandescent lights for an attractive look both in the daytime and at night. Collapsible construction allows for easy storage between seasons.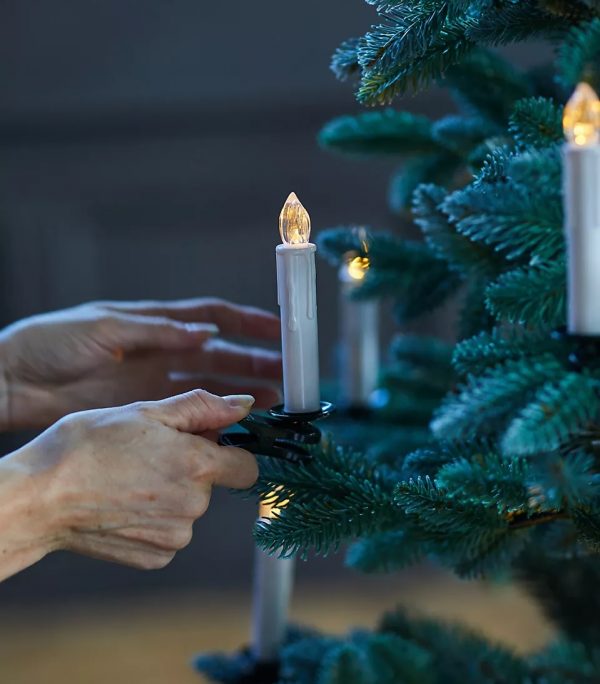 $58

BUY IT
Outdoor LED Clip-On Christmas Candles: Are you looking for a fun way to illuminate your outdoor bushes, trees, and greenery with a classic twist? These LED candle lights capture a sense of nostalgic tradition but with all the convenience of modern features. Simply equip each candle with a AAA battery, clip on your chosen branch, and enjoy. The lighting can be controlled with a timer or with the included remote.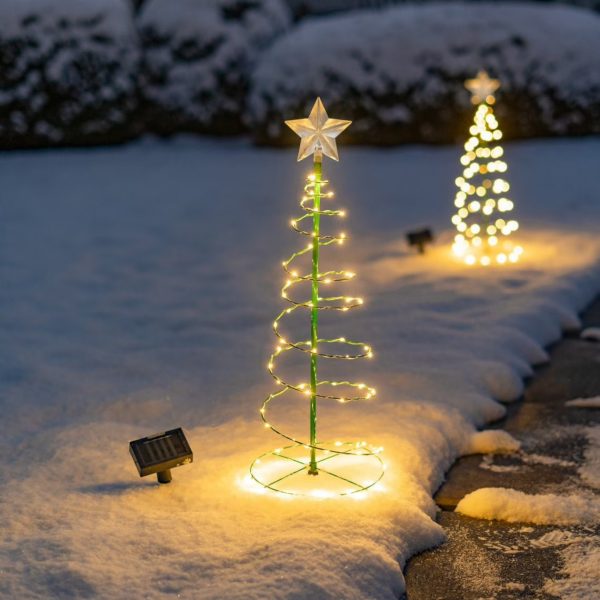 $29

BUY IT
Small Solar Outdoor Christmas Trees: Decorate your walkway without any extension cords using these lighted spiral Christmas tree decorations. Each one is illuminated by warm LED lights, powered by an included solar panel for eco-friendly lighting all throughout the night. Each tree is sold individually.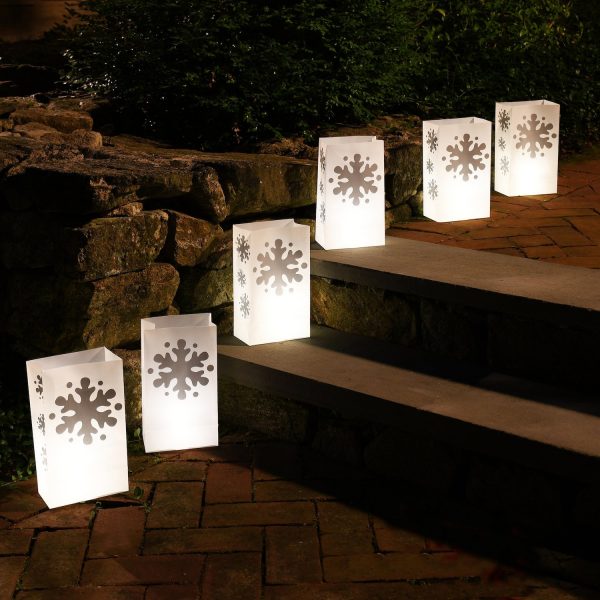 $59

BUY IT
Christmas Snowflake Outdoor LED Luminaria Kit: Luminarias are a truly classic holiday accent, but the real thing can be a bit high maintenance. This set is powered by LED tealights rather than real candles, each bag made from plastic for weather resistance and long-lasting reusability. Each set includes 12 luminaria kits.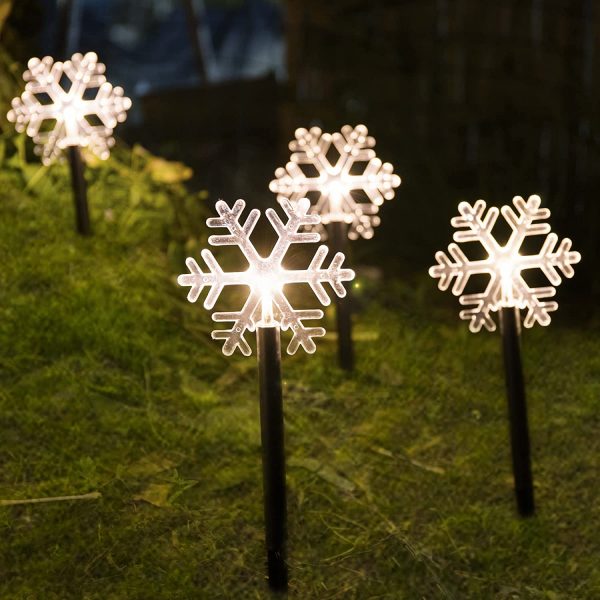 $18

BUY IT
Solar Christmas Snowflake Path Lights: These snowflake-shaped pathway lights are perfect for brightening your walkway or driveway all throughout the holiday season. Each set includes 5 warm white LED snowflakes with long black stakes, the string equipped with a convenient timer to help prolong the life of the required AA batteries.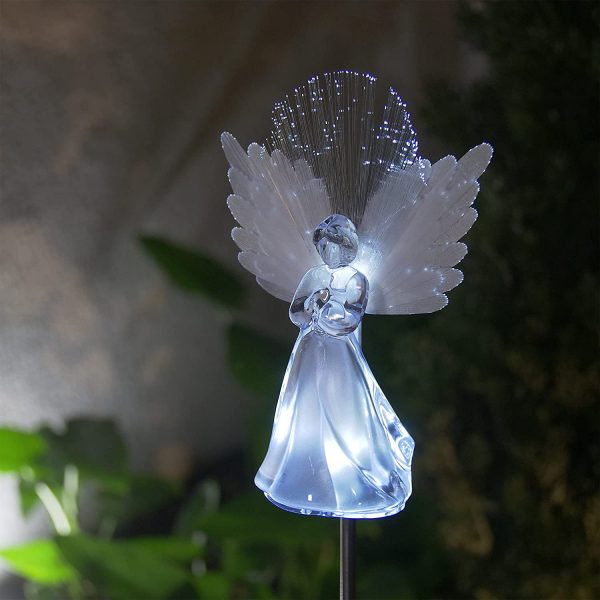 $39

BUY IT
Solar Outdoor Angel Christmas Lights: Fiber optic wings give these angel-shaped pathway lights an especially ethereal glow sure to make your holiday walkway feel even more enchanting. Each set includes two angels with accompanying solar panels attached directly to the sturdy metal stake. These high-end pathway markers are durable enough to use year after year.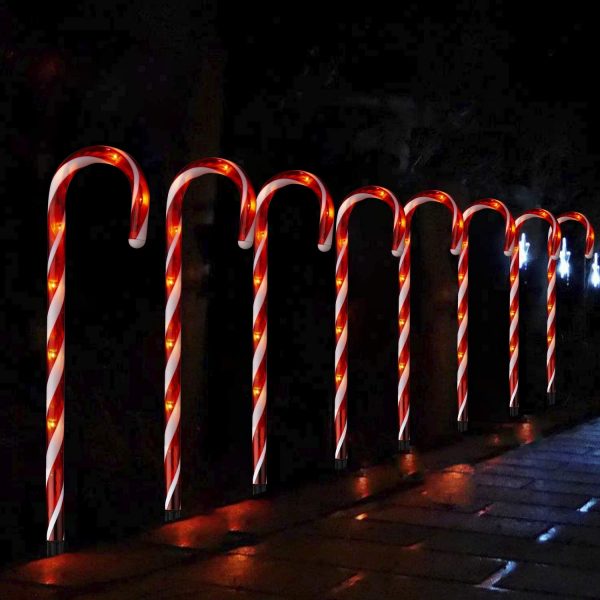 $34

BUY IT
Outdoor Christmas Candy Cane Path Lights: Candy cane pathway lights are a timeless Christmas decoration, offering holiday nostalgia for the entire neighborhood to enjoy. This set includes 10 candy cane lights and up to 15 sets can be connected to line your entire sidewalk or driveway. These candy canes can also be hung from a patio or railing.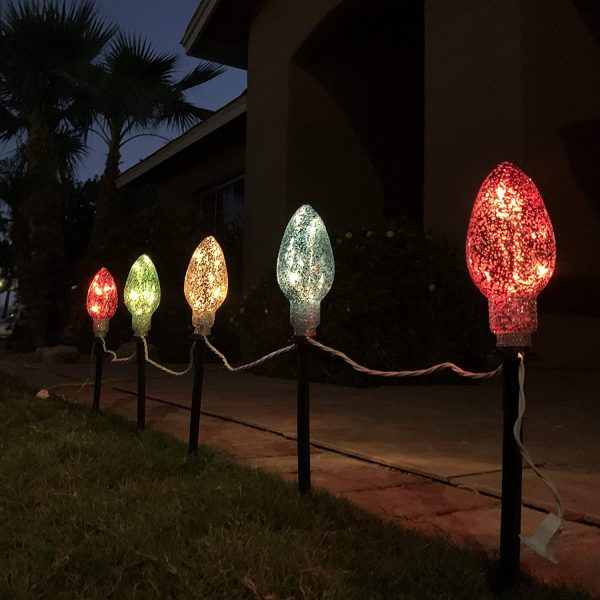 $41

BUY IT
Vintage Jumbo Bulb Christmas Path Lights: These oversized Christmas bulb pathway markers offer a bold look sure to capture attention from a distance away. Every bulb is finished with a crackle effect for an old-school vintage look. This set includes two strings with five bulbs each, but more can be connected to line a longer pathway.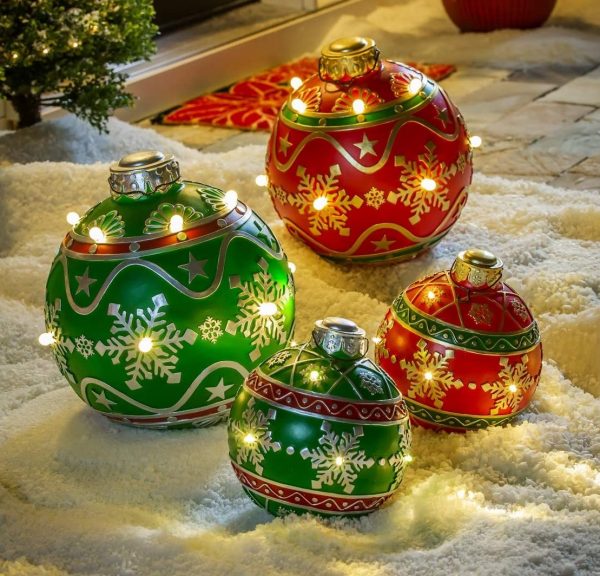 $53

BUY IT
Lighted Outdoor Oversized Christmas Baubles: Giant baubles can be a fun way to decorate your yard just like a Christmas tree. Evergreen Garden offers oversized Christmas baubles that are fade-resistant and weather-resistant for durable seasonal display, each one lighted with battery power for cordless simplicity. Choose from two sizes and two colors.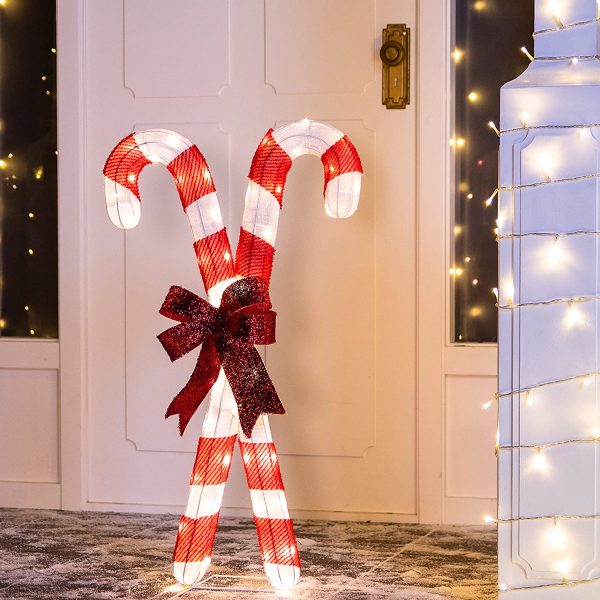 $44

BUY IT
Outdoor Tinsel Candy Cane Christmas Statue: Measuring at almost 3 feet in height and outfitted with 50 warm white LEDs, this oversized candy can statue is sure to help your family and neighborhood get into the holiday spirit. Colorful tinsel upholstery ensures this decoration will remain just as beautiful during the daytime.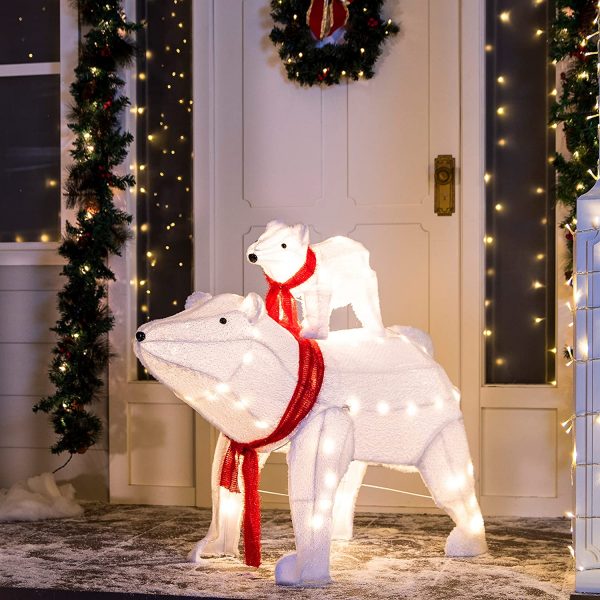 $139

BUY IT
Outdoor Polar Bear Christmas Decorations: Charming polar bears will lend tremendous character to any holiday decor arrangement. This set includes two individual polar bears – parent and baby – which can be arranged together or apart however you wish. Each one is upholstered with a plush weather-resistant material, both pre-wired with efficient LED lights.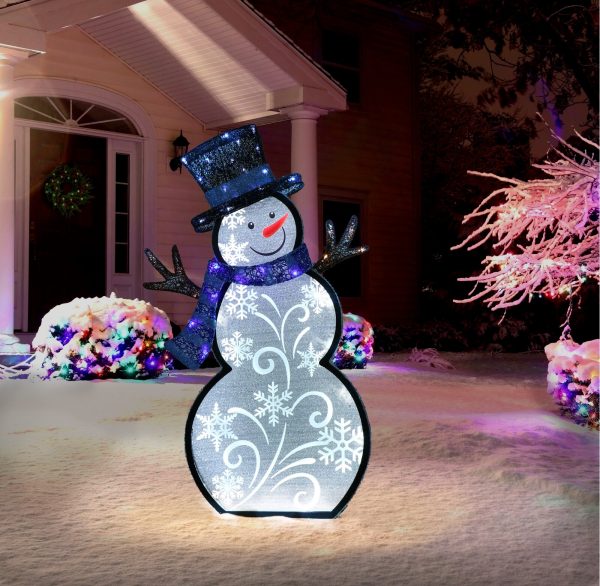 $119

BUY IT
Modern Snowman Outdoor Christmas Decoration: Two-dimensional decorations like this illuminated snowman are ideal for a variety of placements – great for use alongside a building, in a small flowerbed area, or even on a balcony. This piece features modern flourishes and a bold blue colorway to give your Christmas display a chic and contemporary look.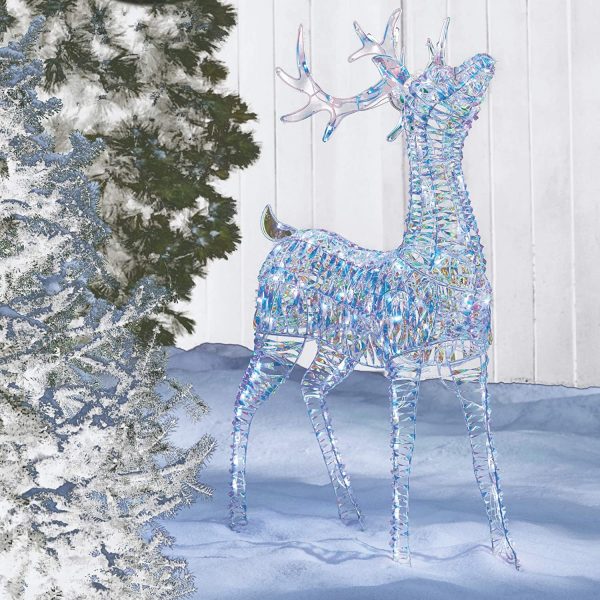 $119

BUY IT
Iridescent Outdoor Reindeer Decoration: Iridescent materials allow this gorgeous reindeer figure to sparkle with a spectrum of color even in the daylight, becoming even more dazzling when illuminated at night. Each one includes 105 cool white LEDs, UL-rated to withstand winter weather and wear.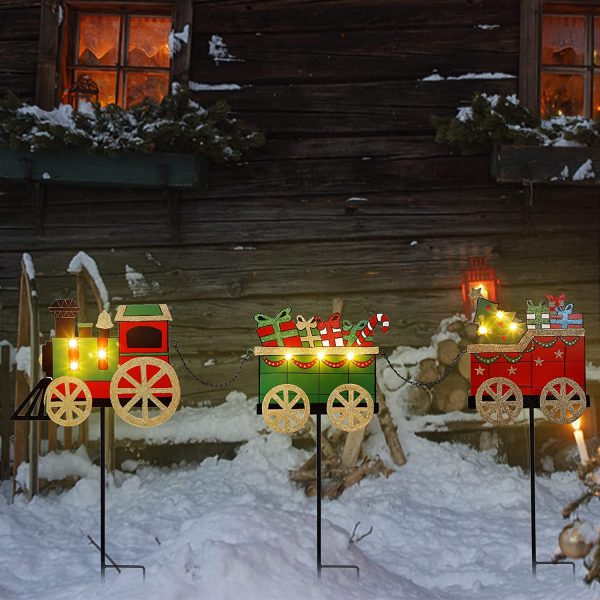 $29

BUY IT
Metal Christmas Train Outdoor Decorations: Crafted with an especially nostalgic look, this whimsical train decoration is perfect for classic Christmas displays. Each piece is made from durable metal, painted with a strong and colorful finish for excellent weather resistance. Each one is adorned with simple LED lights to make a charming statement at night.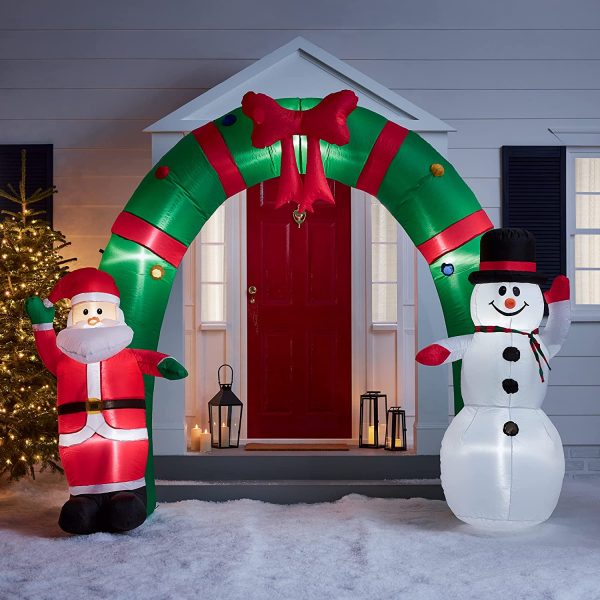 $85

BUY IT
Outdoor Inflatable Christmas Arch Decoration: Transform your entryway into a whimsical winter wonderland with this inflatable arch decoration – a fun way to welcome guests to an upcoming holiday party. This arch measures at 8 feet in height, equipped with a long 16 foot lead wire for flexible placement possibilities.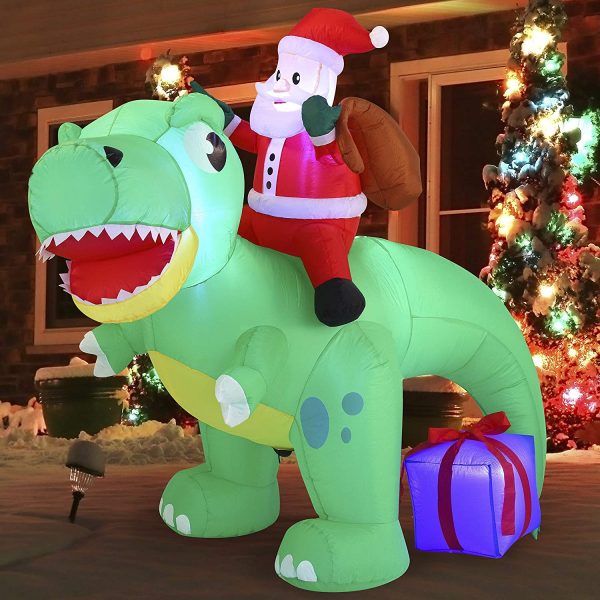 $69

BUY IT
Santa Riding T-Rex Christmas Inflatable: Looking for something to set your home apart from the rest? This quirky inflatable outdoor Christmas decoration features a ferocious t-rex that was kind enough to let Santa hitch a ride. This piece includes ground stakes, ropes, built-in sandbags, built-in LED lights, and everything else you need to spark smiles throughout the neighborhood.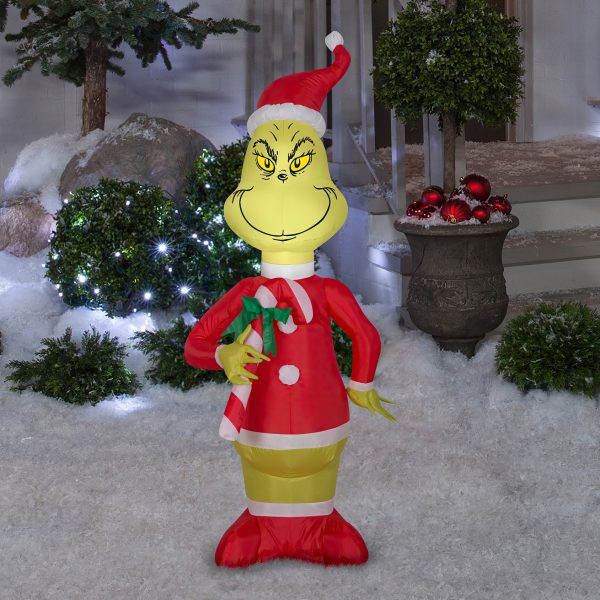 $61

BUY IT
Inflatable Grinch Outdoor Christmas Decoration: Instead of stealing Christmas, this inflatable Grinch will add so much charm to your holiday display. This outdoor Christmas decoration is self-inflating for easy setup and storage. This piece measures at approximately 4 feet tall and includes everything you need for installation.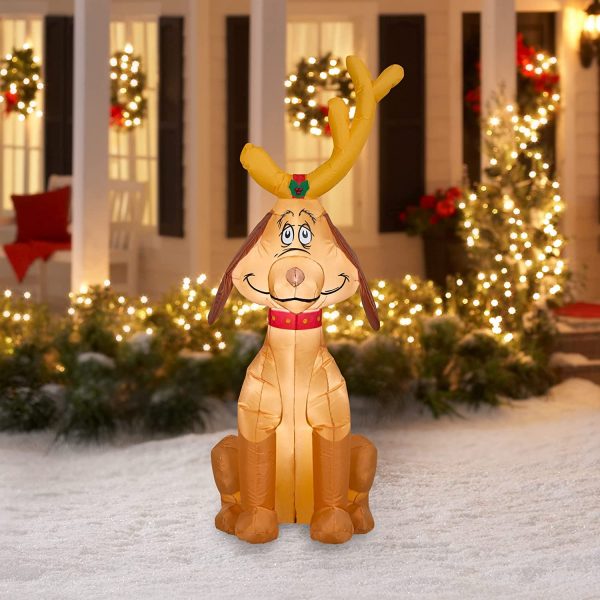 $60

BUY IT
Outdoor Max the Dog Grinch Christmas Decoration: A Grinch-themed Christmas display isn't complete without the Grinch's lovable dog Max. This inflatable is the perfect complement for any Grinch inflatable, or it can be displayed on its own.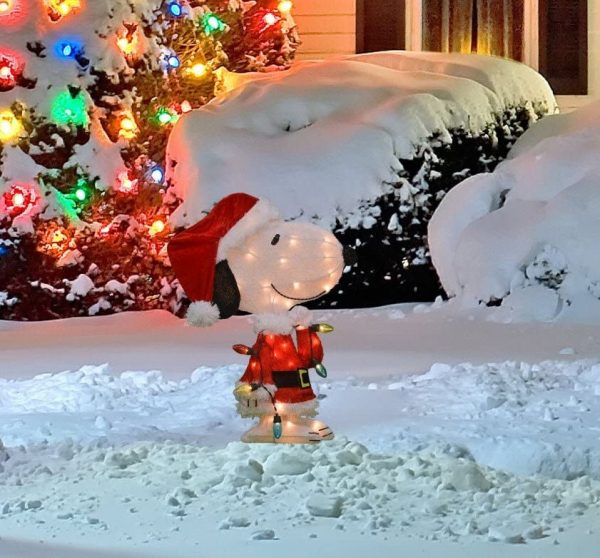 $59

BUY IT
Pre-Lit Snoopy Outdoor Christmas Decoration: Get back to the classics with this whimsical Snoopy outdoor Christmas decoration. This piece is officially licensed, constructed from a wire frame and fabric for colorful nighttime and daytime display. This snoopy maintains a slender side profile to fit easily within a small garden or patio space.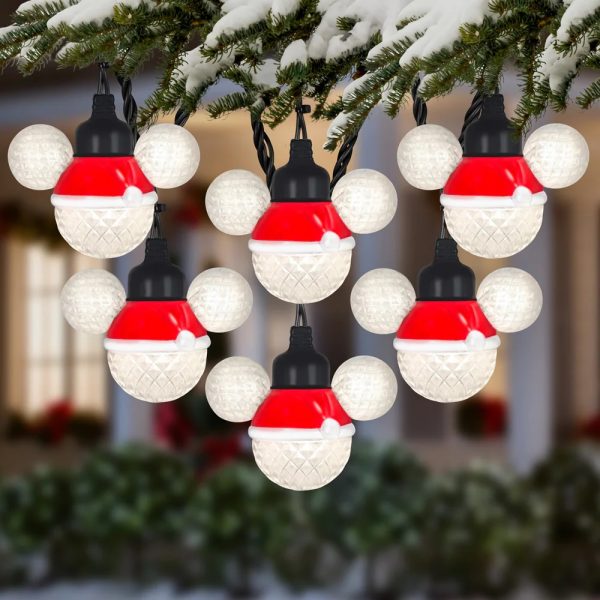 $29

BUY IT
Outdoor Disney Christmas String Lights: Light up a window, patio, or small ornamental Christmas tree with this outdoor LED string light set from Disney. Each bulb cover is equipped with a Santa hat and Mickey Mouse ears – a fun way to add a touch of Disney magic to your holiday decorative display.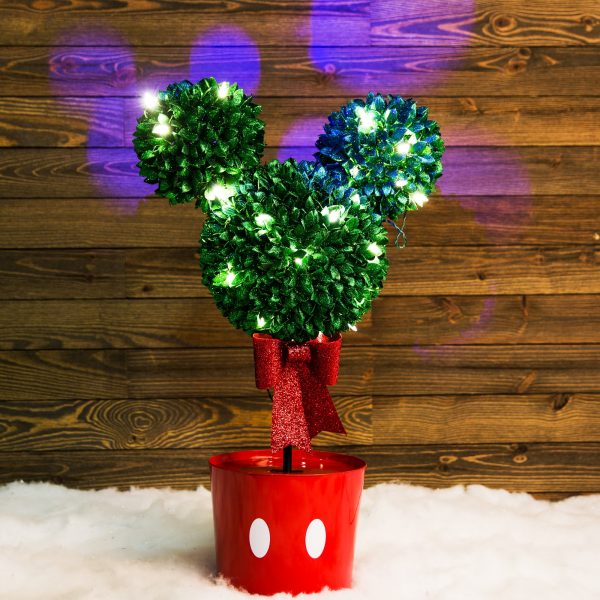 $91

BUY IT
Disney Outdoor Christmas Topiary: This officially-licensed Mickey Mouse topiary is made for use indoors and outdoors alike, equipped with shimmering LED lights and a lightly weighted pot. Collapsible design allows for easy storage between seasons.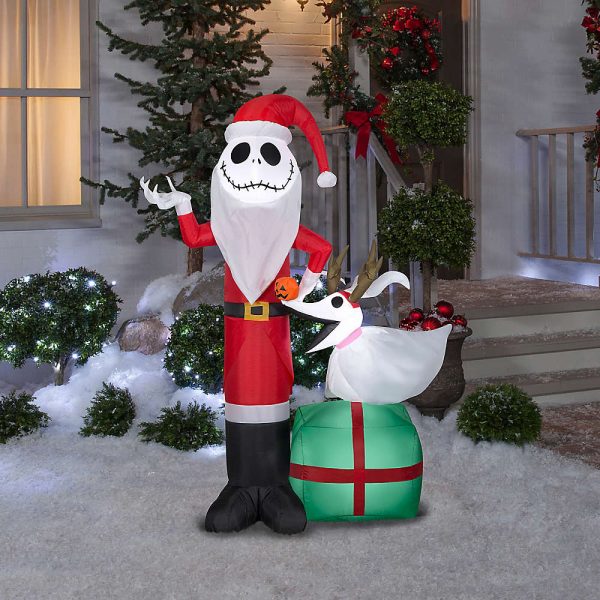 $181

BUY IT
Nightmare Before Christmas Outdoor Inflatable: There's no reason to pack up your Halloween spirit just because Christmas is around the corner. This Jack Skellington inflatable combines both holidays in one playful package. Even the adorable Zero makes an appearance atop a vibrant green present.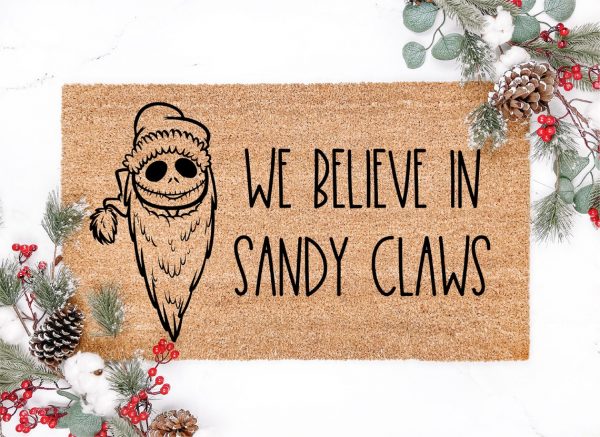 $29

BUY IT
Outdoor Nightmare Before Christmas Doormat: Complete your Nightmare Before Christmas decor theme with the perfect doormat. This versatile accent is made from durable eco-friendly coconut coir, a weather-resistant material that will stand up well to your steady stream of holiday guests.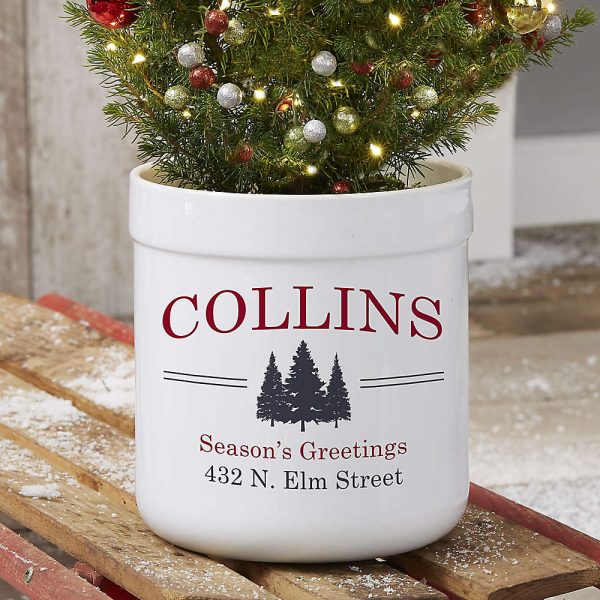 $31

BUY IT
Personalized Outdoor Christmas Planter: Make your Christmas patio arrangement one-of-a-kind with this personalized outdoor flowerpot, printed with the text of your choice. This design is made from sturdy porcelain for the durability to last season after season. Equip with your favorite faux evergreen, poinsettia, or collected branches.

$21

BUY IT
Personalized Christmas Slate Address Plaque: Make sure that your Christmas guests know they've arrived at the right address with this personalized address plaque. This piece is crafted from natural slate and can be personalized with your house number, a greeting, and your family name. Hang at the entrance to your sidewalk or beside your front door.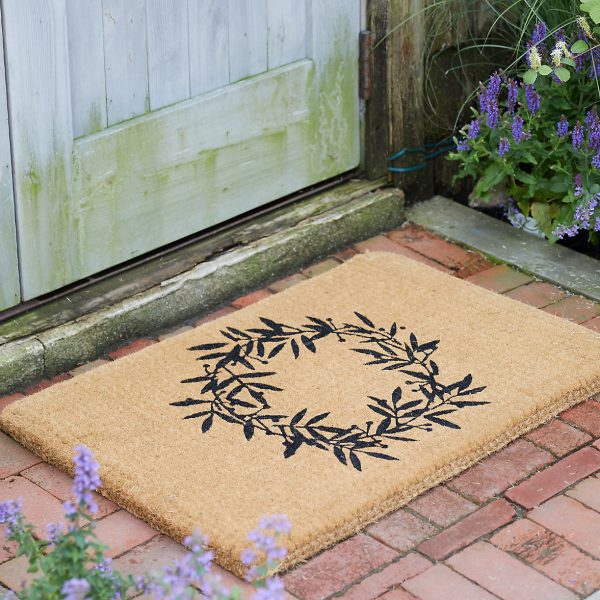 $108

BUY IT
Wreath Coir Outdoor Christmas Doormat: This artisanal Christmas doormat is handwoven and expertly printed to provide a tasteful seasonal touch for your entryway arrangement. The coconut coir pile is sure to keep guests from tracking wintery debris into your home, all while standing up strong to the harsh elements outdoors.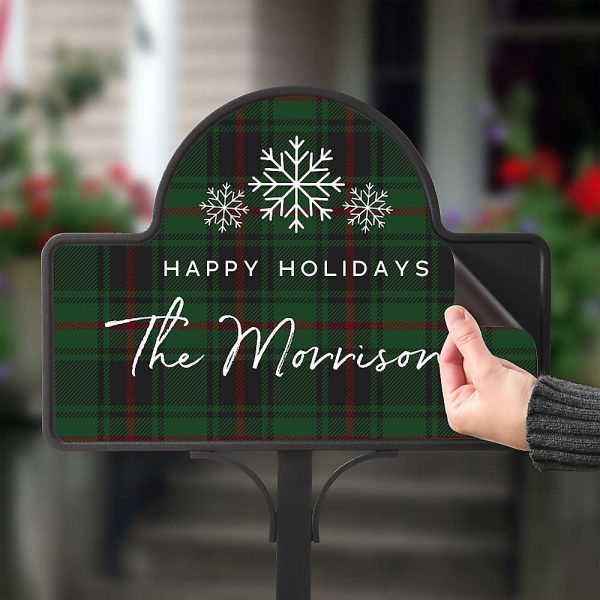 $14

BUY IT
Personalized Outdoor Christmas Sign: This personalized garden sign magnet allows you to choose your own background and greeting text to perfectly match your outdoor Christmas decor theme. The magnetic garden stake is sold separately here. Collect magnets for every season and every occasion!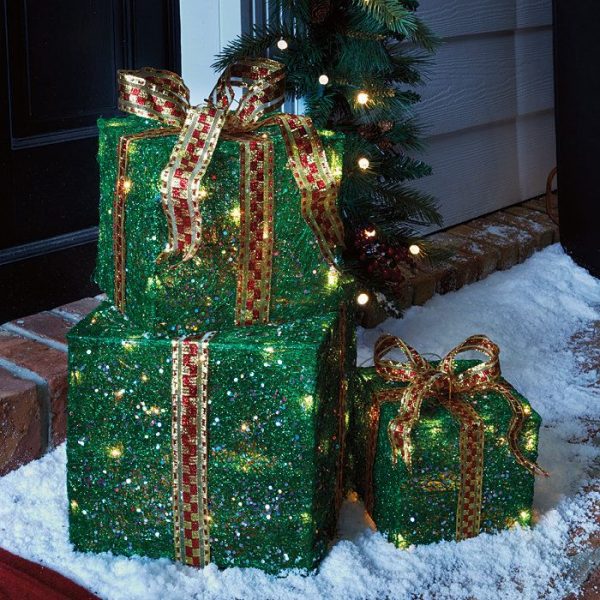 $49

BUY IT
Lighted Outdoor Christmas Presents: These beautiful lighted boxes mimic the look of lovingly-wrapped presents, upholstered in brilliant glitter and ribbons. Use indoors or in a covered outdoor placement. Each box is illuminated with UL-rated lights for light weather resistance.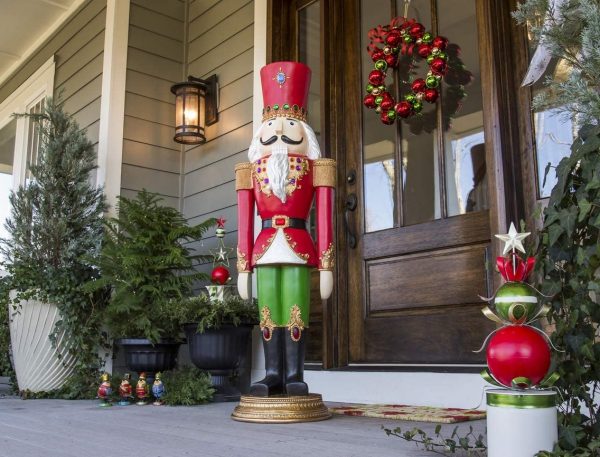 $479

BUY IT
Oversized Outdoor Nutcracker Statue: If you're going with a nostalgic outdoor Christmas decor theme, this classic nutcracker is sure to delight. This oversized statue measures at 55 inches in height, made with weather-resistance in mind for durable display throughout the harshest winters.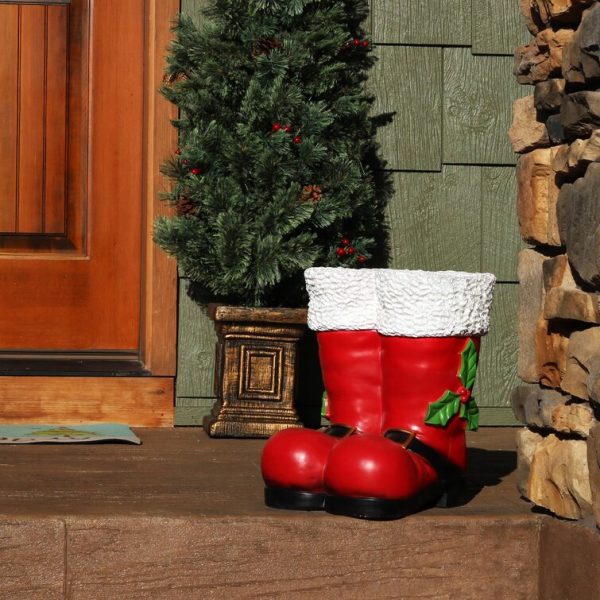 $85

BUY IT
Santa Boot Outdoor Christmas Decoration: This joyful outdoor statuette is crafted to look like Santa's boots, made from exceptionally durable polyresin to withstand the elements with ease. The top of the statuette remains open, able to be used as a container for faux evergreens or dried botanical cuttings.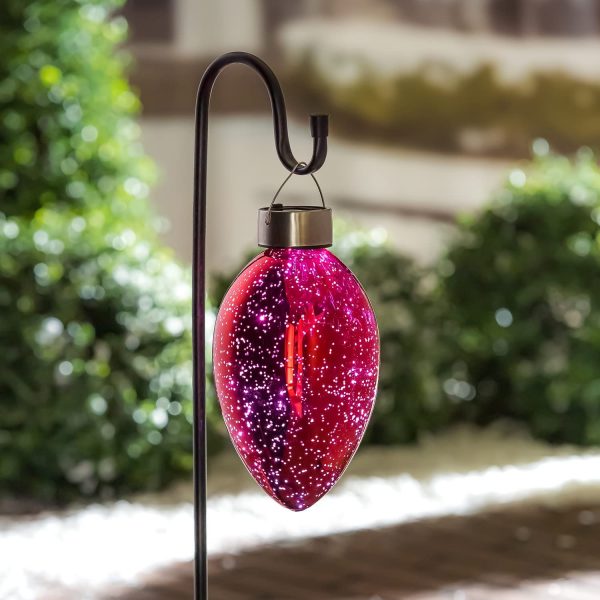 $28

BUY IT
Oversized Solar Christmas Light with Hanger: Illuminate your garden walkway or accent your sidewalk with this oversized Christmas light, crafted from vintage-inspired mercury glass for a warm and colorful glow. Each one is solar powered to provide gentle illumination throughout the night. Choose from four festive colors.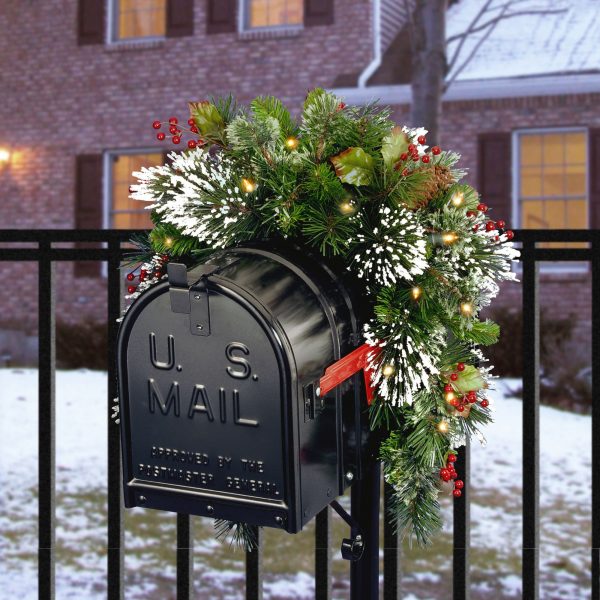 $33

BUY IT
Outdoor Christmas Mailbox Swag: Leave no part of your yard out of the holiday festivities with this jolly mailbox swag. This wintery accent is made with faux evergreen and accented with berries, pinecones, and warm white LED lights. Battery-powered operation allows easy placement even if your mailbox is far away from any power source. A convenient timer helps to preserve battery life.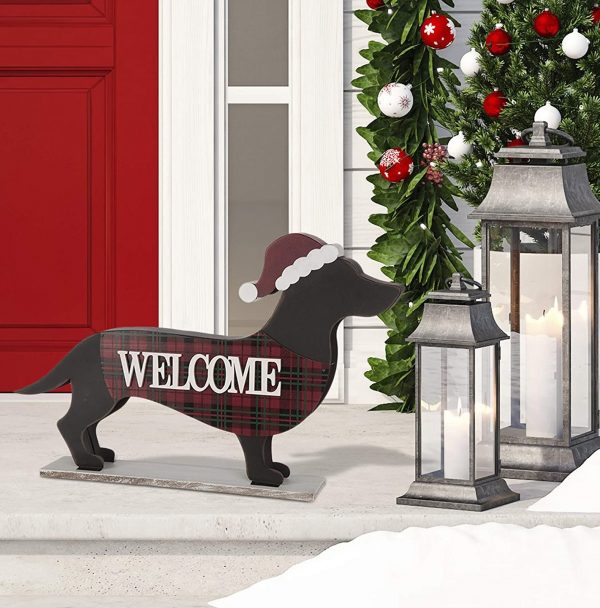 $39

BUY IT
Welcome Christmas Dachshund Decoration: Let your love for pets make an appearance within your holiday decor using this dachshund-shaped welcome sign. This piece is crafted from durable metal with an MDF base, accented with a cheery Santa hat and a festive plaid sweater. This piece would also make a lovely gift for the dachshund owner in your life.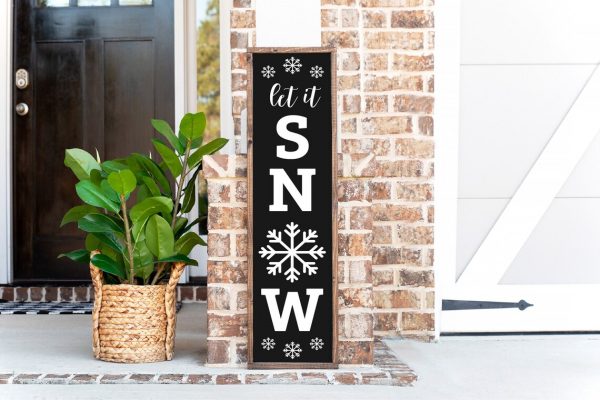 $33

BUY IT
Let it Snow Christmas Porch Decoration: This wintery porch sign is perfect for display all throughout the season. The paint is UV-resistant to maintain its charm even with direct exposure to sunlight. Each sign is equipped with a wire hanger so it can be mounted with a siding hook or simply propped against an exterior wall.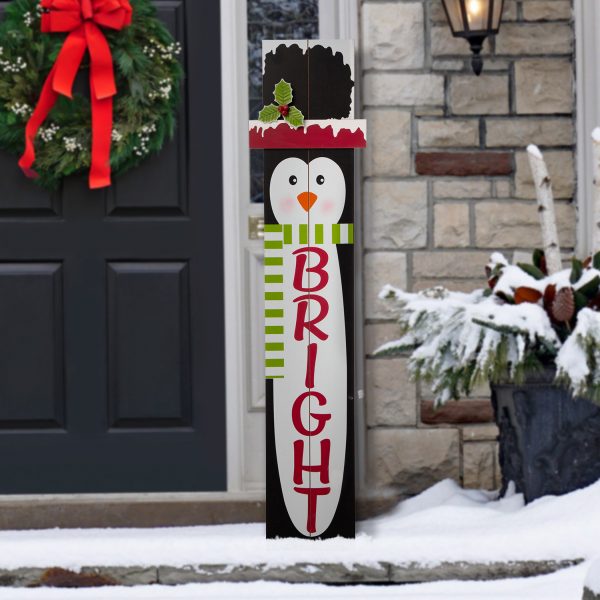 $46

BUY IT
Christmas Penguin Porch Decoration: This festive porch sign features a cheerful penguin dressed in his winter best with a jaunty top hat and a striped scarf. This piece is made from 100% MDF, recommended for covered placement outdoors.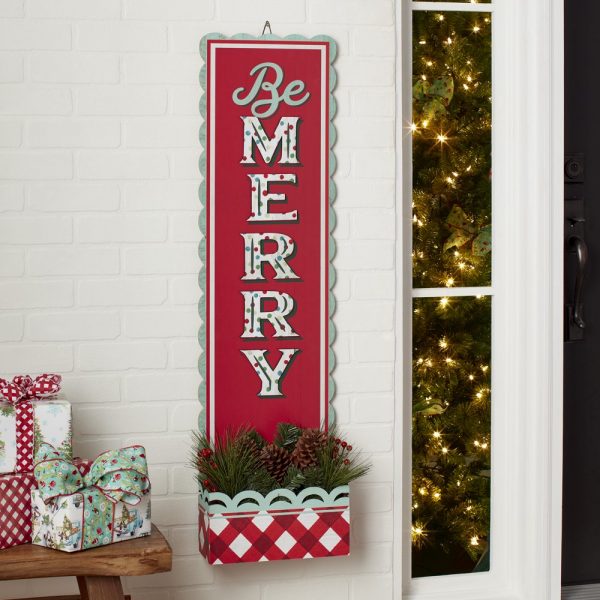 $26

BUY IT
The Pioneer Woman Christmas Porch Sign: Ree Drummond fans are sure to adore this beautiful holiday porch sign design. This piece is decked out in The Pioneer Woman's signature color palette, equipped with a little planter box that holds an arrangement of faux evergreen accents. Because this sign is crafted from MDF, it does require cover – ideal for use on a sheltered porch or patio.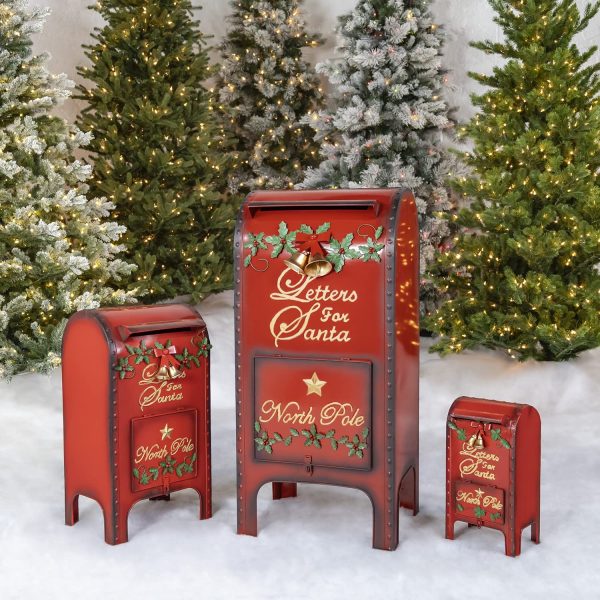 $549

BUY IT
Life-Size Commercial-Grade Santa's Mailboxes: Let the youngsters in your life – or throughout your neighborhood – ensure their wish lists will make it directly to the North Pole. These festive mailboxes are crafted from sturdy powder-coated iron, so strong that each one is rated for commercial use. Each set includes three mailboxes in different sizes. Use the smaller sizes indoors or give them as gifts to friends.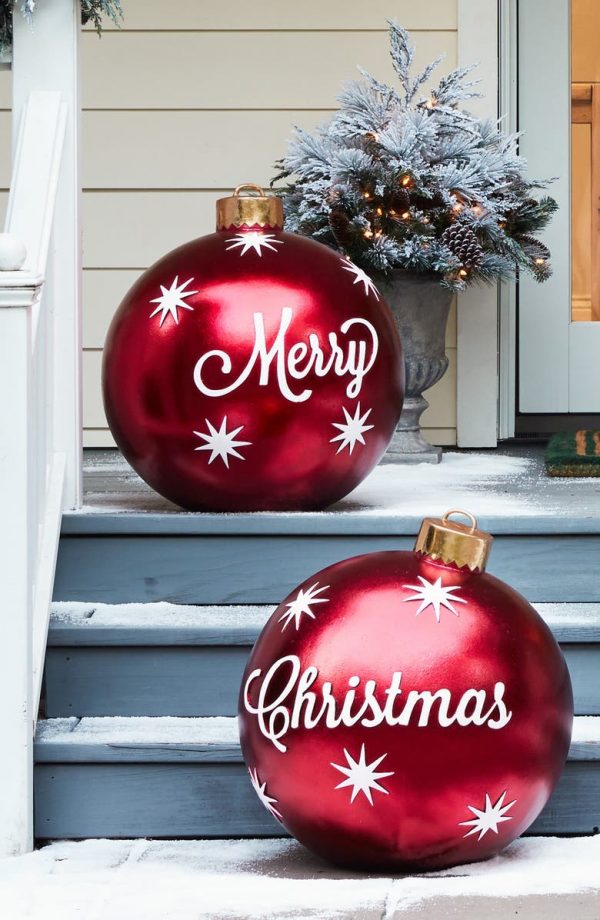 $449

BUY IT
Oversized Outdoor Christmas Ornaments: Measuring at 22 inches across, these oversized Christmas ornaments are sure to make a bold impression on any patio. Each set is crafted from polyresin and fiberglass, finished in brilliant UV-resistant red for years of vibrant display.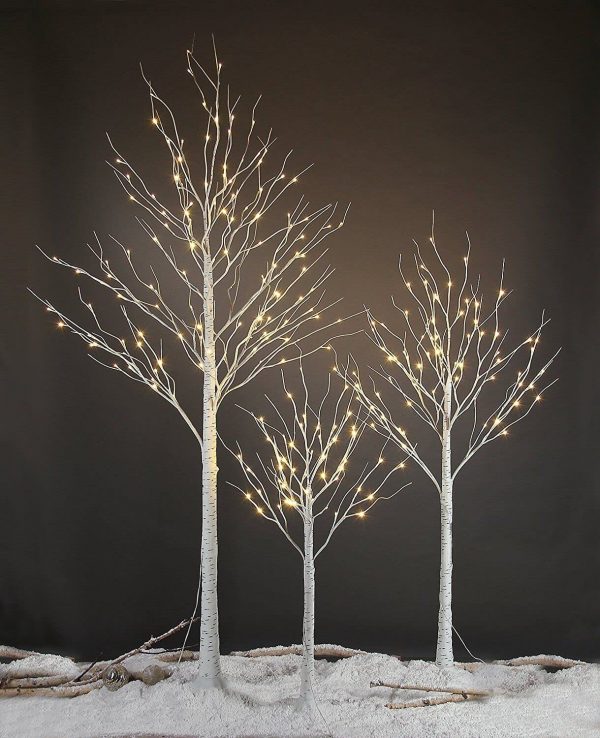 $149

BUY IT
Lighted Outdoor Christmas Birch Trees: If you're lacking in trees or shrubs to decorate outside of your home, this faux birch tree set offers a convenient solution. Each set includes three tree decorations in different sizes, each one pre-lit with warm white LEDs to provide a magical glow throughout the evening. Display as they are, or hang your favorite weatherproof ornaments for a personalized touch.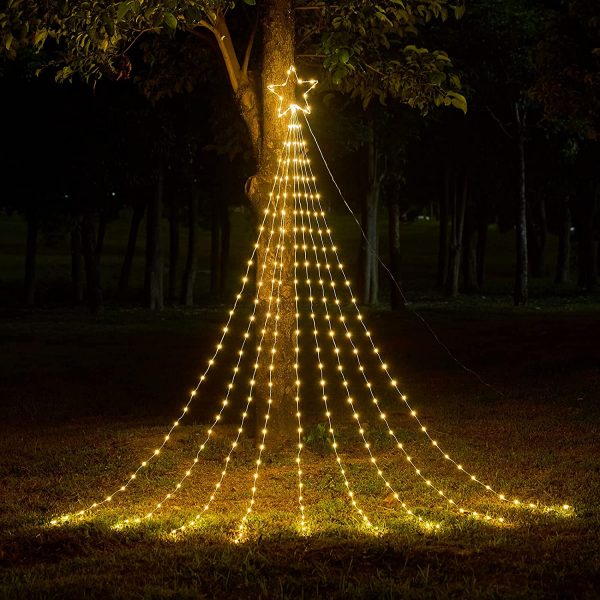 $20

BUY IT
Outdoor Waterfall Christmas Tree Lights: Simple, chic, and easy to install – this waterfall light arrangement can be hung from a tree, from a patio, or from the siding of your home. Each one includes 290 warm LED lights with a whimsical star topper. Take advantage of the built-in timer for effortless enjoyment.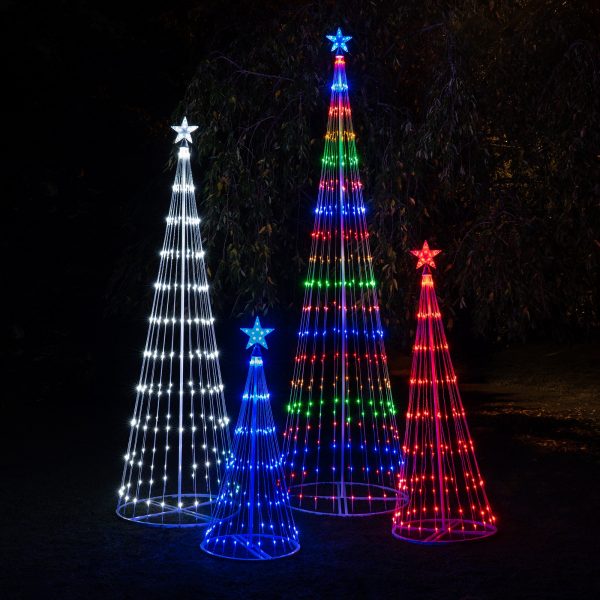 $169

BUY IT
Outdoor LED Christmas Light Show Tree: Create your own lightshow with a Kringle Traditions multicolor LED tree. The 6 foot model is equipped with 202 multicolor LEDs programmed to display hundreds of dazzling animated effects. Each one is equipped with a remote control so that you can easily switch between light show programs.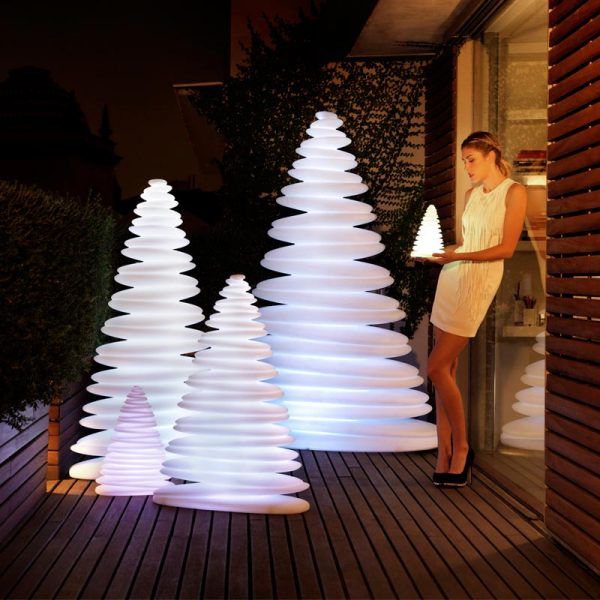 $830

BUY IT
Large LED Outdoor Christmas Sculptures: Vondom introduces a range of sleek modern outdoor Christmas decorations with the dramatically minimalist Chrismy collection. This series is available in five sizes, from the tabletop-worthy Nano model at almost 10 inches in height to the Extra Large measuring at just over 78 inches. Choose from white lights or full RGB.
Recommended Reading:  50 Christmas Home Decor Items To Help You Get Ready For The Season
Related Posts:
World's Most Unusual Christmas Trees
Teen Room Design – Set 6 (Random)
Flowers on Balconies
Christmas Special – 1