Few cooking tools are more personal and more highly guarded than a set of carefully-selected knives – and they deserve an equally thoughtful storage solution to match. In this post, we've scoured the web to find our favorite knife holders for every style and every kitchen environment. Design-forward countertop blocks look fabulous while providing easy access for daily drivers. In-drawer knife organizers keep visual clutter banished away all while keeping expensive knives safe. Magnetic blocks put beautiful blades on full display, sure to satisfy the most daring modern designers. Keep your blades sharp and safe while complementing your kitchen design theme with the versatile picks below.

$179

BUY IT
Zwilling Colorful Knife and Holder Set: Just getting started on your cooking journey, or looking to massively streamline your approach? This knife set by Zwilling includes everything you need in one compact package – a great choice for smaller kitchens without unlimited space for tools. Each set includes a paring knife, a chef's knife, a bread knife, shears, a sharpening steel, and a perfectly coordinated block to keep your set neat and organized.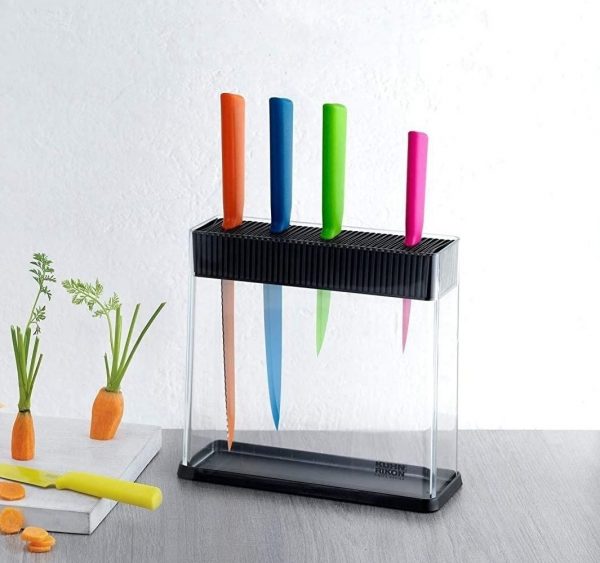 $35

BUY IT
Transparent Knife Holder for Countertop: Universal knife holders are ideal for anyone who already has a collection of beloved knives. This storage block features a flexible insert that adapts easily to a wide range of knife sizes and styles to ensure that all your favorites will fit. Because the base is transparent, this piece is perfect for those who want to display their colorful or decorative blades.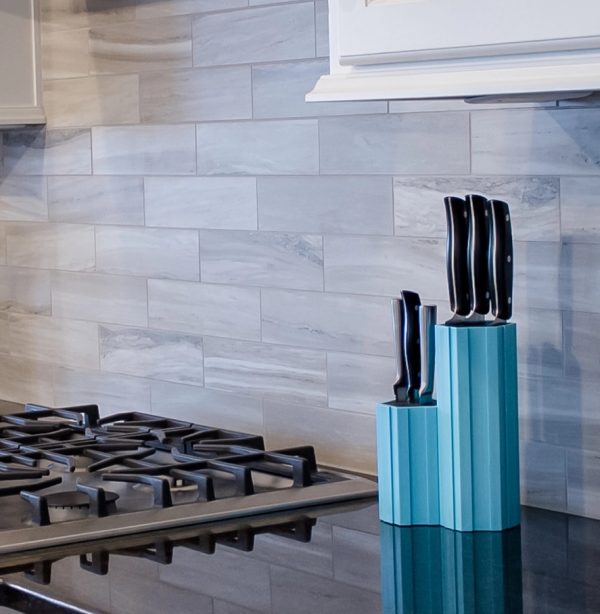 $14

BUY IT
Hex Connectable Knife Holders: Kapoosh is a beloved brand that offers a unique take on the universal knife holder concept, the interior filled with flexible rods that conform to the shape of any knife you place within. The modern Hex series is available in two sizes and a range of playful colors that can be neatly combined to accommodate any knife collection.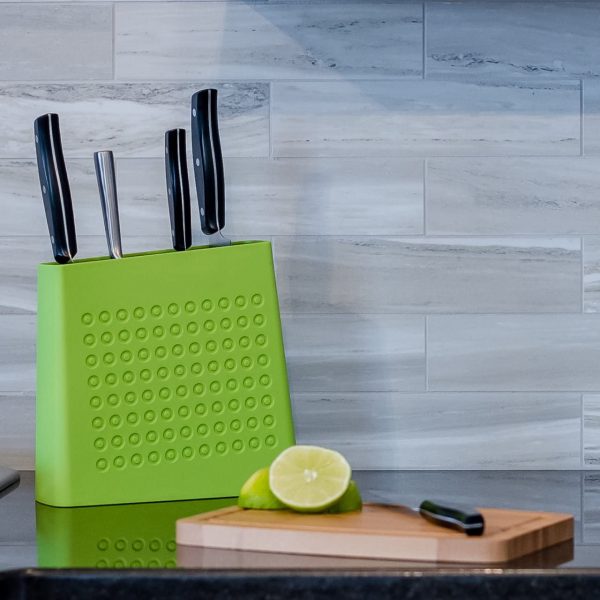 $24

BUY IT
Kapoosh Universal Knife Holder: This slim and streamlined Kapoosh knife holder measures at 9 inches in length and 9 inches in height to accommodate large and small knives alike. Choose from two statement-making colors, ideal for kitchens that lean toward a modern and playful design style.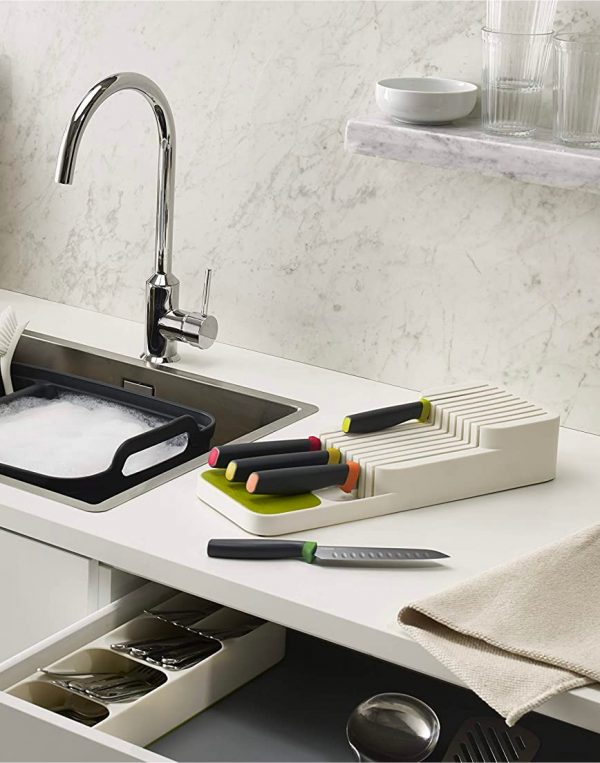 $12

BUY IT
Knife Holder for Drawer: Designed to be placed neatly within any drawer, this knife storage solution keeps your blades protected and your countertops clutter-free. Each tray is built to accommodate two rows of knives, with larger knives (up to 9 inches) on the bottom and smaller knives on the top. Choose from four adaptable colorways.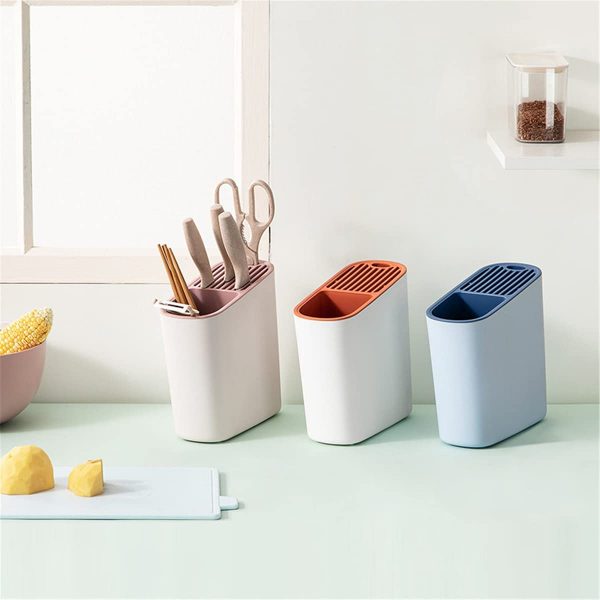 $10
BUY IT
Colorful Countertop Knife Holder: Simple, stylish, and extra-affordable. These small knife organizers offer space for knives up to 8 inches in length, and each one includes an open compartment for organizing your everyday utensils as well. Choose from three playful colorways to best suit your space.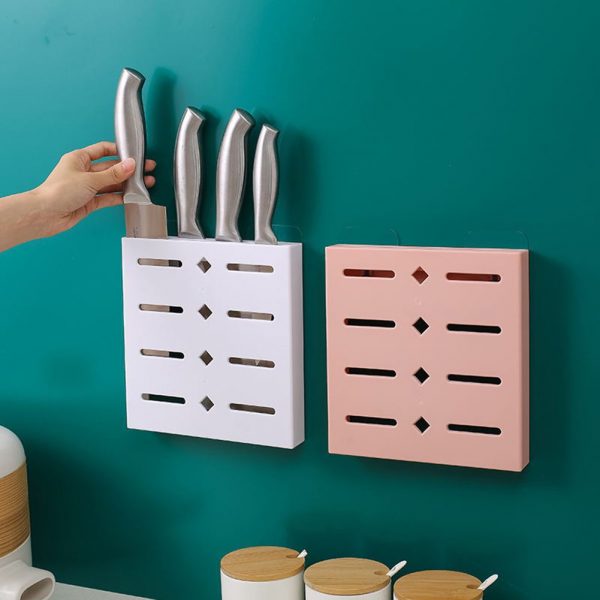 $12

BUY IT
Colorful Wall-Mounted Knife Holders: Wall-mounted knife holders can help free up space on your countertops and in your drawers while allowing easy access to the tools you use every day. These knife holders come with adhesive pads for easy tool-free mounting. Hang on the side of the refrigerator, on the side of a cabinet, inside of a cabinet door, or in other creative placements.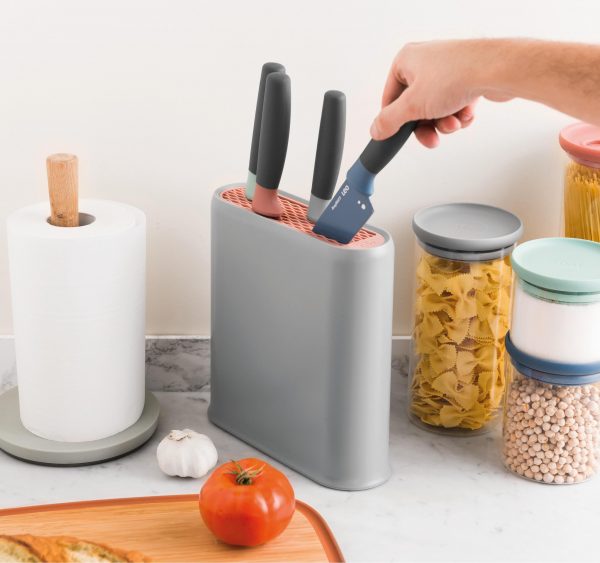 $41

BUY IT
Grey and Pink Universal Knife Holder: BergHOFF is a brand known for creating high-end, design-focused kitchen wares including world-class knives and accessories. This simple knife holder is made to those same exacting standards. Each one includes a universal insert that can accommodate knives of any size, reversible to display either pink or grey for added decorative versatility.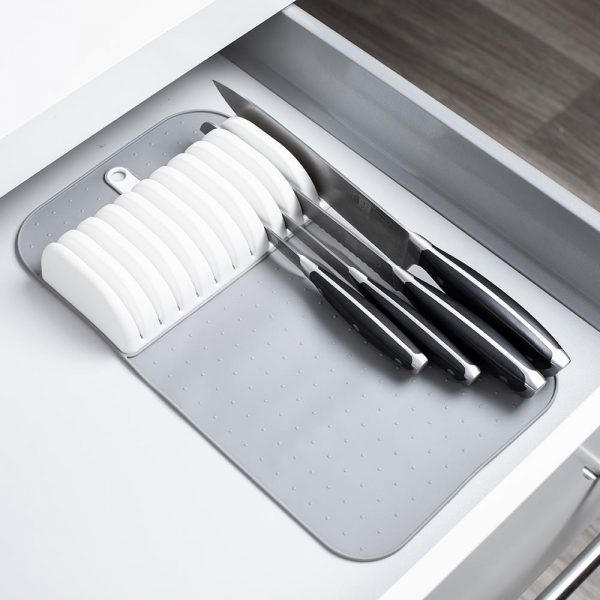 $18

BUY IT
In-Drawer Knife Holder Mat: This simple drawer mat includes secure slots to hold up to 11 knives of any size. The non-slip, soft-touch material ensures that your knives stay securely in place without any damage. This piece is also available in a slimmer 5-slot design to accommodate smaller drawers.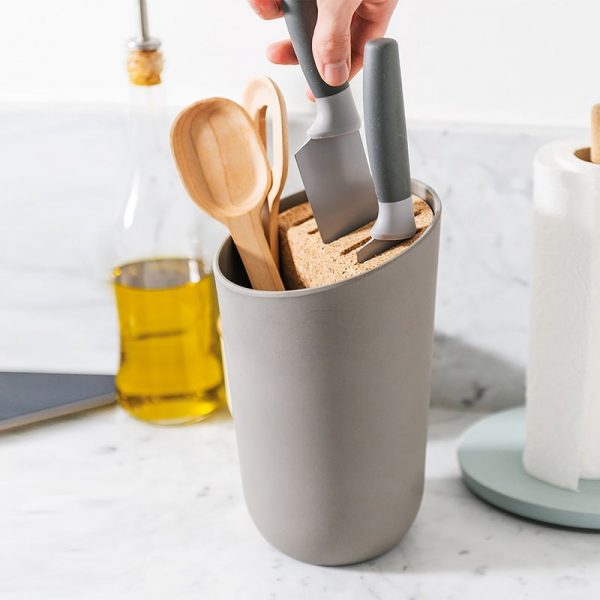 $59

BUY IT
BergHOFF Grey and Cork Knife Holder: Clean lines and compact design allows this BergHOFF knife holder to effortlessly blend with even the most minimalistic kitchen theme. The cork insert keeps knives safe and secure, while the open compartment allows space to store other cooking utensils as well.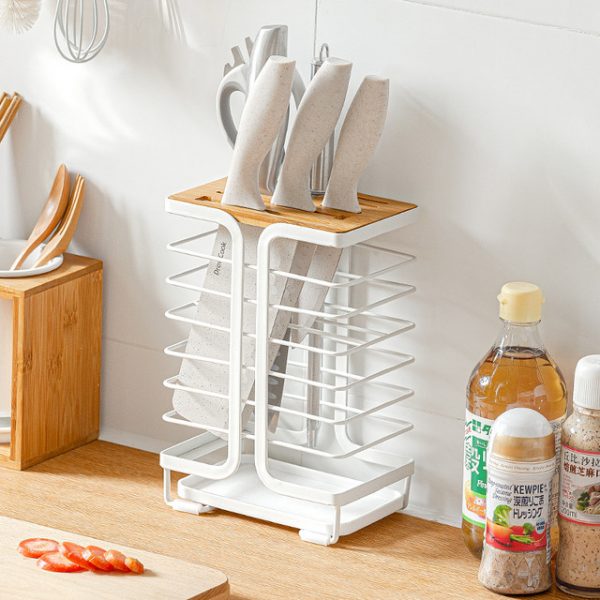 $19

BUY IT
White and Wood Knife Holder: Lightweight framing makes this knife organizer a breezy and functional accent for smaller kitchens or compact countertop layouts. Use to organize up to 6 knives, a pair of scissors, and one sharpening steel.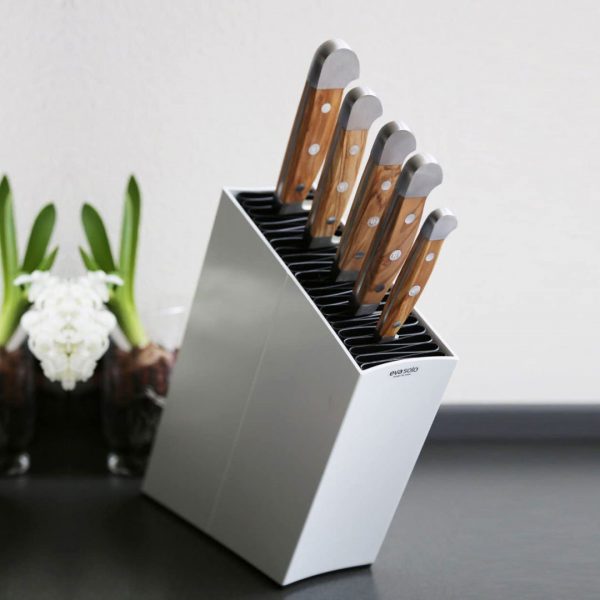 $135

BUY IT
Eva Solo Universal Knife Holder: This gorgeous knife holder by Eva Solo offers a sleek, streamlined take on the traditional knife block composition. This piece tilts forward to allow easy access to your tools, while the flexible insert makes it easy to store knives of any size or shape. The exterior is crafted from durable aluminum. The insert is removable and dishwasher safe.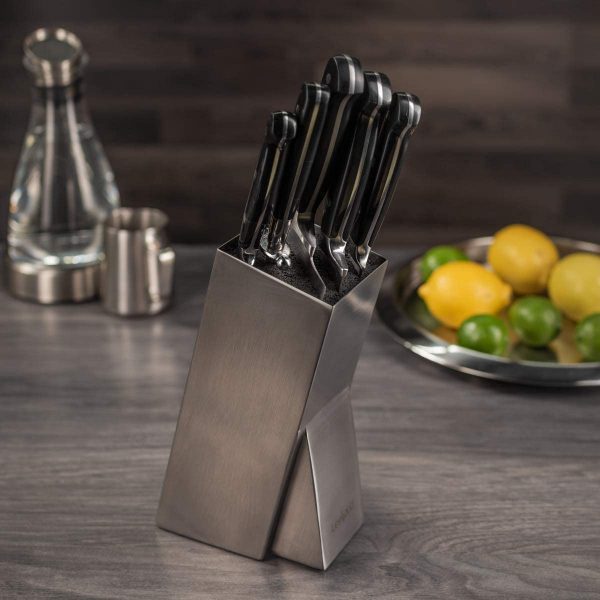 $59

BUY IT
Stainless Steel Universal Knife Holder: Looking for the perfect knife holder to complement your stainless steel appliances or professional-grade kitchen accessories? This knife block is sure to please. Universal design accommodates knives of all shapes and sizes, the exterior gently tilted for easy access.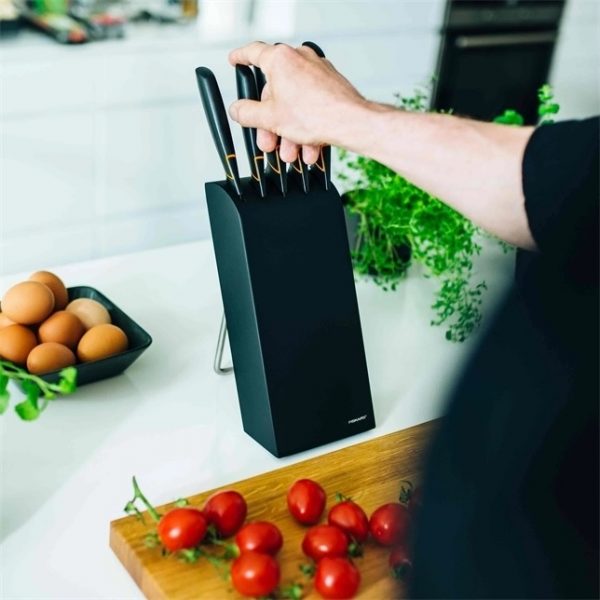 $147

BUY IT
Fiskars Modern Black Countertop Knife Holder: Although most well-known for their iconic orange scissors, Fiskars is also highly respected for the quality of their kitchen knives. This set includes a peeling knife, a tomato knife, a bread knife, a chef's knife, and a santoku – all packaged in a sleek black holder sure to look fantastic on any countertop.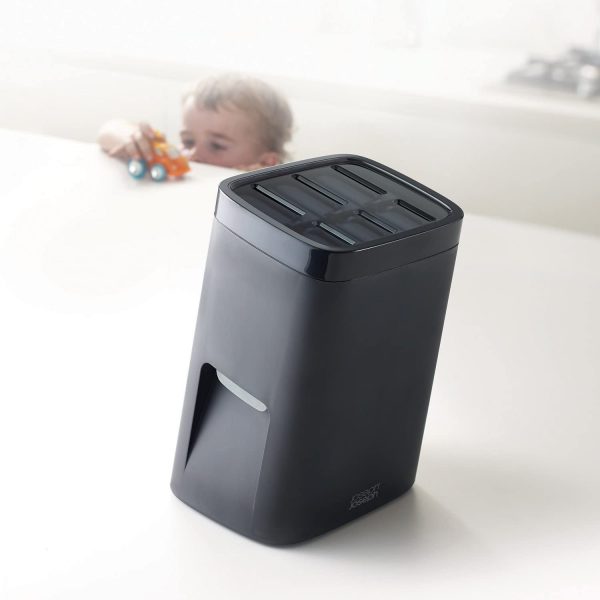 $47

BUY IT
Locking Safety Knife Holder: This unique safety-minded knife block by Joseph Joseph includes a self-locking feature that holds each knife securely in place, away from the curiosity of small children. Each knife block can hold six knives securely.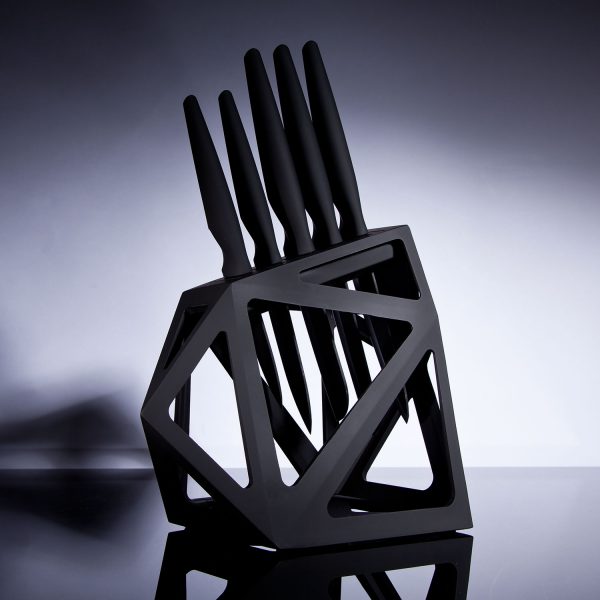 $89

BUY IT
Geometric Black Knife Holder: Striking from every angle, this unique knife holder presents an abstract take on a utilitarian staple. The geometric base is finished in matte black for easy coordination, the top outfitted with slots to hold up to 11 knives. Use to complement the most modern kitchen design themes.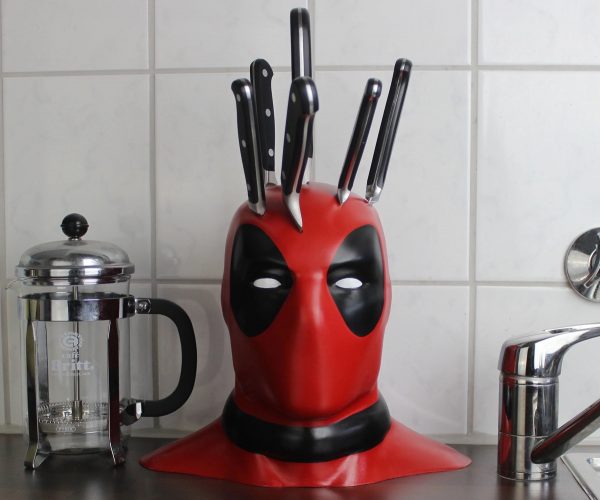 $169

BUY IT
Deadpool Knife Holder: Why not have a little fun with your kitchen knives? This unique knife holder is designed to look like Deadpool, handcrafted and highly detailed. This piece would make a creative housewarming gift for the Marvel fan in your life.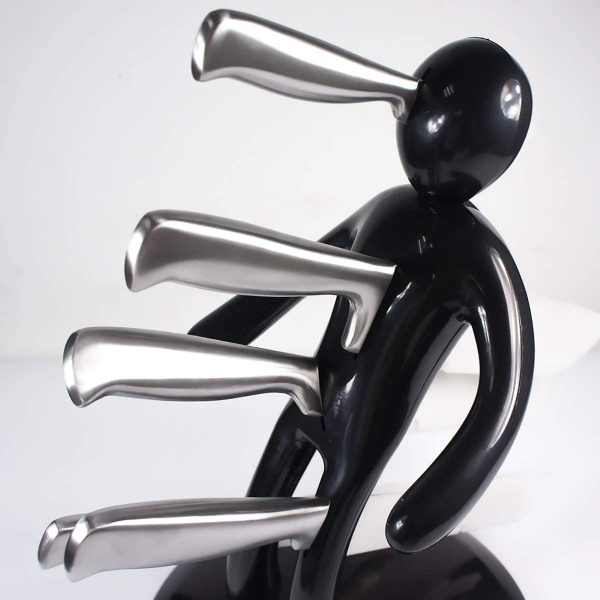 $98

BUY IT
Man-Shaped Knife Holder: This sculptural man-shaped knife holder includes five stainless steel knives that fit like a glove, each one equipped with a white plastic cover for added safety. The base is available in red or black.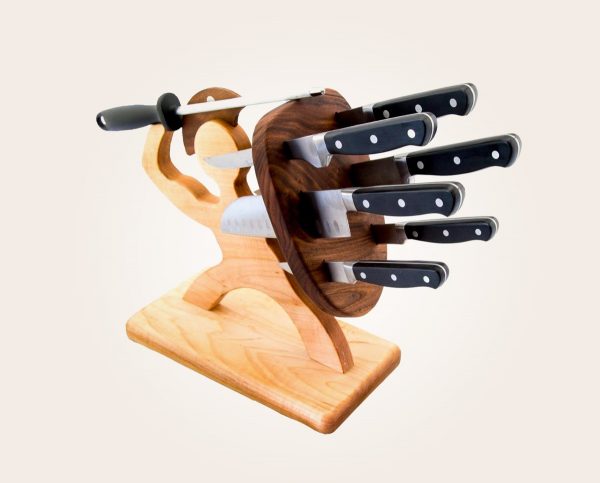 $229

BUY IT
Spartan Creative Knife Holder: Exquisitely sculpted but playful in nature, this Spartan-themed knife holder is sure to create a dramatic action-packed scene on any countertop. Each set includes six fitted knives and a matching sharpening steel.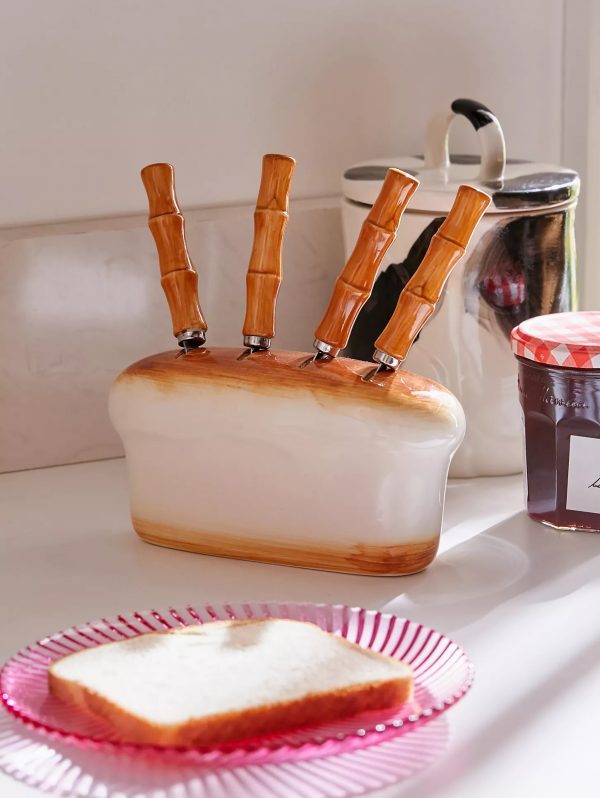 $17

BUY IT
Cute Bread-Shaped Butter Knife Holder: Need a cute holder just for your everyday butter knives? This charming ceramic set is designed to look like a loaf of bread, equipped with four matching stainless steel knives. Each knife is dishwasher safe for easy upkeep.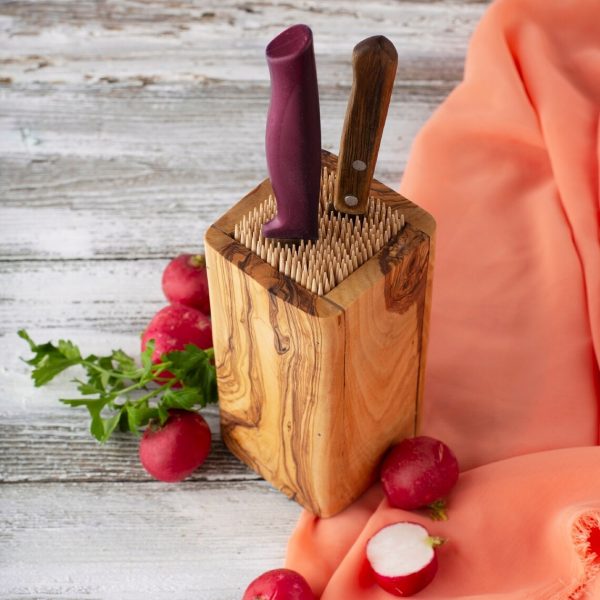 $39

BUY IT
Handmade Olive Wood Knife Holder: Sculpted olive wood gives this knife holder incomparable character, each one a unique work of art worth displaying. The universal insert is crafted from small wooden skewers for all-natural appeal throughout the entire composition.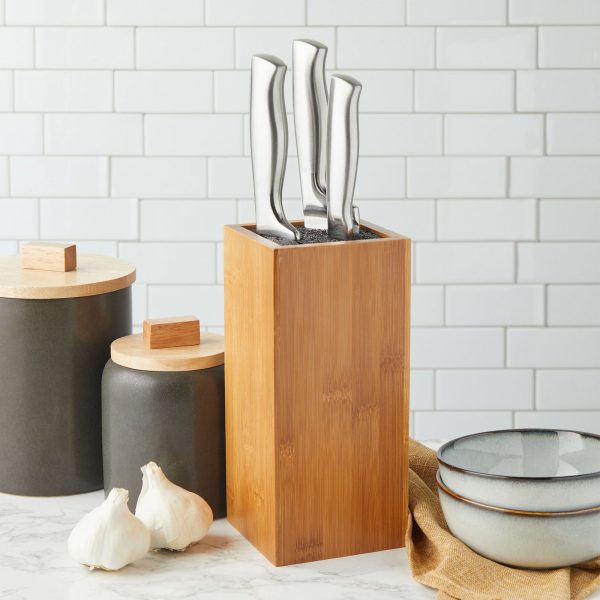 $23

BUY IT
Universal Wooden Knife Block Holder: Simple eco-friendly bamboo gives this knife holder a clean, uncomplicated aesthetic. The flexible insert bristles are removable for easy cleanup and care. Use with knives that are 8 inches long or shorter.

$56
BUY IT
Upright Knife and Utensil Holder: Solid ash construction ensures that this gorgeous knife and utensil holder will only grow more beautiful with age. This piece is divided into two compartments – one side features flexible bristles to keep knives safe and separated, while the other compartment is left open to hold your most frequently used cooking utensils.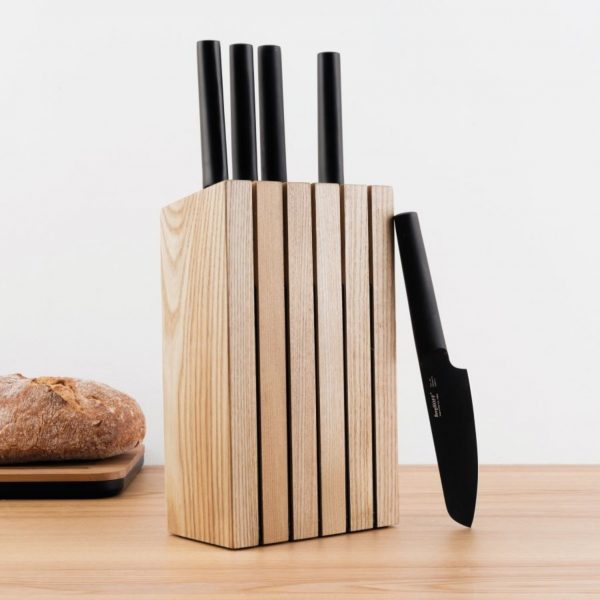 $79

BUY IT
Minimalist Wooden Knife Holder: An uncomplicated silhouette allows this BergHOFF knife block to make a sophisticated statement on any countertop. This piece keeps blades concealed for added protection, its universal design able to accommodate five of your most-used knives.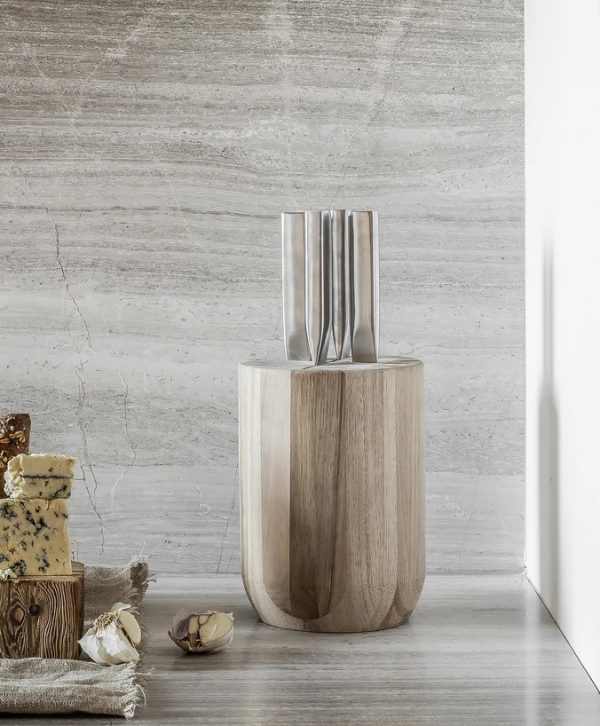 $370

BUY IT
Acacia Wood Knife Holder: Sculpted acacia wood ensures this knife holder will provide sturdy stability and lasting beauty for a lifetime of enjoyment. This set, designed by Piet Boon, also includes four stainless steel knives that fit perfectly into the holder. Each set includes a chef's knife, a bread knife, a meat knife, and a santoku knife.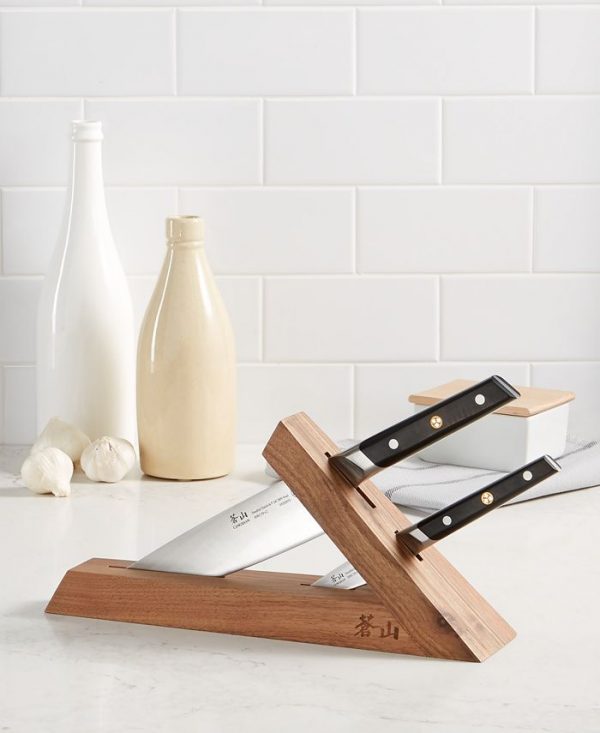 $59

BUY IT
Triangle Wooden Knife Stand: Do you find yourself keeping things simple for daily meal prep, often reaching for the same knife far more than others? This walnut knife holder makes it easy to keep your most-used knife readily on hand while the others remain out of sight until needed.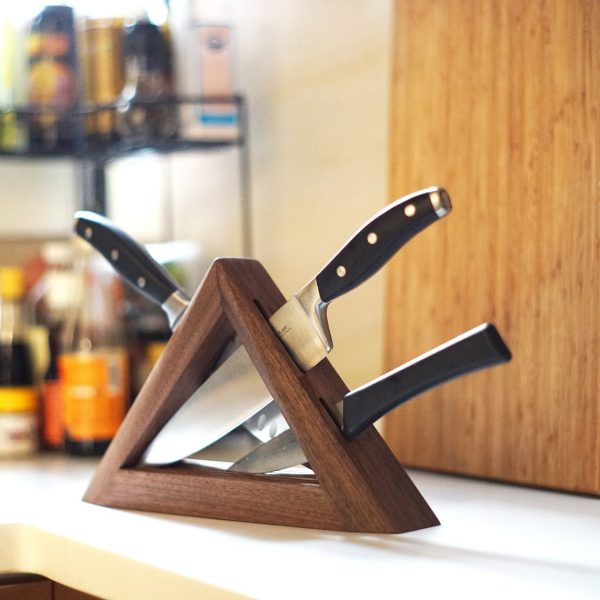 $113

BUY IT
Triangular Knife Holder for Countertop: This beautifully handcrafted knife holder will display your favorite blades like they are true works of art. This piece is made from solid American walnut, treated with a protective wax finish for rich color sure to last. Each side includes two slots to fit a total of four knives.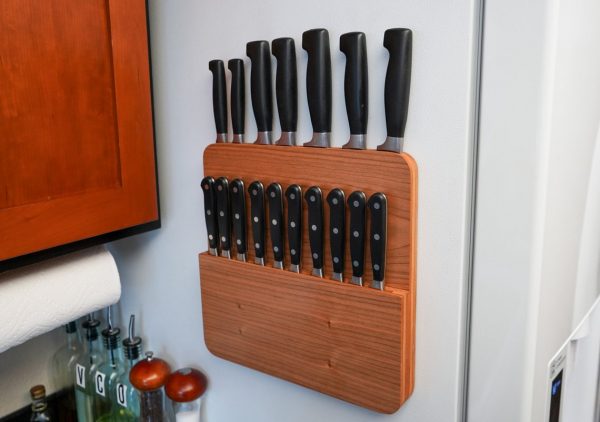 $89

BUY IT
Magnetic Knife Holder for Fridge: Running out of space to keep your knives accessible but out-of-the-way? This smart handcrafted knife block can hold securely to the side of any suitable fridge. Each piece is crafted from genuine cherry wood and finished with magnets that are strong enough to hold 20 pounds of weight. The crafter also offers double-sided adhesive tape for installation on non-magnetic surfaces, upon request.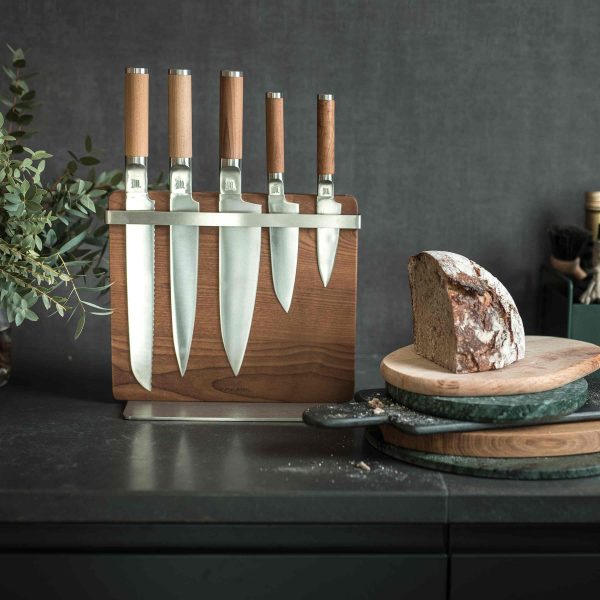 $108

BUY IT
Fiskars Magnetic Wooden Knife Holder: Open-faced magnetic knife blocks offer a chic and contemporary way to display your finest knives – for your own aesthetic enjoyment, but also so you can locate the knife you need with just a glance. This attractive design can be mounted on the wall or stood upright on the counter depending on how you choose to install the base.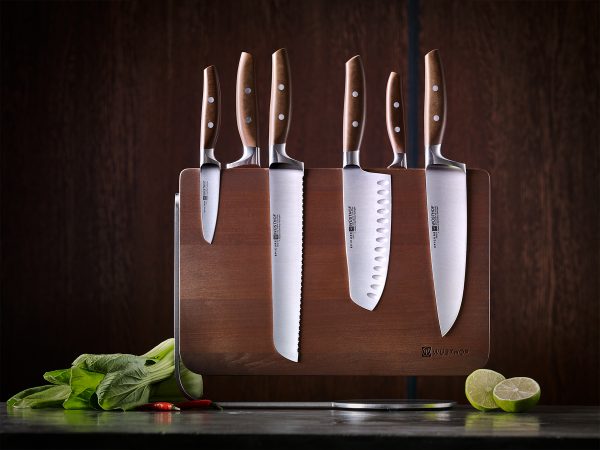 $375

BUY IT
Wusthof Double-Sided Magnetic Knife Holder: This beautiful magnetic knife holder by Wüsthof is crafted from durable beech with a rich dark finish, the panel floating almost weightlessly over the cantilever steel base. Both sides of the wooden panel are magnetized for double the storage space.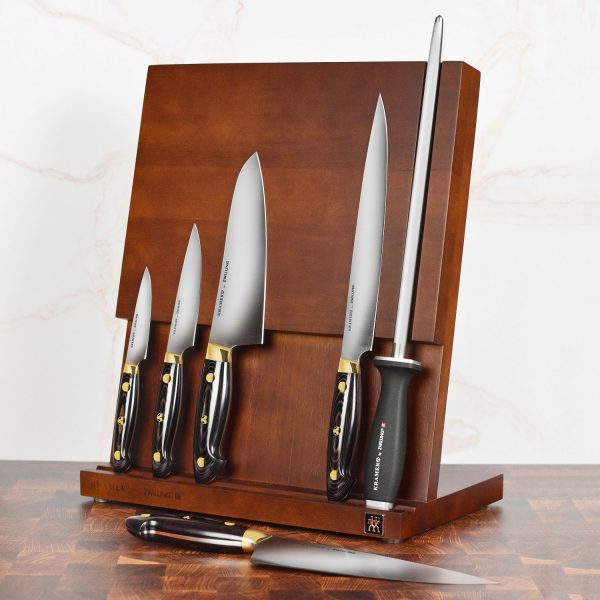 $159

BUY IT
Bob Kramer Easel Knife Holder: While most magnetic knife holders are intended to hold the knife blade-down, this design is intended for blade-up display. Each piece is made from durable European ash, hand-finished for quality in every detail. Use with Bob Kramer knives or use with your own selection.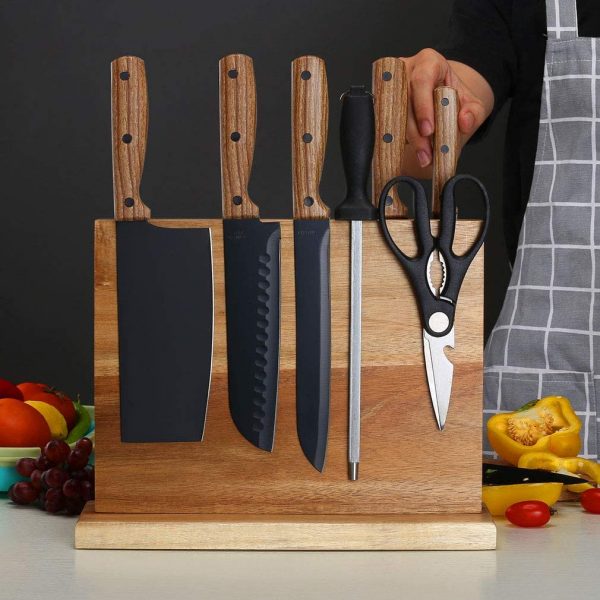 $39

BUY IT
Double Sided Magnetic Knife Holder: Solid wood, streamlined construction, and double-sided design makes this uncomplicated knife holder an especially versatile addition to any kitchen. Use as a budget-friendly option for classic and contemporary kitchen themes alike.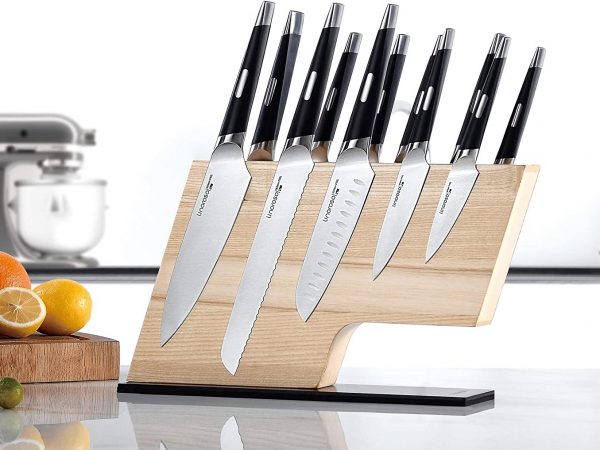 $56

BUY IT
Modern Double-Sided Magnetic Knife Holder: This striking magnetic knife holder features an artfully abstract silhouette to suit modern kitchen themes. The surface is made from American ash with hidden magnetic columns within. Double-sided design allows ample storage space for all your favorite knives large and small.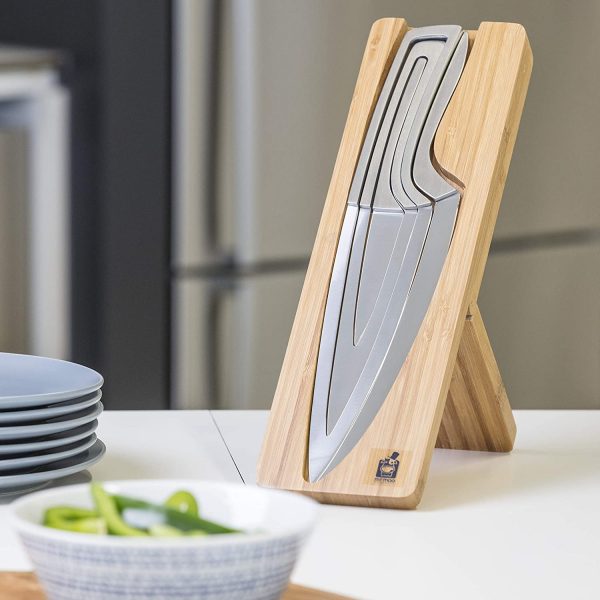 $69

BUY IT
Nesting Knives and Magnetic Holder: For an especially creative take on space-saving design, this set takes compact construction to the next level. This set includes four individual knives that nest neatly within one another, each piece nestling within the magnetic frame like pieces of a very sharp and stylish puzzle.

$149

BUY IT
Angled Beechwood Knife Holder: Zwilling's angled knife block is crafted in Italy from smooth solid beechwood, equipped with integrated magnets throughout to keep your treasured knives securely in place. Each block can accommodate up to 10 knives.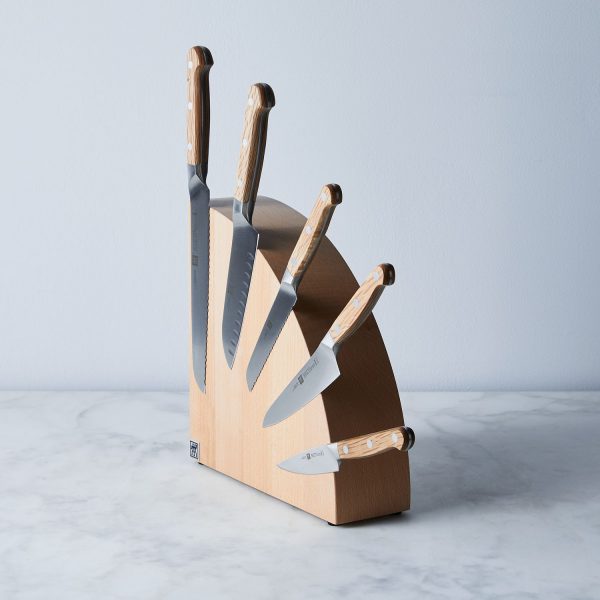 $139

BUY IT
Rounded Wood Magnetic Knife Holder: This creative Zwilling knife holder features a quarter-round design that maintains a relatively sleek profile while making a bold statement on the countertop. This piece is crafted from solid beech affixed with enough powerful magnets to hold 10 knives.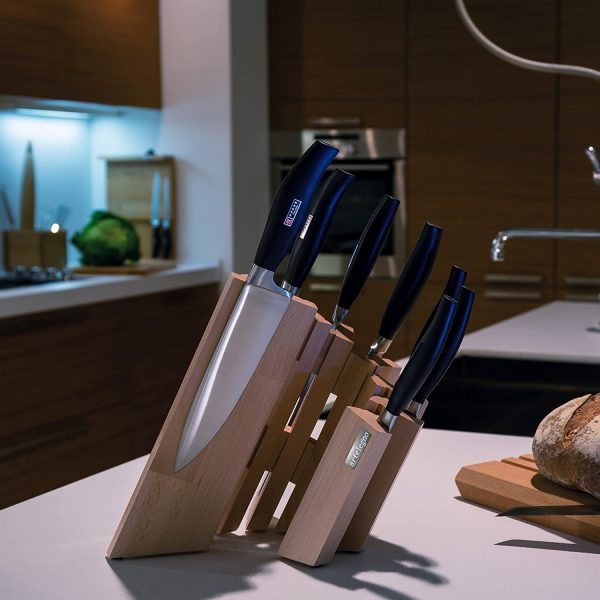 $166

BUY IT
Angled Magnetic Knife Holder: Crafted with a unique shape almost reminiscent of a machine cog, this artistic knife holder provides an artistic impression for any countertop. This design is crafted from solid beech, sustainably harvested and finished with a food-safe varnish. Each knife block can hold 8 knives with a max blade length of 11 inches.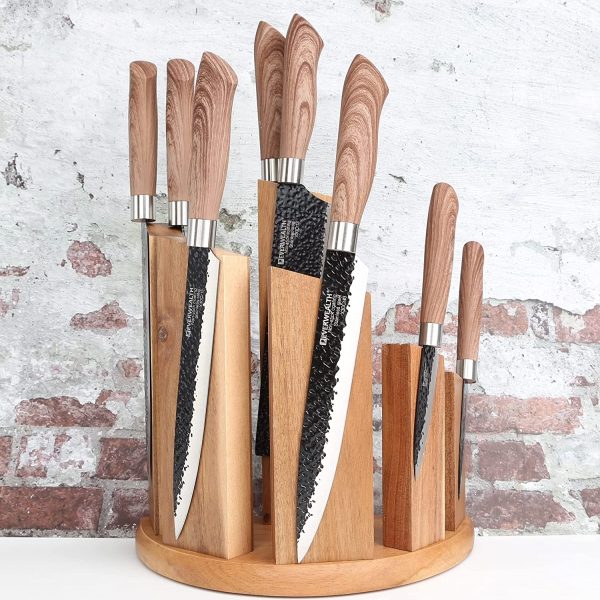 $64

BUY IT
Circular Wooden Knife Holder: Sturdy acacia wood pillars give your knives a gallery-worthy display with this beautiful countertop knife holder. Each pillar features double-sided magnets for double the storage and display.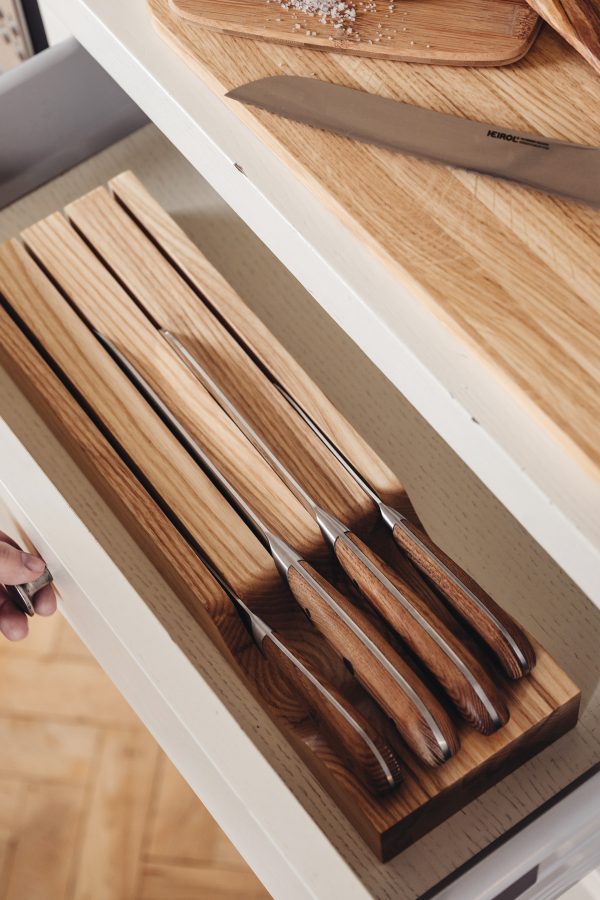 $44

BUY IT
Solid Ash Drawer Knife Holder: This beautiful in-drawer knife block by Heirol is streamlined and refined, lovingly crafted from solid ash with beautiful natural graining. Each block can hold four knives, great for anyone who has limited drawer space.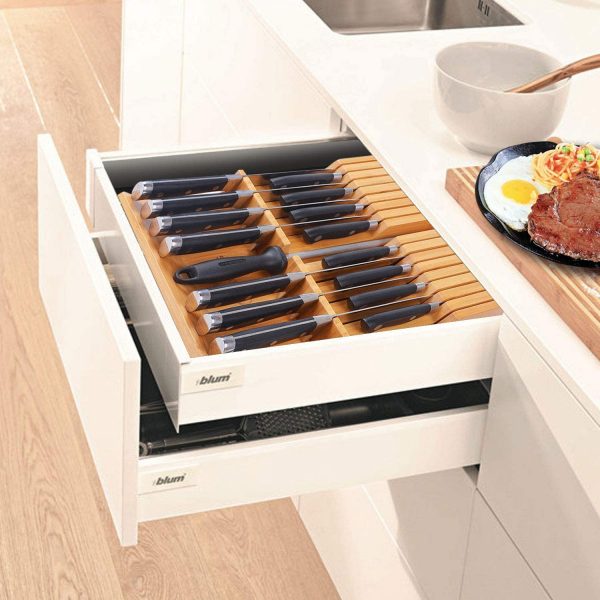 $38

BUY IT
Large Wooden Drawer Knife Holder: This expansive in-drawer knife holder can accommodate up to 16 individual knives and one sharpening steel, a fantastic selection for a seasoned kitchen knife collector. The top eight slots are ideal for steak knives and knives under 10 inches, while the eight larger slots are suitable for knives up to 15 inches.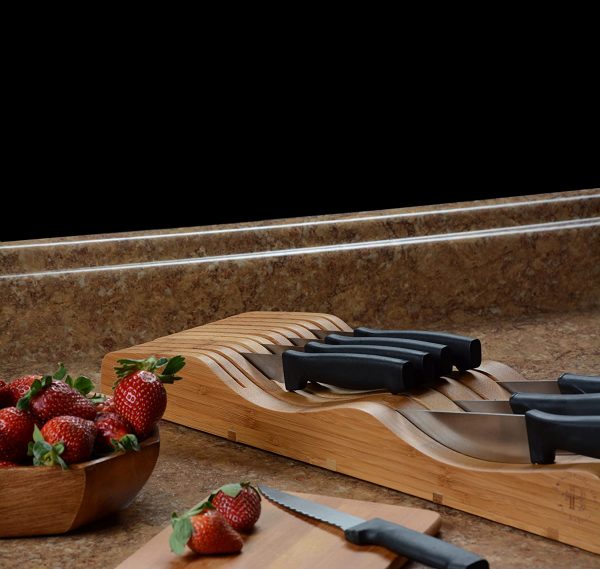 $20

BUY IT
Bamboo Drawer Knife Holder: Eco-friendly bamboo is carved into a pleasant wave-shaped knife holder, ensuring this design looks just as good on the countertop as it would tucked away in any drawer. Use on its own or invest in a matching set to suit a larger drawer.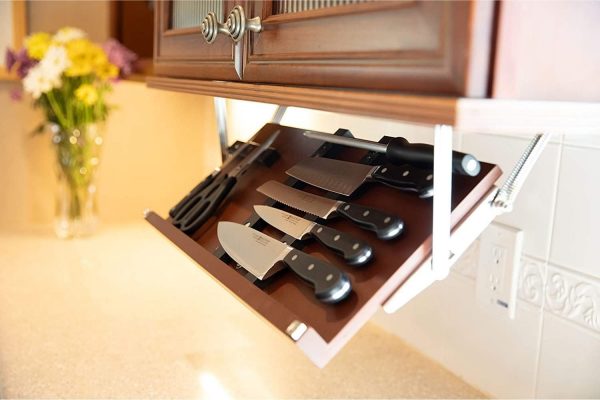 $138

BUY IT
Under Cabinet Magnetic Knife Holder: Are you looking for another way to store knives out of sight while retaining the convenience of easy access? This unique kit secures to the bottom of any cabinet, holding your knives in place using strong magnets. Choose from a wide variety of finish options to best suit your cabinetry style.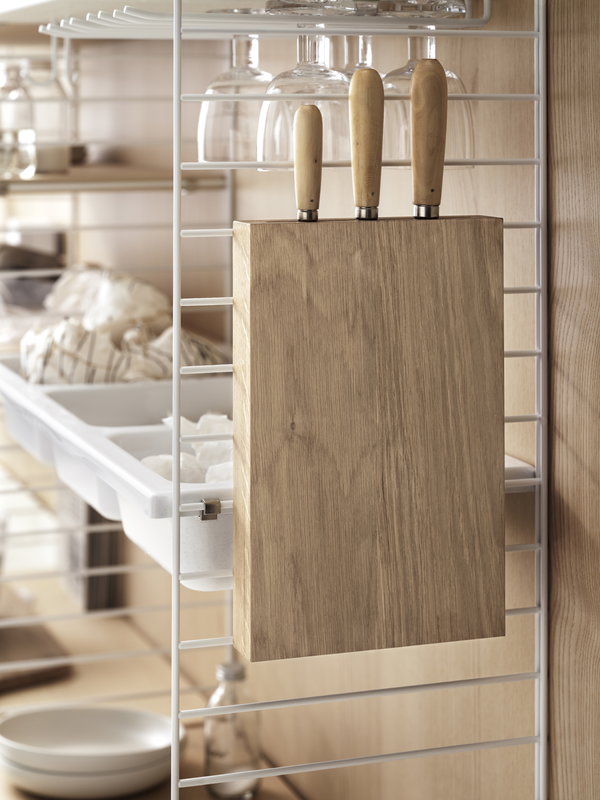 $152

BUY IT
String System Wall Knife Holder: Originally intended for the iconic String Furniture system by Nils Strinning, this handsome knife holder is equally compatible with any other similar wire-based shelving. It's crafted from natural solid oak for timeless appeal.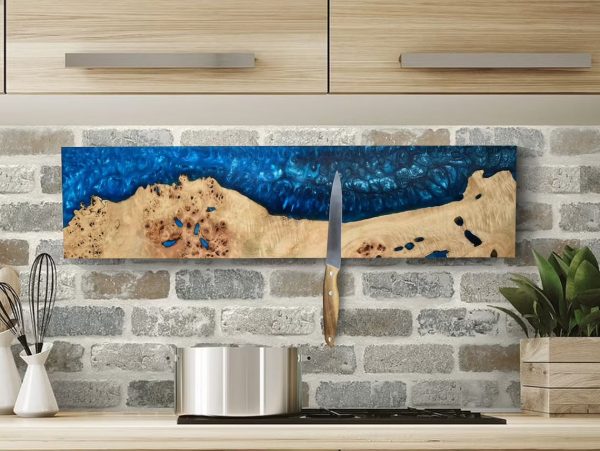 $150

BUY IT
Wood and Resin Magnetic Knife Holder: Wall-mounted magnetic knife holders make it easy to show off your finest blades while keeping them easy to access and easy to tell apart. This beautiful magnetic knife holder is a true work of art, handmade from natural burled wood and epoxy resin. Custom sizes and colors are also available from the crafter upon request.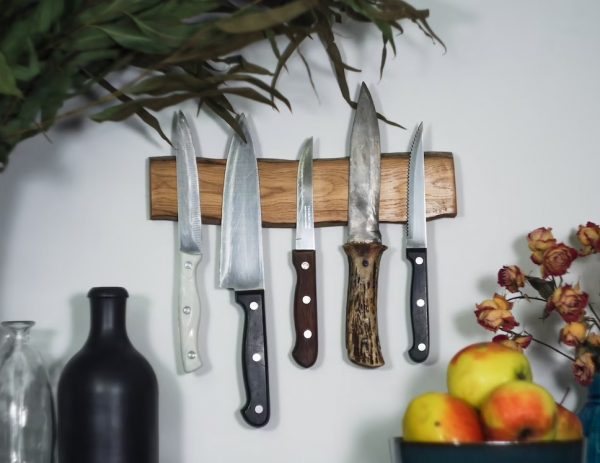 $38

BUY IT
Live Edge Magnetic Knife Holder: This beautifully crafted knife holder is made from deadwood oak branches, each a one-of-a-kind work of art imbued with endless natural variation. Strong magnets hold heavy knives with ease. Choose from four length options to suit your available space and your number of knives. Each holder comes with mounting tape for easy tool-free installation.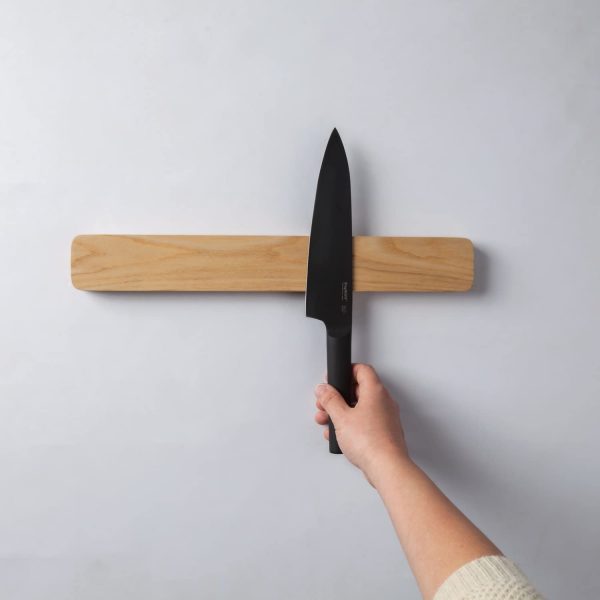 $45

BUY IT
Wooden Magnetic Knife Holder: Simple ash wood construction makes this BergHOFF knife holder a light and breezy fit for almost any kitchen theme, from contemporary to rustic and beyond. This piece measures at just over 15 inches in length. Each one includes anchors and screws for secure installation.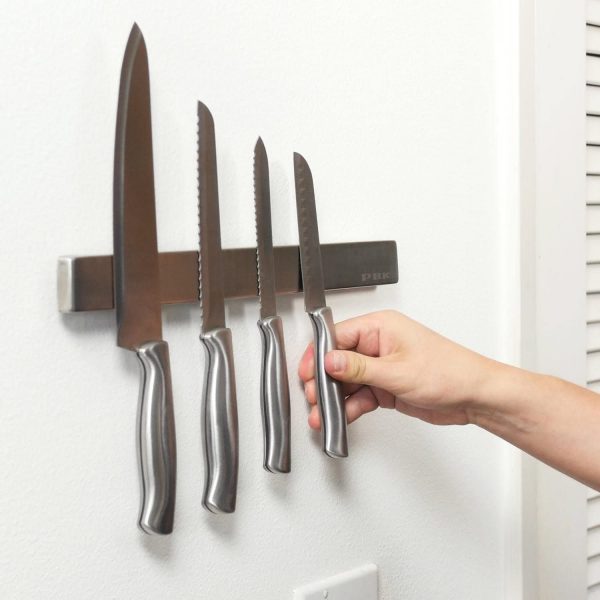 $15

BUY IT
Stainless Steel Magnetic Knife Holder: Looking for something to match your stainless steel appliances? This magnetic knife holder is crafted from durable stainless steel and equipped with strong magnets to hold your most-used blades. This piece measures at just over 15 inches in length.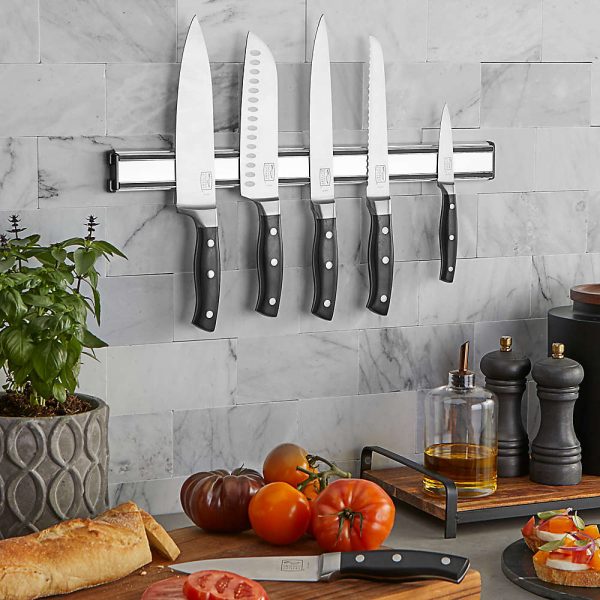 $19

BUY IT
18-Inch Stainless Magnetic Knife Holder: Ideal for professional-looking kitchens, this stainless steel knife bar offers a very finished and industrial look. It measures at 18 inches in length to hold your largest knives. All mounting hardware is included.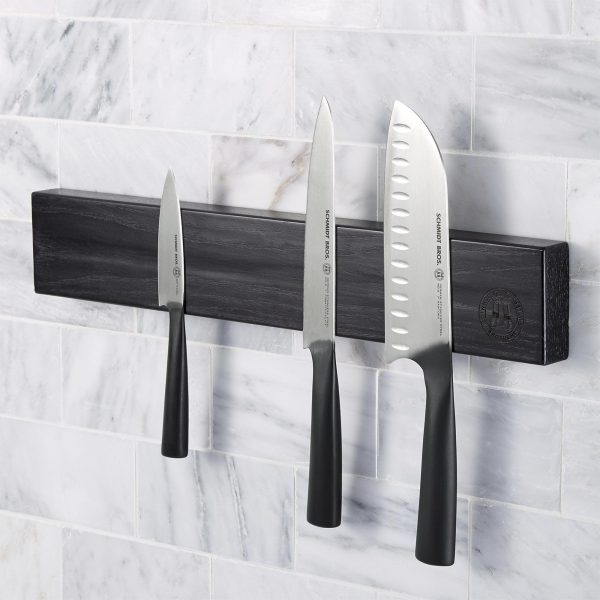 $54

BUY IT
Black Magnetic Wall Mount Knife Holder: For darker kitchen themes, or to add a pop of attractive contrast, consider using this black-finished magnetic knife holder. This piece is crafted from red oak with a handsome ebony stain, ideal for modern and rustic kitchen themes. This piece measures at 18 inches in length.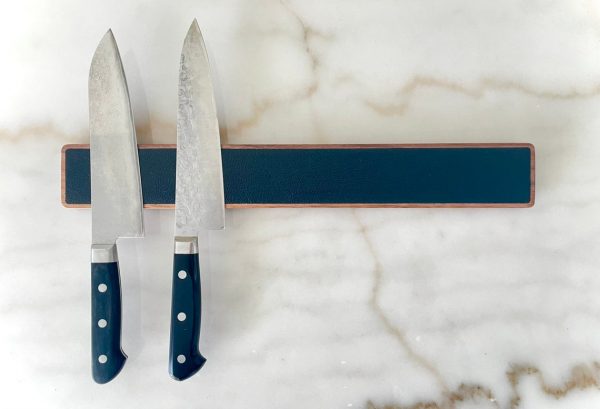 $77

BUY IT
Wood and Leather Magnetic Knife Holder: This gorgeously handcrafted knife holder offers an elevated look with the addition of genuine leather padding along the front. Not only does this add a pop of sophisticated texture, but it also helps to protect the surface of your blades from accumulating micro-scratches that can be caused by harder metal knife racks.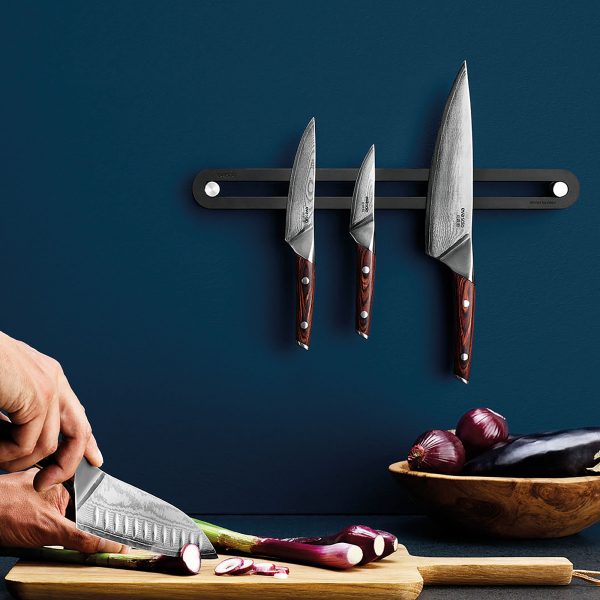 $135

BUY IT
Minimalist Magnetic Knife Holder: The exquisite Eva Solo knife holder offers an especially refined take on this kitchen essential. The knife holder is coated with durable rubber to prevent damage to your blades, the framing made from stainless steel for long-lasting durability.
Recommended Reading:  40 Unique Designer Knives For Your Home
Related Posts:
Cool And Unique Ceiling Fans
Kitchens of the Future
Stainless Steel Kitchen Designs
Open Kitchen Shelving: 40 Classy Examples That Show How The Pros Pull It Off