Jute rugs add a cosy, natural appeal to any area of the home, making a stylish statement whether laid inside or outdoors. Gone are the days of limited brown and beige colourways–although we still love those too. Now, there are a plethora of patterned jute rugs, nautical stripes and ticking, multicoloured jute rugs, boldly bordered designs, and a whole world of shapes. Jute rugs add a sense of warmth to the living room, an earthy vibe to the bedroom, farmhouse chic in the kitchen, and offer durability in the dining room. There are also jute-inspired rugs that are machine washable, making them ideal for areas with heavy footfall and for out on the patio too.

$226

BUY IT
Scalloped Jute Rug: Handmade in India, this adorable scalloped-edge rug can be customised to any size to fit your home. Its frivolous shape infuses fun into modern surroundings and light-heartedly complements bohemian decor schemes.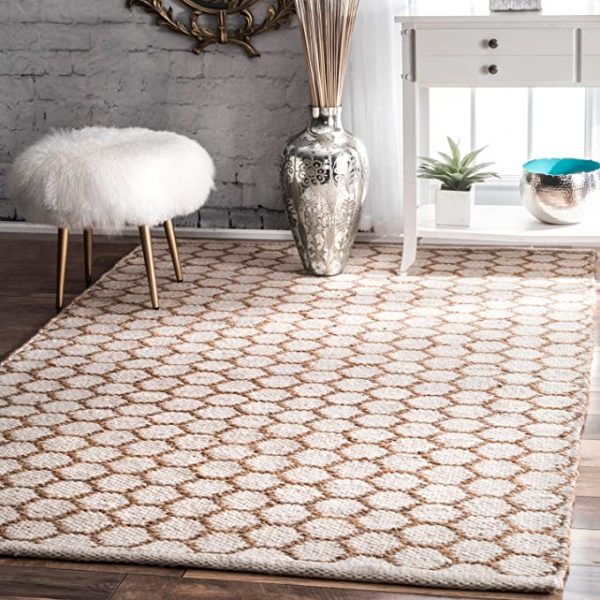 $148
BUY IT
Honeycomb Reversible Jute Area Rug: A happy honeycomb pattern bridges natural and modern geometric aesthetics. This sweet rug design is also reversible so that you can enjoy a predominantly white colourway or a largely tan alternative.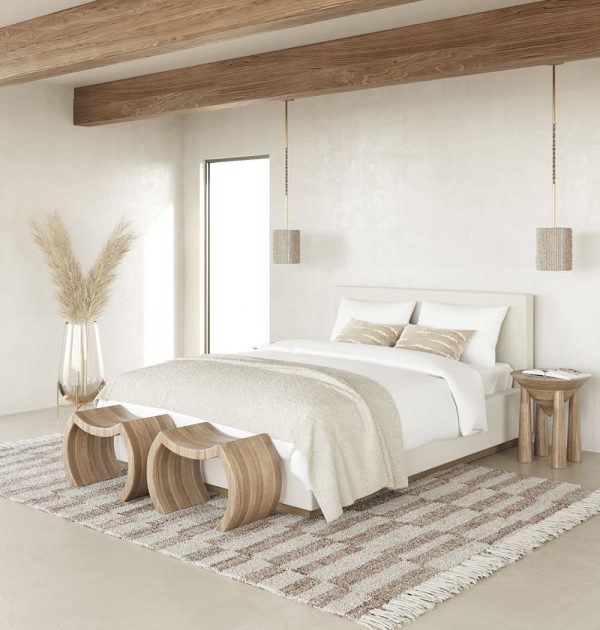 $458
BUY IT
Soft Jute Rug: Made by hand from sustainably harvested, toxin-free jute, this soft rug features a mellow offset striped pattern to fashion ladders of alternating tone.

$114
BUY IT
Tribal Jute Rug: Bold black diamonds make tribal geometric pattern across a sandy jute expanse. The mat is chunky and textured with a loosely fringed edge to instil earthy charm into any living space. Available in four different area rug sizes and as a 12' runner.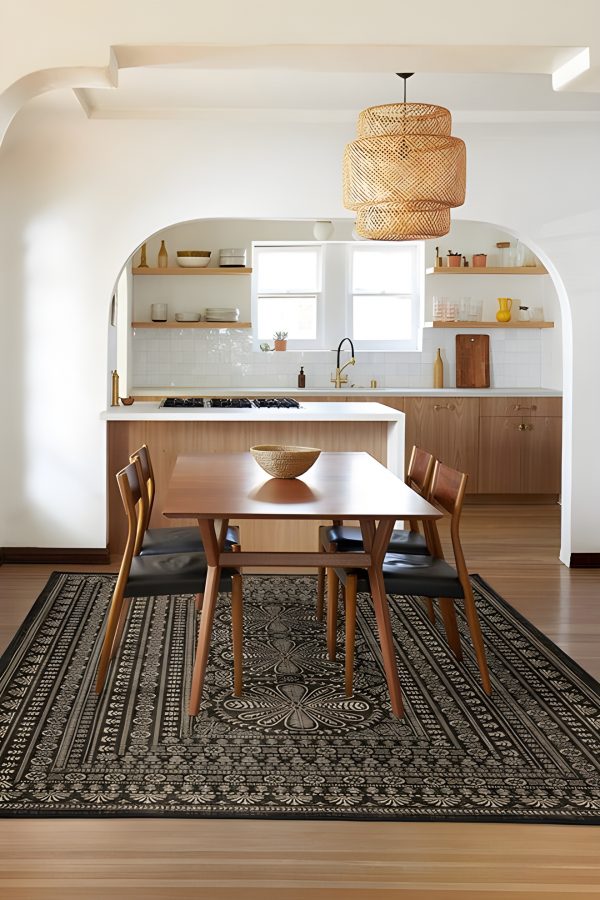 $309
BUY IT
Indoor/Outdoor Jute Rug: Made from a woven material that has a jute-like texture, this polyester and polyurethane rug is completely machine washable. The intricate black and tan floral border pattern disguises a lot of daily grime too, making it a practical choice for a regularly used dining area or the patio.

$309

BUY IT
Washable Blue Jute Rug: Bands of intricate pattern create tan and blue stripes on this machine washable jute-inspired rug. The finely textured weave is made with recycled & virgin polyester, and polyurethane.

$309
BUY IT
Blue Accent Jute Rug: A natural tan-coloured background sports black lines of varying thickness, which are loosely reminiscent of piano keys. Each end of the machine washable jute-like rug is capped with colour to give it an upbeat modern finish.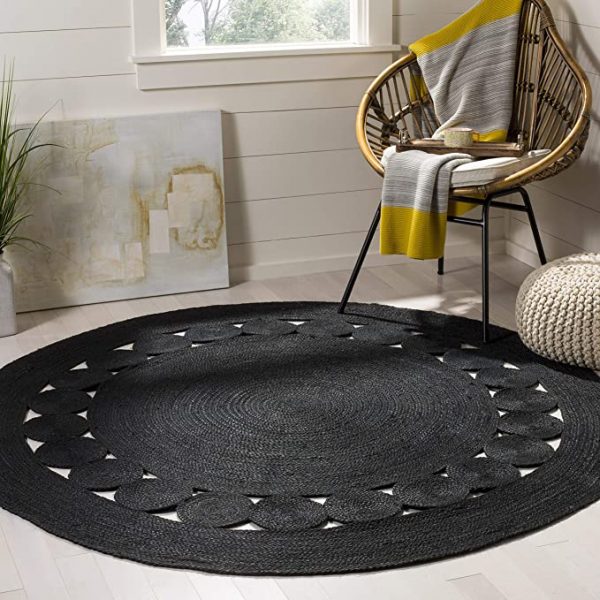 $167

BUY IT
Black 8' Round Jute Rug: Black and bold, this round natural fibre rug has a modern farmhouse vibe that really makes a statement. If black isn't your preferred colourway, there are options in brown, grey, ivory, rust, navy, and natural.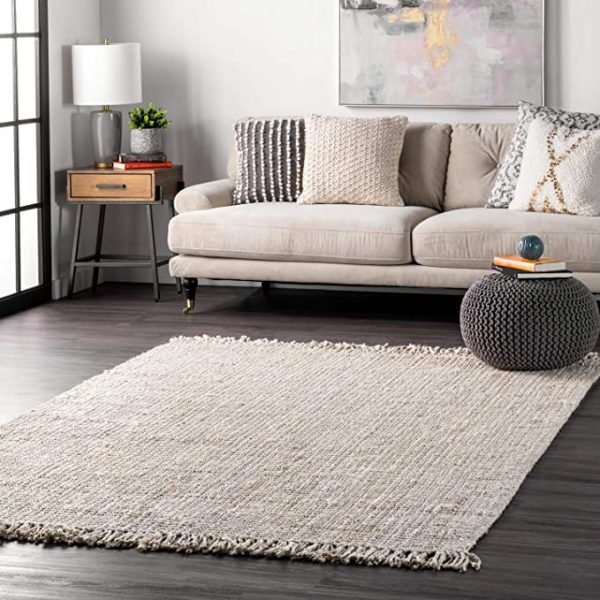 $115
BUY IT
White Jute Rug: Handwoven into a chunky 6×9 area, this farmhouse style white jute rug is thick and inviting. The pale finish looks fresh and clean, but its other seven available colourways are equally inspiring.

$217
BUY IT
Jute Rug With Border: A smart statement in the living room or a stylish upgrade for the bedroom. This natural jute rug is trimmed with a wide border that takes it upmarket.

$280
BUY IT
Yellow Jute Rug With Border: Combine a bordered design with a splash of colour to make a bigger statement. This energising sunshine yellow dyed weave is enough to put a smile on your face every day of the week.

$309
BUY IT
Blue Trellis Jute Rug: Inspired by the woven texture of jute, this washable interpretation features blue, slate, teal, and tan fibres in an elegant diamond trellis pattern. Made with polyester, and polyurethane.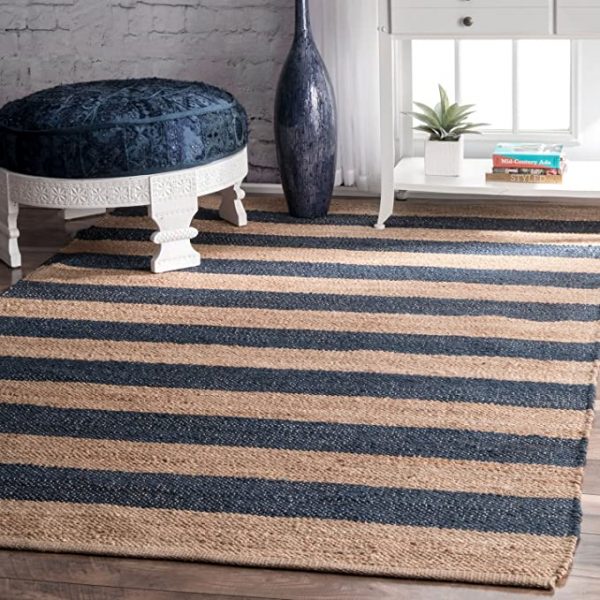 $87

BUY IT
Blue Jute Rug With Stripes: This denim blue and natural jute flatweave rug makes an eye-catching nautical statement that would look great in living spaces and kids' rooms alike. The cheerful striped design is available in seven different sizes.

$458

BUY IT
Arrowhead Jute Rug: Royal blue arrowhead patterns run up and down this sustainably harvested jute rug, which has been specially crafted for softness and durability. A beautiful style statement for the lounge, dining room or hallway.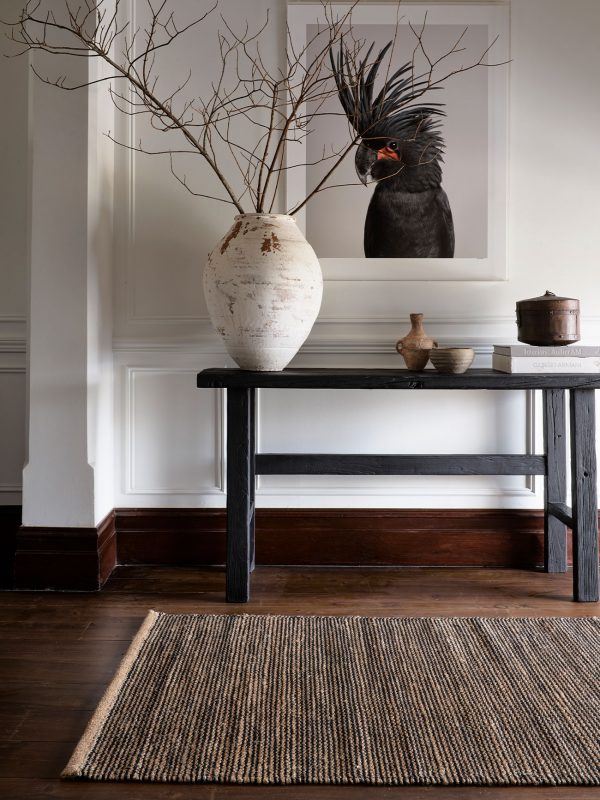 $360
BUY IT
Black Wool And Jute Runner Rug: Alternating rows of warm tan jute and black wool fashion a modern runner with bold warmth. This textural piece makes a great companion for a black-painted entryway table or wooden hallway cabinets. Available in two different lengths to fit your entryway.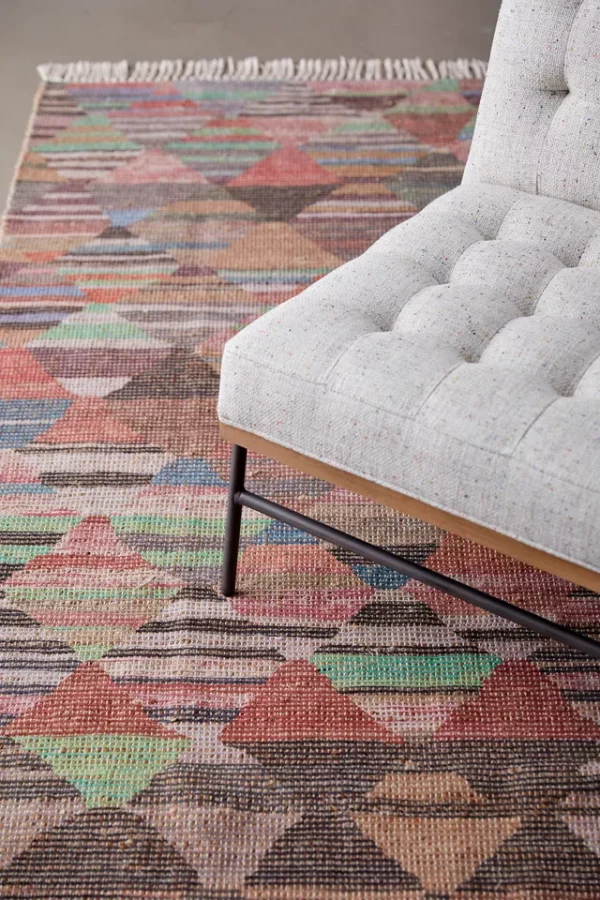 $159
BUY IT
Chenille Jute Rug: This geometric and striped design is printed in a kaleidoscope of rich colours. The jute and chenille base is low-profile but textural, making a boho splash with soft comfort. Made from 62% Jute, 26% polyester, and 12% cotton.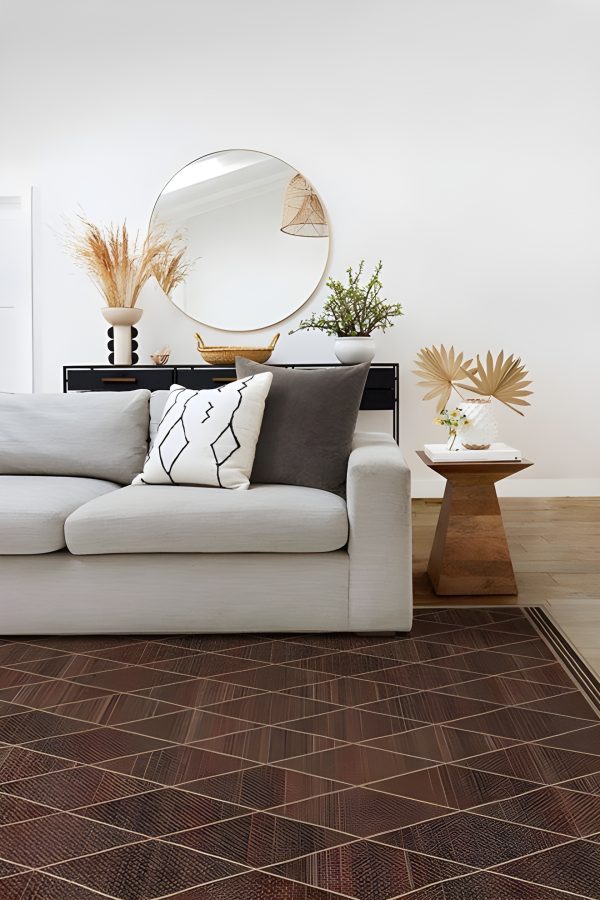 $309
BUY IT
Red Trellis Jute Rug: Deep red, orange and brown fibres make a warm blend across this sophisticated diamond patterned rug. A woven texture gives the machine-washable rug a natural jute-like quality. Made with polyester and polyurethane.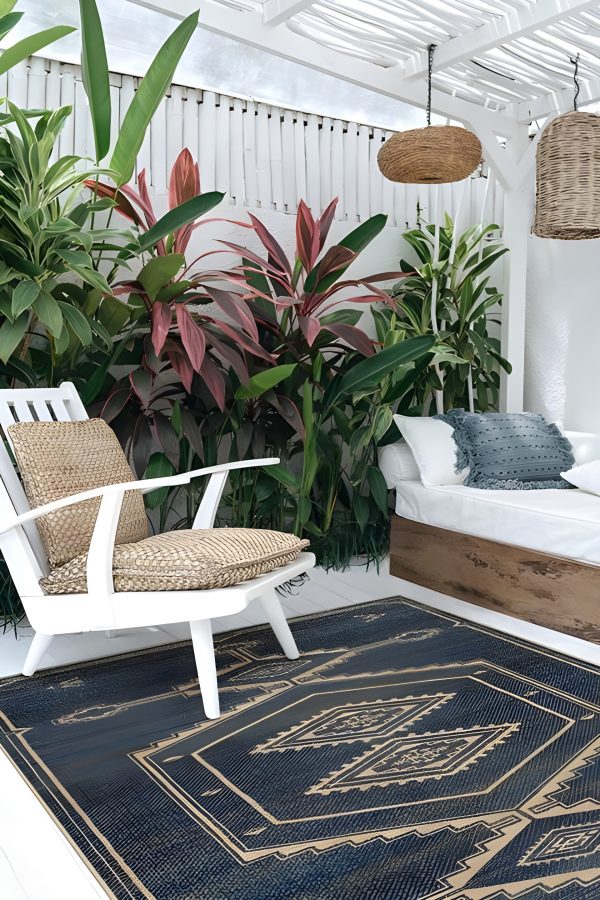 $309
BUY IT
Navy Jute Rug 5×7: This jute-like washable rug is woven into a bold design with a hexagon and diamond motif. Inspired by the American Southwest, this piece looks right at home in bright sun rooms, and airy, earth tone infused living spaces. The rug's navy blue backdrop is peppered with subtle hints of teal, red, and gold for added visual warmth.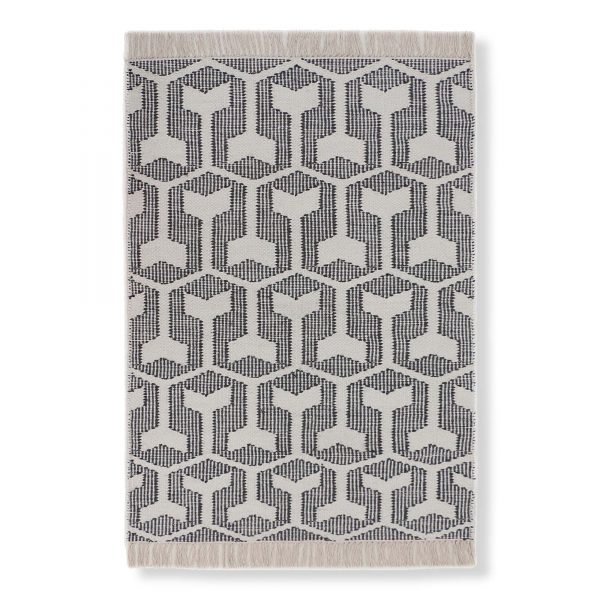 $458
BUY IT
Whale's Tail Jute Rug: Textural and earthy, this soft and sustainably sourced jute rug gives great visual effect with an unusual woven pattern that resembles whale's tails. The unique blue and cream rug design is crafted with a fringed finish at each end.

$493
BUY IT
Black Jute Rug With Fringe: Casual in its solid black colourway and loosely fringed finish, this black rug is made from softened premium natural jute fibre. This simple design will provide firm footing for just about any room of the home with its range of rectangle, round, square and runner designs, plus an array of six alternative and versatile colourways.

$1,950

BUY IT
Dappled Jute Rug: This luxurious rug option is a hand-knotted piece, crafted from opulent wool and abrash-dyed jute. The rug's subtly dappled design cleverly spans both traditional and modern aesthetics. Available in tasteful shades of fawn, galapagos green, and sable.

$309
BUY IT
Geometric Braided Jute Rug: A two-toned chevron pattern with a soft organic appeal, this braided rug is a washable woven material that mimics a natural jute look. The polyester and polyurethane weave is fashioned into two area rug sizes and two runner lengths to suit your space.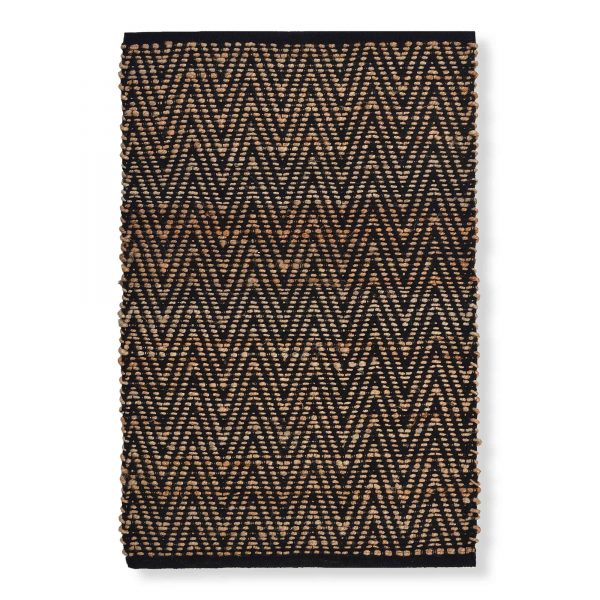 $458
BUY IT
Black Chevron Jute Rug: If you're looking for a chevron design that offers a little more oomph, then this black and tan zig-zag rug is sure to stand out from the crowd. Bold and textural, this earthy modern piece is finished off with smart black edges.

$235

BUY IT
Farmhouse Chunky Jute Rug: A must-have for a farmhouse style living room, this chunky natural jute rug gives off all of the cosy vibes. With seven different colourways and thirteen sizes to choose from, there's one to complement any room size, shape, and colour scheme.

$25

BUY IT
Boho Jute Round Rug: Farmhouse style meets boho vibes with this round natural jute rug. This little beauty makes a pretty addition to a reading nook or bedroom sitting spot, but its larger versions are big enough to make a prominent splash as a lounge centrepiece or to highlight a pedestal dining table.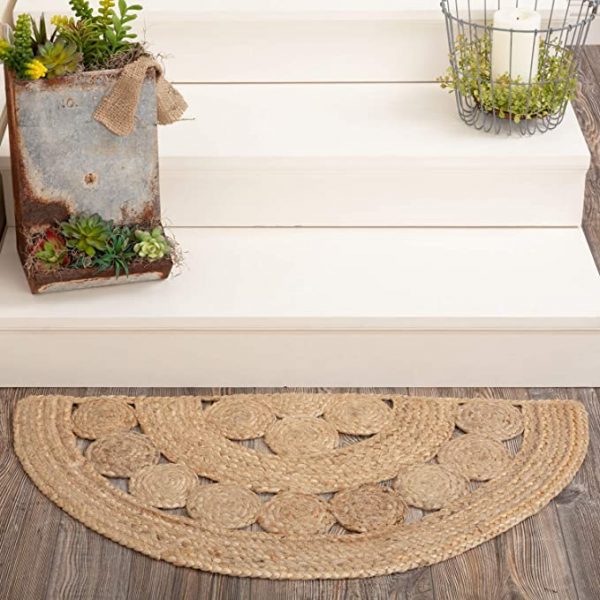 $41

BUY IT
Half Circle Jute Rug: A half-circle rug design adds a soft silhouette to the base of a staircase or a doorway. In this small but shapely rug design, rows of circular and solid braided natural jute create a beautiful pattern that emulates warmth.

$309
BUY IT
Brick Red And Blue Jute Rug: Durable and machine-washable, this jute-like polyester and polyurethane rug features an eye-catching and colourful design. Brick red, burnt orange, blue-black, and grey arrowhead forms combine into a large diamond motif with bold visual warmth.

$684
BUY IT
Jute Diamond Rug: Inspired by the ancient pyramids of Cairo, this deeply textured rug design is cut with diamonds of high wool pile across a flat sandy coloured jute base. Reminiscent of concepts from the 1970's craft movement, this groovy design receives a refined modern update.

$175

BUY IT
Farmhouse Ivory Jute Rug: When you long for the earthy appeal of natural materials, but you like your interior colour schemes to be a little lighter, then opt for an ivory jute rug. This lighter alternative carries all of the natural appeal whilst brightening the backdrop.

$22
BUY IT
Oval Jute Rug: Ovals and racetrack-shaped home decor continue to climb in wild popularity right now, so why not combine the material and shape trends with an oval jute rug.

$158

BUY IT
Blue Oval Jute Rug: Throw some colour at the shape trend with this stunning blue bordered oval jute rug design. Its rich blue and fresh turquoise design makes a show-stopping moment for a modern lounge area, dining room, or a colourful bedroom.

$106

BUY IT
Chevron Pattern 5×8 Jute Rug: This chunky 5×8 jute rug design is braided with a deep chevron pattern. Off-white braiding is alternated with natural tan to give the pattern definition. This design also comes in a darker colourway with natural jute and navy braiding.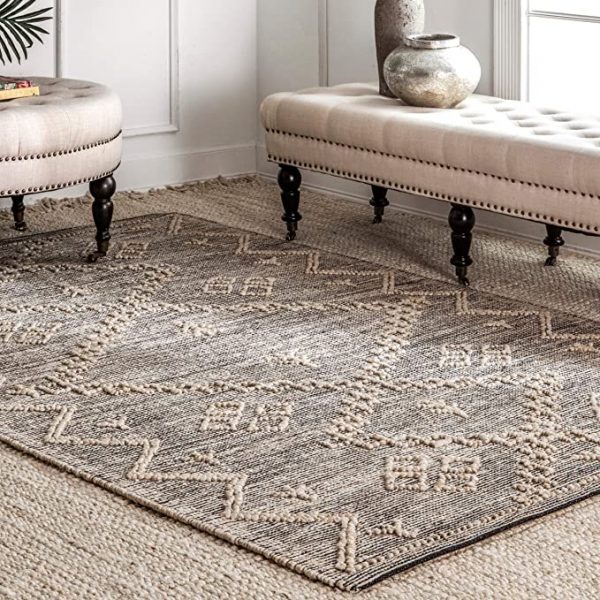 $311
BUY IT
Grey Jute Rug: A raised Moroccan design sets this artisan crafted rug apart from the rest. Made with 70% jute and 30% cotton, this fabulous yet affordable piece is available in grey (pictured), light grey, beige, and blush pink.

$1,040

BUY IT
Textured Wool Jute Rug: Waved lines of sturdy jute and luxurious wool undulate together to represent the shimmer of heat that obscures the African desert. This effect gives the rug its name, Kalahari. Muted colour options include natural & chalk, natural & pumice, and a dark pewter & charcoal design.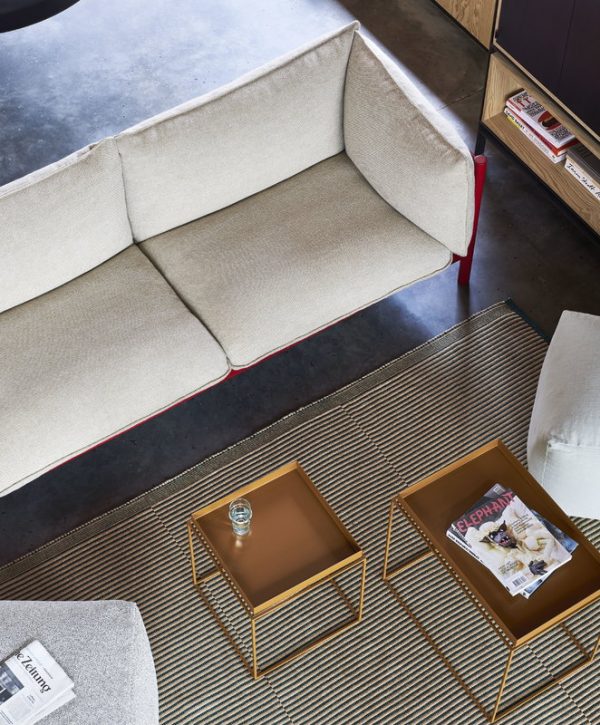 $229

BUY IT
Green Jute Rug: Jute and cotton fibres create a raw natural texture in this two-toned rug design. At first glance, the colourway appears tan and dark green, but closer scrutiny upon the stripes reveals a mix of black and bright green yarn. Non-slip backing keeps the rug safely in place.

$159
BUY IT
Soft Black 3×5 Jute Rug: A machine-washable polyester and polyurethane blend gives this geometric rug its jute-like texture. A warm brown-black diamond and stripe design contrasts sharply against a tranquil taupe background to striking effect.

$143

BUY IT
Handwoven Square Jute Rug: Large open plan living areas and square entryways receive a tailored look with this handwoven square jute rug. The large braided design comes in natural, black, navy, and off-white options.

$1,314

BUY IT
Black Wool And Jute Rug: Richly-dyed wool brings magical lustre to this solid black rug. Flecks of raw jute push through the intense hand-knotted weave to build tonal interest and warmth. The luxury piece comes in dimensions of 6'7"x9'10" and 8'2"x11'6".

$327

BUY IT
Boho Jute Rug 9×12: Intricately patterned with tiny diamonds, this bohemian style rug design combines the warmth of natural jute with bright ivory fibres. A thick fringe brings added to texture to each end.

$895

BUY IT
Jacquard Jute Rug: For a more subtle diamond pattern, choose this handloomed jacquard rug. Here, the design is bedded gently into a natural jute base that has been washed for superior softness. This understated piece comes in four sizes: 5'x8', 6'x9', 8'x10', and 9'x12'.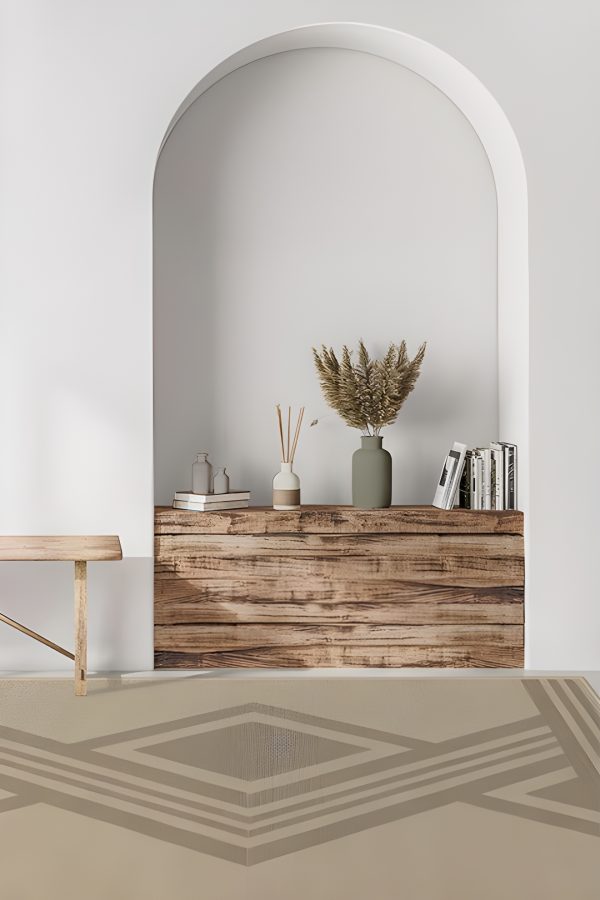 $309
BUY IT
Machine Washable Light Jute Rug: Light taupe and tan makes this diamond motif jute rug a versatile choice that can be repurposed around the home time and again. Its woven texture is jute-inspired, but its blend of polyester and polyurethane make it conveniently machine-washable.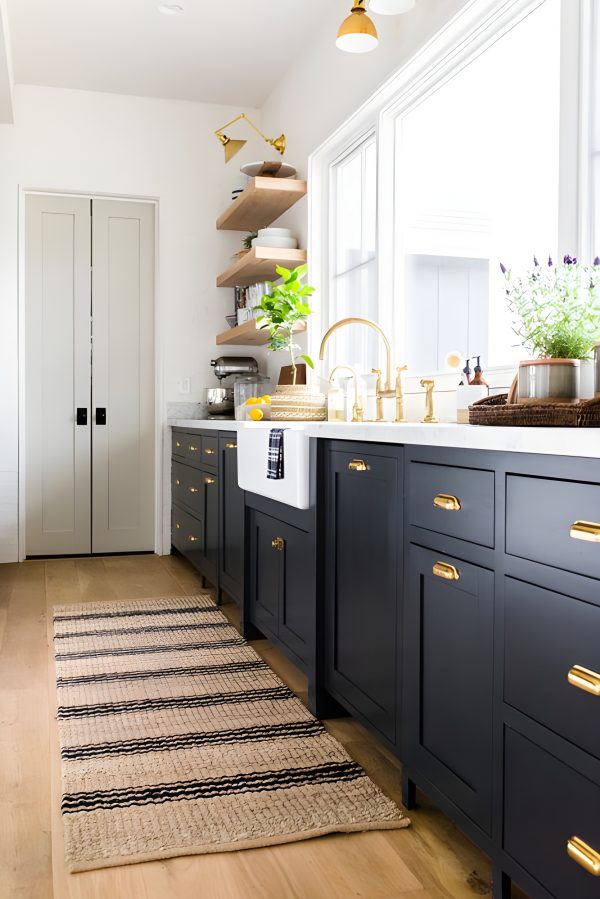 $265
BUY IT
Indigo Ticking Jute Runner: Simple indigo ticking makes a pleasing, lightweight addition to this natural jute runner. The design introduces just a hint of rustic charm wherever you wish to lay it, be it the hallway, the bedside or in the kitchen.

$220
BUY IT
Blue Jute Rug With Border: A warm jute border brightens the solid blue centre of this modern rug design, giving it an attractive two-tone appeal. The smart colour combo is also available in round, oval, square and runner alternatives.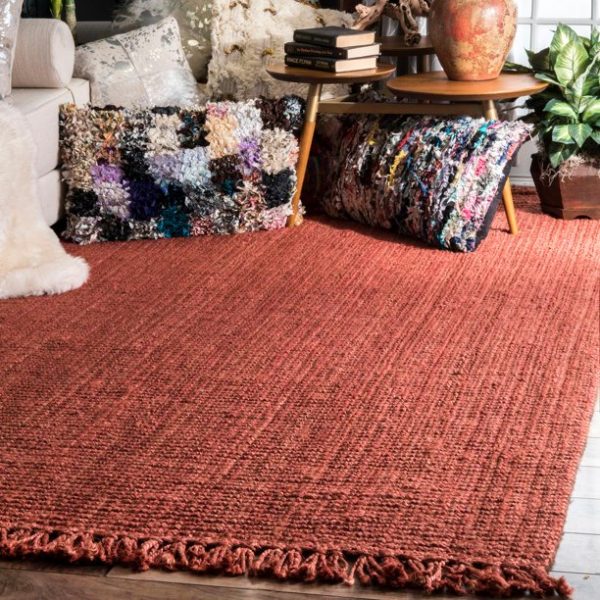 $44
BUY IT
Terracotta Jute Rug: The incredibly rich and earthy tone of this terracotta jute rug adds real wow factor to a room. Team the boho beauty with natural wood accents, exposed brick feature walls, and weathered shiplap to build upon the look.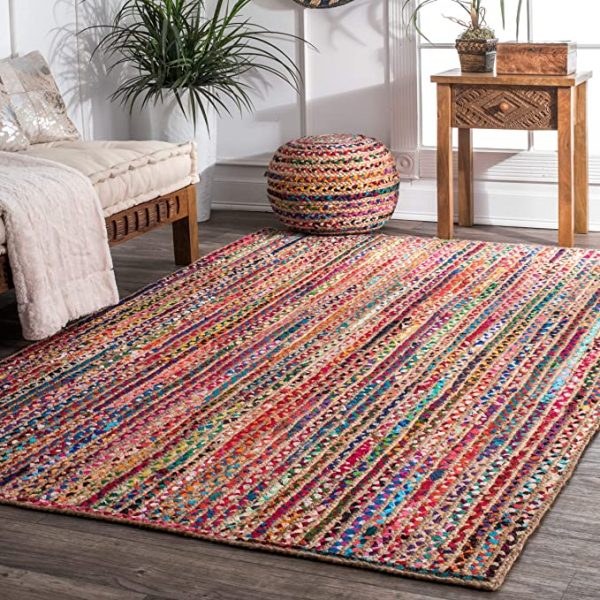 $83
BUY IT
Multicolour Braided Jute Rug: The brightest of our bunch, this extraordinary multicoloured jute rug is enough to satisfy even the boldest of colour enthusiasts. The chunky braided design comes as rectangle, round and oval options, and a multitude of dimensions to suit.

$101

BUY IT
Swirl Braided 6' Round Jute Rug: Tan and black jute fibres are arranged into a striking swirl in this 6' round rug. Use the mesmerising piece to anchor a reading corner, or to form an island for a centrally placed entryway table. Also available as an 8' round.

$55

BUY IT
Jute World Carpet: Travel around the globe with this jute world carpet. The printed continents are bound to inspire imaginative play in a kids room, offering a great base on which to home animals and launch rocket ships.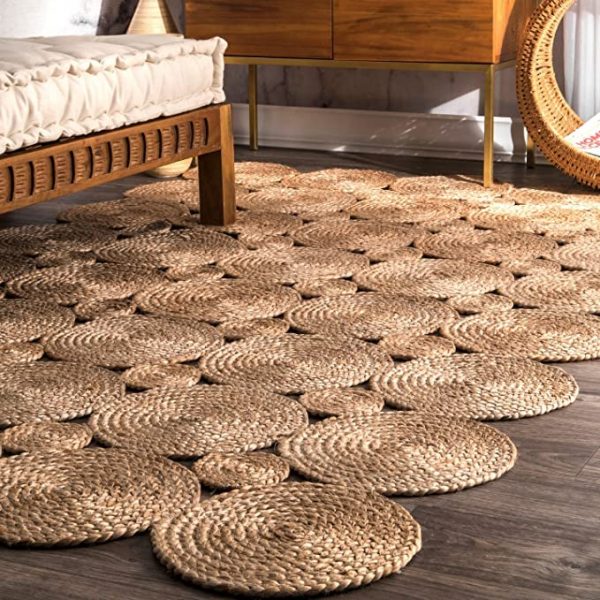 Boho Medallion 8×10 Jute Rug: A multitude of jute medallions join together to form this gorgeous rectangular boho jute rug. The shapely piece allows glimpses of the flooring beneath to shine through, creating a wonderful meld of materials and tones.

$220
BUY IT
Natural Jute Runner Rug: Sometimes, simple is best. A fresh variation of tone and texture comes from alternating lines of white and undyed jute in this runner, adding a bright natural touch to even the narrowest of spaces.

$45
BUY IT
Natural Jute Rug With Fringe: Perfectly raw and rustic, this fringed jute rug makes a natural addition to nautical themes and farmhouse decor schemes alike. Like the look but want to change the tone? You're in luck, because this relaxed flatweave comes in moody steel blue, light nordic blue, sand, and earth (pictured).

$240

BUY IT
Hardwearing Small Jute Rug: Use this hardwearing little number to protect your floor and warm your toes in high-traffic areas. Perfect as a kitchen sink companion to take the chill off as you wash the dishes, or for when carrying out laundry duties in the utility room.
Recommended Reading:  51 Rugs that are Brimming with Coziness and Textural Appeal
Related Posts:
51 Bedroom Rugs That Will Brighten Your Mornings
51 Large Area Rugs to Underscore Your Decor with a Designer Touch
Rugs With a Difference
Modern Classic Chairs