Materials expert 3form introduces a woodland-inspired Biophilic Graphic Patterns collection that looks no further than the brand's backyard for inspiration. Located less than 200 miles from 3form's Salt Lake City headquarters is Pando the Tree, a colony of Aspen trees connected by a single root structure that dates back 2.6 million years. Fascinated by the Aspen trees' rich texture and history, they became the jumping-off point for this collection, spurring three new graphic patterns inspired by forest imagery at numerous scales and perspectives.
"This collection celebrates the duality between perfection and imperfection," says Christian Darby, 3form's VP of Design. "The patterns are digitally printed with precision and control, but we leverage nature's irregularity to make the patterns feel grounded and realistic."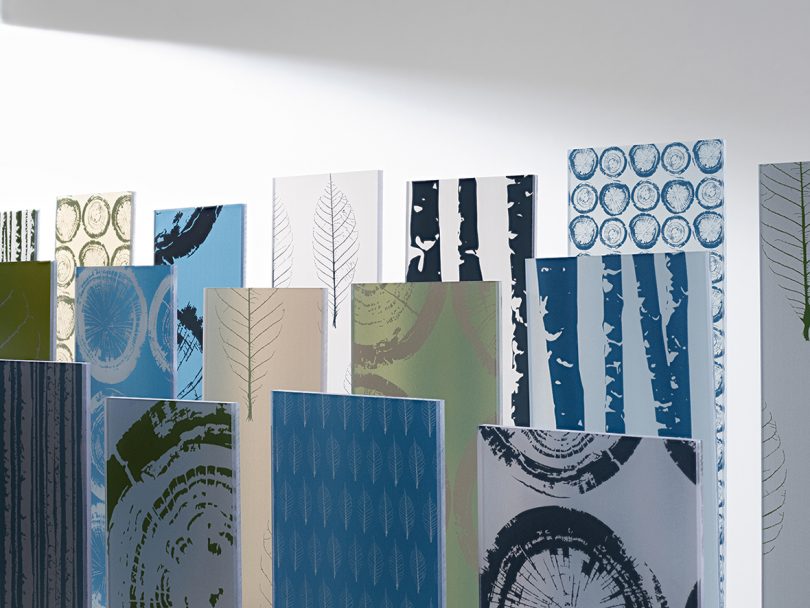 Available in Aspen, Heartwood, and Serotina, the graphic patterns capture everything from rows of trees to magnified Black Cherry leaves and age-old trunks. As designers continue to incorporate biophilia into calming commercial spaces, they offer an abstract take on nature's timeless designs, while maintaining intricacy and irregularity. Applied on 3form's translucent Varia and Etched Glass materials, the patterns cast dynamic shadows that imitate nature, while light transmits through their negative space.
3form's fascination with scale didn't end with the designs. The graphics can be customized in size, giving designers the tools to create a variety of aesthetics depending on the installation. For example, a small repeat of Aspen's vertical tree pattern can evoke a sense of calm in healthcare waiting rooms, but it can also be expanded and magnified for a more dramatic feel in corporate lobbies.
"There's a lot of possibilities packed into these patterns," says Darby. "If you reduce them to a small scale, they can appear delicate and sophisticated, but if you blow them up to fill an entire wall, they can be irreverent and fun."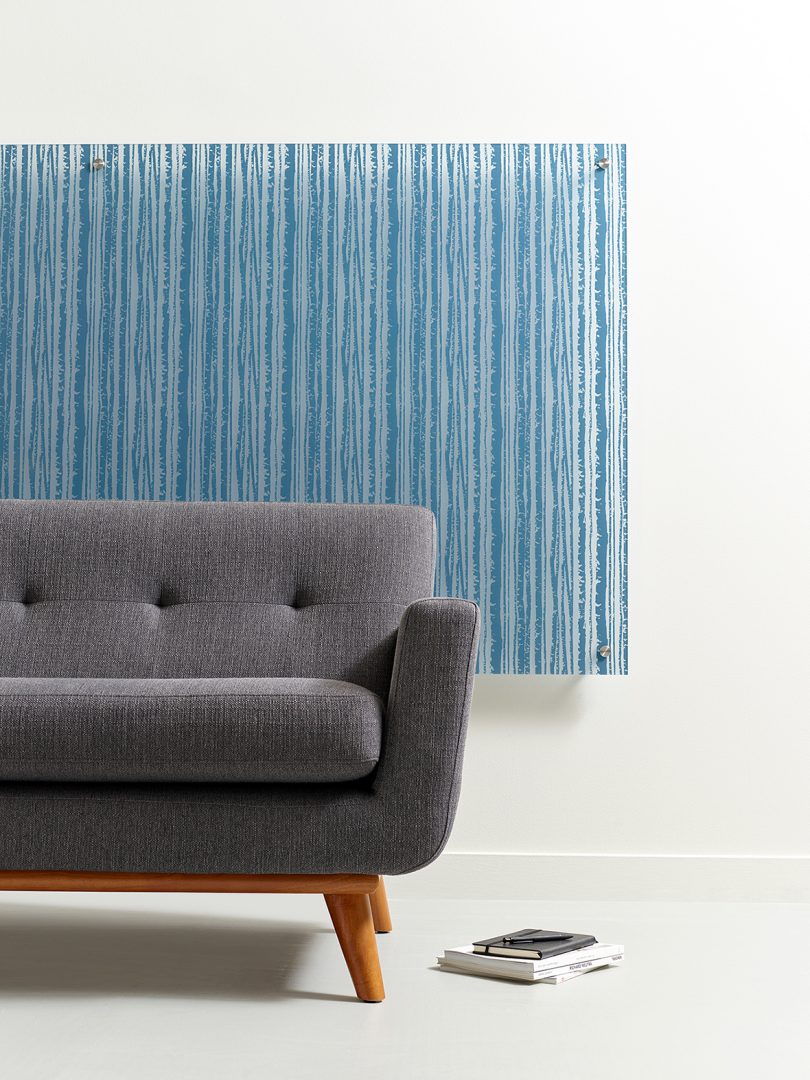 Aspen
Inspired by the tall, slender trees that dot Utah's landscape, Aspen depicts rows of tree trunks with texturized cutouts that resemble white bark. From afar, Aspen looks like an irregular pinstripe pattern, but up close its bark shapes and varying trunk thicknesses reveal depth and complexity. Available in three colorways – Grove, Popple, and Rustle – Aspen can be interpreted as varying degrees of abstractness depending on the application.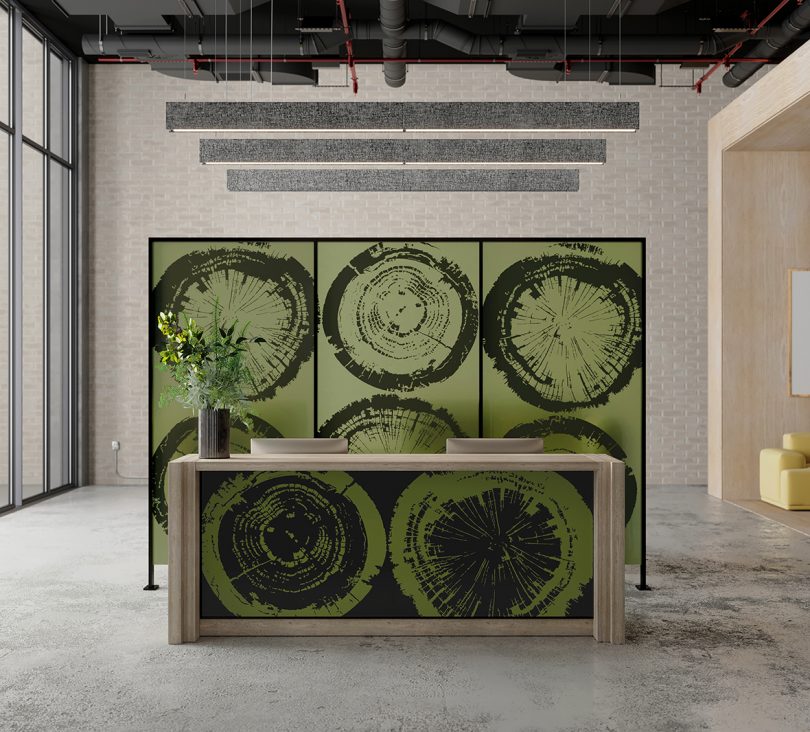 Heartwood
Heartwood illustrates an abstract tree trunk marked with thin, sharp lines inside an asymmetrical circle. Opposed to Aspen's distant perspective, Heartwood magnifies the trunk's individual lines and curves. When applied as a repeat pattern, Heartwood resembles irregular polka dots. Alternatively, large-scale installations show off the patterns' dynamic rings. Heartwood comes in three colorways, Bark, Rings, and Sap, which make the pattern appear dramatic or playful against 3form's translucent materials.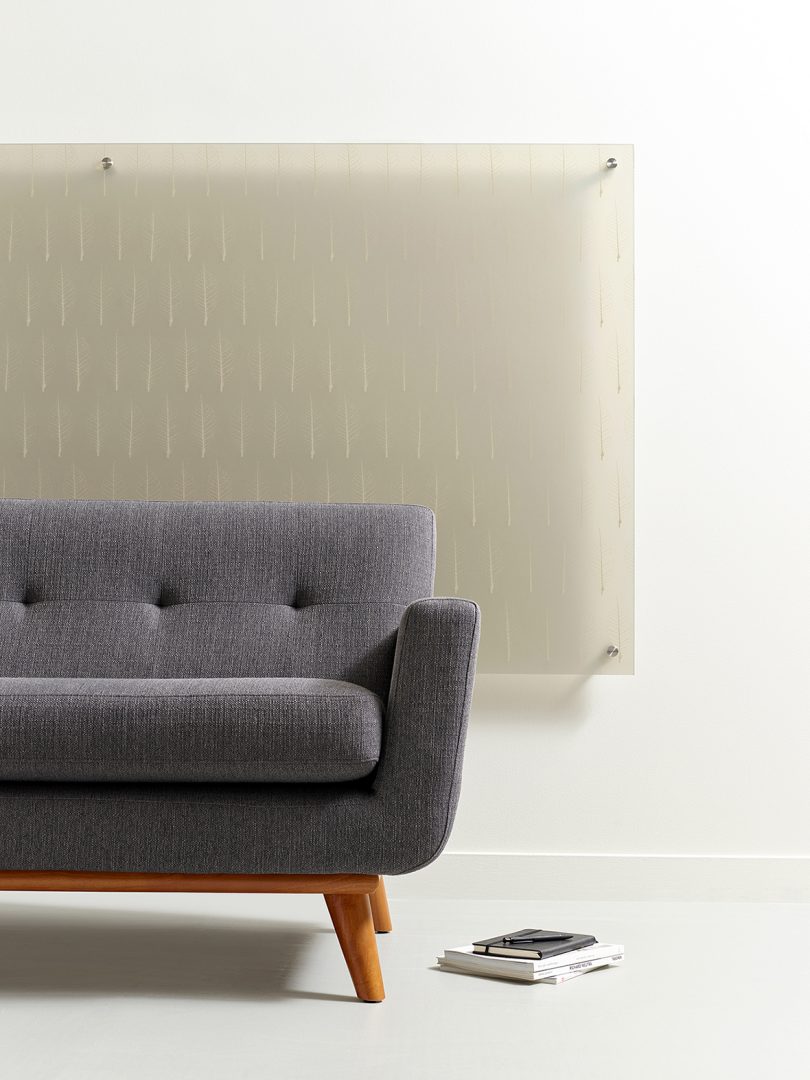 Serotina
The most delicate of the trio, Serotina portrays Black Cherry leaves in their simplest form. Rather than illustrating a standard leaf, Serotina depicts the veins and stems, allowing more natural light to pass through its negative space. The dainty, intricate pattern comes to life on etched glass and Varia in three nature-inspired colors, Golden, Mountain, and Wild, that evoke a sense of calm in any commercial space.
The three graphic patterns pair well with 3form's 2022 Color Collection, featuring nine muted hues that include mossy greens, deep blues, cool grays, and sandy golds. Whether the colors are coupled with a large-scale or an intricate repeat, these collections set the tone for wellness-driven interiors that prioritize beauty and comfort.
Explore 3form's Biophilic Graphic Patterns collection closer by ordering the collection kit which includes 3 Varia and 1 Etched Glass sample.
Photography by Sydney Austin.