To those who consider more traditional methods of timekeeping, i.e., wall clocks and watches, to be passé, consider this hot take – there are arguably few design accessories more functional than a clock or watch. When your phone battery inevitably dies, when you want to focus on tasks without distraction, or when you want to wake up on time without being assaulted by your inbox – where will you look? The answer is a clock or wristwatch. Still not convinced? These modern, one-of-a-kind timepieces will get you excited about checking the time again. For more design-driven timepieces, visit the Design Milk Shop!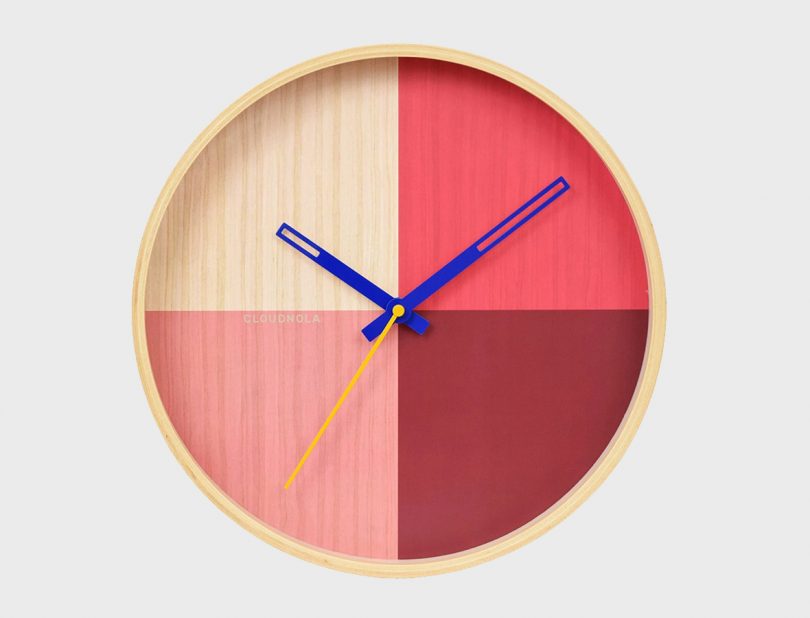 1. Flor Red Wall Clock by cloudnola
Inspired by the fashion industry, the Flor Red Wall Clock by cloudnola brings stylish colors to your walls. Designed by Het Grafisch Ambacht, the Flor Clock has a wood body and a modern, color blocked face that brings a warm and playful spirit to interior spaces. The bright yellow and cobalt blue clock hands create a beautiful contrast against the Flor's red and pink tones, creating a fun and energizing time telling experience. What's more, we love the simple shape and natural texture the Flor brings to a room!
$65
Shop Now >>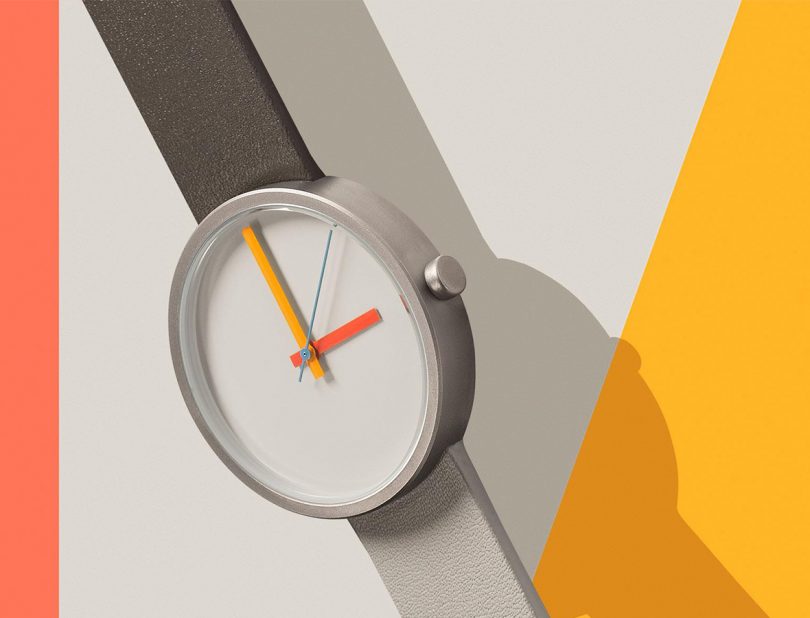 2. Multi Watch by AARK Collective
A playful approach to time-telling, the AARK Collective Multi-Watch stars bold yet balanced color palettes and a minimalist form that add personality to any outfit. The two-toned leather strap and sand-blasted matte case give this modern wristwatch textural appeal, while the scratch-resistant mineral glass face makes it suitable for daily wear. The classic colors on the hands of the Noon Watch, paired with the neutral tones of its multi-toned gray strap make it a universal staple in anyone's wardrobe.
$134
Shop Now >>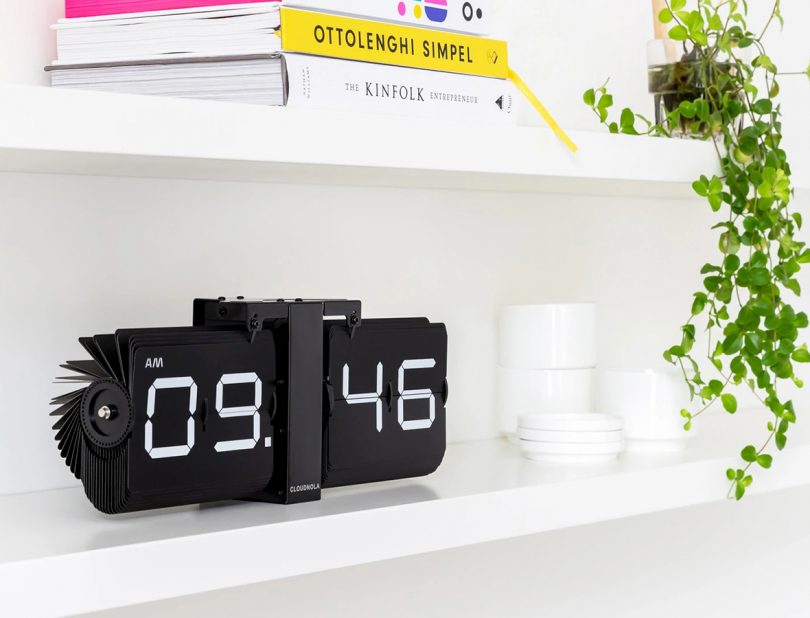 3. Flipping Out BonB Flip Clock by cloudnola
The Flipping Out BonB Clock delivers the same retro modern aesthetic of cloudnola's best-selling Flip Clocks in a sleek, all black profile. Fascinatingly, the clock's exposed mechanism lets you admire its inner workings and will surely entice you to stick around in the hopes of catching it flip as the minutes pass by. We love the flexibility of this modern timepiece – hang it on your wall, sit it on a shelf or mantelpiece, or keep it on your desktop.
$125
Shop Now >>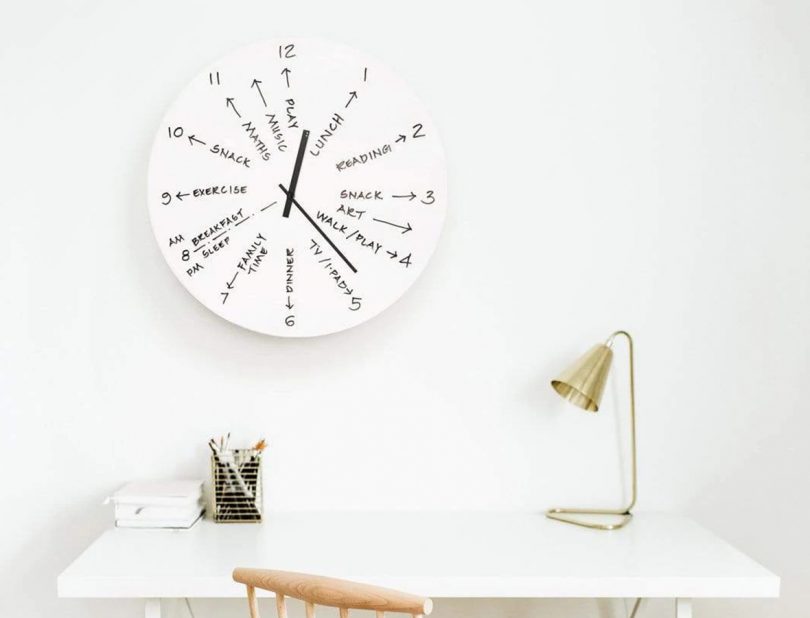 4. TOO-Do Day Planner Clock – White by TOO Designs
For a time telling experience that's as flexible as you are, look to the TOO-Do Day Planner Clock. Save for the hour and minute hands, this wall clock's rewritable gloss acrylic face is totally blank, giving you the freedom to manage your time the way you want to. Write your to-do list at each hour of the day or abandon the hour format altogether and cover the clock face in an illustrative account of the day's activities – with the Planner Clock, how you tell time is completely up to you!
$153
Shop Now >>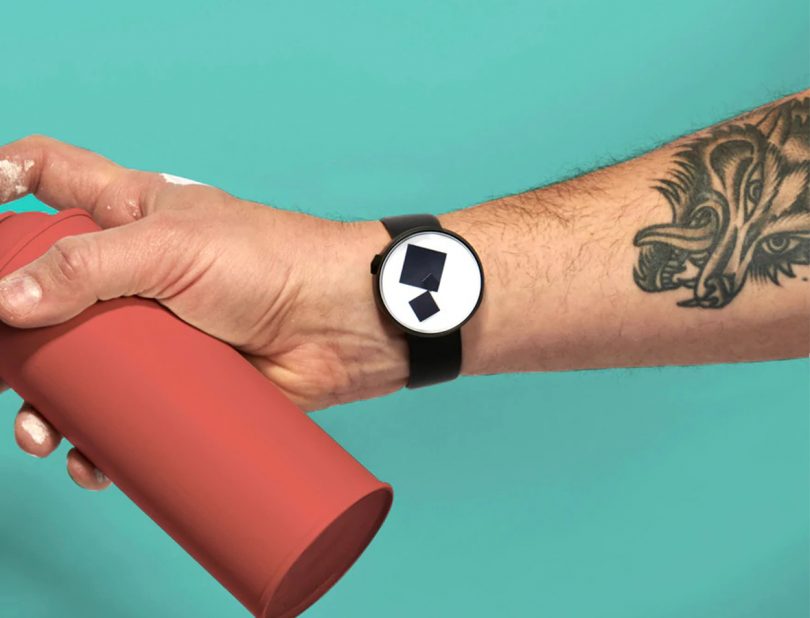 5. Bauhaus Century Black Watch by Projects Watches
Designed by Denis Guidone for Projects Watches, the Bauhaus Century Watch pays homage to the design movement beloved for its functionalism and simplicity. The Bauhaus Century Watch has a sleek design that uses cubes to replace traditional hour and second hands, and a cubed crown to adjust the time, delivering a high-impact visual statement that's unmistakably Bauhaus. The chic black and white color palette is very Design Milk too!
$159
Shop Now >>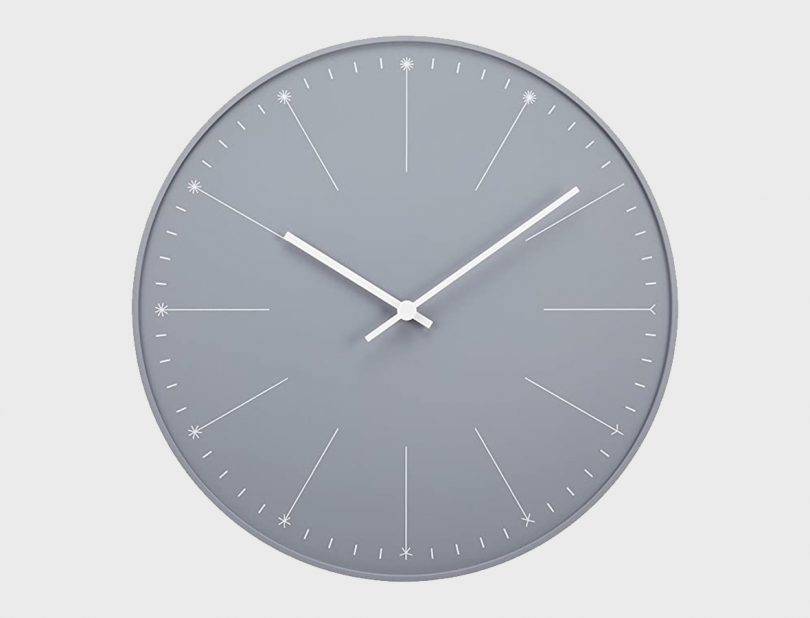 6. Gray Dandelion Clock by Lemnos
At first glance, the Dandelion Clock boasts a minimalist design devoid of intricate details. But when you take a closer look, you'll notice that the clock's hour lines are cleverly illustrated as dandelions that become fuller as time passes, offering a unique way to experience the passing of time. Plus, the clock's modern and understated design and neutral gray colorway ensure it'll complement any decor style without fear of clashing.
$120
Shop Now >>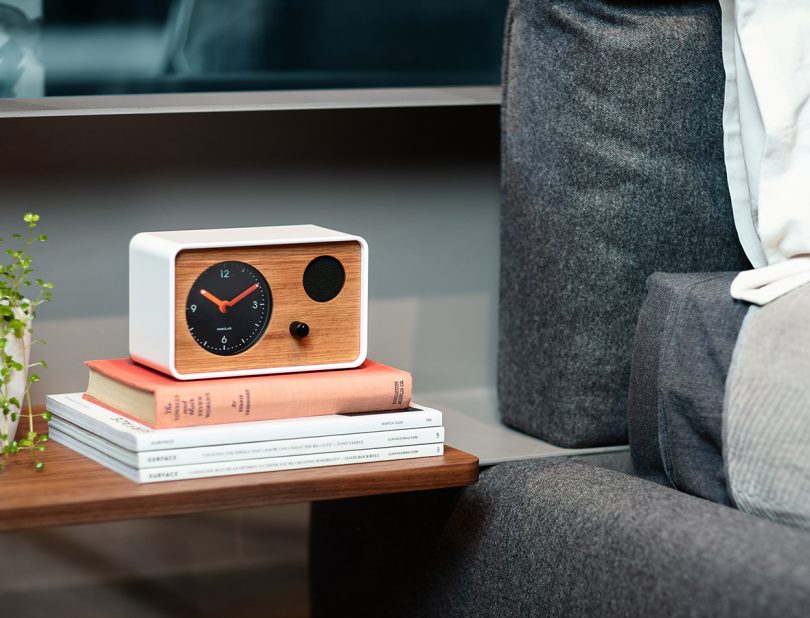 7. OneClock Alarm Clock
We think tech editor Gregory Han said it best – "the OneClock is the anti-alarming alarm clock." Unlike traditional alarm clocks, the OneClock is backed by sonic science and Grammy award winning compositions, relying on the natural power of melody to gently lift you out of sleep for a more peaceful morning routine. The OneClock's minimalist design certainly looks good on your nightstand too, with a sustainably sourced wood finish and a modern yet timeless aesthetic.
$299
Shop Now >>
@design_milk Resident Tech Editor, Gregory Han said it best – the One Clock is the anti-alarming alarm clock Find it on Design Milk #LinkBudsNeverOff #oneclock ♬ Dreamy – Elijah Lee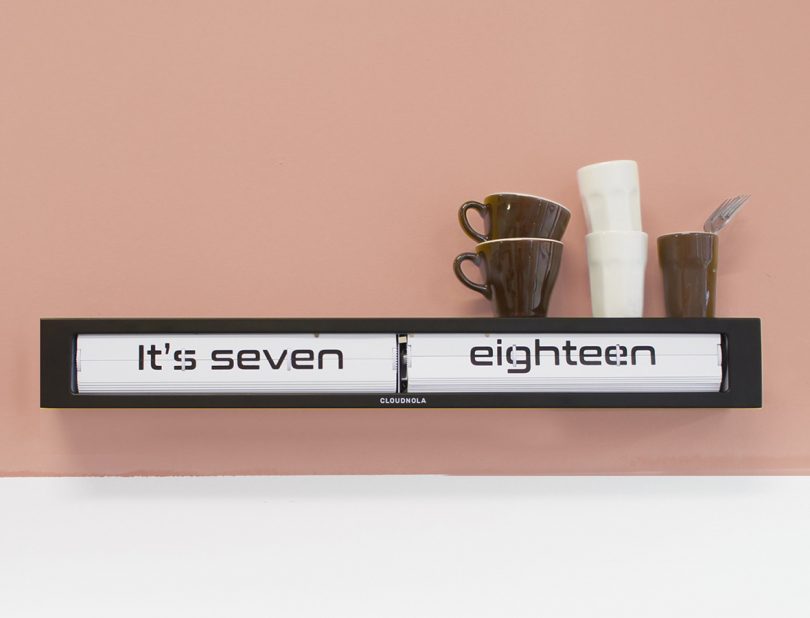 8. Texttime Black Clock + Floating Shelf by cloudnola
The proverbial big sister of cloudnola's Flip Clock collection, the Texttime Clock + Floating Shelf delivers a modern and whimsical design that turns the traditional timepiece format on its head – allowing viewers to read the time moment to moment, instead of being confronted with all the day's hours at every glance. The Texttime's unique lateral design brings added functionality to your walls too, style it as a floating shelf for small objects, or position it on your shelf or desktop for a sleek, minimalist look.
$300
Shop Now >>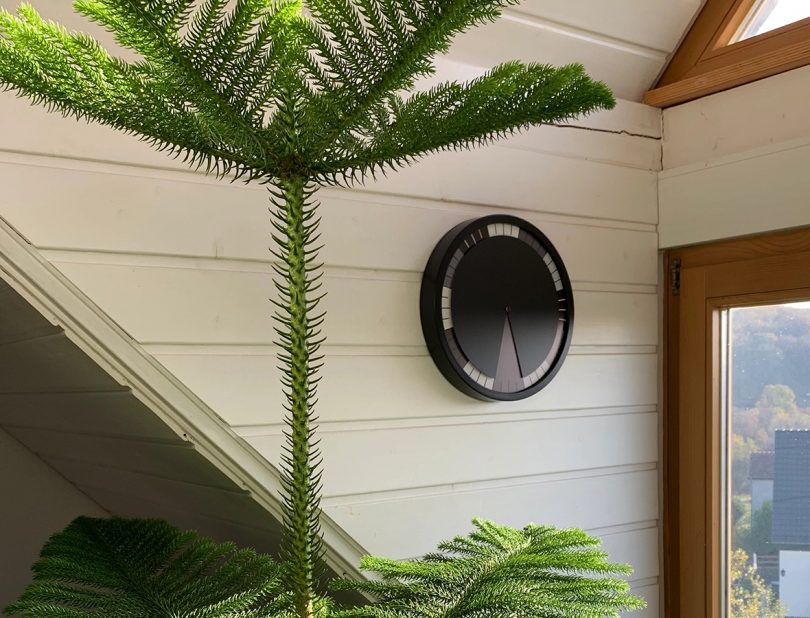 9. TIAN Wall Clock Black/White by TIAN Watches
Designed to revolutionize the way we tell time, the TIAN Wall Clock doesn't give viewers 100% accurate readings of the time to the minute or second – and that's the point. Graphically split into monochromatic wedges, every shade wedge on the Black/White Tian Clock represents an hour of the day, and each line represents 15 minutes. Through its modern, hyper-minimalist design that offers rough estimates of the time, TIAN Wall Clocks make more than just a visual statement on your walls. TIAN takes the pressure out of time keeping and encourages us to slow down our everyday lives.
$260
Shop Now >>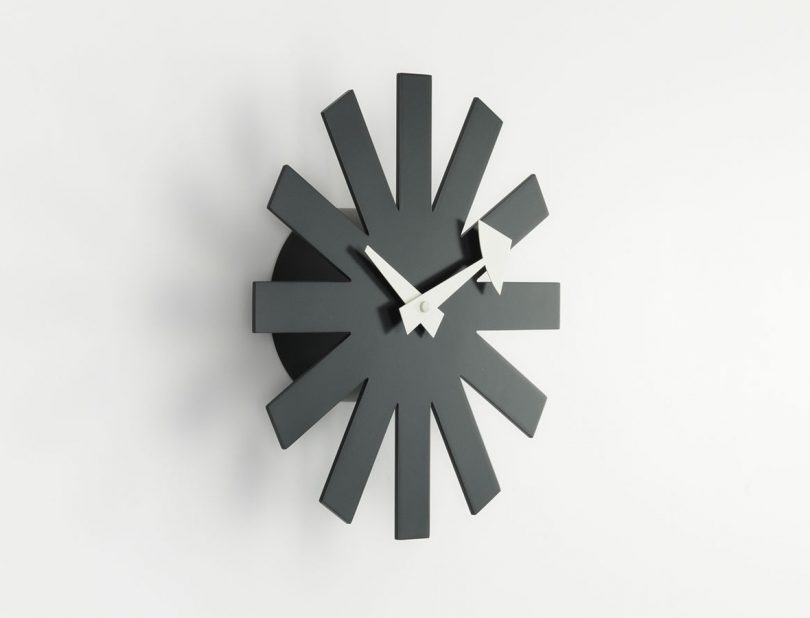 10. Nelson Asterisk Clock by Vitra
Designed by George Nelson Associates for the Howard Miller Clock Company in 1950, and now produced by the Vitra Design Museum – having an Asterisk Clock is like having a piece of authentic design history on your walls! The playful asterisk shape is the perfect vehicle for time telling (each bracket representing an hour on the clock), and makes a modern, sculptural statement on your wall. The white hour and minute hands amp up the contrast for added whimsy and visual interest.
$391 (15% savings!)
Shop Now >>
Shopping our modern finds? Show us how you style yours by posting and tagging @designmilk for a chance to be featured on our Instagram!
This post contains affiliate links, so if you make a purchase from an affiliate link, we earn a commission. Thanks for supporting Design Milk!