This truffle mac and cheese pairs a rich white cheddar with just the right hint of truffle oil. It's an indulgent dish that makes a splash!
Here's a decadent dish that will win hearts and minds: Truffle Mac and Cheese! This cozy pan mixes a rich, creamy white cheddar sauce with just the right hint of earthy truffle oil. The truffle adds an irresistible nuance (not overpowering as some truffle dishes can be!). This recipe is ideal for a dinner party where you're looking to impress. For us black truffle lovers, we couldn't get enough of it!
Ingredients in truffle mac and cheese
This truffle mac and cheese has massive flavor with a relatively short ingredient list! The heavy hitters are the sharp cheddar cheese, which brings in salty, robust flavor, and the truffle oil that adds an earthy flair. Here's what you'll need:
Pasta: Any short shape works! You can branch out of the typical macaroni: we like shells, fusilli, penne, etc
Butter
Flour
Milk
Onion powder and garlic powder
White cheddar cheese
Natural truffle oil
Panko or bread crumbs (optional)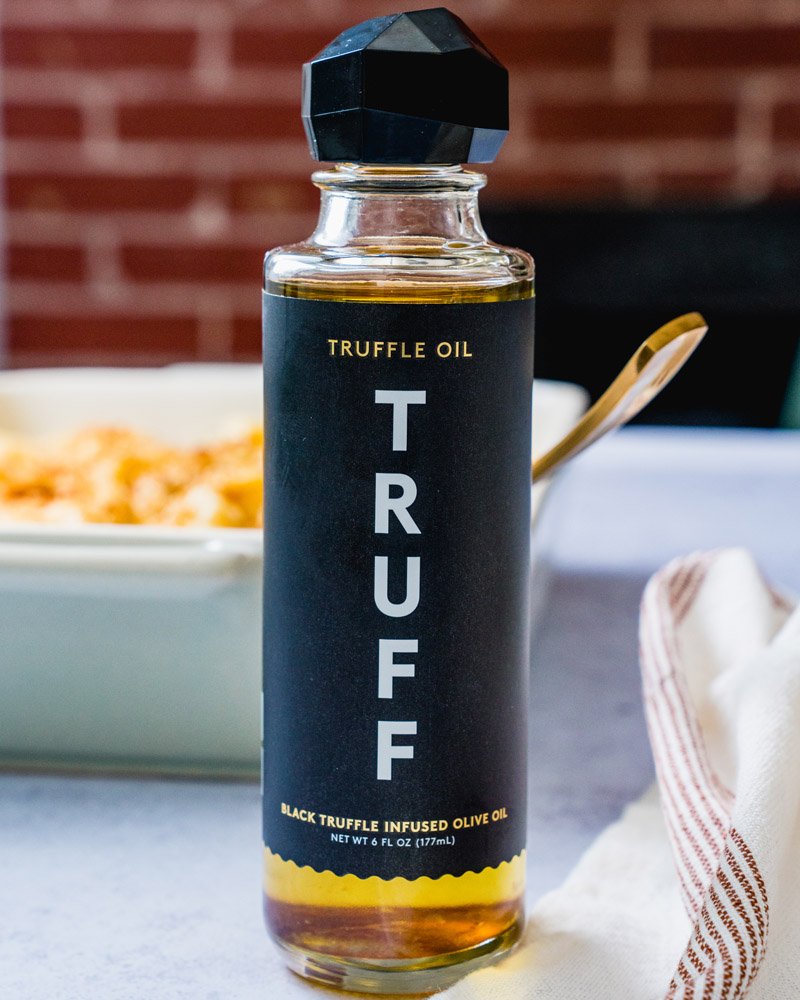 Important: find natural truffle oil
Many chefs have turned up their noses at truffle oil in recent years, because many available to consumers are synthetic. They mimic flavors found in real truffles and are often extremely strong. But good news: there are finally some all natural truffle oils on the market!
Many truffle oils in grocery stores are synthetic. Look on the back of the bottle at the ingredient list. If real black truffles are not listed, it is not natural truffle oil.
Natural truffle oil is made with pieces of actual truffles and is not synthetic. The flavor is much gentler and tastes "real."
What if all you can find is synthetic truffle oil? We don't recommend using it. But if you must, use half (or less!) than the amount of natural oil specified in this recipe.
Another way to add truffle flavor
Another way to add truffle flavor to this truffle mac and cheese? Canned truffles and mushrooms. Alex and I found a product in our grocery store made by the brand Urbani: it's a small can of mushrooms that are flavored with real truffles. The flavor is intense and irresistible.
We use this when we want to add big flavor and have pieces of actual mushrooms! It's great in this mac and cheese or on a pizza. Try these Canned Truffles & Mushrooms.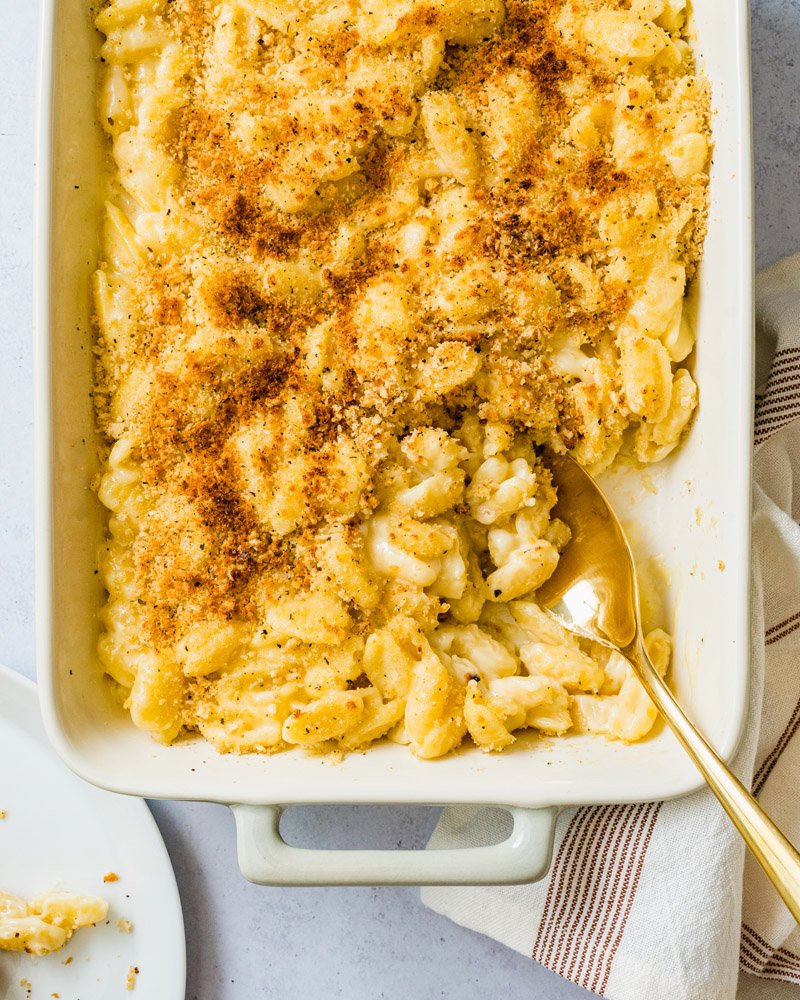 Tips for making a roux
The technique you need for homemade truffle mac and cheese is making a roux. A "roux" (pronounced "Roo") is flour and butter cooked together and used to thicken sauces. It's usually made from equal parts of flour and butter. This is what makes the gooey sauce: cheese by its would be too sticky. Here are a few tips for making a roux:
Measure out your ingredients in advance (mise en place). The cooking process goes fast, so you don't want to be distracted by measuring. The French call it mise en place, which means "everything in its place."
Don't leave the stove, and watch closely. The flour and butter can burn easily! Stand by the stove and start adding milk right when the flour turns golden brown.
Add the milk gradually. Pour in the milk and constantly whisk, adding it little by little, until it forms a smooth sauce. Add the spices and cook about 4 minutes until the sauce is thickened. Add the cheese and you're go to go!
Tip: how to reheat truffle mac and cheese!
Lastly: let's talk about storing this truffle mac and cheese recipe! You can refrigerate leftovers, but know this: the truffle flavor does fade over time. If you're planning to reheat it, here's what to do:
Place it in a skillet and add a splash of milk. Use a ratio of about 1 cup noodles to 1 tablespoon milk.
Heat over medium heat and stir until the sauce becomes creamy again!
Add a few drops of truffle oil and a pinch of salt to revive the flavors. Taste and adjust flavors as desired.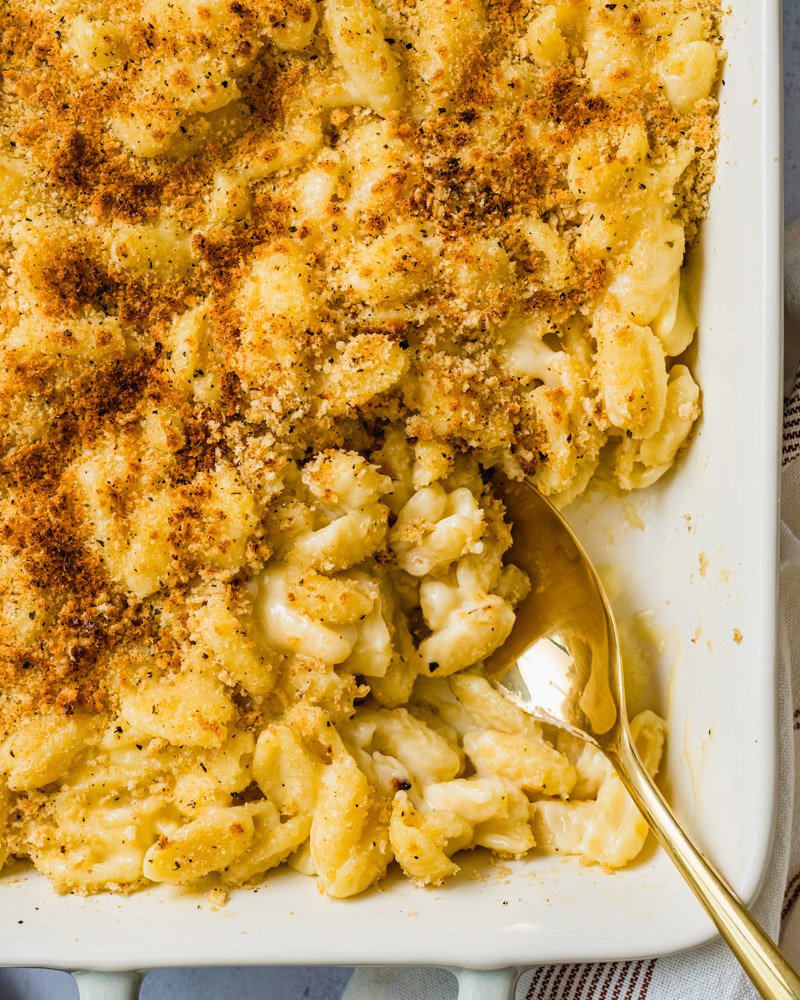 More mac and cheese recipes
Love a great mac and cheese? Us too. Here are our top mac and cheese recipes to try at home:
Try classic Homemade Mac and Cheese
Go for Best Gouda Mac and Cheese or White Cheddar Mac and Cheese
Add pesto for Pesto Mac and Cheese
Add squash for Butternut Squash Mac and Cheese
Whip out the pressure cooker for Instant Pot Mac and Cheese
Go healthy with Greek Yogurt Mac and Cheese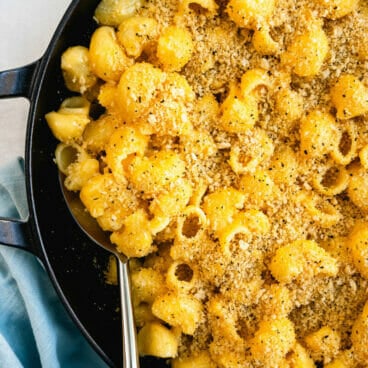 01
Homemade Mac and Cheese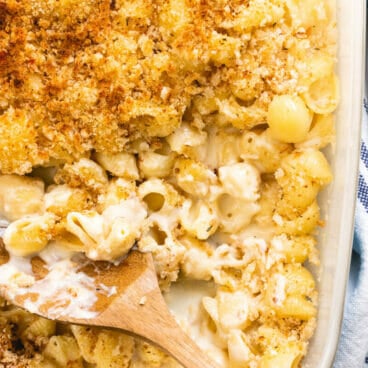 02
Best Gouda Mac and Cheese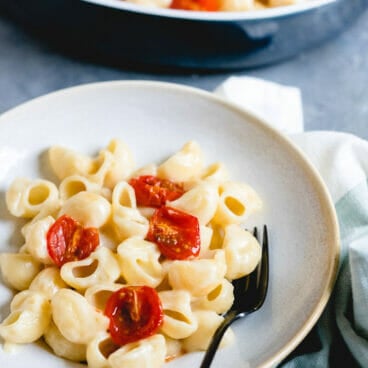 03
White Cheddar Mac and Cheese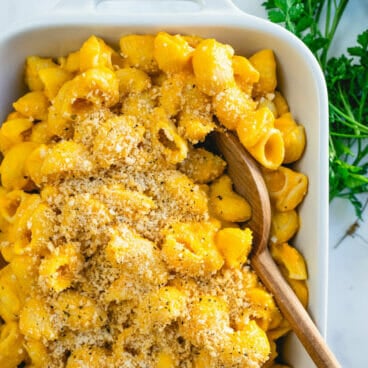 04
Butternut Squash Mac and Cheese
This truffle mac and cheese recipe is…
Vegetarian. For gluten-free, use gluten-free noodles.
Print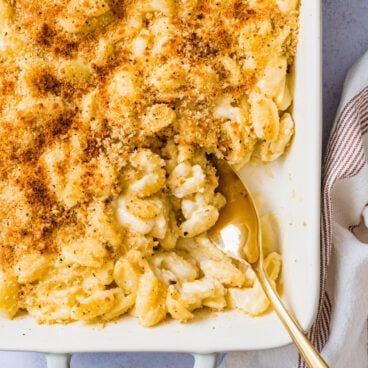 Truffle Mac and Cheese
★★★★★
5 from 1 reviews
Author:

Sonja Overhiser
Prep Time:

10 minutes

Cook Time:

15 minutes

Total Time:

25 minutes

Yield:

8

Diet:

Vegetarian
Print Recipe
Pin Recipe
Ingredients
1

pound short pasta (shells, macaroni, fusilli, or penne)

3 tablespoons

unsalted butter

3 tablespoons

all purpose flour

1 ¾ cups

milk

½ teaspoon

onion powder

½ teaspoon

garlic powder

12 ounces

sharp white cheddar cheese, grated

2 teaspoons

natural truffle oil (avoid synthetic truffle oil or use

1 teaspoon

)

½ teaspoon

kosher salt

½ cup

panko or Italian breadcrumbs, optional
Instructions
Boil the pasta: Bring a large pot of salted water to a boil. Cook the pasta until just al dente (cook until just tender but still a bit firm). Drain the pasta and add to the cheese sauce once it is ready (if the pasta finishes first, toss it with a bit of olive oil to prevent sticking).
Make the cheese sauce: In a large saucepan or Dutch oven, heat the butter over medium heat; when it melts, stir in the flour. Heat the mixture for several minutes, stirring constantly. Immediately when the color starts to turn light brown, reduce the heat to low. Start to add the milk very slowly, whisking constantly until the mixture is completely smooth, then adding more milk. Add the onion powder and garlic powder and continue cooking on medium low heat for 4 minutes until slightly thickened. Turn the heat to low then add the grated cheddar cheese (in a few handfuls at a time) and keep stirring until it is melted and a smooth, thick sauce forms. Stir in the truffle oil and remove from the heat.
Finish the dish: Add the cooked and drained pasta to cheese sauce. Season with ½ teaspoon kosher salt and stir to combine.
Broil: If desired, top with panko or Italian breadcrumbs and broil broil it for 1 to 2 minutes until lightly browned, turning the pan to even out the browning as necessary. Serve immediately. (Leftovers save refrigerated, but the truffle flavor does diminish over time. To reheat, heat on the stovetop with a splash of milk, and add a drop of truffle oil and/or salt to revive the flavors.)
Category:

Main dish

Method:

Stovetop

Cuisine:

American
Keywords: Truffle mac and cheese

Did you make this recipe?
Tag @acouplecooks on Instagram and hashtag it #acouplecooks
A Couple Cooks – Recipes worth repeating.