Roasted broccoli and cauliflower is an irresistibly easy side dish! Here's how to roast the two vegetables to perfection.
When you're not sure what vegetable to roast…try two. Try this Roasted Broccoli and Cauliflower! Our favorite side dishes for weeknights are Roasted Broccoli and Roasted Cauliflower, so why not combine them? Honestly, we weren't sure how the bake time would turn out, or if they'd both get browned and crisp tender (since cauliflower usually takes longer than broccoli). Turns out, it works perfectly! Here's what to do:
Tips to roasted broccoli and cauliflower
So you've roasted broccoli and cauliflower separately but never together? They work beautifully together. While our roasted cauliflower recipe takes about 30 to 35 minutes, it actually works in about 25 minutes with broccoli. Here are a few tips:
Use 4 cups each broccoli and cauliflower. Or use whatever mix you have on hand! This is the maximum quantity that fits on one baking sheet. If you have more than that, use two baking sheets: you don't want to stack the vegetables or they will steam, not roast.
Add olive oil, garlic powder and salt. See the recipe below for the quantities!
Roast 20 to 25 minutes until browned. If not browned after this time, roast a bit longer until crisp tender and browned.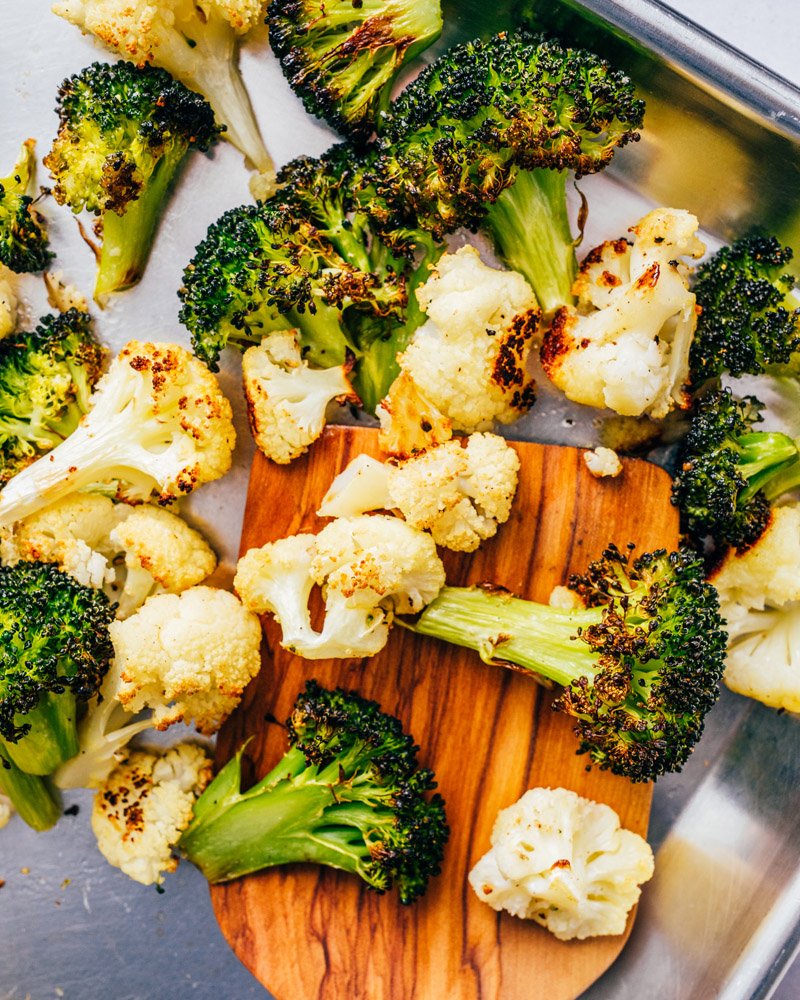 Cut medium florets with long stems
When it comes to roasted broccoli and cauliflower, you can cut the florets any way you like. But here's what we think the best look is: cut medium florets that have longer stems! That avoids the stubby tree look and makes the broccoli and cauliflower look more elegant. Here's how we cut broccoli:
Cut off the floret right where its stem meets the larger stalk. This leaves the stem long (instead of making stubby florets).
Separate any very large florets. Cut the base of the stem of any large florets in half, then pull the floret apart with your fingers or slice it apart. Try to make the florets as similar in size as possible.
Flavor variations and add-ins
The sky's the limit when it comes to roasted broccoli and cauliflower! You can serve them up as is, or add one of these other flavor options:
Lemon zest adds brightness
Panko bread crumbs add a crunch
Shredded or grated Parmesan cheese add a savory flair
Herbs like thyme, oregano, dill or basil add freshness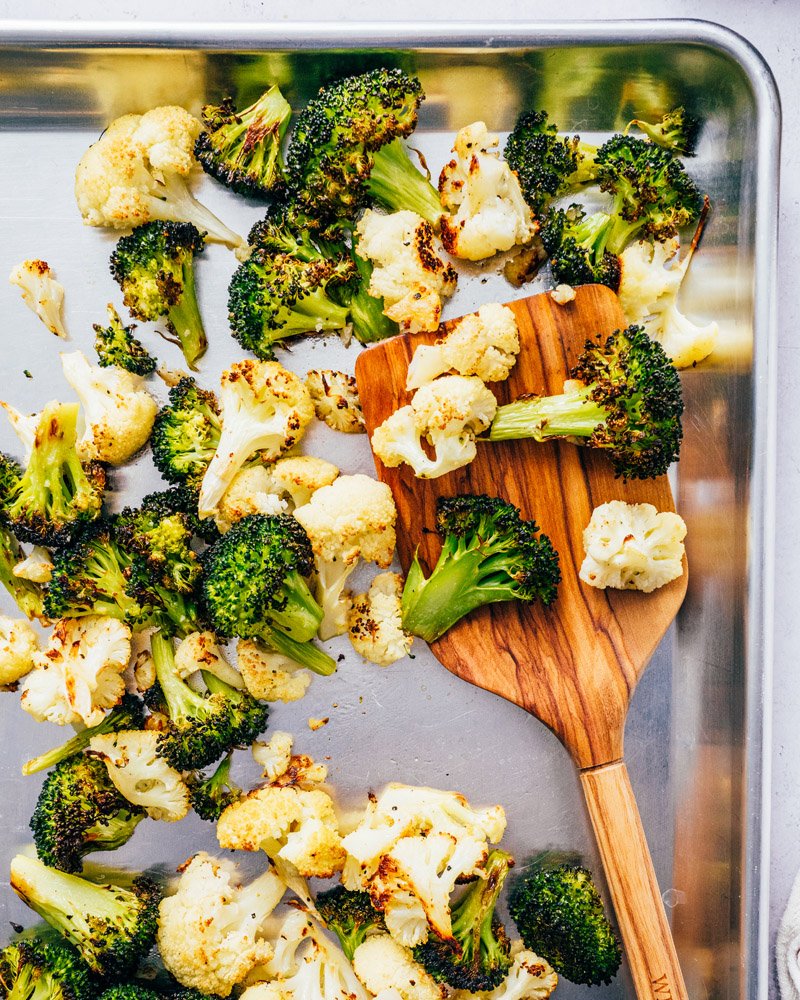 More roasted vegetables
When it comes to side dishes, roasted vegetables are king! Here are some of our favorite go-to methods:
Try our mix of Best Roasted Vegetables
Go for crispy Roasted Brussels Sprouts
Try Roasted Red Potatoes or Roasted Sweet Potatoes
Opt for Roasted Green Beans
Try Roasted Mushrooms or Roasted Broccoli and Carrots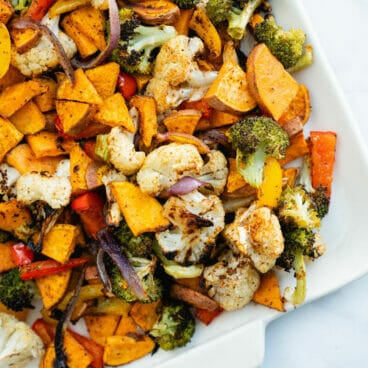 01
Best Roasted Vegetables
02
Roasted Brussels Sprouts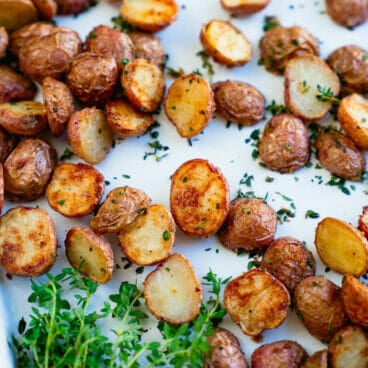 03
Classic Roasted Potatoes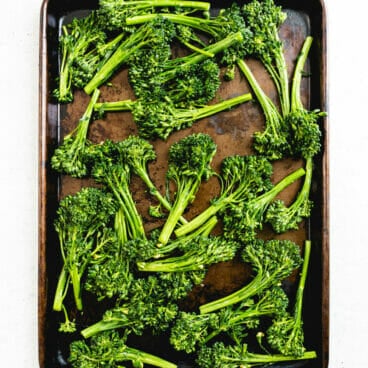 04
Perfect Roasted Broccolini
This roasted broccoli and cauliflower recipe is…
Vegetarian, vegan, plant-based, dairy-free, and gluten-free.
Print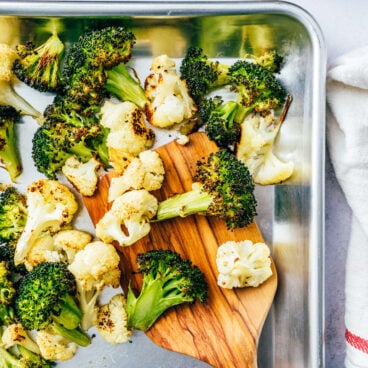 Roasted Broccoli and Cauliflower
Author:

Sonja Overhiser
Total Time:

35 minutes

Yield:

4

Diet:

Vegan
Print Recipe
Pin Recipe
Description
Roasted broccoli and cauliflower is an irresistibly easy side dish! Here's how to roast the two vegetables to perfection.
Ingredients
4 cups

broccoli florets (about

1

pound or

2

crowns broccoli)

4 cups

cauliflower (from

1

small head)

2 tablespoons

olive oil

½ teaspoon

garlic powder

½ teaspoon

kosher salt
Fresh ground black pepper
Instructions
Preheat the oven to 450 degrees Fahrenheit. Line a baking sheet with parchment paper.
Chop the broccoli into medium-sized florets, leaving a good amount of the stem for a nice shape. Chop the cauliflower into florets. Mix both with the olive oil, garlic powder, and kosher salt.
Roast for 20 to 25 minutes, until tender and slightly browned (no need to stir!). Roast a few more minutes if not yet browned. Enjoy immediately.
Notes
Prep Time:

10 minutes

Cook Time:

25 minutes

Category:

Side dish

Method:

Roasted

Cuisine:

Vegetables
Keywords: Roasted broccoli and cauliflower

Did you make this recipe?
Tag @acouplecooks on Instagram and hashtag it #acouplecooks
A Couple Cooks – Recipes worth repeating.