These chickpea tacos are a fast way to dinner! This crowd pleaser pairs a flavorful filling of garbanzos with guacamole, pico and slaw.
Here's a dinner idea for when you're not sure what to cook: Chickpea Tacos! This plant based recipe does heavy lifting with a short cook time and big flavors. Garbanzo beans might not strike you as a taco filling (and honestly, Alex was a little wary here). But they make a flavorful filling coated in cumin, chili powder, and smoked paprika, punched up with a hit of zesty lime. Throw it all in a tortilla with guacamole and toppings, and this fast weeknight dinner is done in 20 minutes. PS, it's plant-based, too!
Elements in chickpea tacos
Need dinner ideas for tonight? These chickpea tacos are designed as a workhorse recipe to get quick, nourishing food on the table fast. We love recipes like this: simple to whip up and full of big flavors. (In fact, we wrote a whole book about it!) These
Red cabbage
Carrot
Chickpeas
Spices: cumin, chili powder, smoked paprika, garlic powder, black pepper, kosher salt
Olive oil
Lime juice
Sour cream (or cashew cream or omit for vegan)
Guacamole
Pico de gallo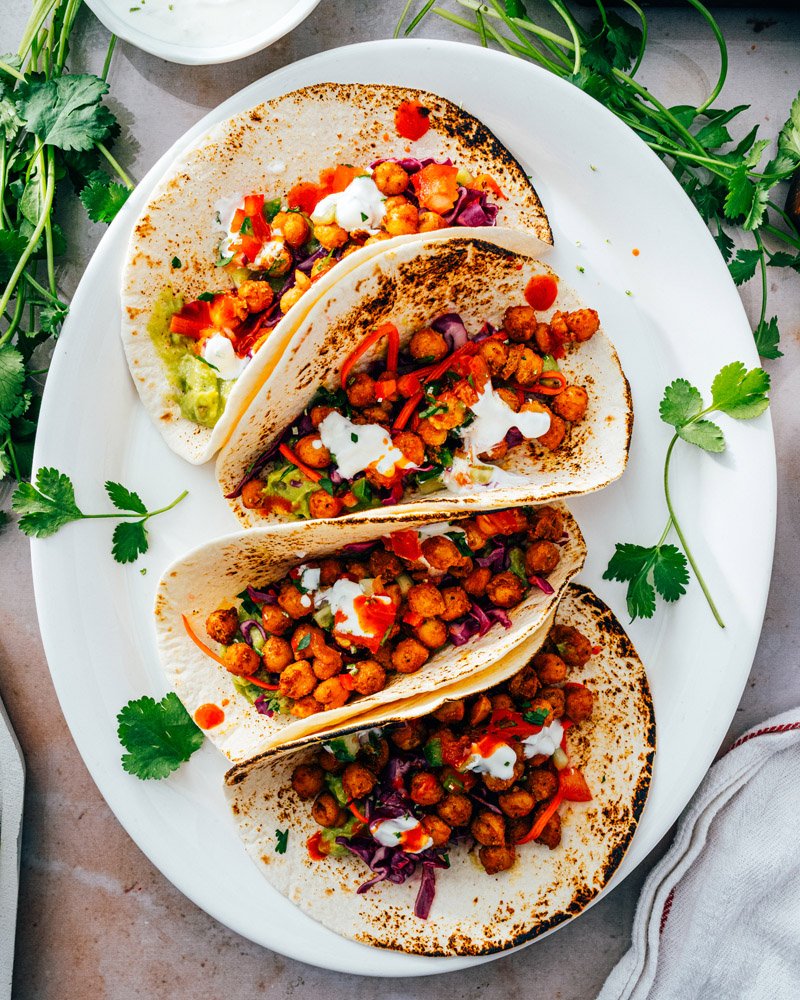 Making the chickpea filling
The chickpea filling in these tacos is loaded with savory spices to make these legumes sing! It's possible these tacos could convert people who are chickpea wary, but this recipe is intended for chickpea lovers (like ourselves!). Here are a few notes on what makes the filling work:
The blend of spices is similar to a fajita blend. Make sure to find smoked paprika: its subtly smoky flavor brings an essential nuance.
Sour cream adds necessary richness. The chickpeas taste a little dry without a little more richness like a standard taco filling. For vegan, try vegan butter, cashew cream, vegan yogurt or vegan sour cream as a stand in. You can omit it, but it evens out the texture.
Fresh lime seals the deal. The hint of citrus takes it up a few notches.
You may have extra chickpeas left over after eating these tacos, depending on how many you add to each taco. Store any leftover filling refrigerated for up to 3 days. The recipe makes 3 cups of filling, which can stretch to 8 to 10 tacos.
Guacamole is required
Texture is everything when it comes to a taco. For these chickpea tacos, you need extra gooey, creamy elements to balance out the chickpeas. A smear of guacamole on the taco is required here, before you add the chickpeas.
You could substitute other creamy spreads or sauce (like refried beans), but we think zingy, creamy guacamole works best under these legumes. For quick meals we like to purchase it, but you can also try our homemade guacamole.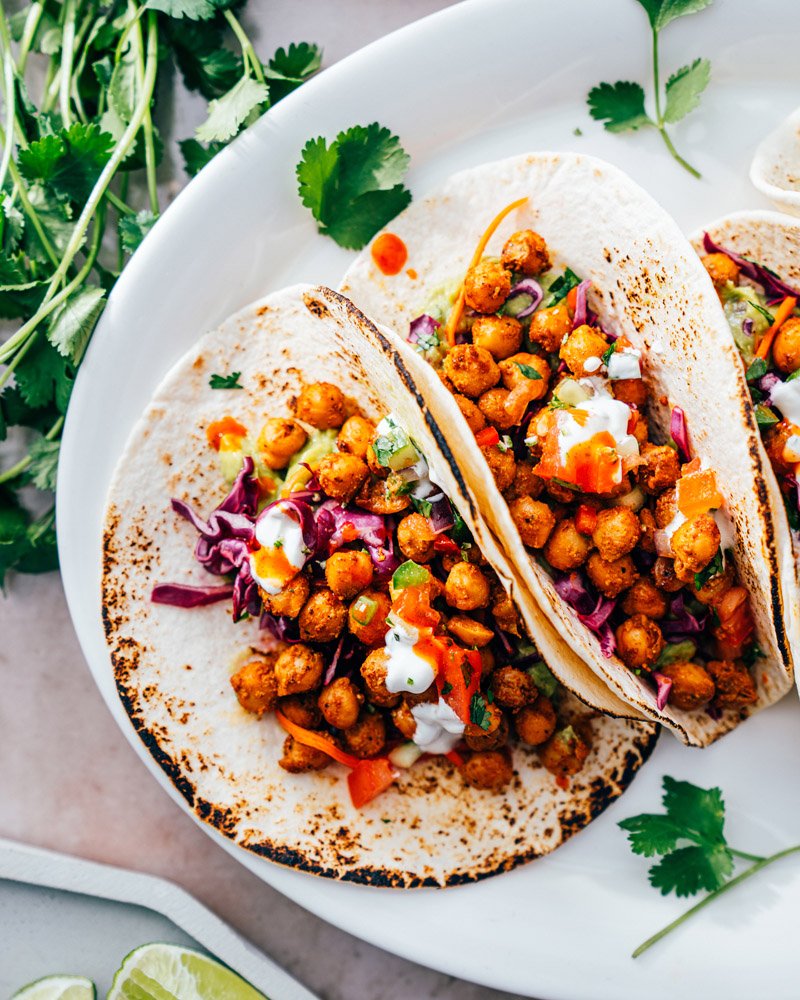 Sides for chickpea tacos
When it comes to quick weeknight meals, often we skip sides for these chickpeas tacos (they're pretty filling!). But if you're looking for something simple to serve alongside, here are some ideas:
Chips and guacamole (leftover from the recipe)
Quick Black Bean and Corn Salad (you can make it in 5 minutes!)
Easy Mexican Salad
Refried Beans
Cilantro Lime Rice
More chickpea recipes
These chickpeas tacos are a great way to use the mighty garbanzo bean! Here are a few more chickpea recipes you might enjoy:
Try this Easy Chickpea Curry
Go for fan-favorite Easy Chickpea Salad Sandwich
Opt for Chickpea Soup with Rice
Try Moroccan Chickpea Stew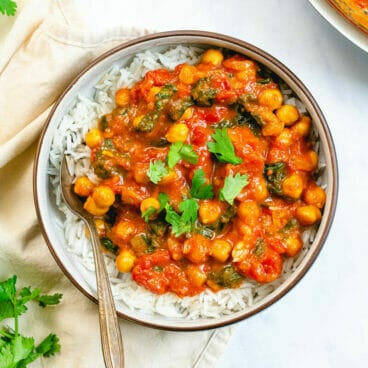 01
Easy Chickpea Curry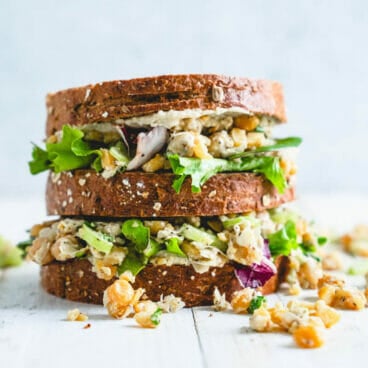 02
Easy Chickpea Salad Sandwich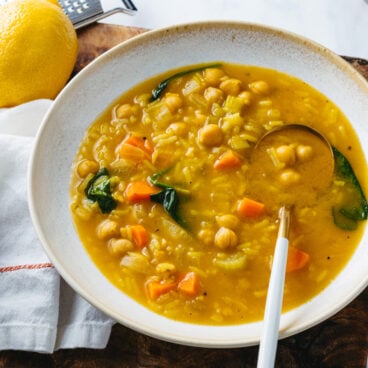 03
Chickpea Soup with Rice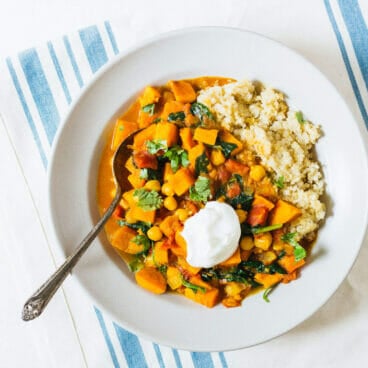 04
Moroccan Chickpea Stew
This chickpea tacos recipe is…
Vegetarian, vegan, plant-based, and dairy-free.
Print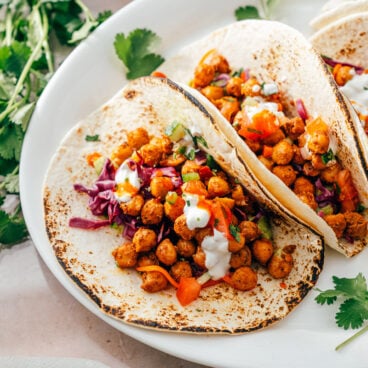 Chickpea Tacos
Author:

Sonja Overhiser
Prep Time:

14 minutes

Cook Time:

6 minutes

Total Time:

20 minutes

Yield:

8 to 10 tacos
Print Recipe
Pin Recipe
Description
These chickpea tacos are a fast way to dinner! This crowd pleaser pairs a flavorful filling of garbanzos with guacamole, pico and slaw.
Ingredients
2 cups

shredded red cabbage

1

carrot

2

15-ounce cans chickpeas

2 teaspoons

ground cumin

1 teaspoon

each chili powder and smoked paprika (or paprika)

1 teaspoon

garlic powder

½ teaspoon

black pepper

¾ teaspoon

kosher salt

2 tablespoons

olive oil

2 tablespoons

lime juice, divided

1 tablespoon

sour cream (or vegan butter or cashew cream), plus more for serving if desired

Guacamole (required!)

Pico de gallo or fresh salsa, for serving (purchased)

Fresh cilantro, for garnish (optional)
Instructions
Make the quick slaw: Shred the red cabbage and shred the carrot. Place them in a bowl with 1 tablespoon lime juice and 2 pinches of kosher salt.
Cook the chickpeas: Drain and rinse the chickpeas, shaking off as much water as possible. Combine spices and salt in a small bowl. In a large skillet, heat olive oil over medium heat. Add the chickpeas and spices and sauté, stirring frequently, until warm and the chickpeas are evenly coated, about 5 minutes. Stir in 1 tablespoon lime juice and the sour cream and cook 1 more minute until warmed through and tender.
Warm the tortillas: Warm and char the tortillas by placing them on an open gas flame on medium for a few seconds per side, flipping with tongs, until they are slightly blackened and warm. (See How to Warm Tortillas.)
Assemble the tacos: Add a generous spoonful of guacamole, spoonfuls of chickpeas, slaw, and pico de gallo. If desired, top with sour cream (or cashew cream) and/or fresh chopped cilantro. Store any leftover filling refrigerated for up to 3 days.
Category:

Main dish

Method:

Stovetop

Cuisine:

American

Diet:

Vegan
Keywords: Chickpea tacos

Did you make this recipe?
Tag @acouplecooks on Instagram and hashtag it #acouplecooks
A Couple Cooks – Recipes worth repeating.