This portobello sandwich stars a mix of roasted portobello mushrooms, crunchy veggies, and creamy horseradish sauce. It's to die for!
Here's a slam dunk for mushroom lovers, or anyone looking for a meaty vegetarian sandwich. Try this Portobello Sandwich! It's modeled after a steak sandwich, but instead the filling is juicy roasted portobello mushrooms, seasoned with garlic, soy sauce and smoked paprika. Add to that crunchy pickles and onions, and the kicker: a horseradish sauce that smothers it all with a creamy, spicy tang. You'll become a believer after your first bite!
What's in this portobello sandwich?
You can build a portobello sandwich with many different flavor profiles. In fact, a Portobello Burger is a prime example of a classic spin on one. For this one, we took inspiration from a steak sandwich, infusing the roasted portobello mushrooms with smoky, savory spices and topping it off with a horseradish sauce. Here's what you'll need for this recipe:
Portobello mushrooms
Olive oil
Soy sauce (or tamari)
Garlic
Smoked paprika, onion powder and salt
Worcestershire sauce
Artisan buns
Baby arugula or greens, pickles, and white onion , for serving
Horseradish sauce, for serving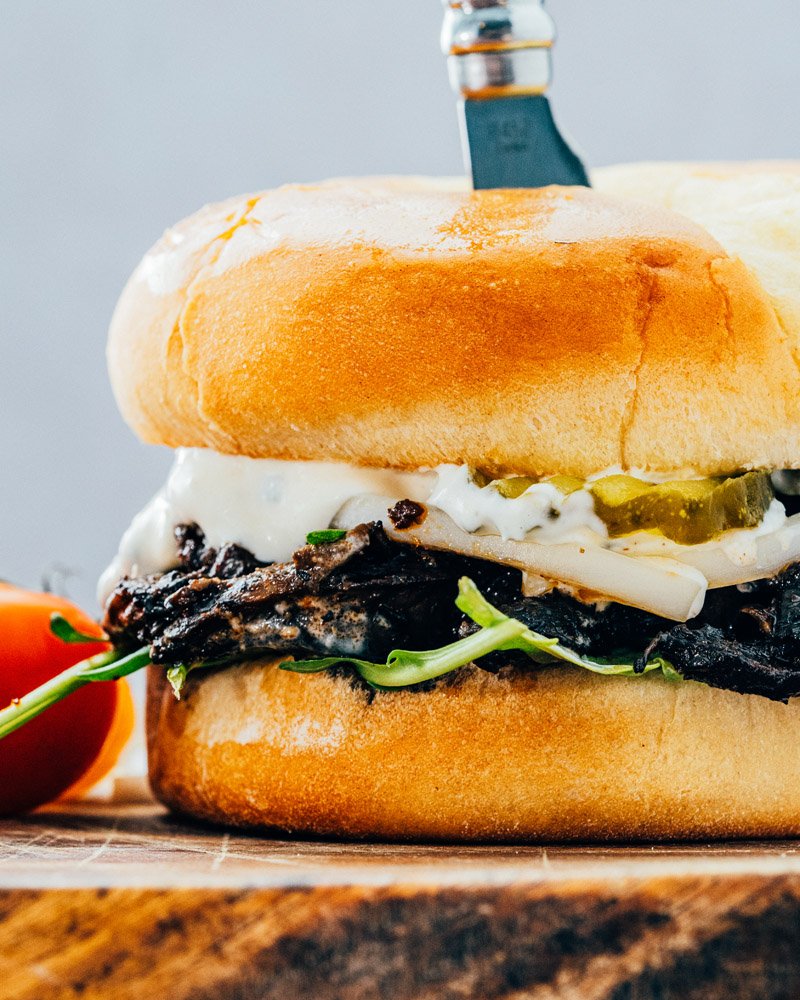 How to make roasted portobello mushrooms
The filling for this sandwich is not a whole portobello mushroom like in a Portobello Burger, but sliced mushrooms. The advantages? The sandwich is much easier to eat than trying to pull bites off of a big juicy portobello. It also makes for a taller sandwich, which is more aesthetically pleasing and has more mushroom flavor. Here's the basic idea around how to make roasted portobello mushrooms:
Preheat the oven to 450 degrees Fahrenheit. Mushrooms roast best at very high heat.
Slice the portobello caps into 1/4-inch thick slices and season. Add olive oil and spices. We've found the combination of soy sauce, Worcestershire, garlic and smoked paprika makes an intensely savory, meaty flavor.
Roast for 15 minutes. That's it! The mushrooms come out juicy and tender.
Don't skip the sauce
This portobello sandwich highlights mushrooms, of course. But the other star who's vying for attention? The horseradish sauce! This sauce is so full of creamy, savory flavor, it almost steals the show. Look for prepared horseradish in the condiments section of your local grocery, then you'll need sour cream, mayo, Dijon mustard, vinegar, and chives. It's simple and lasts for 2 weeks, and you can use it on just about anything: a fries dip, salads, and more.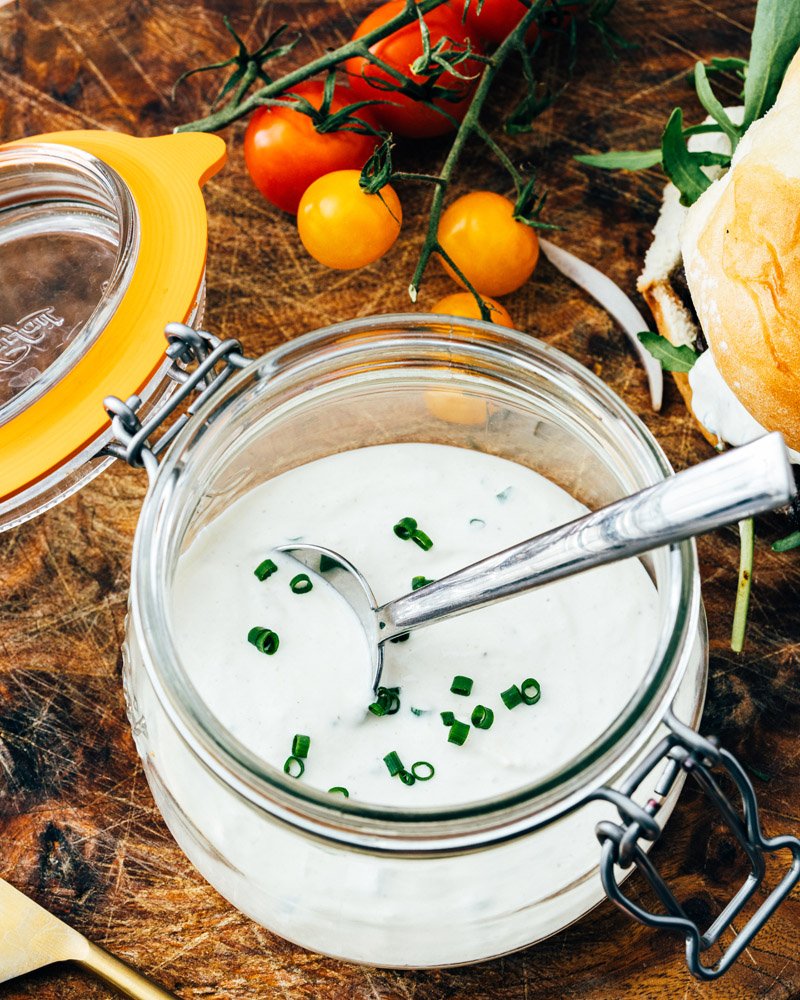 Ways to serve this portobello sandwich
One thing to note about this portobello sandwich: because it's based around mushrooms, it doesn't have lots of protein. So when you serve this sandwich, make sure to serve with other proteins to make it into a complete meal. Here are some ideas:
Beans like Classic Three Bean Salad or Easy White Bean Salad
Lentils like Lentil Salad with Feta or French Lentil Salad
Salads like Kale Caesar Salad, Simple Chickpea Salad or Simple Radish Salad
Let us know what you're planning to serve with this recipe in the comments below! We hope you'll love it as much as we do.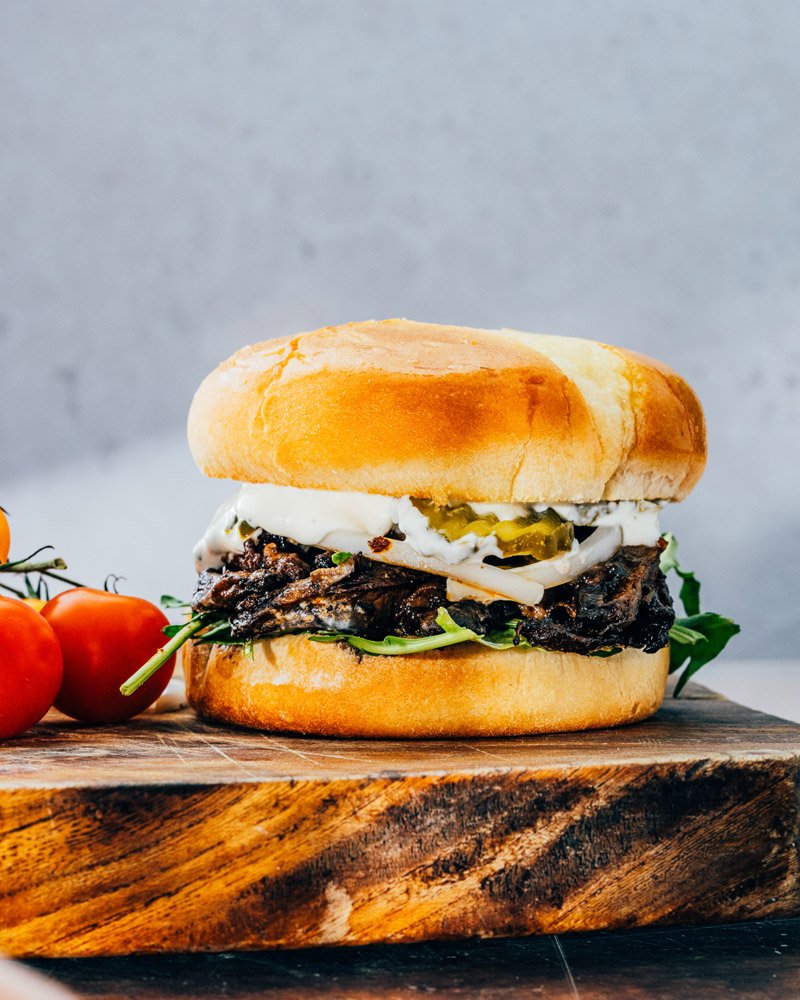 More portobello recipes
Long live the meaty, succulent portobello mushroom! We love making recipes with this unique ingredient. Here are a few more of our favorite portobello recipes for ideas to serve it:
Make a spinach artichoke stuffing for Stuffed Portobello Mushrooms
Bake up a Portobello Mushroom Pizza
Fire up the grill for Grilled Portobello Mushrooms
Make a tasty meaty Portobello Mushroom Burger
Throw them in a skillet for Portobello Fajitas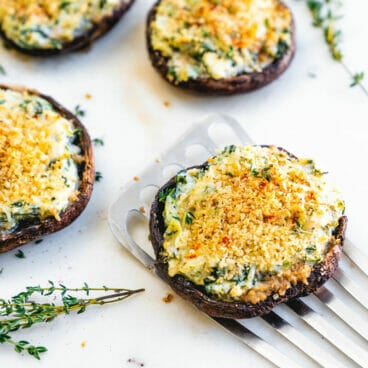 01
Stuffed Portobello Mushrooms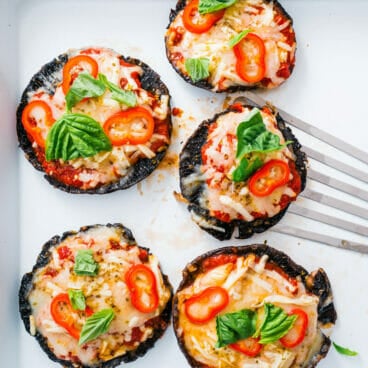 02
Portobello Mushroom Pizza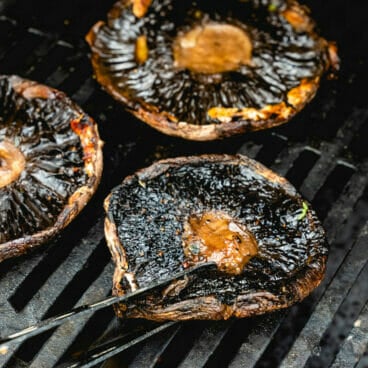 03
Grilled Portobello Mushrooms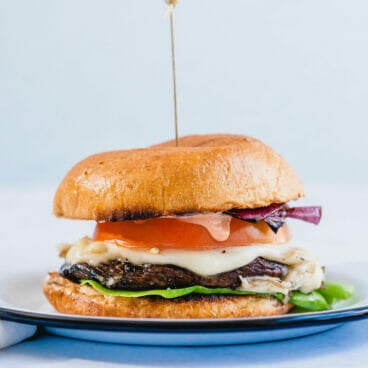 04
Portobello Mushroom Burger
This portobello sandwich recipe is…
Vegetarian. For vegan, plant-based and dairy-free, use a vegan sauce of your choosing. For gluten-free, use a gluten-free bun.
Print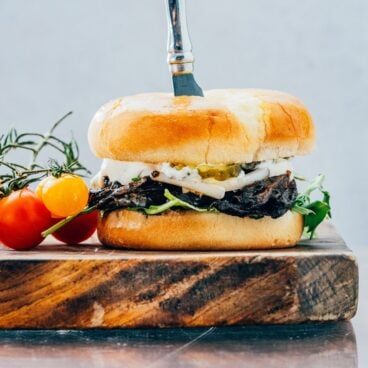 Portobello Sandwich
Author:

Sonja Overhiser
Prep Time:

15 minutes

Cook Time:

15 minutes

Total Time:

30 minutes

Yield:

4 sandwiches
Print Recipe
Pin Recipe
Description
This portobello sandwich stars a mix of roasted portobello mushrooms, crunchy veggies, and creamy horseradish sauce. It's to die for!
Ingredients
6

medium (4 large) or

12 ounces

portobello mushrooms

¼ cup

olive oil

2 tablespoon

soy sauce (or tamari)

2

garlic cloves, minced

2 teaspoons

smoked paprika

½ teaspoon

onion powder

1 teaspoon

Worcestershire sauce

½ teaspoon

kosher salt

4

artisan buns
Baby arugula or greens, for serving
Pickles, for serving
Sliced white onion, for serving

1

recipe Horseradish Sauce, for serving
Instructions
Preheat the oven to 450 degrees Fahrenheit.
Slice the mushrooms into 1/4" thick slices. Place them in a large bowl and mix with the olive oil, soy sauce, garlic, smoked paprika, onion powder, Worcestershire sauce, and kosher salt.
Line a sheet pan with parchment paper and place the mushrooms in a single layer on top. Place it in the oven and roast for 15 minutes.
Meanwhile, make the Horseradish Sauce. Toast the buns (if desired).
When ready to assemble, place baby arugula on the buns and place strips of mushrooms on top. Add white onion slices, pickles, and horseradish sauce, and top with the bun.
Category:

Main dish

Method:

Roasted

Cuisine:

Sandwich

Diet:

Vegetarian
Keywords: Portobello sandwich, portobello mushroom sandwich

Did you make this recipe?
Tag @acouplecooks on Instagram and hashtag it #acouplecooks
A Couple Cooks – Recipes worth repeating.