The Peppermint Martini is creamy and minty fresh: the ideal winter cocktail! Step it up and rim the glass in peppermint candies.
Here's a delightful signature winter cocktail: try the Peppermint Martini! This drink is creamy and minty fresh, a delicious combination of peppermint schnapps and chocolate liqueur. In fact, you may want to drink this any time of year! Of course, it's perfect for the holidays. Cozy up with one by the fire, or drink it as a fun Christmas cocktail with appetizers. Either way, with a flavor of liquid candy canes, this one's a total crowd pleaser.
What's in a Peppermint Martini?
The Peppermint Martini is a spin on a flavored vodka martini that's made with peppermint schnapps. As you may know, the vodka martini is barely related to the classic Dry Martini. It's more of an excuse to make a flavored drink with vodka served up in a martini glass! This one combines peppermint and chocolate flavors with a rich, creamy body. Here are the ingredients you'll need for a Peppermint Martini:
Peppermint schnapps
Vodka
Creme de Cacao
Heavy cream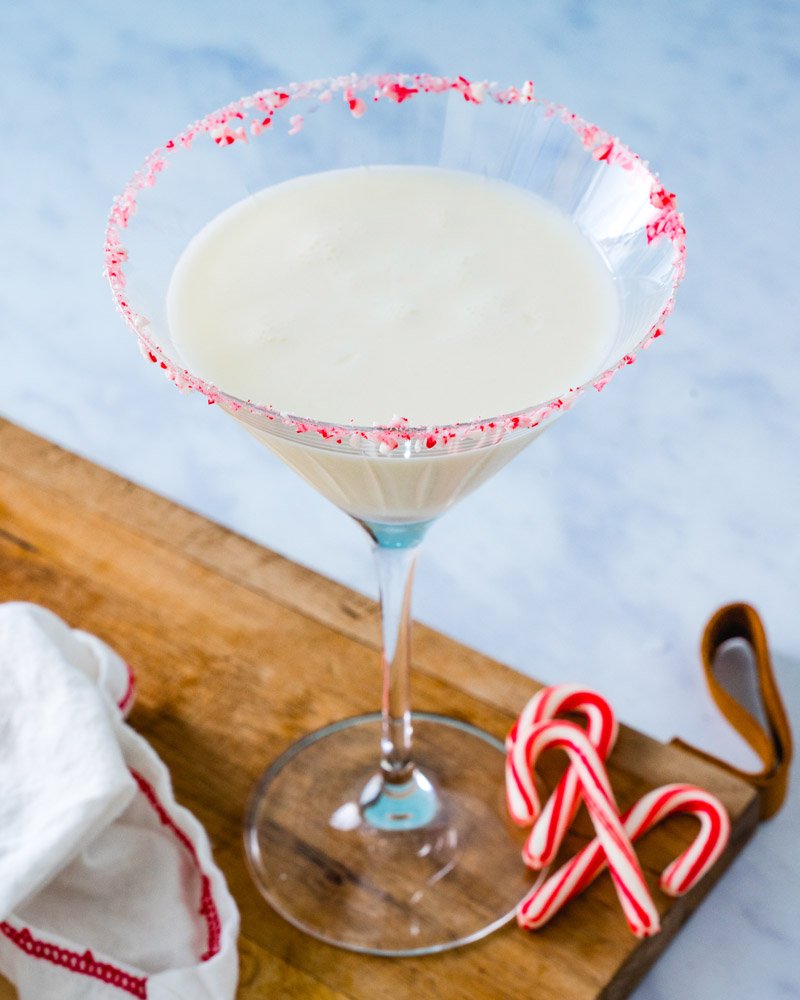 How sweet is this drink?
Shake these ingredients up in a cocktail shaker, and it comes out minty and creamy! This Peppermint Martini is just sweet enough, in our opinion (and we're not fans of overly sugary drinks). While it can be considered a dessert drink, it's not over the top. The sweetness comes mainly from the schnapps and the Creme de Cacao, so there's no added simple syrup.
Prepping the Peppermint Martini glass rim
This Peppermint Martini is great as is, but if you're entertaining it's perfect with a peppermint candy rim! Here's how to do it:
Crush the peppermint candies and add them a plate. Place them in a plastic bag and use the bottom of a jar, can, or rolling pin to break them into pieces.
Add a pool of grenadine to another plate. It doesn't have to be much! Grenadine syrup is the glue that will hold on the candy. Place the outer edge of the glass in the grenadine and rotate. Hold the position of the glass constant and just rotate the stem so you get an even coating.
Don't have grenadine? You can use water, too. Simply use your finger to wet the edge of the glass rim. Grenadine does a better job of adhering the candy, but water works.
Place the rim in the crushed candies and rotate. Then, do the same thing in the crushed candy! The grenadine will glue the crumbs to the rim.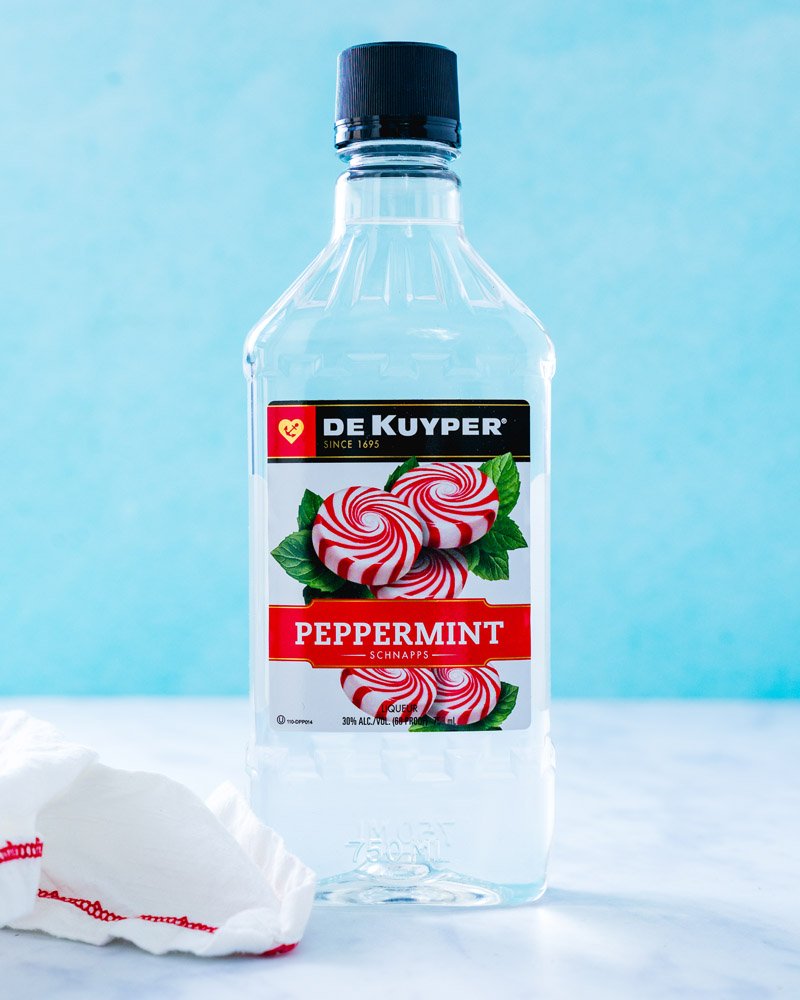 Make it dairy free or vegan
Want to make this a dairy free or vegan Peppermint Martini? All you have to do is substitute full-fat coconut milk for the heavy cream! It comes out with a slight coconut flavor, but it's not overwhelming. The coconut fat works well as a substitute for the dairy fat. (Don't use cream of coconut: the drink will come out much too too sweet!)
More about peppermint schnapps
Peppermint schnapps is what makes this Peppermint Martini! It's a clear alcohol made by adding peppermint flavoring to a clear grain spirit. You can substitute white Creme de Menthe if you have it on hand. Here's what to know about this type of schnapps:
What ABV is peppermint schnapps? Peppermint schnapps is sold in three different ABV levels: 15% ABV (30 proof), 30% ABV (60 proof), and 50% ABV (100 proof). Compare it to 40% ABV of hard alcohol like vodka.
What does peppermint schnapps taste like? The flavor is like a candy cane, with a spicy, boozy finish. The strength tastes almost like mouthwash!
How much does it cost? Peppermint schnapps is very inexpensive: a 750 ml bottle costs $8 to $10.
Are there any substitutes? White creme de menthe can work as a substitute: it has a gentler, more balanced mint flavor. Just make sure not to get the green Creme de Menthe (which makes the signature green color in a Grasshopper)!
Important: 100 proof schnapps
There are a few types of peppermint schnapps that you'll find at stores and online: 30 proof (15% ABV), 60 proof (30% ABV), and 100 proof (50% ABV). As you might guess, 100 proof is very strong. If the bottle says 100 proof, skip the quantity in the recipe and add it to taste!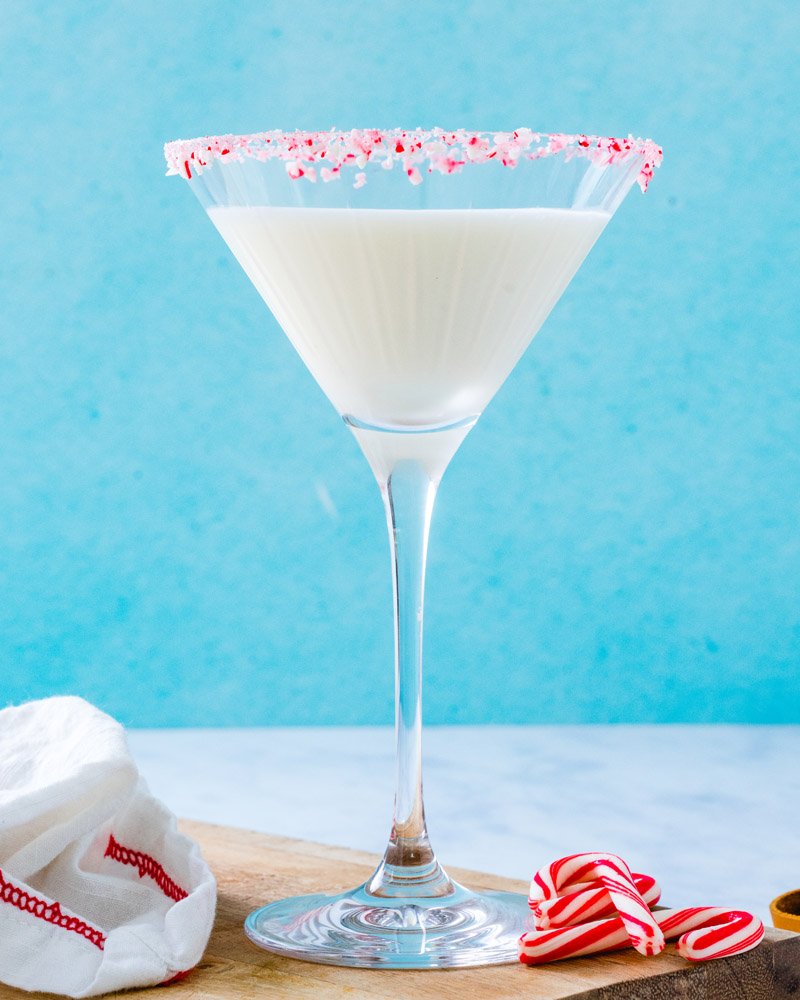 More peppermint drinks
The Peppermint Martini is one of our favorite minty cocktails! Here are a few more minty drinks that work as holiday cocktails and beyond:
Try a Peppermint Schnapps Hot Chocolate or Peppermint Hot Chocolate
Go for a Peppermint Patty
Opt for a Peppermint White Russian
Grab a Grasshopper Drink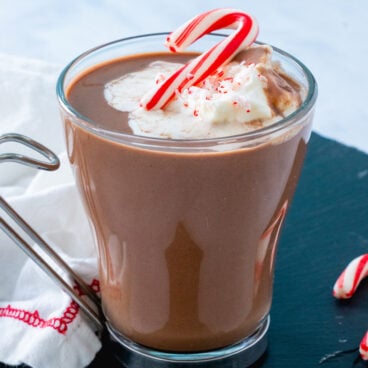 01
Peppermint Schnapps Hot Chocolate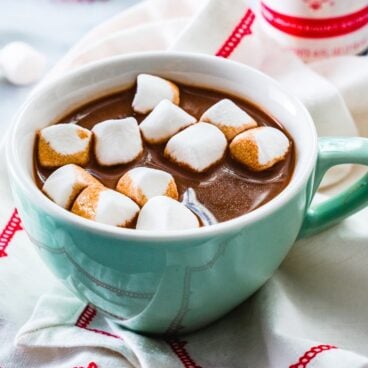 02
Peppermint Hot Chocolate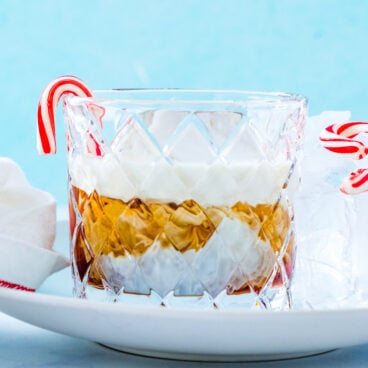 03
Peppermint White Russian
Print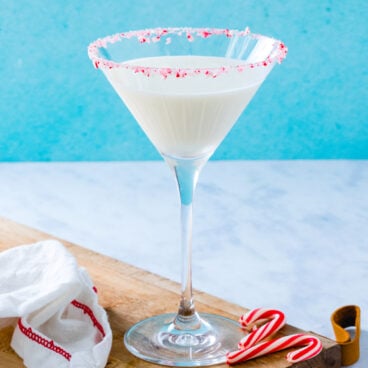 Peppermint Martini
★★★★★
5 from 1 reviews
Author:

Sonja Overhiser
Prep Time:

5 minutes

Cook Time:

0 minutes

Total Time:

5 minutes

Yield:

1 drink

Diet:

Vegetarian
Print Recipe
Pin Recipe
Description
The Peppermint Martini is creamy and minty fresh: the ideal winter cocktail! Step it up and rim the glass in peppermint candies.
Ingredients
1 ounce

30 proof or 60 proof* peppermint schnapps (or white Creme de Menthe)

½ ounce

** vodka

1 ½ ounces

Creme de Cacao

1 ½ ounces

heavy cream
Peppermint candies and grenadine, for the rim (optional)
Instructions
Prepare the rim: Crush the peppermint candies and place them in an even layer on a plate. On another plate, add a small pool of grenadine, or simply wet the rim of the glass with water using your finger (grenadine is easiest and works best). Run the rim of a martini glass in the grenadine first, rotating the glass so the rim is evenly coated. Then roll the rim in the crushed candies until evenly coated.
Shake the drink: Place the peppermint schnapps, vodka, Creme de Cacao, and heavy cream in a cocktail shaker. Add a handful of ice and shake until cold. Strain the drink into the prepared martini glass.
Notes
*Check the bottle before you make this drink! If using 100 proof (50% ABV) schnapps, use half the quantity and customize to taste.
**To convert to tablespoons, 1 ounce = 2 tablespoons
Category:

Drink

Method:

Shaken

Cuisine:

Cocktails
Keywords: Peppermint martini

Did you make this recipe?
Tag @acouplecooks on Instagram and hashtag it #acouplecooks
A Couple Cooks – Recipes worth repeating.