This farro salad recipe mixes fresh veggies and a tangy dressing with this hearty whole grain! It makes a satisfying side dish or lunch salad.
Need a killer side salad or a fun lunch salad? Here's a recipe that works as both: this Hearty Farro Salad! Farro is an ancient grain with a chewy texture and nutty flavor that's burst on the scene in the past few years. It's great as a side dish seasoned with garlic and herbs, but it's also ideal for grain salads. This one is our new ultimate, pairing the whole grain with juicy tomatoes, earthy mushrooms, feathery arugula, savory pops of cheese, and a zingy vinaigrette.
Ingredients in this farro salad
This farro salad is fresh and veggie-packed, perfect as a side dish for dinner or as a lunch salad. You can save it up to 4 days refrigerated, so we typically use it for both! The flavor is Mediterranean-style, with a beautiful rainbow of jumbled vegetables. Here are the main ingredients you'll need to make this farro salad:
Farro: pearled or semi pearled
Shallot and garlic
Cherry tomatoes, rainbow if possible
Button or cremini mushrooms
Carrot
Fresh herbs: fresh chives, mint or basil
Baby arugula: use only baby arugula here! Standard arugula has too strong of a flavor. For a substitute, use other baby greens.
Manchego cheese: or use Parmesan or fontina cheese (omit for vegan)
Lemon juice
Dijon mustard
Olive oil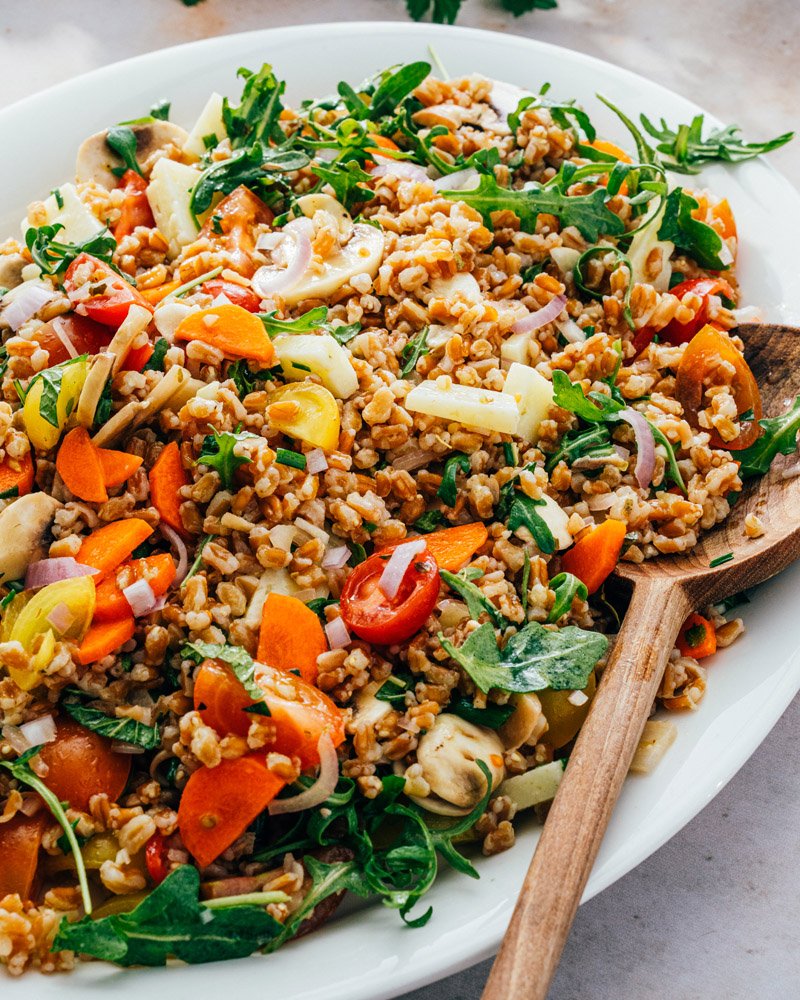 Types of farro
Farro is a whole grain that's plump and chewy, with a texture similar to barley. It's been a staple in Italian cuisine for centuries and recently spread to global popularity. Farro can be boiled on the stovetop, cooked in a rice cooker, or in a pressure cooker (Instant Pot). There are a few types you can find in American grocery stores:
Pearled farro has all of the bran removed from the grain, making it quicker to cook but removing some fiber. The cook time is 15 to 20 minutes.
Semi-pearled farro has part of the bran removed, retaining some additional fiber. The cook time is 25 to 30 minutes.
Whole farro is the whole grain and takes the longest to cook, but it's harder to find in grocery stores (in the US). So this farro salad works with pearled or semi pearled!
Keep in mind: the labeling of this grain in the grocery store can be confusing. Many packages don't contain the words pearled or semi-pearled (looking at you, Bob's Red Mill). Check the cook time on the package as a guide.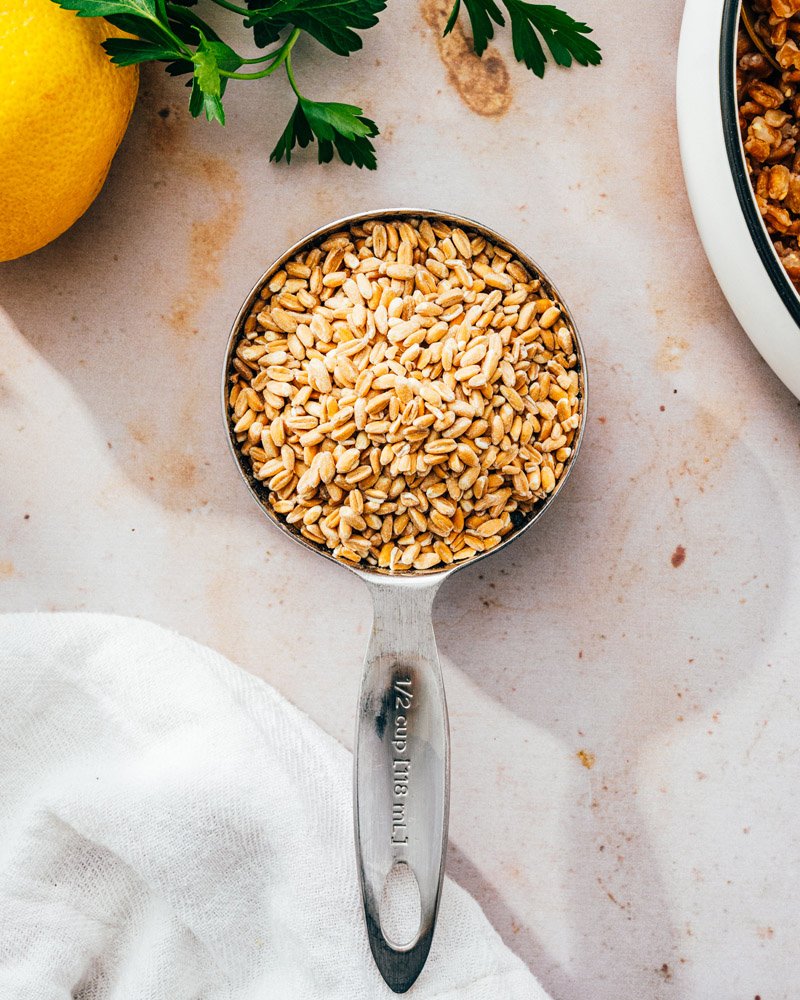 Tips on substitutions
This farro salad is pretty forgiving, and you can substitute or add different vegetables or cheese to taste. Here are a few ideas:
Mushrooms: omit if you're not a mushroom fan, but the raw mushrooms add a great earthy flavor and soft texture here!
Baby arugula: don't substitute standard arugula sold in bunches; it's much too spicy! Use other baby greens like baby spinach or baby kale.
Cheese: Manchego cheese is a Spanish cheese with a sweet, fruity flavor and firm texture that's fabulous here! If you can't find it, try Parmesan shavings instead. Or for a fun variation use Fontina cheese (like this Farro with Roasted Vegetables). You can also omit the cheese for vegan.
Tomatoes: Out of season, look for greenhouse or hydroponic cherry tomatoes. Or add ripe, local cherry tomatoes in summer! For allergies, try another red vegetable like red pepper.
Ways to serve this farro salad
This farro salad is so versatile and works with many different meal concepts. Here are some ideas:
Side dish for fish like salmon, baked cod, shrimp, tilapia or scallops
Side dish for pizza (try these pizza recipes)
With vegetarian or vegan mains like Easy Baked Tofu or Power Bowls
Lunch salad for a healthy lunch idea
Picnic salad
Salad for a potluck or barbecue
How do you plan to serve it? Let us know in the comments below!
More farro recipes
Farro is one of our favorite grains (though of course, don't forget quinoa!). Here are a few more farro recipes to use up your bag:
Learn How to Cook Farro or try Instant Pot Farro
Make savory Farro with Mushrooms & Parmesan
Throw it into a Farro & Brussels Sprouts Soup
Cook it up for grain bowls like Easy Grain Bowl or Easy Power Bowls
01
How to Cook Farro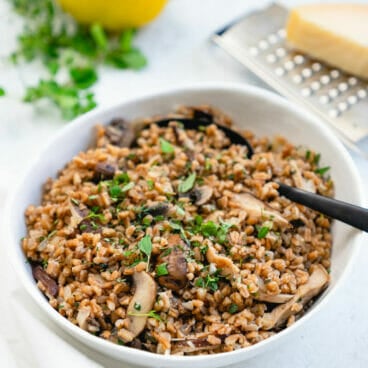 02
Farro with Mushrooms & Parmesan
03
Farro & Brussels Sprouts Soup
04
Easy Power Bowls
This farro salad recipe is…
Vegetarian. For vegan, plant-based and dairy-free, omit the cheese.
Print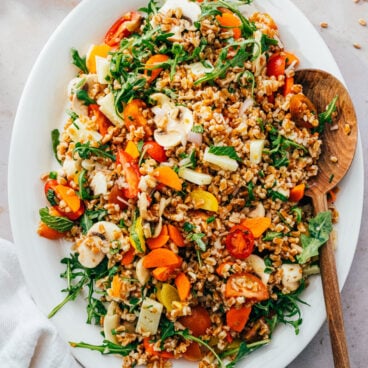 Hearty Farro Salad
Author:

Sonja Overhiser
Prep Time:

10 minutes

Cook Time:

20 minutes

Total Time:

30 minutes

Yield:

6
Print Recipe
Pin Recipe
Description
This farro salad recipe mixes fresh veggies and a tangy dressing with this hearty whole grain! It makes a satisfying side dish or lunch salad.
Ingredients
1 cup

dry farro (pearled or semi pearled)

1 teaspoon

kosher salt, divided

1

shallot, minced

1

small garlic clove, minced

1 cup

cherry tomatoes, halved or quartered

4 ounces

button or cremini mushrooms, thinly sliced

1

carrot, peeled and thinly sliced

¼ cup

chopped fresh herbs (like fresh chives, mint or basil)

2 cups

baby arugula (or other baby greens)

½ cup

Manchego cheese, sliced into chunks (or Parmesan shavings or fontina cheese; omit for vegan)

2 tablespoons

lemon juice

1 teaspoon

Dijon mustard

½ teaspoon

dried oregano

3 tablespoons

olive oil
Instructions
Cook the farro: Rinse the farro under cold water in a fine mesh strainer. In a large saucepan, place the farro, 3 cups water and ½ teaspoon of the kosher salt and bring it to a boil. Reduce the heat to a simmer, cover, and cook until the grains are tender, about 15 to 20 minutes for pearled farro and 25 to 30 minutes for semi-pearled farro. Taste test a grain to see if it is tender (if the package is unmarked, just cook until tender). Drain any excess water. Stir in the additional ¼ teaspoon salt. Place on a baking sheet in a single layer and place in the freezer for 3 minutes until room temperature. (This step can be completed up to 2 days in advance; refrigerate the farro until making the salad.)
Prep the veggies: Meanwhile, chop the shallot, garlic, cherry tomatoes, mushrooms, carrot, and fresh herbs as noted in the ingredient list above. Place the veggies in a large bowl, then add the baby arugula, cheese, and farro. 
Make the dressing: In a medium bowl, whisk together the lemon juice, Dijon mustard, oregano, and ¼ teaspoon kosher salt. Gradually whisk in the olive oil 1 tablespoon at a time, until creamy. 
Serve: Add the dressing to the bowl with farro and vegetables and toss. Taste and add another pinch or two of salt if desired. (Stores up to 4 days refrigerated; you may need to add a pinch or two more salt after refrigeration since it can dull the flavors.)
Category:

Side dish

Method:

Salad

Cuisine:

Salad

Diet:

Vegetarian
Keywords: Farro salad
Did you make this recipe?
Tag @acouplecooks on Instagram and hashtag it #acouplecooks
A Couple Cooks – Recipes worth repeating.