Molten chocolate lava cake is an iconic treat with a liquid "lava" center: the ideal dessert recipe for chocolate lovers!
Here's an iconic dessert that's the pure definition of decadence: Molten Chocolate Lava Cake! It gets its name from its liquid "lava" center, which flows like a volcano when you dig into it with a fork. If you're a chocolate lover who loves licking the batter off spatulas (guilty!), you'll be head over heels for this one. Turns out, it's not as tricky as you think: but there are a few things to know to fail-proof this classic chocolate dessert.
History of lava cake
Lava cake, chocolate lava cake or molten lava cake is a small chocolate cake baked in a ramekin that's intentionally under-baked so that the center is still liquid. There are several chefs who claim to have invented the idea.
Chef Jean-Georges Vongerichten alleges he created it in 1987 after he pulled a chocolate cake out of the oven too soon and found the gooey center had great flavor. Either way, he's who brought the cake to popularity in the US and soon around the world.
Tricks to molten chocolate lava cake
Lava cake is easy to make, but tough to perfect. (Trust us, we've made this recipe too many times to count as we honed it to perfection!) Here are three things to know about making the best lava cake:
You'll need 6-ounce ramekins. This classic lava cake requires a special baking dish. Make sure to get these, because the bake time depends on it. (Need ramekins? Here's a link to our 6-ounce ramekins.)
The bake time is extremely sensitive. You've got to pull the cakes when they're just baked on the outside but still molten on the inside. It takes a little practice based on your oven, so don't worry if you don't get it right the first time.
Follow the unmolding instructions exactly. Once you take the cakes out of the oven, they still bake in the ramekins. So you'll need to let them sit an exact amount of minutes to get the outside and top to firm up.
Other than that, it's big fun! The batter is quick and easy to whip up, and it's a theatrical dessert that's perfect for chocolate lovers. Unmold the cakes, dig in, and watch that lava flow!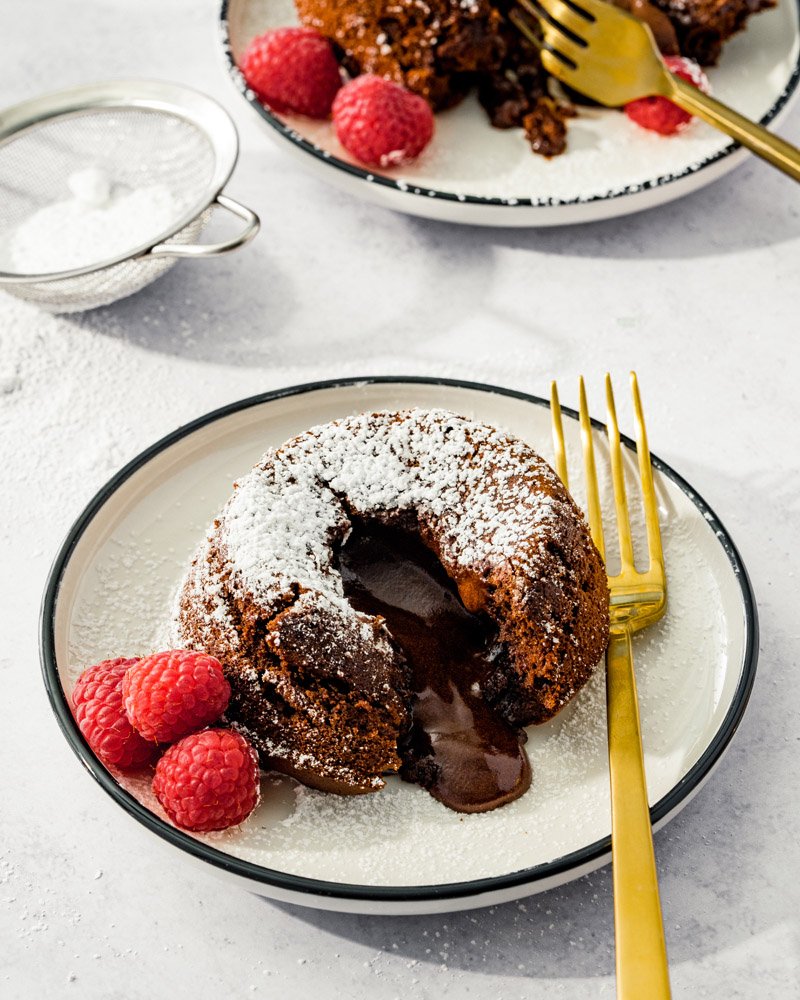 Why these chocolate lava cakes are the best
In testing this recipe, we surveyed an incredible amount of lava cake recipes. The classic recipe uses a large quantity of chocolate and butter. But we tweaked and honed this recipe to perfection to taste even better with less richness. Here's what makes this lava cake recipe great:
It tastes like chocolate cake batter. Most classic recipes taste like melted chocolate, which is good but not great. These molten lava cakes taste like the chocolate cake batter you lick off a spoon.
It's just as decadent, with half the butter and chocolate as a standard recipe. The standard recipe is too rich for us. Plus, we hate using an entire 1 ½ chocolate bars for the recipe (we'd rather eat the bar). This recipe uses only ½ chocolate bar for 4 servings.
Ingredients in molten lava cake
Most molten lava cake recipes call for a massive amount of butter and chocolate. This recipe uses half the standard, so it's more like a chocolate cake a big pile of chocolate. Here's what you'll need:
Bittersweet chocolate (60%) bar or baking chocolate bar: The most important thing to note: do not use chocolate chips! They are formulated differently and make for a very thick batter. You can also use a semi-sweet chocolate bar if you prefer. The amount needed in this recipe is 2 ounces or half a 4-ounce bar.
Unsalted butter
Eggs
Granulated sugar
Unsweetened cocoa powder
All-purpose flour
Baking powder
Kosher salt
Milk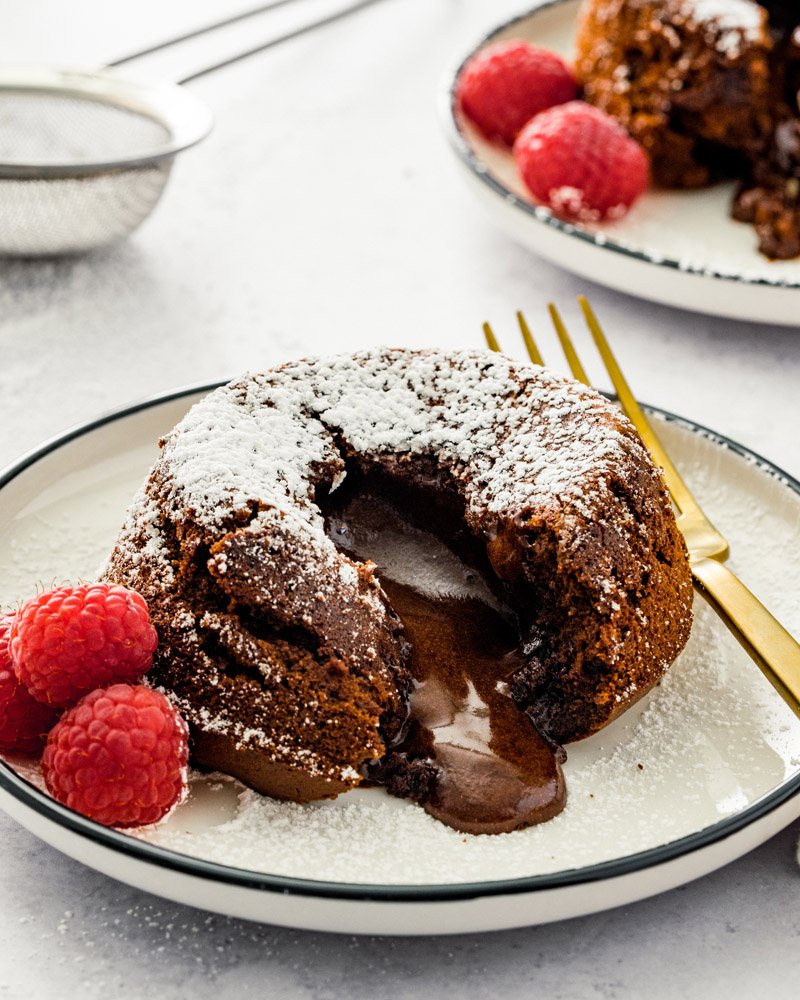 Tips for unmolding them!
The nerve-wracking part of a lava cake: unmolding it! You'll need to get it to release from the ramekin without sticking, and it needs to be just baked on the outside but liquid on the inside. Here are some tips:
Butter the ramekin, and add a circle of parchment paper at the bottom. This ensures the cake will easily slide out and won't stick to the bottom. (We had issues with this in our recipe testing.)
After baking, wait 2 minutes. This is important: the cooking process still continues here!
Run a sharp knife around the edge of the cake. This releases the cake from the sides.
Invert one cake onto a plate (with a hot pad), wait 10 seconds, then pull it back. The cake should release onto the plate. Remove the parchment circle: the top of the cake will be either just cooked over or have a small circle of lava visible.
Troubleshooting: too much lava vs not enough lava
What to do if you have too much lava or not enough lava? Here are our tips:
If the first cake collapses with too much lava, wait another minute or two before unmolding the next cakes. The cakes will continue cooking in the hot ramekins. But do not leave the cakes in the ramekins too long: they will cook through and lose the lava.
If the cake doesn't have enough lava, next time bake the cakes for 1 minute less time. It's tricky to get perfect because all ovens vary! Don't worry: you'll get it next time.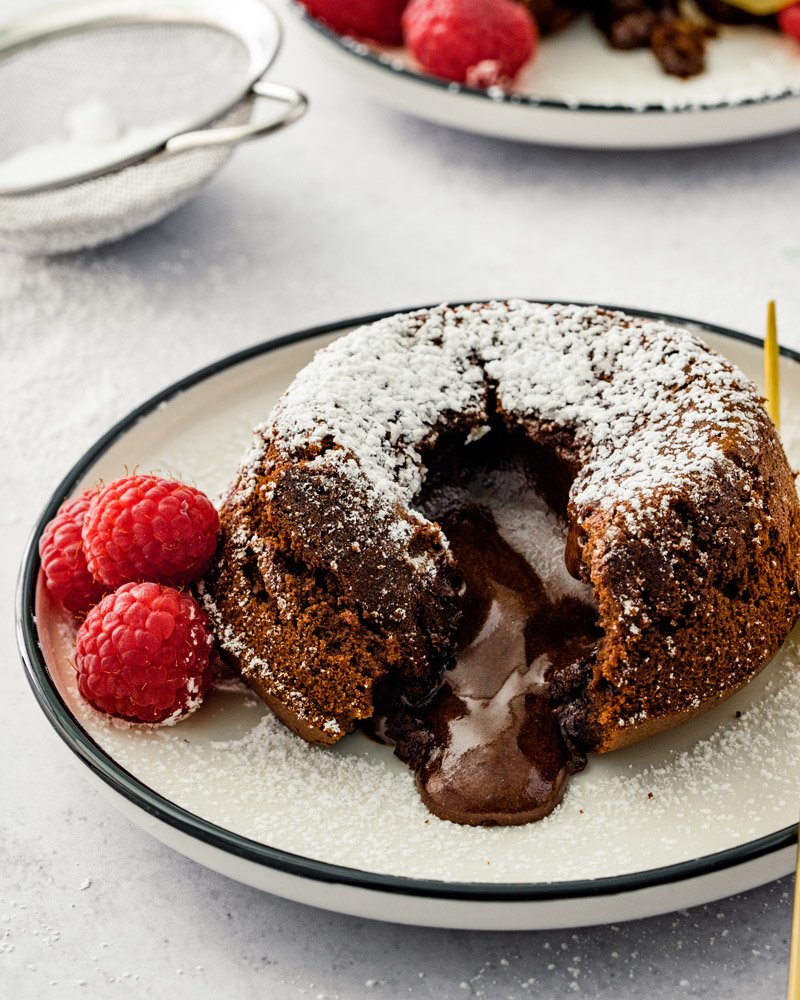 Lava cakes for two
Can you make lava cakes for two? You bet! This recipe is easy to make as a half recipe. Simply divide all the quantities below in half: we've formulated it to work neatly as a half recipe. It's the perfect dessert to end a meal for two, like Valentine's Day or a romantic dinner!
More chocolate desserts
Are you a chocoholic like we are? Here are a few more chocolate desserts we love:
Try this decadent Flourless Chocolate Cake or a two-tiered Vegan Chocolate Cake
Go for a Chocolate Zucchini Cake
Try single-serving Chocolate Mug Cake
Opt for Chocolate Covered Strawberries or Chocolate Covered Bananas
01
Flourless Chocolate Cake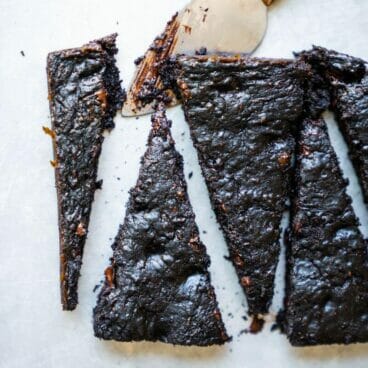 02
Chocolate Zucchini Cake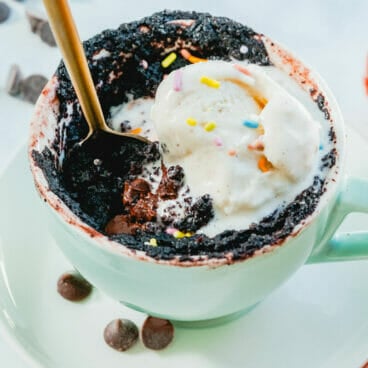 03
The Ultimate Mug Cake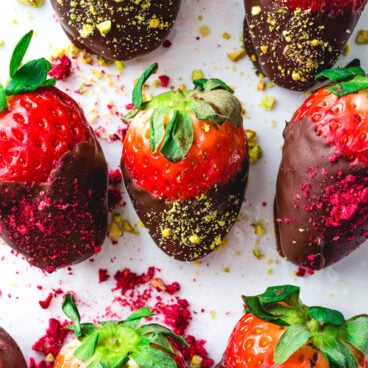 04
Chocolate Covered Strawberries
This molten chocolate lava cake recipe is…
Vegetarian. For gluten-free, use gluten-free flour.
Print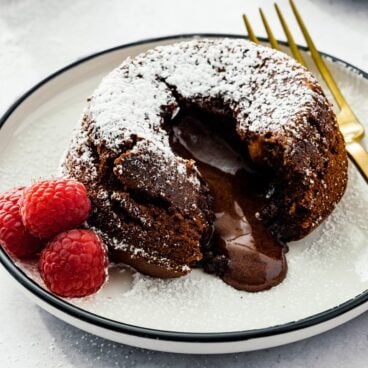 Chocolate Lava Cake
Author:

Sonja Overhiser
Total Time:

25 minutes

Yield:

4 cakes

Diet:

Vegetarian
Print Recipe
Pin Recipe
Description
Molten chocolate lava cake is an iconic treat with a liquid "lava" center: the ideal dessert recipe for chocolate lovers!
Ingredients
¼ cup

unsalted butter

2 ounces

dark chocolate bar (60%) or bittersweet baking chocolate bar (do not use chocolate chips!*)

2

eggs

⅓ cup

granulated sugar

¼ cup

unsweetened cocoa powder

6 tablespoons

all-purpose flour

1 teaspoon

baking powder

¼ teaspoon

kosher salt

¼ cup

milk
Instructions
Preheat the oven to 450 degrees Fahrenheit.
Fold a piece of parchment paper in half, then half again to get four layers. Trace the bottom of a ramekin on the parchment and cut out 4 circles. Use butter to grease the bottom and sides of ramekins. Place the parchment circles into the bottom of the ramekins and grease the parchment paper as well.
Slice the butter into pieces and break the chocolate into small pieces. Place them in a glass measuring cup or glass bowl. Microwave for 30 seconds, stir, and then microwave another 20 to 40 seconds until completely melted when stirred. Allow to cool while you make the rest of the batter.
In a larger bowl, beat the eggs with a whisk until fully combined and frothy. Then whisk in the dry ingredients and the milk. Whisk until smooth, then slowly add butter and chocolate mixture and whisk until just incorporated and smooth.
Pour the batter evenly into the four ramekins. Place ramekins on a baking sheet and bake them for 11 minutes (or 10 minutes if baking at altitude). The cake should be risen, cracked across the top and just a little bit jiggly when the center is lightly tapped with your finger. (11 minutes is perfect in our oven.)
Remove from the oven and rest the cakes for 2 minutes (it's important to be precise here; the cakes still cook while in the ramekins). Carefully run a sharp paring knife around the outsides of the cake to let it loose from the ramekin. Using a hot pad, invert one lava cake onto a plate (careful, the ramekins are hot!). Wait 10 seconds before carefully removing the ramekin to unmold the cake, then remove the parchment circle from the top. The top of the cake will be either just cooked over or have a small circle of lava visible. If the cake collapses with too much lava, wait another minute before unmolding the other cakes, since they will continue cooking in the hot ramekin. (But do not leave the cakes in the ramekins too long: they will cook through and lose the lava!) If the cake doesn't have enough lava, next time you make the recipe reduce the bake time by 1 minute.
Dust with powdered sugar and serve immediately, using a spoon to open the cake and allow the lava to flow out.
Notes
*Chocolate chips do not work well, since they are formulated to not melt (they result in an ultra thick batter). Resist the urge to substitute them! Most chocolate bars come in 4-ounce bars, so 2 ounces is a half bar. You can substitute semi-sweet chocolate if desired.
**This recipe is easy to make as a half recipe: it's a great dessert for a dinner for two!
Prep Time:

15 minutes

Cook Time:

10 minutes

Category:

Dessert

Method:

Baked

Cuisine:

American
Keywords: Lava cake, chocolate lava cake, molten lava cake

Did you make this recipe?
Tag @acouplecooks on Instagram and hashtag it #acouplecooks
A Couple Cooks – Recipes worth repeating.