This carrot ginger soup recipe is simple but comes out with a pure flavor and velvety texture! Everyone will love this bright orange puree.
Here's a bright orange puree that that tastes like sunshine: Carrot Ginger Soup! This recipe is ideal for when you've got a big bag of carrots to use up, or when you're in the midst of a gray season craving sun. We often avoid pureed soups around here because they're not filling enough to be a meal. But this carrot ginger soup: this one's worth taking time for! It's great as a first course, or for lunch with grilled cheese. Here's why it's worth peeling and chopping all those carrots.
Ingredients in carrot ginger soup
Carrot ginger soup is a simple pureed soup made with carrots, onion and ginger. For maximum creaminess, this one's got coconut milk for a velvety texture. It also adds a subtle fruitiness that compliments the carrot perfectly. You could substitute heavy cream for a richer soup, but we adore the flavor that coconut brings. Here's what you'll need for this soup:
Yellow onion
Carrots
Ginger root
Olive oil
Vegetable broth
Garlic powder
Cinnamon
Salt
Coconut milk
Most of the effort involved in this soup? Peeling and chopping the carrots! It takes a while to prep, but once you take the first bite: we promise you it will be worth it.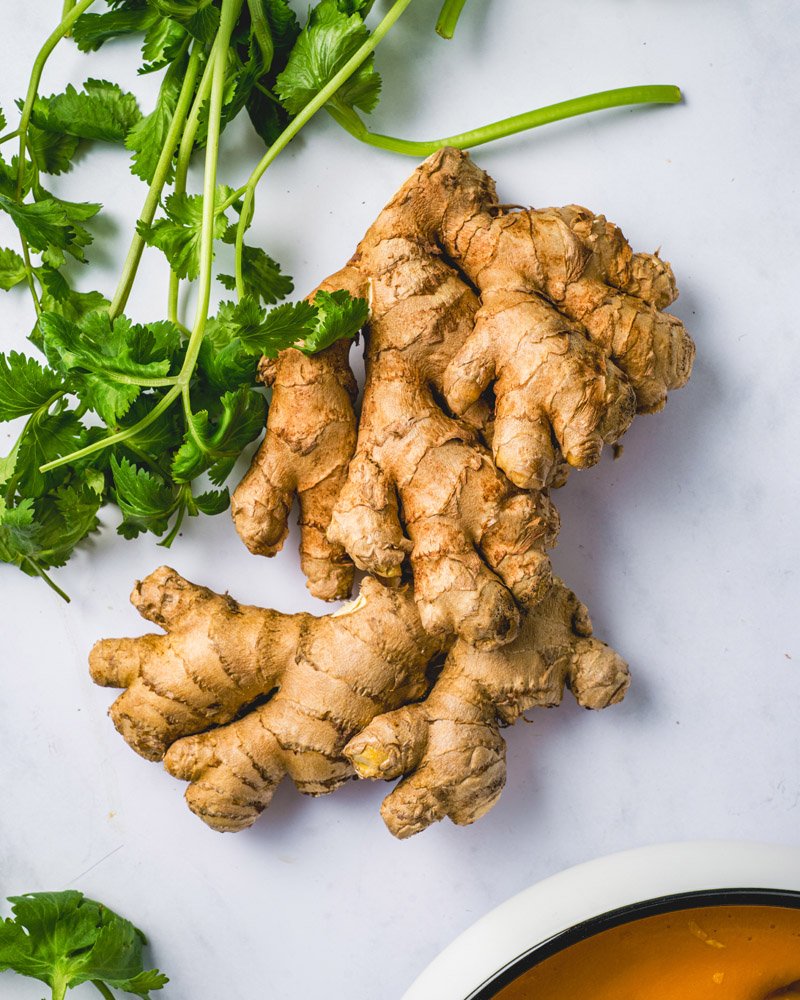 A quick way to peel ginger
Here's a quick tip on how to peel ginger for this carrot ginger soup. Instead of using a vegetable peeler, here's a trick: use a spoon! Ginger root is notoriously hard to peel with a vegetable peeler: it's knobby and the skin is tough and stringy. But peeling it with a spoon works like a charm. It sounds unbelievable until you try it: but it's the perfect tool for the uneven surface of ginger root.
Blending it up: a few tips!
Chop those veggies, sauté them up, and boil until the carrots are tender (head to the recipe below for exact details). The only fussy part of this carrot ginger soup is blending it! Here are some notes on blending:
While immersion blenders are handy, we like to use a standard blender here. With a stick blender, somehow we always end up with un-blended chunks and a mess all over our kitchen. It's worth using a blender for this one!
Carefully transfer the hot soup using a ladle. Don't pour it all into the blender, or you'll get lots of hot splatters! A ladle is the way to go.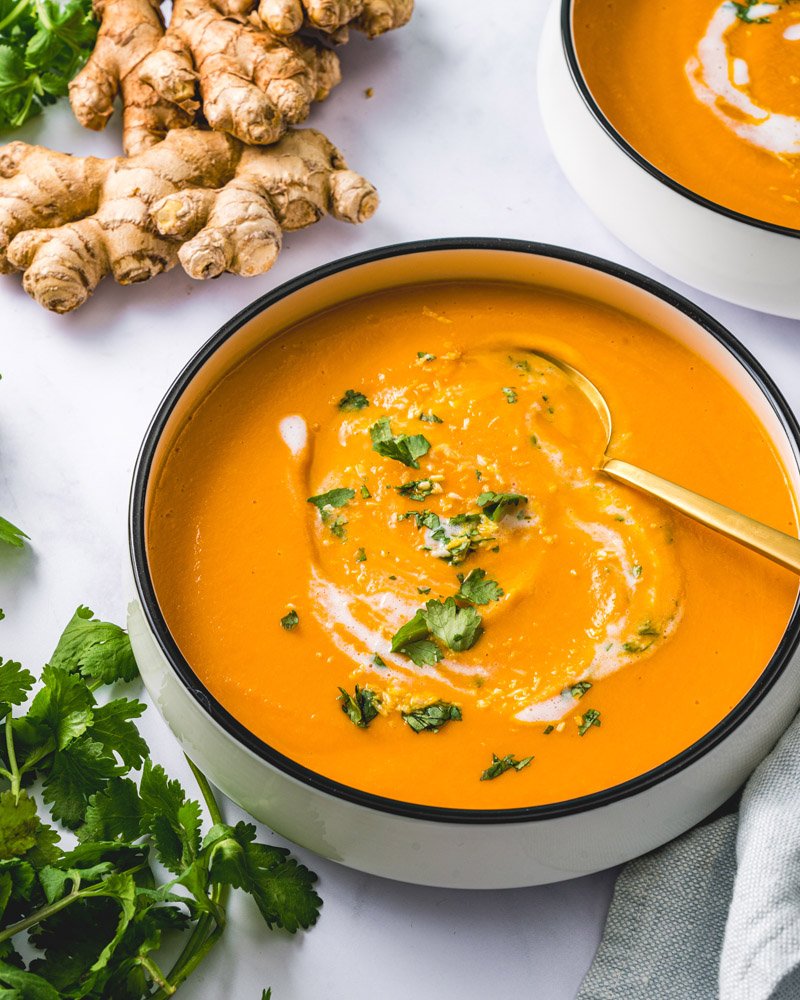 What to serve with carrot ginger soup
This carrot ginger soup is not a meal: just like most pureed soups. They're meant as a first course, or a side dish that compliments another. For that reason, we usually avoid purees because we prefer spending cooking time on a main dish. But this carrot ginger soup is so tasty, it's absolutely worth the prep time! Here are a few ways to accessorize it and make it into a meal:
Grilled cheese like Grilled Cheese in the Oven or Gourmet Grilled Cheese
Sandwich like Pear & Cheese Sandwich or Smoked Salmon Toast
Hearty salad like Butternut Squash Salad (with chicken or other protein), Sweet Potato Salad or Perfect Spinach Salad
As a starter for a main dish like Lemon Garlic Salmon, Easy Salmon Cakes, Pecan Crusted Salmon, Easy Baked Shrimp, Mushroom Pasta with Parmesan or Stuffed Portobello Mushrooms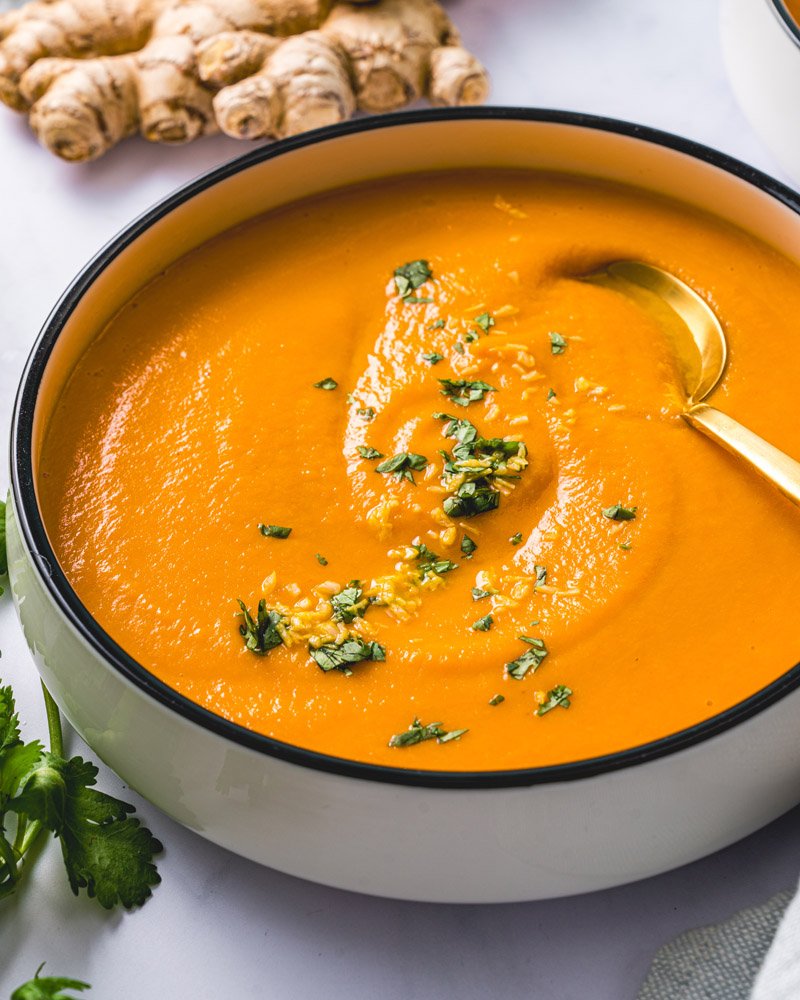 More carrot recipes
Got more carrots? Here are a few more carrot recipes to use them:
Mix up Simple Carrot Salad
Try Honey Glazed Carrots, Roasted Carrots or Perfect Sauteed Carrots
Boil up a pot of Perfect Boiled Carrots or bake delicious Carrot Fries
Make Carrot Juice (in a blender!) or a Carrot Smoothie
01
Simple Carrot Salad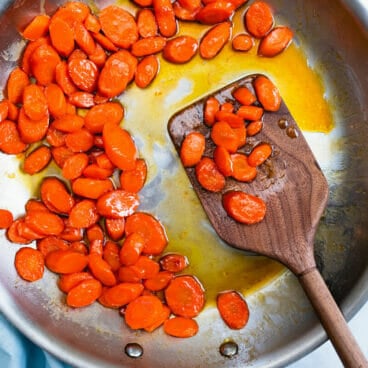 02
Honey Glazed Carrots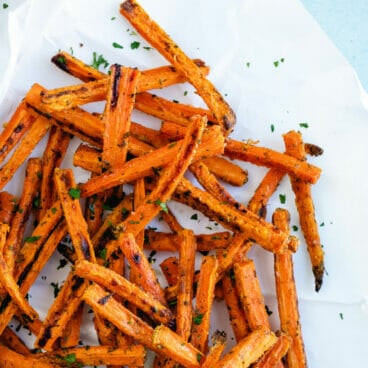 03
Carrot Fries (Ranch Seasoned!)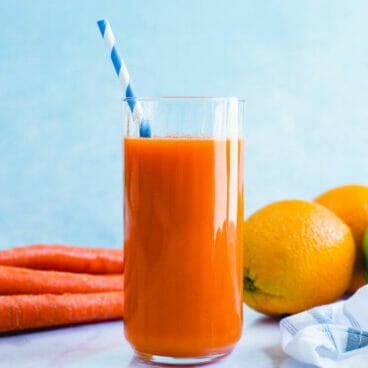 04
Carrot Juice
This carrot ginger soup recipe is…
Vegetarian, vegan, plant-based, dairy-free and gluten-free
Print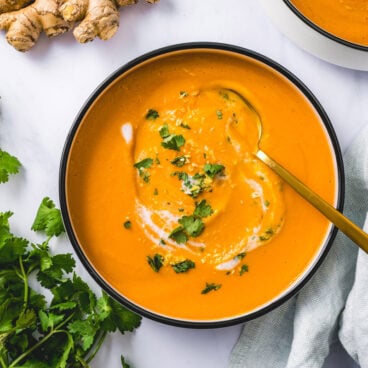 Carrot Ginger Soup
Author:

Sonja Overhiser
Prep Time:

15 minutes

Cook Time:

20 minutes

Total Time:

35 minutes

Yield:

4 medium or 6 small servings

Diet:

Vegan
Print Recipe
Pin Recipe
Description
This carrot ginger soup recipe is simple but comes out with a pure flavor and velvety texture! Everyone will love this bright orange puree.
Ingredients
1

yellow onion

4 cups

chopped carrots (

1 3/4

pounds or about

12

large carrots)

1 ½ tablespoon

peeled and minced ginger root (about 1-inch nub)

2 tablespoons

olive oil

4 cups

vegetable broth

¼ teaspoon

garlic powder

1

pinch cinnamon

½ teaspoon

kosher salt

½ cup

full fat coconut milk
Instructions
Dice the onion. Peel and chop the carrots. Peel the ginger with a spoon, then mince it.
In a large pot, heat the olive oil over medium high heat. Add the onion and sauté for 5 minutes. Add the ginger, carrots, vegetable broth, garlic powder, cinnamon and salt and bring to a boil. Then simmer until the carrots are tender, about 15 to 20 minutes.
Carefully transfer the hot soup to a blender using a ladle (or use an immersion blender). Add the coconut milk and blend until smooth and creamy. Taste and adjust seasonings as desired. Serve swirled with a drizzle of coconut milk and topped with fresh cilantro.
Category:

Soup

Method:

Pureed

Cuisine:

Soup
Keywords: Carrot ginger soup

Did you make this recipe?
Tag @acouplecooks on Instagram and hashtag it #acouplecooks
A Couple Cooks – Recipes worth repeating.